Mustang Superchargers
EASIEST WAY TO MAKE MASSIVE HORSEPOWER!
It's AMAZING what can be done with a stock Mustang, one of the many reasons why this platform is so popular in the aftermarket. A ProCharger is the best power adder for many reasons:
• Powerful, efficient, and reliable
• Quick and easy installation
• Complete turnkey systems
• 100% reversible, no permanent modifications
• Kit & finish options tailored to you
• Most advanced and durable superchargers
• Coolest Charge Air Temps
• Street Legal Systems
• OEM Quality and Appearance
• Most Kits Ship Within 2-3 Days
• Made in America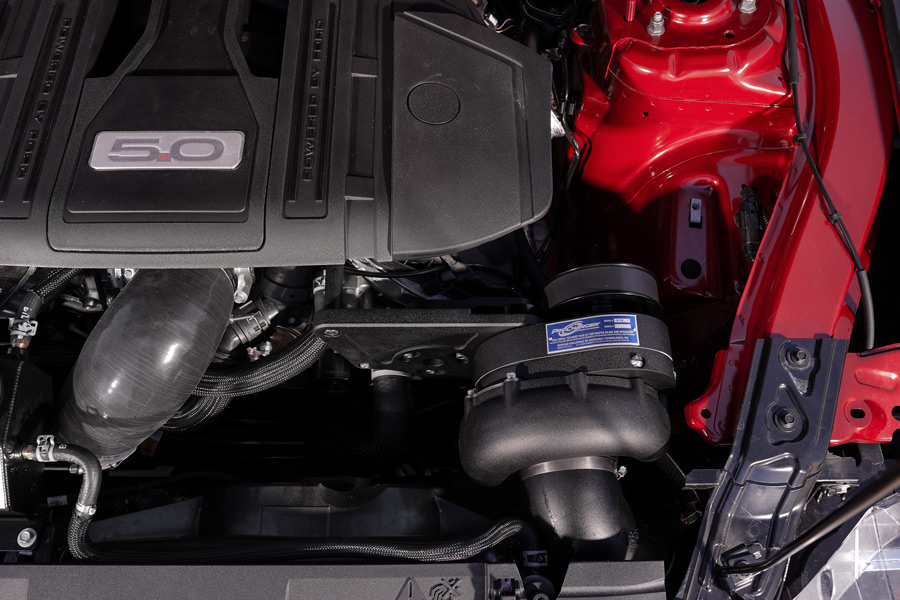 MUSTANG GT SUPERCHARGERS
MUSTANG MACH 1 SUPERCHARGERS
ProCharger engineers gave you nearly 750 crank hp from the Mustang GT's, Bullitts, and even 875 hp from the Shelby GT350 supercharger systems. So naturally, it wasn't going to be long before ProCharger would have a bolt-on supercharger system ready to put a smile on Mach 1 owners faces. Just like Ford started with a rock-solid foundation for this Mach 1, then dug into the goodie bag to add a little extra spice…ProCharger engineers did the same.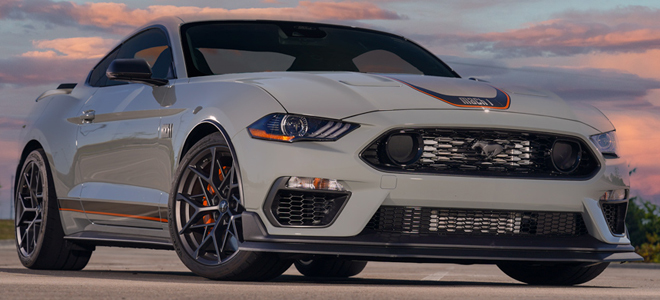 MUSTANG BULLITT SUPERCHARGERS
We have a complete, tuned system for the 2020 Bullitt Mustang with a ProCharger supercharger, so if you've ever fantasized about Steve McQueen launching off the streets of San Francisco, now you can live out those fantasies with a much more capable Mustang with a whole lot more power than The Captain of Cool had back in the 1960s. A ProCharger kit offers enormous power gains with a fully tuned and easy to install kit! Watch our Tech-In with ProCharger video HERE as we highlight this car!
2020-2019 FORD MUSTANG BULLITT (5.0 4V)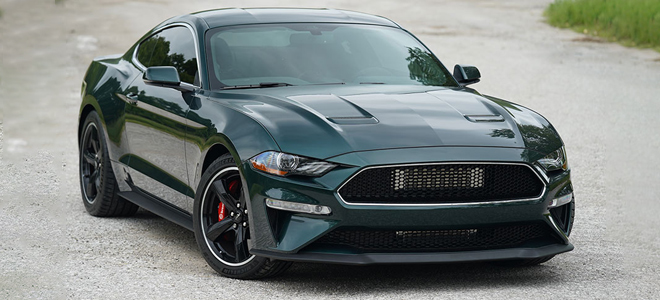 MUSTANG SHELBY GT350 SUPERCHARGERS
The Mustang Shelby GT350's 5.2L DOHC engine has a flat-plane crankshaft that gives the car an engine scream that is the envy of sports cars world-wide, and its naturally aspirated 526hp from the factory combines that luscious sound with the bite to back up the bark. The ProCharger HO Intercooled Supercharger System, complete with a P-1SC-1 head unit making 6.5psi of boost, a 1,100hp capable air-to-air intercooler and a ready-to-go tune, adds 175+ HP to that, taking the supercharged GT350 to the 700HP level!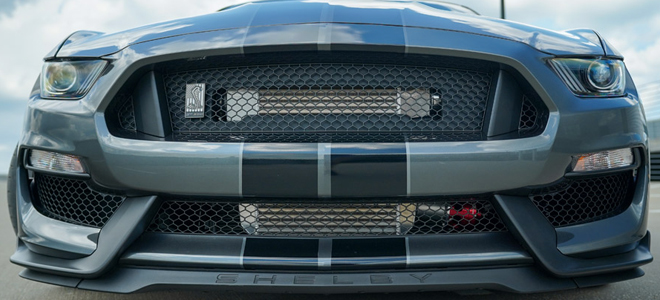 MUSTANG BOSS 302 SUPERCHARGERS
Utilizing the patented and proven, self-contained ProCharger P-1SC-1 supercharger making 8.5 psi of boost, a highly effective air-to-air intercooler, and a dedicated 8-rib drive, the Stage II System or Tuner Kit can add 220 or more HP to an otherwise stock Boss 302 running high quality pump gas.
The Stage II System and Tuner Kit can be installed onto a completely stock engine requiring absolutely no cutting or trimming of factory components and like the majority of ProCharger Systems, fit under the stock hood.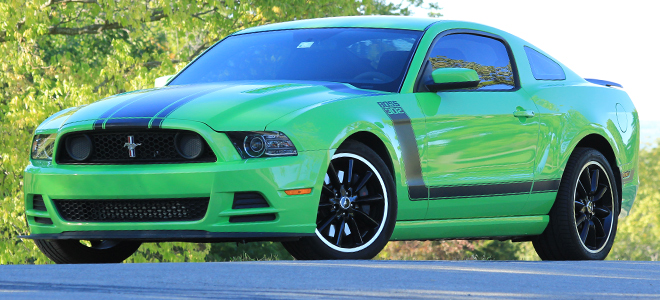 MUSTANG V6 SUPERCHARGERS
When the 3.7L hit the scene ProCharger was the first to market with its big power producing supercharger system, which has become the staple for 2011-2014 Mustang V6 performance. So when Ford again placed the strong and powerful 3.7L Ti-VCT engine in this new 2015 S550 platform we couldn't wait to get our hands on it … What resulted are HO intercooled supercharger systems and supercharger kits that yield 50-60% horsepower gains on only 8 psi of boost!
2017-2015 FORD MUSTANG V6 (3.7)
2014-2011 FORD MUSTANG V6 (3.7)
2010-2005 FORD MUSTANG V6 (4.0)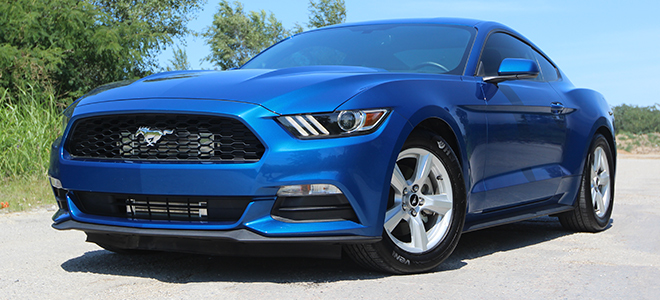 MUSTANG COBRA SUPERCHARGERS
When ProCharger developed the ultimate supercharger system for the high compression, highly-sophisticated 4.6L 4V engines, the goal was simple: maximum performance and reliability with minimal cost and maintenance. The results speak for themselves–550 RWHP to 750 RWHP on stock 4V engines. Both the HO and Stage II Tuner Kits utilize the patented, proven and self-contained ProCharger supercharger, a compact, 6-rib shared supercharger drive system, OEM-quality mounting brackets, and all necessary supercharger and intercooler tubes for installation onto your 4V Cobra with no major modifications to your car or engine.
2004-2003 FORD MUSTANG COBRA (4.6 4V)
2001-1999 FORD MUSTANG COBRA (4.6 4V)
1998-1996 FORD MUSTANG COBRA (4.6 4V)
1995-1994 FORD MUSTANG COBRA (5.0)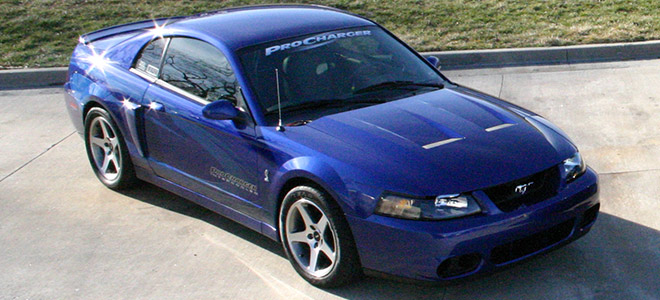 EARLY FORD V8
The 1965 to 1973 Mustangs (and other early Ford models like Cougar, Fairlane, Comet, Torino, Maverik and more) are still prime canvases for modern hot rodders to create masterpieces on and ProCharger stands there holding the performance paint brushes with kits from mild to wild for the early ponies. Whether it's a stock 289 V-8, a heavily modified big-block, or a 5.0 Coyote or 7.3L Godzilla swap, there are ways to install ProCharger boost and power into the package.
EARLY FORD V8 – MUSTANG, COUGAR, FAIRLANE, COMET, MAVERIK, TORINO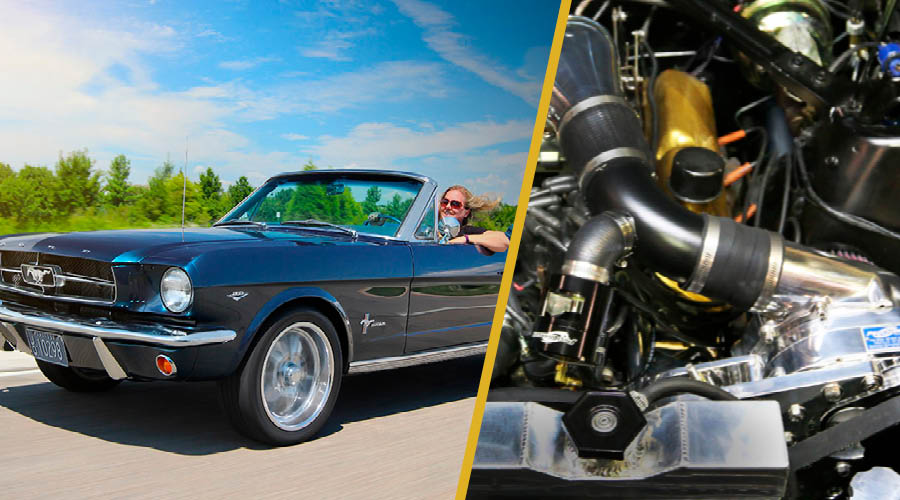 OTHER FORD APPLICATIONS
To learn more about Mustang superchargers and other ford applications click the button below.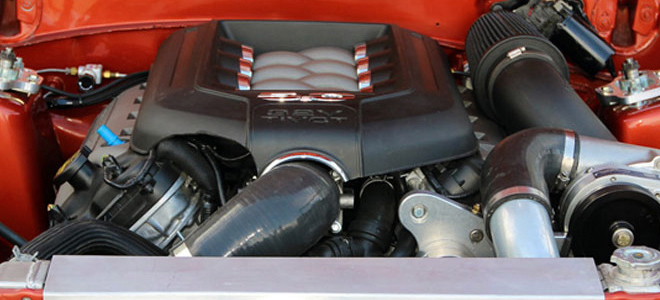 AS SEEN ON: MOTORTREND'S MUSTANG 360
This installation is simple and something one can perform using common hand tools over the weekend. And the best part is that not a single piece of your new Mustang needs to be modified to make this system work. No cutting, bending, trimming, grinding, etc.
Thanks to Motortrend, you can read about their step-by-step experience with installing this Stage II ProCharger supercharger system. And the post-install numbers are big: 276 Rear Wheel HP (RWHP) gained or approximately 315 Crank HP – with an otherwise stock 2018 Mustang, running only 8.5 psi with the Stage II system and 93 octane pump gas. There's no easier way to bolt on that much power!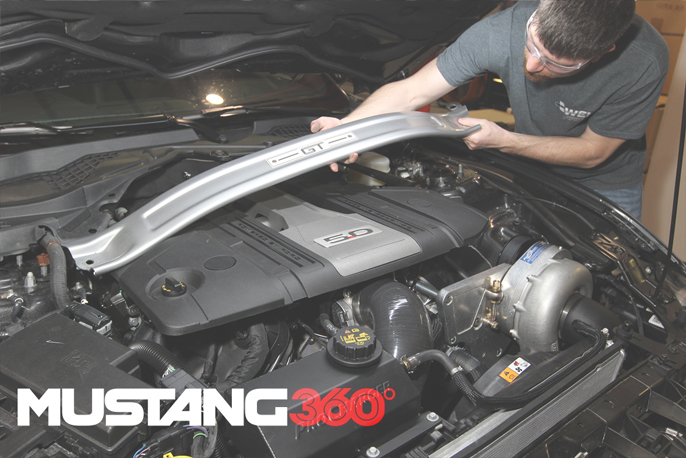 36 YEARS OF 50-STATE LEGAL MUSTANG SUPERCHARGER SYSTEMS!
No matter if you drive a 1986 Fox Body Mustang, or a 2022 S550 body style, or any year in between…ProCharger has an emissions-compliant supercharger system for you! Yes…35 years of Mustangs can be supercharged and still remain 100% legal!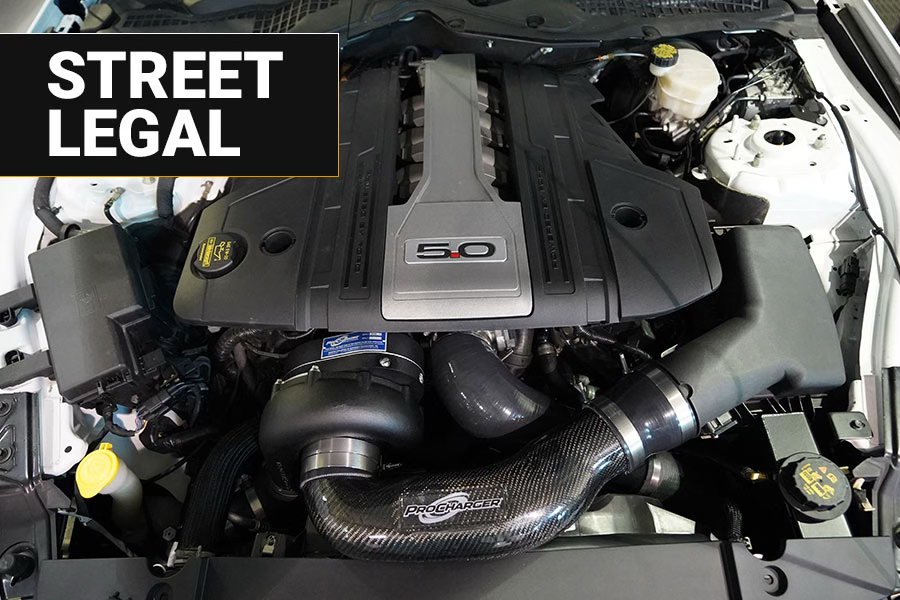 NEED HELP? SPEAK TO AN EXPERT!
Click to call our sales staff or email us if you need any help. We will be happy to assist you with any questions you may have.
Mon – Fri 8am – 5:30pm CST
Phone – (913) 338-2886
Sales Email – [email protected]
GET A CATALOG
Our catalogs are some of the most informative and beautiful in the industry. You can either download a copy or have one mailed to you free of charge.
MORE ABOUT PROCHARGING MUSTANGS
EMISSIONS COMPLIANCE
ProCharger offers Executive Orders for Emissions Compliance (EO) from California Air Resources Board (CARB) for many of our most popular car, truck and SUV applications. If you live in California, we can only sell you products with EO certification. Check out our full list of EO offerings.