Coyote Supercharger
PROCHARGE YOUR COYOTE ENGINE SWAP FOR BIG POWER!
The Ford Coyote motor has been making waves in the performance market ever since it was announced. When Ford Racing released their engine swap package (ECU, Harness, etc), it was just a matter of time before these 5.0L motors began showing up in every imaginable car and truck out there. What better way to finish off that resto-mod, hot-rod, drag car, or street car, than with a ProCharger supercharger? The ProCharger "Coyote Engine Swap Kit" is for those wanting to boost their swap to the next level.
STANDARD VS REVERSE MOUNT
The ProCharger Coyote Swap Kit is a driver's side mount solution, with the supercharger in either standard or reverse mount orientation. This allows for kits to be installed seamlessly in Fox body Mustangs, or whatever your application. Choose from one of the following kits:
– High Output Intercooled Tuner Kit (dedicated 8-rib drive)
– High Output Tuner Kit (dedicated 8-rib drive)
– Cog Race Kit with Intercooled F-1D, F-1, F-1A, or F-1A-94
– Cog Race Kit F-1D, F-1, F-1A or F-1A-94
OPTIONS
– Satin or Polished supercharger and bracket finish
– Helical Gearset for Noise Reduction (P-1SC-1 & D-1SC only)
– Air-to-Air Race Intercooler Upgrade
– Crank Support
– 10-Rib drive upgrade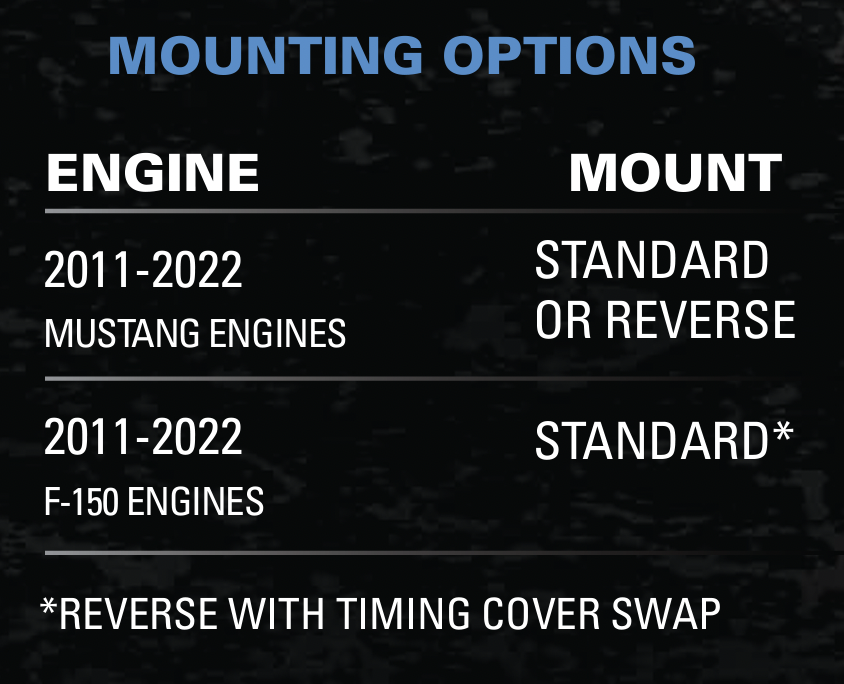 BRACKET DESIGN & BELT DRIVE
The bracket system design is based off our rock-solid 2011+ Mustang system, though it has been adapted to fit into more compact engine bays such as the Fox Body pictured here. Even with its compact mounting location, don't be fooled into thinking it's only made for small blowers. ProChargers head units ranging in size from the P-1SC-1 to the F-1R fit on this bracket without modifications! Street cars and Race cars–we have you covered!
Two dedicated belt drive systems have been designed for this system in order to accommodate both street and track usage accordingly. For the street car, we offer an 8 rib dedicated belt drive system. The 8 rib drive system can be used with both the stock OEM balancer or an ATI Performance Products SFI damper.
*92-96 F-150 Kit – Reverse Rotation w/ Optional Black finish shown in picture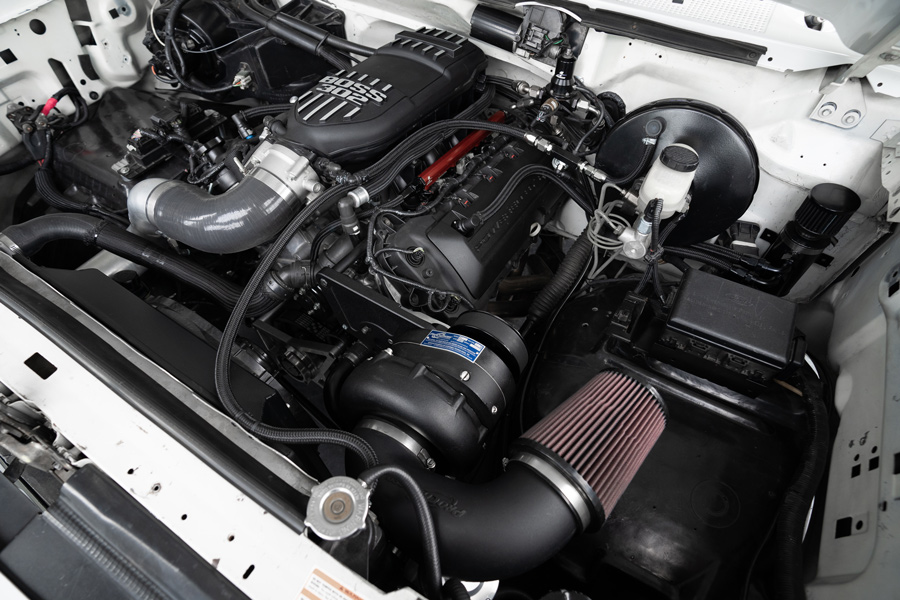 COYOTE SWAP KITS FOR FOX BODY MUSTANGS
The ProCharger 8-rib dedicated drive transplant kit for Fox body vehicles has a ton of potential. Using a Coyote-powered 1987 Mustang LX for R&D, we installed a D-1SC ProCharger (a step up from the P-1SC in the base kit), BBK headers, Magnaflow exhaust, a T-56 Transmission, and 3.73 gears in the rear end. This array of parts, at 10 psi of intercooled boost, turned the rollers at 700 wheel horsepower and 504 foot pounds of torque. These are substantial power numbers, especially considering the vehicles' modest 2750 pound curb weight.
*HO Intercooled Tuner Kit, dedicated drive, satin finish shown in picture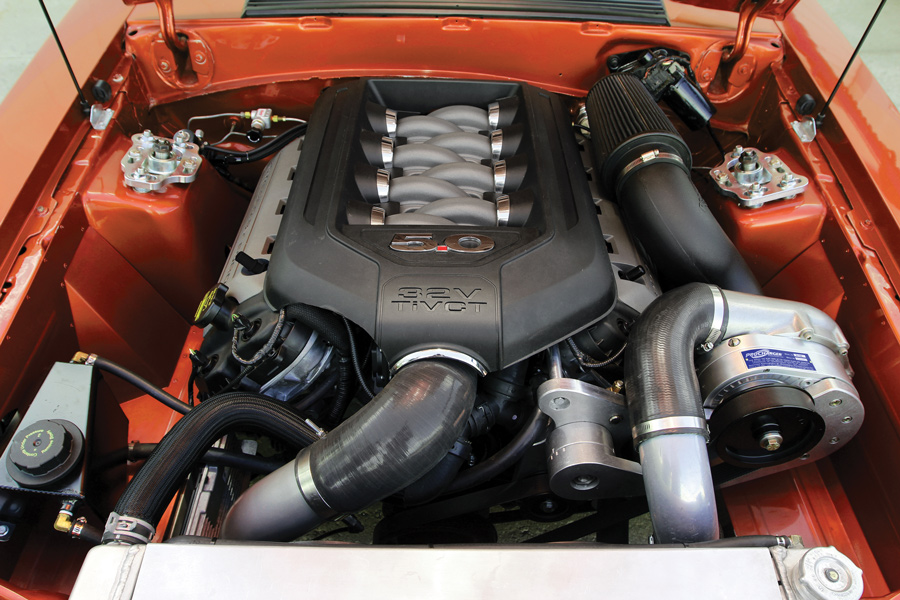 STANDARD MOUNT DIMENSIONS:
REVERSE MOUNT DIMENSIONS:
RACE SETUP
For the race-inspired car, a 50mm wide cog belt drive is available. Shown here is the engine bay of racer set up to run in the NMRA Coyote Modified racing class. This race kit requires the use of an ATI Performance products SFI damper.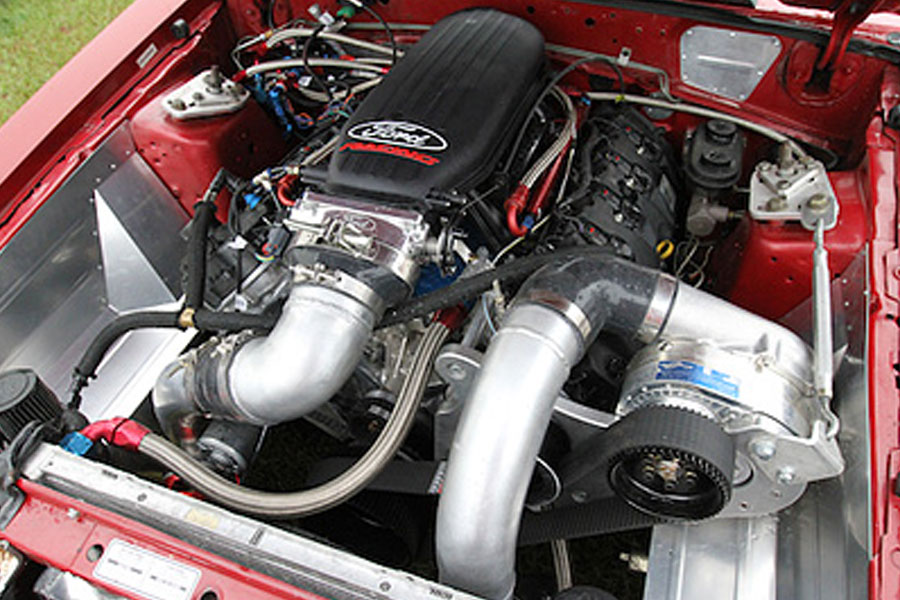 COYOTE ENGINE CRANK SUPPORT
The coyote engine is amazing at producing horsepower and turning big rpm numbers. However, in racing conditions with high boost, and high rpm, means a lot of stress can be placed on the front of the crankshaft (even with a turbocharged application). To help reduce the stress on the crankshaft, ProCharger has a support system that is designed to work with our supercharger systems and turbocharged applications. Is the crank support absolutely mandatory? Not really, but consider it cheap insurance with the Coyote engine, just like billet oil pump gears.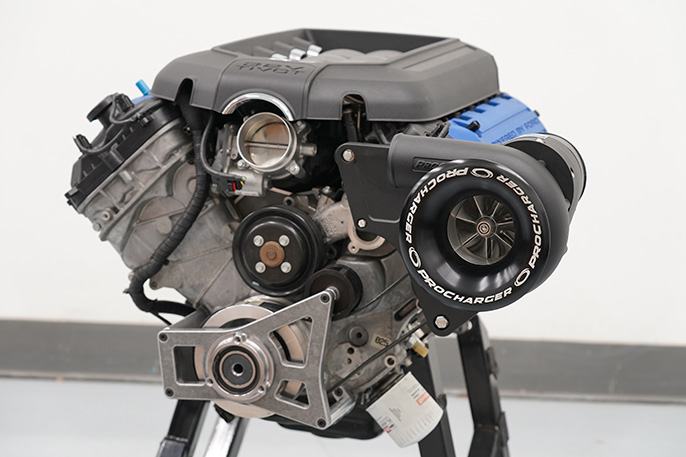 BUILD & PRICE
Kits starting at $5,799. Pricing on these units vary by configuration. Configure your purchase now.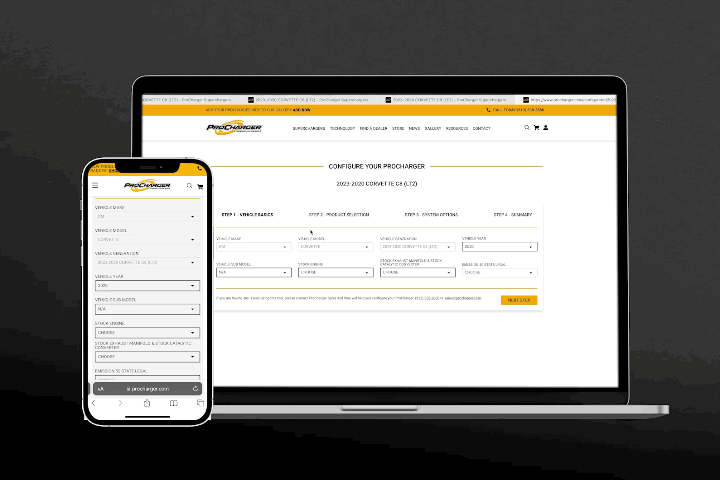 FIND A DEALER NEAR YOU
Looking to make a purchase or a shop to install? We have a large group of dealers ready to serve you with your ProCharger needs. Click below to find a dealer near you!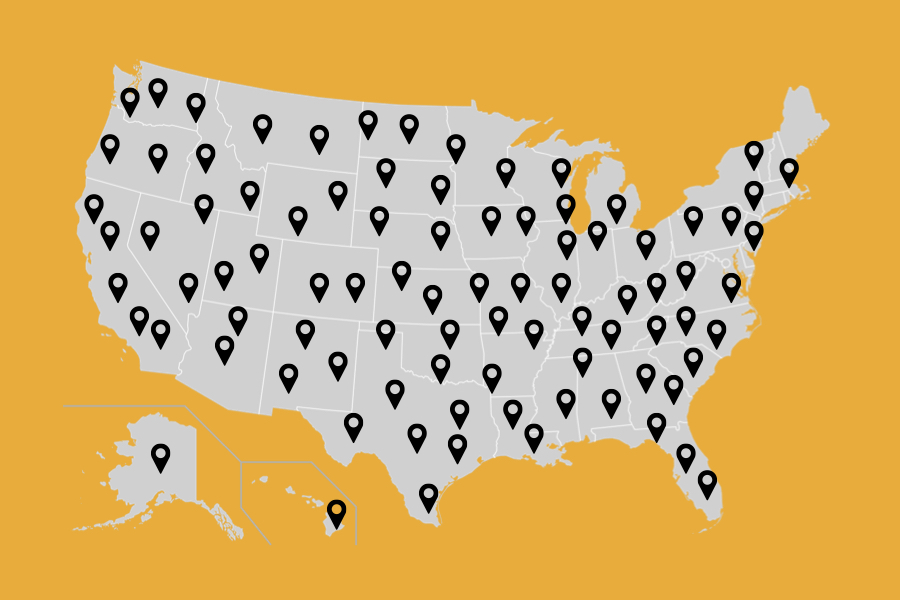 SURGE VALVE OPTIONS
Our ProFlow surge valve comes standard with the kit, though customers with larger blowers and/or higher boost levels can be upgrade to Race Valve for an additional fee.
INTERCOOLER OPTIONS
The standard air-to-air intercooler for this system is the "Stage 2″ unit utilized in our 2011+ Mustang GT systems, though you can also upgrade to the new massive "Race" air-to-air intercooler option. No matter which intercooler you choose, it comes with powered coated tubing, mounting hardware and couplers that should allow "bolt-on" installation on your Fox Body Mustang (system can be modified to work with other applications). These ProCharger intercoolers are made right here in the U.S.A. and feature the largest most effective core designs. Sizing of the cores come in at 1008 cubic inches for the Stage 2, and a MASSIVE 1296 cubic inches of cooling surface for the Race intercooler!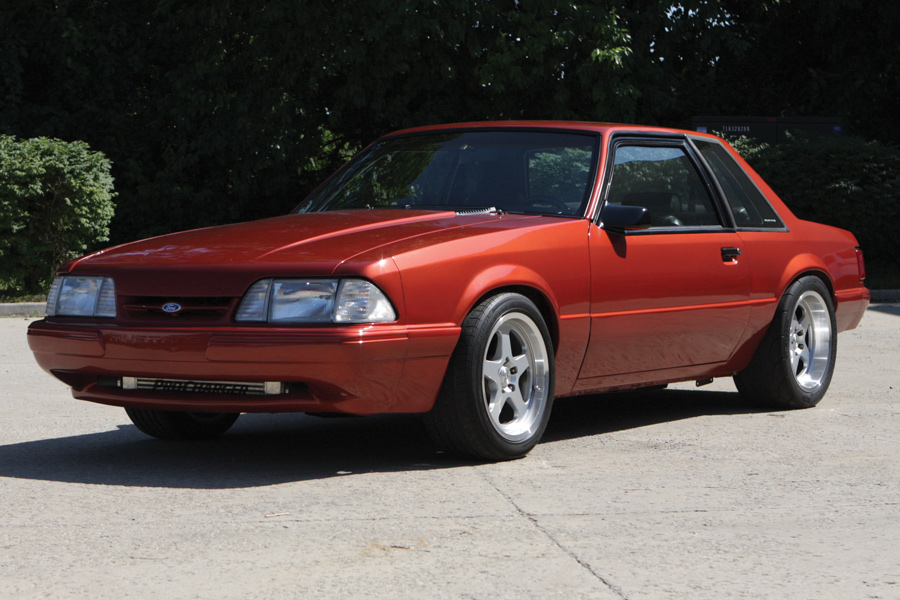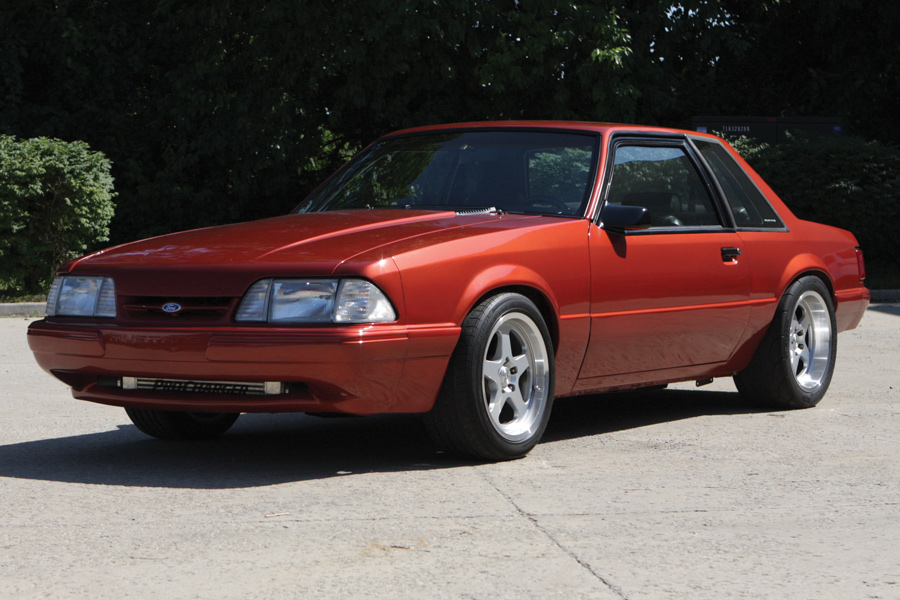 SPEAK TO AN EXPERT
Click to call our sales staff or email us if you need any help. We will be happy to assist you with any questions you may have.
Mon – Fri 8am – 5:30pm CST
Phone – (913) 338-2886
Sales Email – [email protected]
EMISSIONS COMPLIANCE
ProCharger offers Executive Orders for Emissions Compliance (EO) from California Air Resources Board (CARB) for many of our most popular car, truck and SUV applications. If you live in California, we can only sell you products with EO certification. Check out our full list of EO offerings.