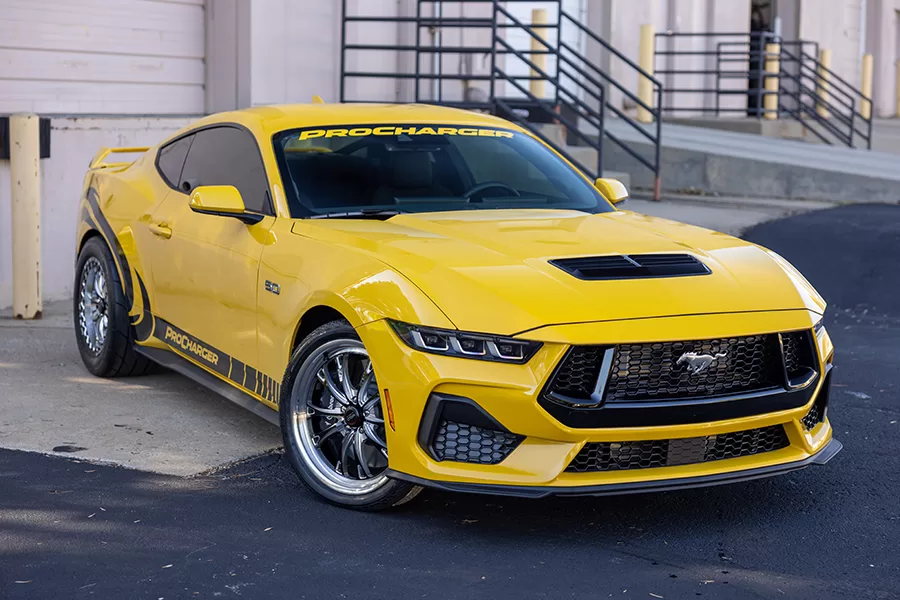 2024 Ford Mustang GT Superchargers
ADDING 315+ HORSEPOWER HAS NEVER BEEN EASIER
A ProCharger is the best power adder for many reasons:
• Powerful, efficient, and reliable
• Quick and easy installation
• Complete turnkey systems
• 100% reversible, no permanent modifications
• Retains dual throttle bodies
• Billet T-6061 brackets, pulleys, and head units
• Kit & finish options tailored to you
• Most advanced and durable superchargers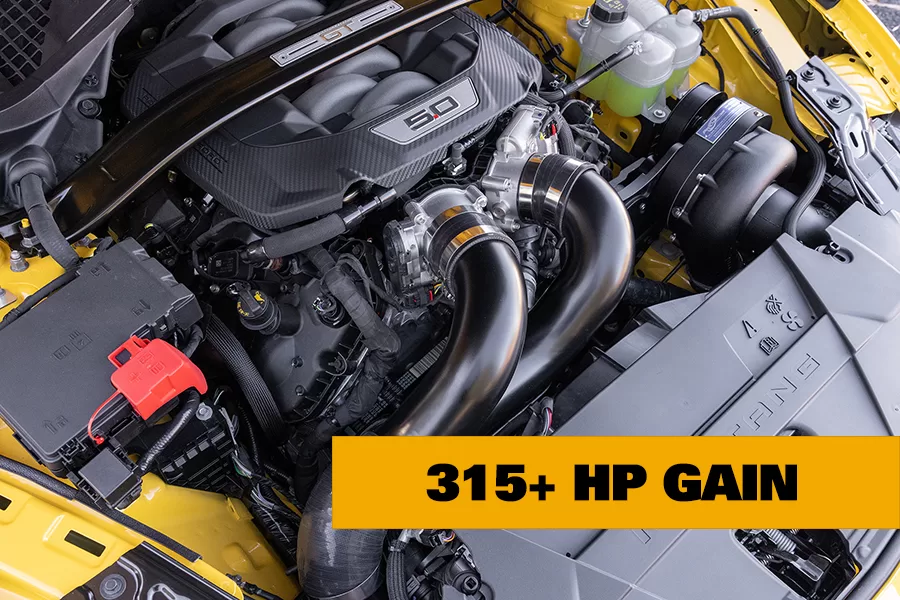 WHY CHOOSE PROCHARGER
• 30 Years of Innovation
• Largest Power Gains
• Coolest Charge Air Temps
• Street Legal Systems
• Most Wins and Championships
• OEM Quality and Appearance
• Best Service & Product Support
• Most Kits Ship Within 2-3 Days
• Made in America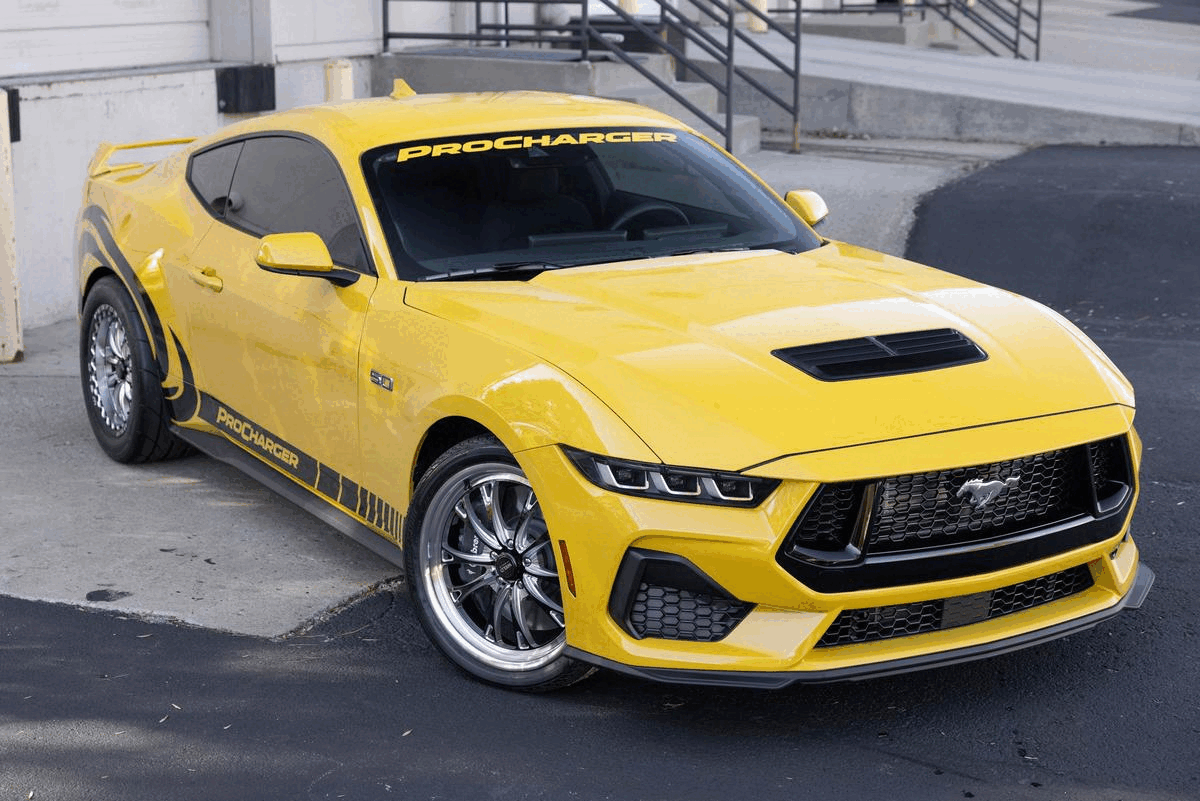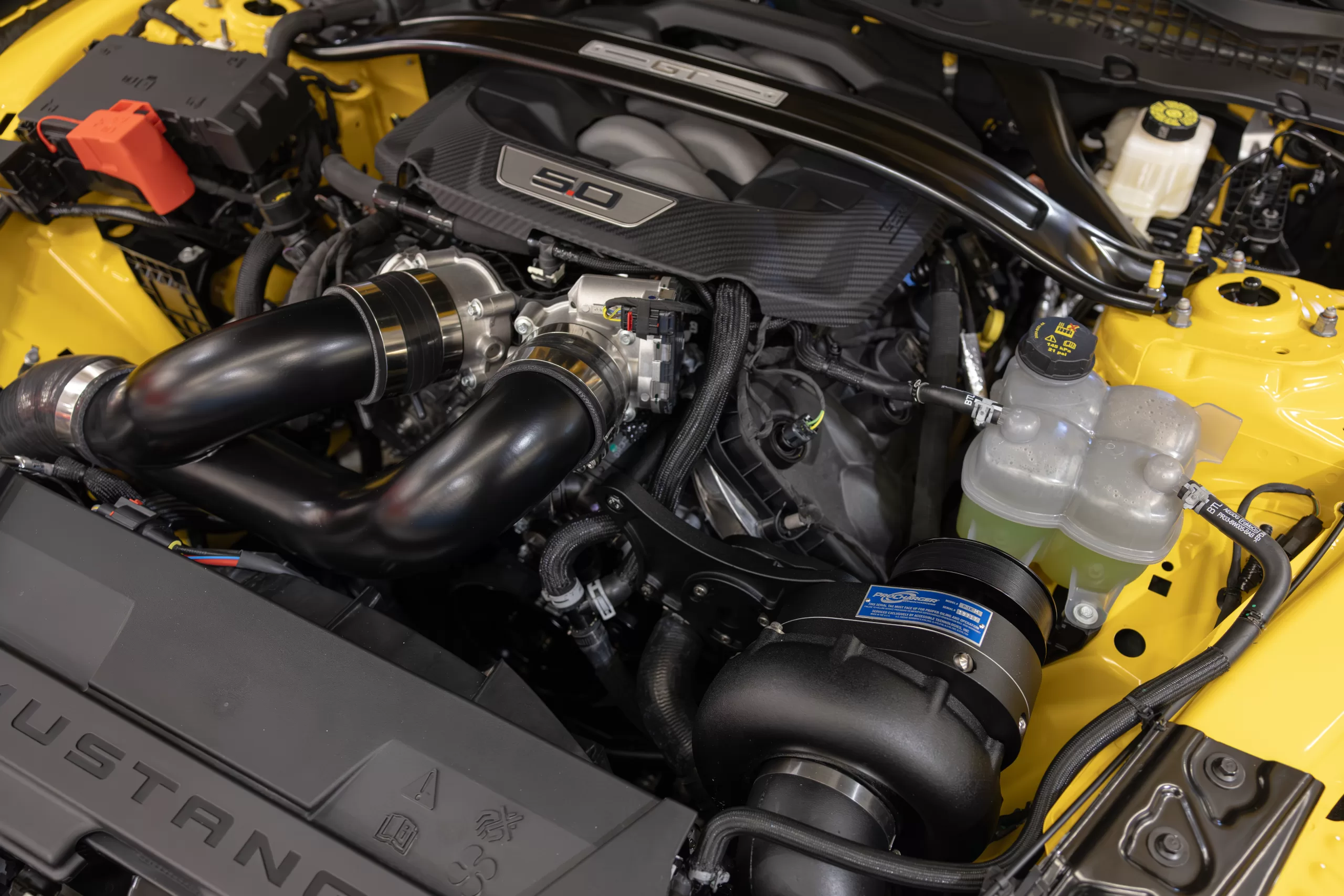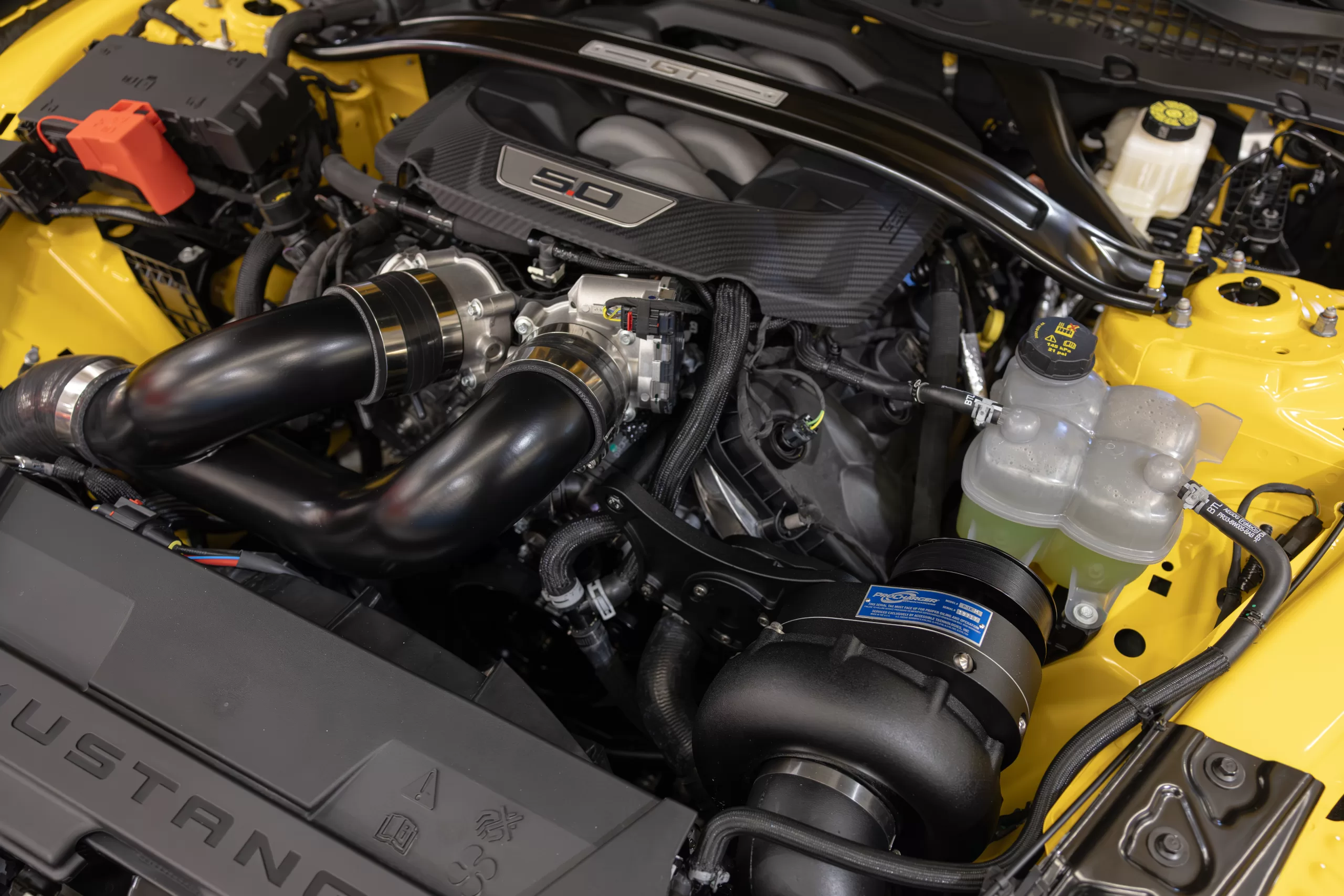 CHOOSE THE SYSTEM BEST FOR YOU
HIGH OUTPUT SYSTEM
• 250+ horsepower gain
• 6 psi of boost
• ECU/TCU tuning provided
• Multiple drive system options (6, 8 and 10 rib)
• Crank support available (for race applications)
• Air-to-air intercoolers (750+ HP or 1200+ HP)
• Base system comes with P-1SC-1
• High flow air filter system P/N 1EB214-SCI
STAGE II SYSTEM
• 315+ horsepower gain
• 8.5 psi of boost
• System contents are the same as HO system, except:
• 75% larger intercooler
• 8-rib dedicated belt drive system
• High flow air filter P/N 1EB212-SCI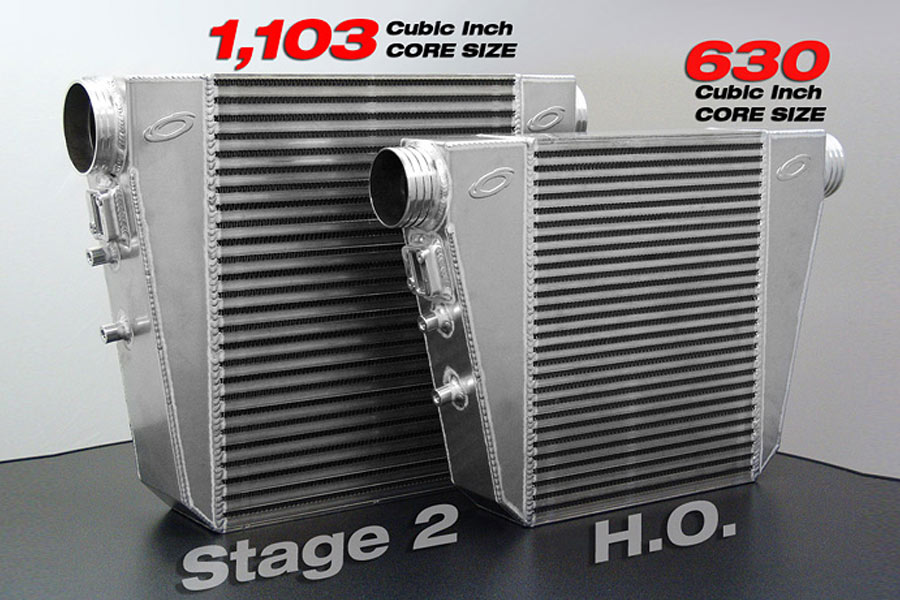 ---
"An all inclusive, sickeningly clean bolt on setup."
-5.0 Mustang & Super Fords
---
HAVE VEHICLE MODS? GET A TUNER KIT!
If you have, or plan to add in the future, other vehicle modifications, like experimenting with alternative fuels such as race fuel, E85 fuel, and methanol supplemental fuel, or changing engine components like heads, headers, exhaust, and cams for the engine, then a Tuner Kit is the best option for you. These kits make sense for someone wanting to perform custom tuning of the car and push the envelope in performance.
Tuner Kits are identical hardware to full systems, except they do not include tuning or fuel components. Tuner kits are highly customized by the end user and are, therefore, not emissions certified.
HO Tuner Kit – P/N 1EB204-SCI
Stage II Tuner Kit – P/N 1EB202-SCI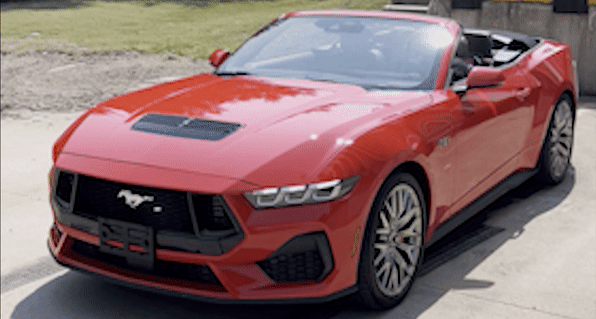 BUILD & PRICE
Pricing on these units vary by configuration. Configure your purchase:
COMING SOON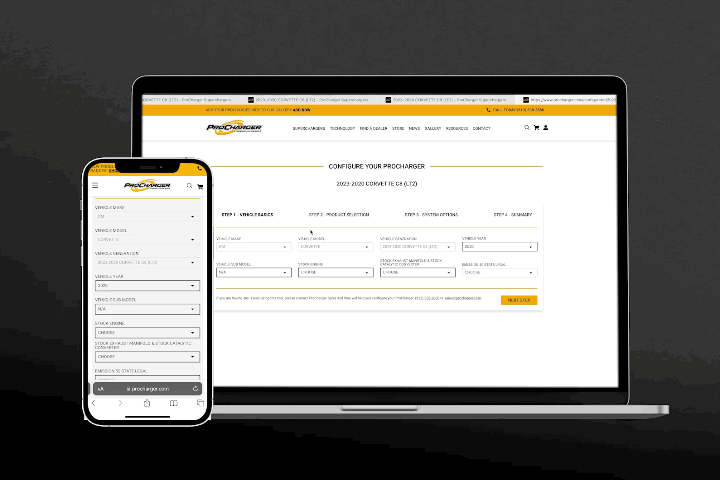 OTHER OPTIONS AND UPGRADES
Our HO and Stage II systems and kits are amazing as-is, but we know some of you are looking for highly customized configurations. Customize your system/kit the way you want it.
Polished, Black or Satin finish on the supercharger
Polished, Black or Satin finish on the supercharger bracket
Helical gear set for noise reduction (P & D blowers only)
Upgrade head units for higher horsepower (see section above)
1200hp Intercooler upgrade – Tuner Kits only
Black finish on the 1200hp intercooler
Learn more about HO vs. Stage II, Tuner Kits vs. Systems, intercooling, and other ProCharger technology.
WANT EVEN MORE HORSEPOWER?
If you are interested in even more horsepower than our base systems or tuner kits offer, we have several supercharger head unit and pulley/belt upgrades to choose from.
From P-1X to F-1A-94, what head unit do you need for your engine combo? What belt and pulley is right for you? Each application and combo has an ideal selection. We walk you through these questions and more on our "Power Upgrades" page.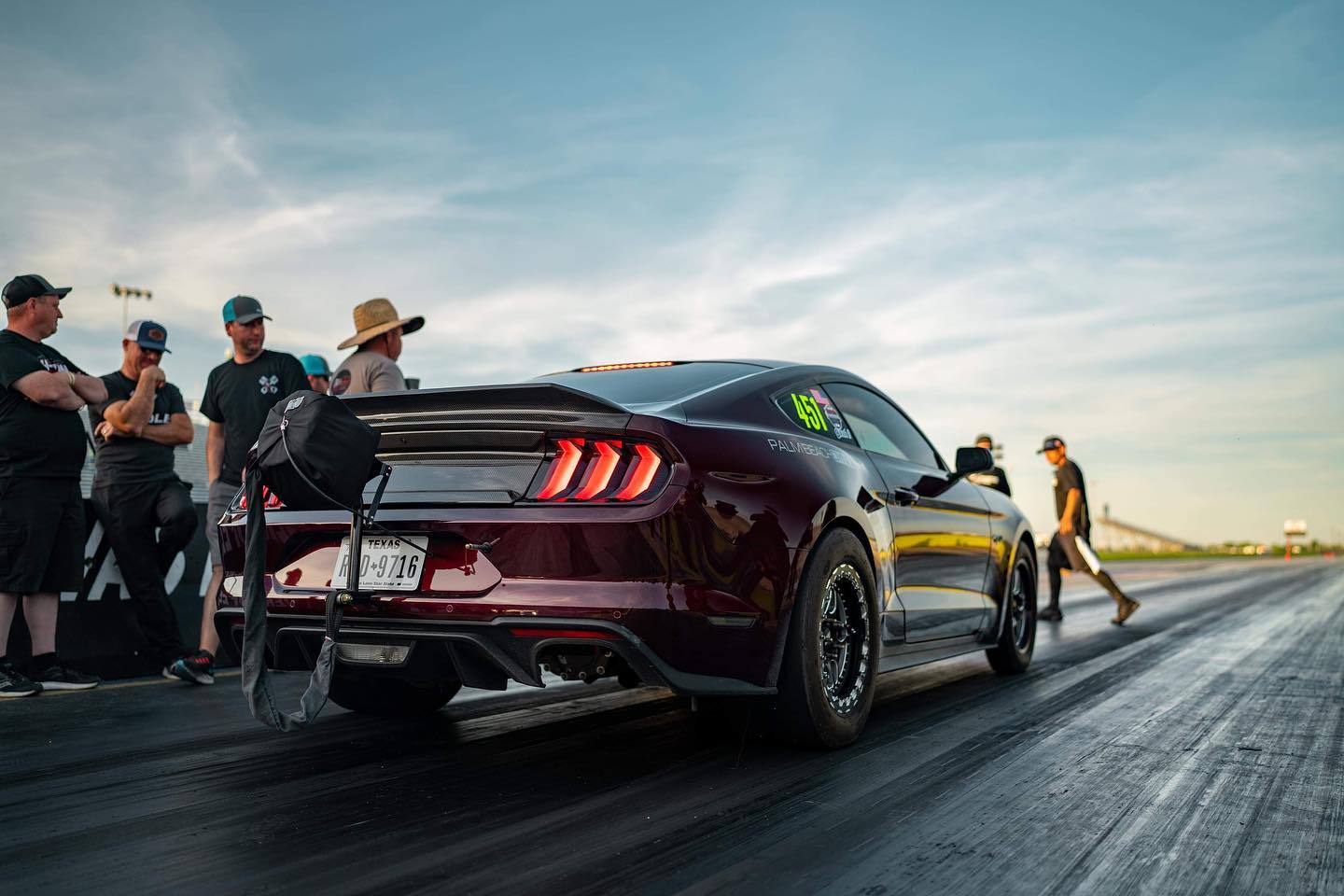 FIND A DEALER NEAR YOU
Looking to make a purchase or a shop to install? We have a large group of dealers ready to serve you with your ProCharger needs. Click below to find a dealer near you!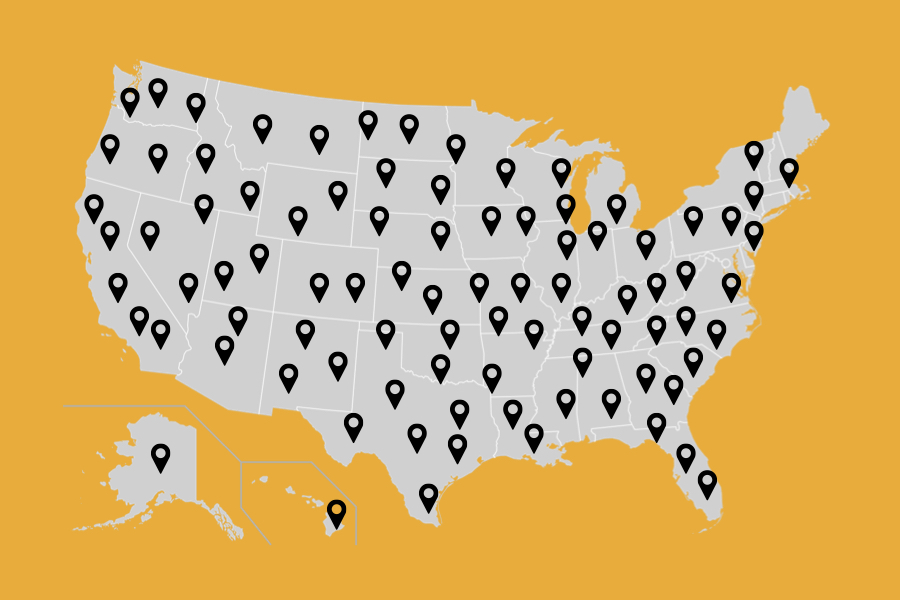 7-SEC MODIFIED ENGINE BUILD
The ProCharger Stage II system delivers! One of our favorite examples is the street-driven Mustang GT owned by Nick Fosnaugh. This car's 7-second track results have the very same bracket, tensioner, and 8-rib belt system that all our Stage II customers receive in their kits, combined with a F-1A-94 head unit. Nick opted for our crank support due to the high HP and RPM of his combination.
Engine: Built
Fuel: E85
Supercharger model: F-1A-94
Kit: Stage II Tuner Kit, P/N 1FW602
Exhaust mods: Full
Horsepower: estimated 1400+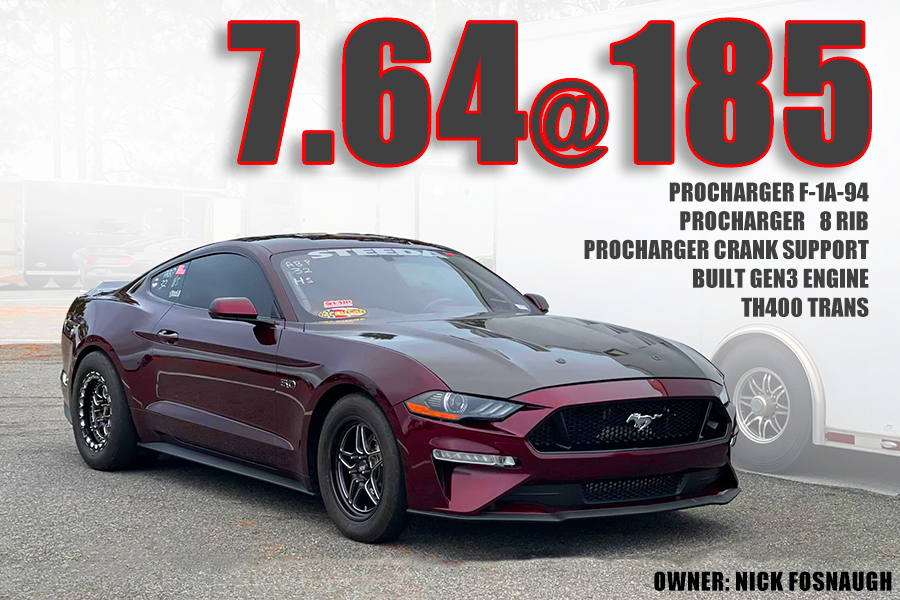 1000HP STOCK ENGINE BUILD
Maybe you aren't aiming for a 7-second Coyote. A lot can be achieved with a stock motor. We did this with our very own ProCharged Mustang GT, whom we call "Jack." Jack runs 954 whp with our Stage II Tuner Kit and everything else about the vehicle is stock. And with a fuel and pulley change we can reduce the power to a more reasonable daily-driver amount of 700hp. Boy, is Jack fun to drive!
Engine: Stock
Fuel: C16
Supercharger model: P-1X
Kit: Stage II Tuner Kit, P/N 1FW602
Exhaust mods: None
Horsepower: 954 whp / 1000+ hp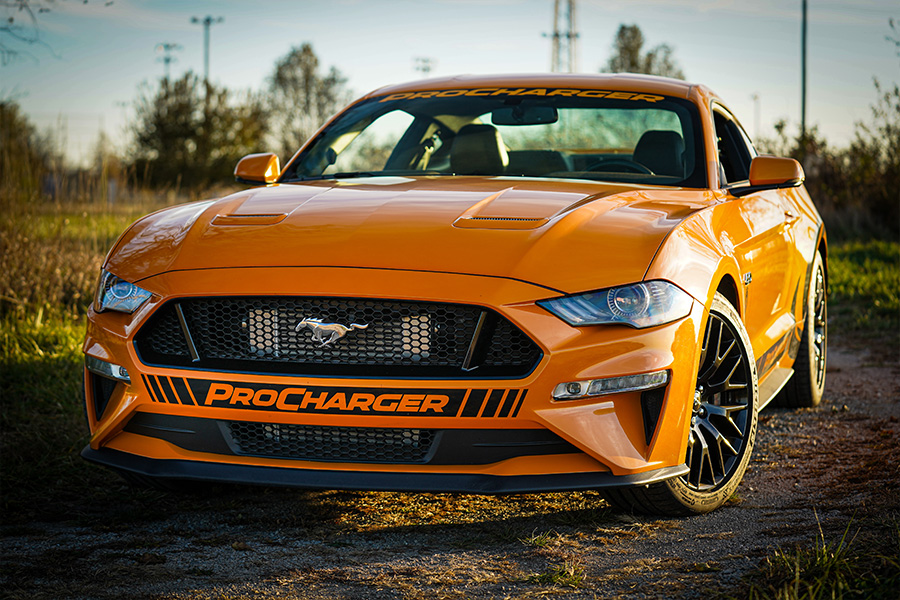 INSTALL IT IN YOUR OWN GARAGE
This installation is simple and something one can perform using common hand tools over the weekend. And the best part is that not a single piece of your new Mustang needs to be modified to make this system work. No cutting, bending, trimming, grinding, etc.
Thanks to Motortrend, you can read about their step-by-step experience with installing this Stage II ProCharger supercharger system. And the post-install numbers are big: 276 Rear Wheel HP (RWHP) gained or approximately 315 Crank HP – with an otherwise stock 2018 Mustang, running only 8.5 psi with the Stage II system and 93 octane pump gas. There's no easier way to bolt on that much power!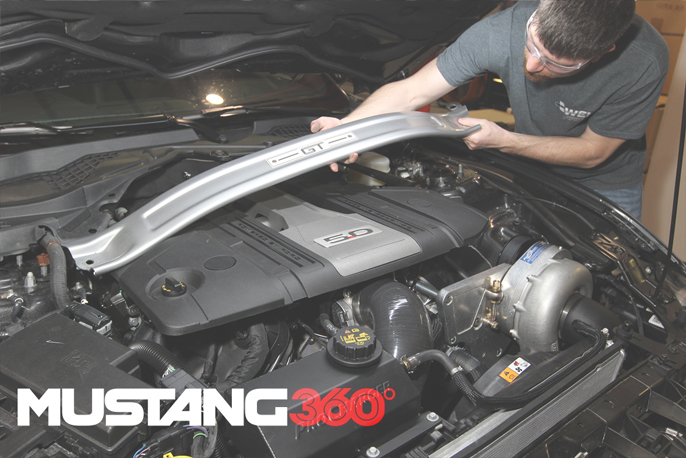 SPEAK WITH AN EXPERT
Call or email our sales staff if you need any help. We are happy to assist you with any questions you may have.
Mon – Fri 8am – 5:30pm CST
Phone – (913) 338-2886
Sales Email – [email protected]
Get a Catalog
Our catalogs are some of the most informative and beautiful in the industry. You can either download a copy or have one mailed to you free of charge.
MORE ABOUT PROCHARGING FORD VEHICLES
EMISSIONS COMPLIANCE
ProCharger offers Executive Orders for Emissions Compliance (EO) from California Air Resources Board (CARB) for many of our most popular car, truck and SUV applications. If you live in California, we can only sell you products with EO certification. Check out our full list of EO offerings.