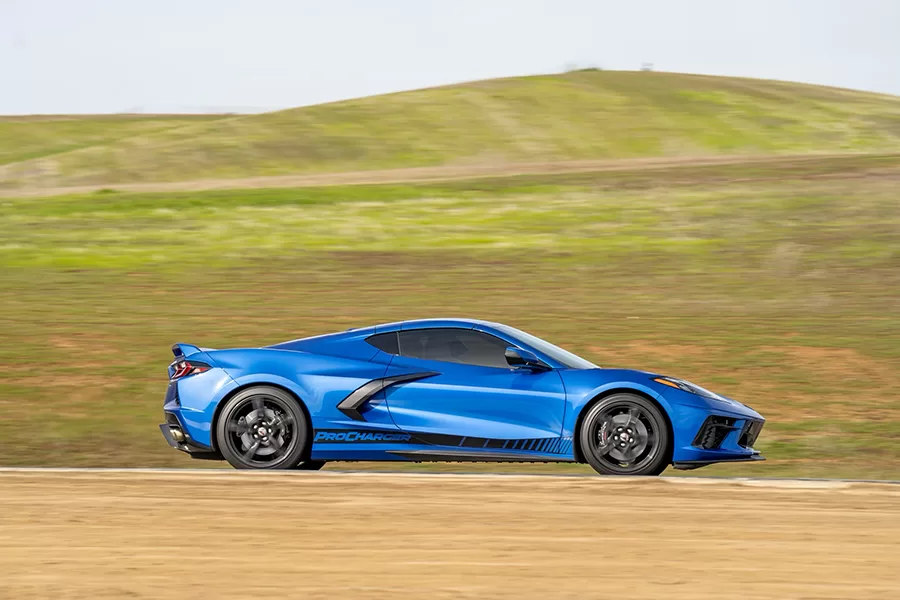 2023-2020 Corvette C8 Superchargers
GET THE WORLD'S MOST POWERFUL C8 SUPERCHARGER
Add 170-230+ more horsepower to an otherwise stock LT2 C8 Corvette (including stock exhaust, transmission and internals), designed with the reliability you need and the drivability you want. As seen in Corvette Magazine, bolting-on 45%+ power means more fun on the road and the track.
C8 SUPERCHARGER SYSTEM HIGHLIGHTS
A ProCharger is the best power adder for many reasons:
• Systems up to 230+ more HP on pump gas
• Capable of 900+ HP on modified applications
• No engine or trans removal needed
• No permanent modifications (fully reversible/removable)
• Complete turnkey systems
• Systems ready to ship to you or your installer
• Factory drivability and durability
• Retains Targa Top storage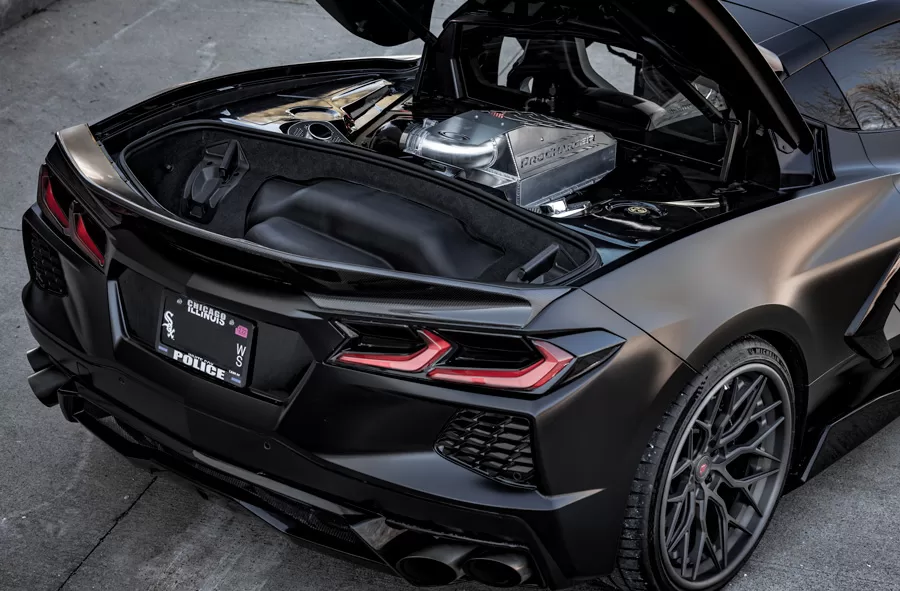 WHY CHOOSE PROCHARGER
• 30 Years of Innovation
• Largest Power Gains
• Coolest Charge Air Temps
• Street Legal Systems
• Most Wins and Championships
• OEM Quality and Appearance
• Best Service & Product Support
• Most Kits Ship Within 2-3 Days
• Proudly made in the USA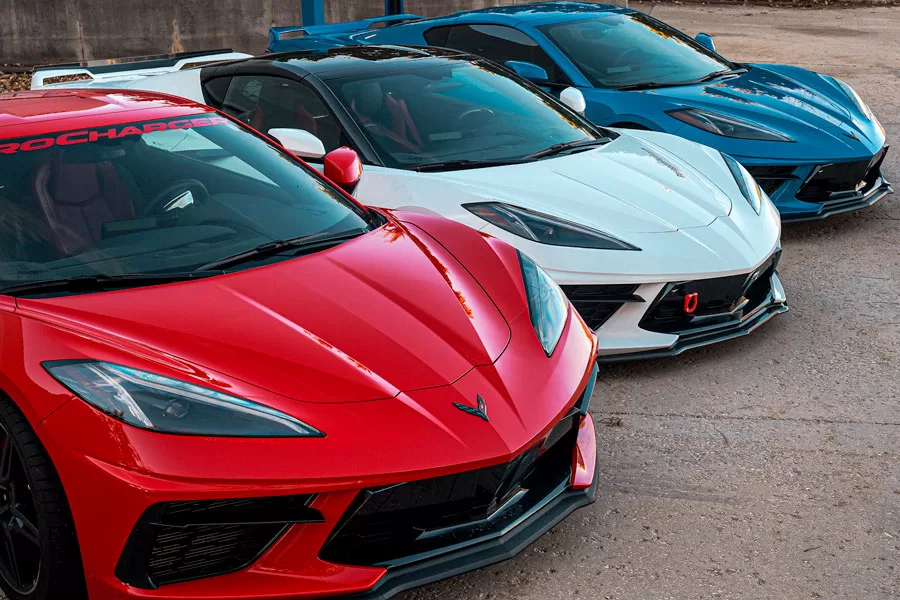 HAVE A CONVERTIBLE?
Our hard top convertible (HTC) C8 systems offer the same 5psi, 170hp gain (HO) and 7.5psi, 45% hp gain (Stage II) as the very popular coupe systems. These kits feature a new intake design that allow the hardtop to be fully retracted into the engine bay. If you have a C8 HTC, please visit our C8 HTC page to Build and Price.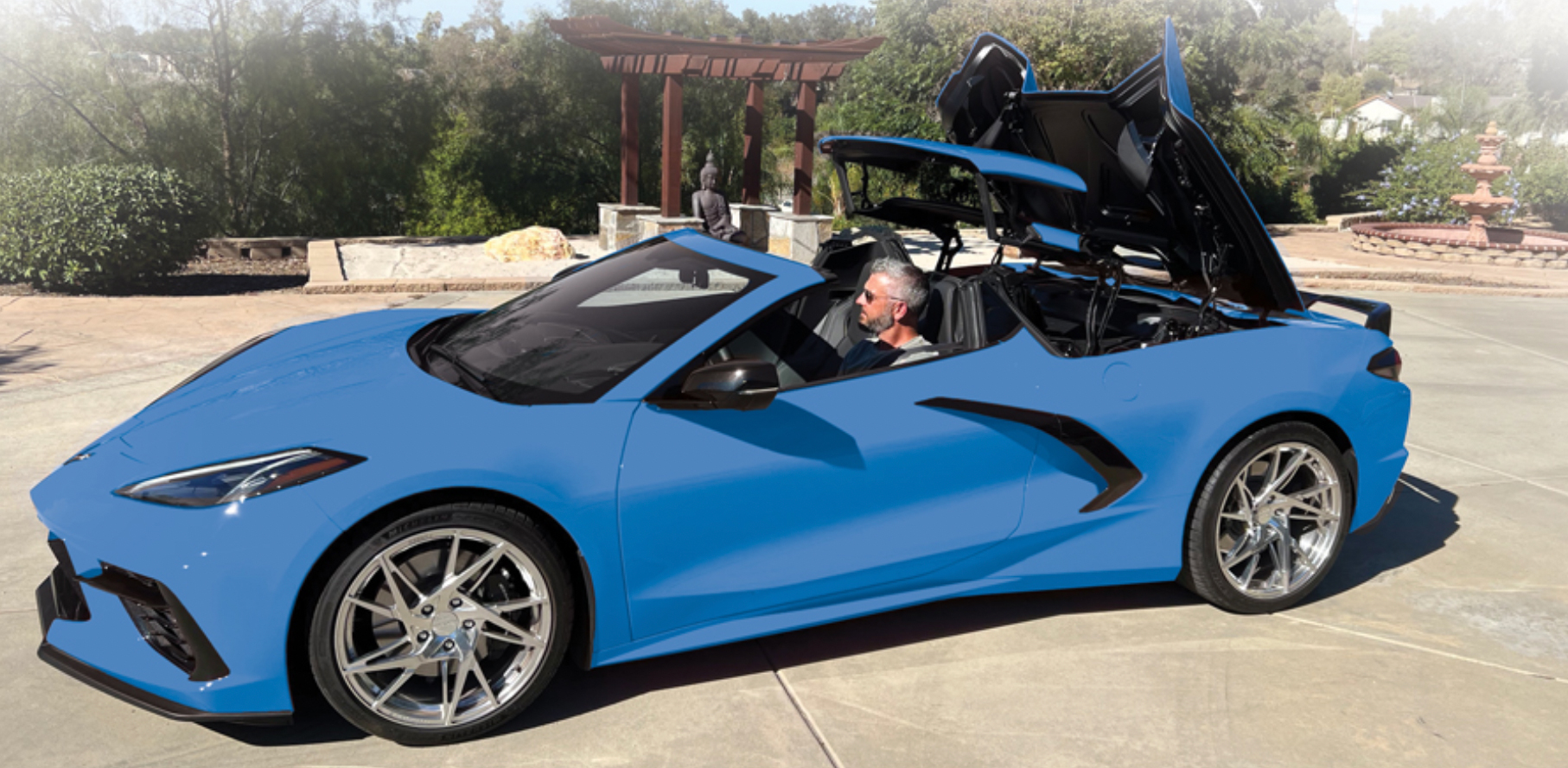 FEATURED ON COVER OF CORVETTE MAGAZINE
When it comes to taking a Corvette to the next level, no other aftermarket upgrade can match the power and performance gains of a ProCharger supercharger kit. Recently, one ProCharger-equipped Corvette C8 caught the attention of the automotive world by gracing the cover of Corvette Magazine!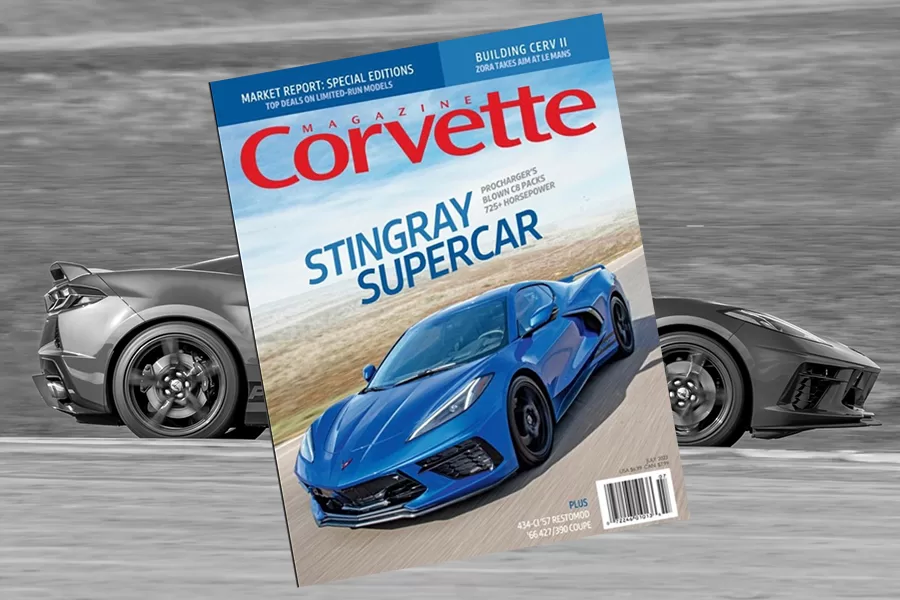 CHOOSE THE SYSTEM BEST FOR YOU
STAGE II SYSTEM
• 7.5 psi, up to 45%+ / 230+ more crank HP
• Produces the coolest charge air temps and largest power gains
• Bolt-on installation (no permanent modifications)
• Easiest installation, only requiring common hand tools (no engine removal)
• Air-to-water intercooler system
• CNC Billet intake manifold
• Robust CNC billet bracket system
• Self-Contained ProCharger head unit
• For stock engine and stock exhaust
• PCM calibration included
• Part #: 1KC412-SCI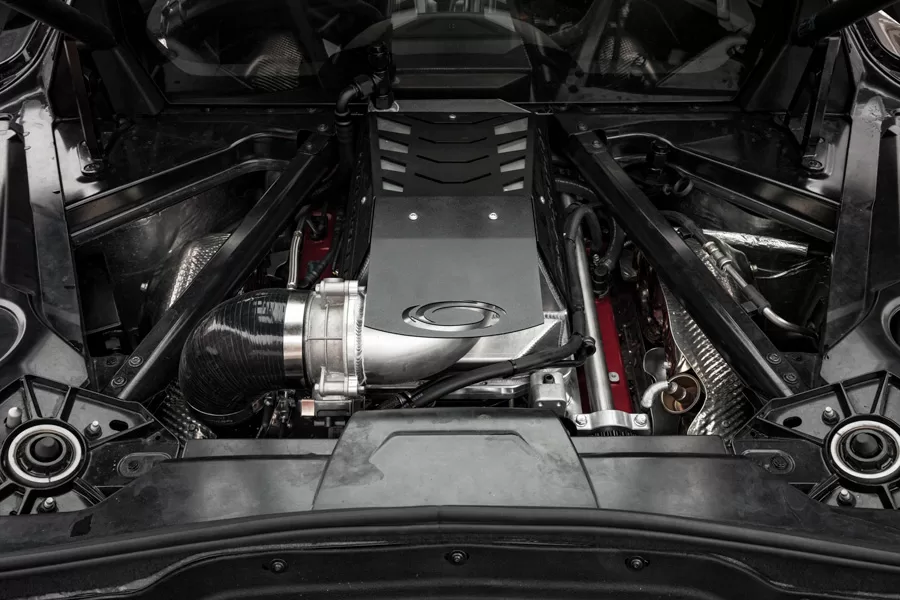 HIGH OUTPUT (HO) SYSTEM
Same as Stage II System except
• 5 psi, up to 170 more crank HP
• Part #: 1KC312-SCI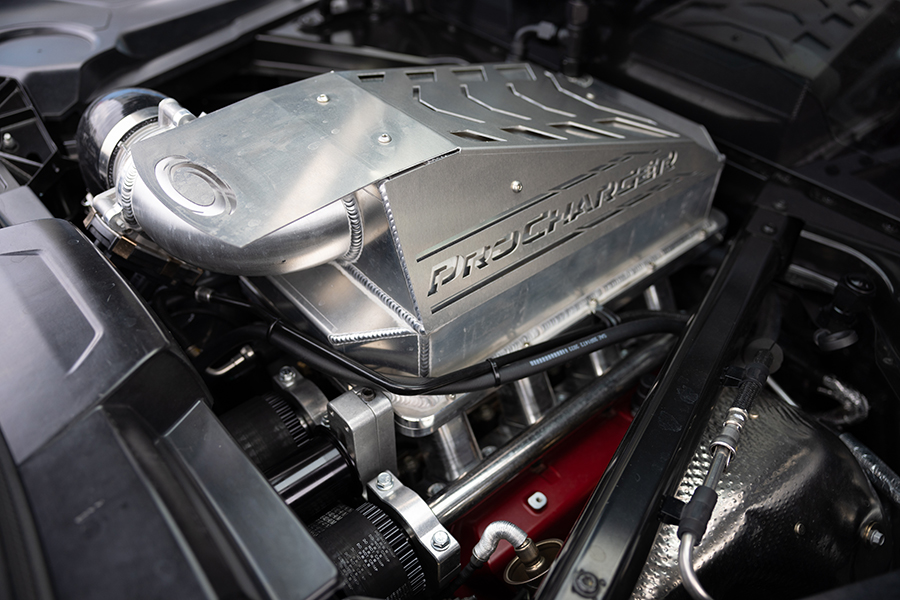 OPTIONAL UPGRADES
• Black or Polished supercharger and bracket finish
• Helical Gearset for noise reduction
• Sheet Metal Aluminum Intake Manifold w/ port injector bungs and fuel rail
• Black finish for intake manifold (raw finish standard)
• Black finish for intake manifold cover (raw finish standard)
• Supercharger upgrades such as P-1X or D-1SC
• Carbon fiber upgrades for manifold cover and trunk cover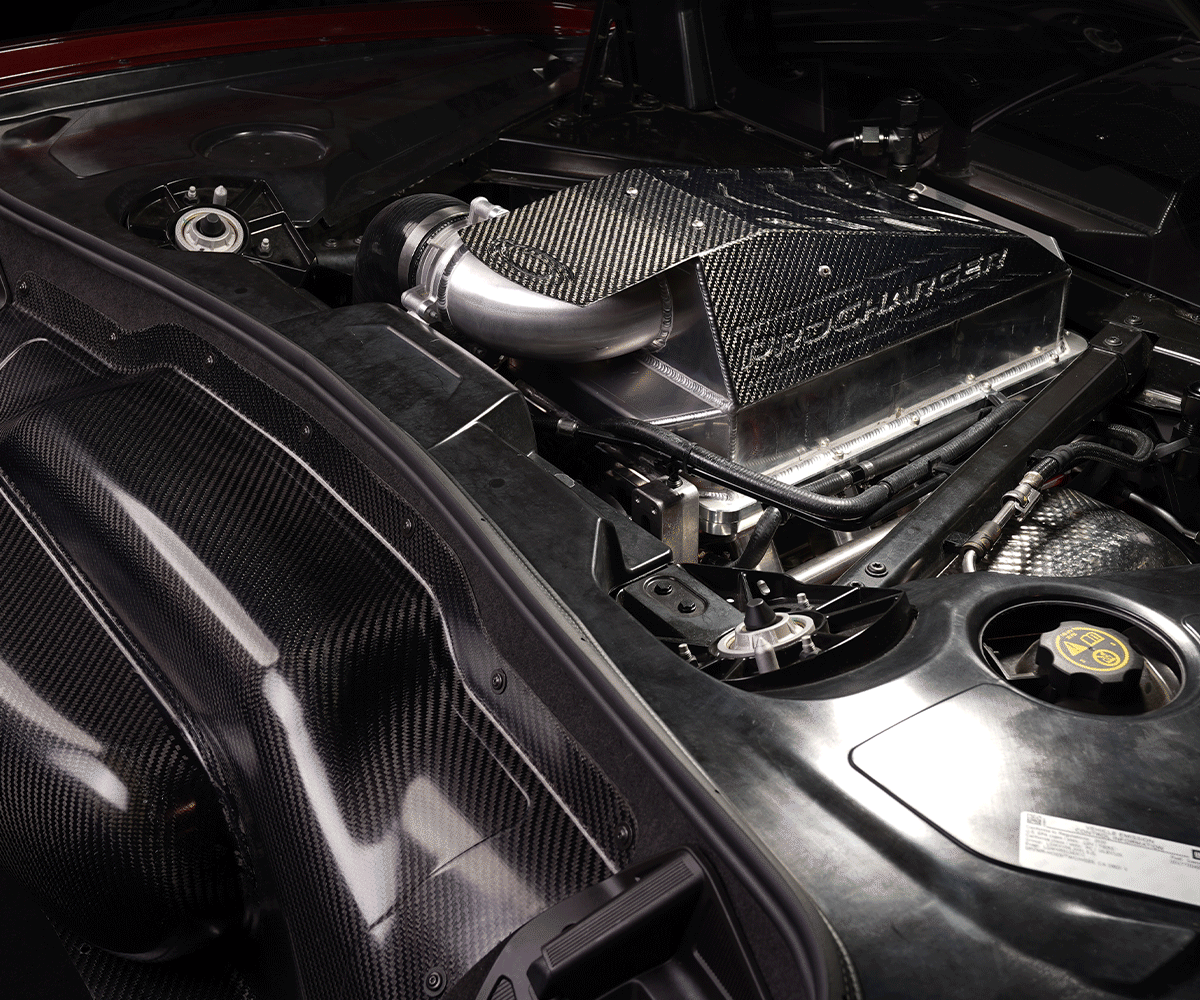 HAVE VEHICLE MODS? GET A TUNER KIT!
If you have, or plan to add in the future, other vehicle modifications, like experimenting with alternative fuels such as race fuel, E85 fuel, and methanol supplemental fuel, or changing engine components like heads, headers, exhaust, and cams for the engine, then a Tuner Kit is the best option for you. These kits make sense for someone wanting to perform custom tuning of the car and push the envelope in performance.
Tuner Kits are identical hardware to full systems, except they do not include tuning or fuel components. Tuner kits are highly customized by the end user and are, therefore, not emissions certified.
STAGE II INTERCOOLED TUNER KIT
Same as Stage II System except:
• Intake manifold includes port injector bungs
• Custom boost level and head unit options
• Does not include tuning, fuel system, or timing control
• For modified engines and exhaust
• Part #: 1KC402-SCI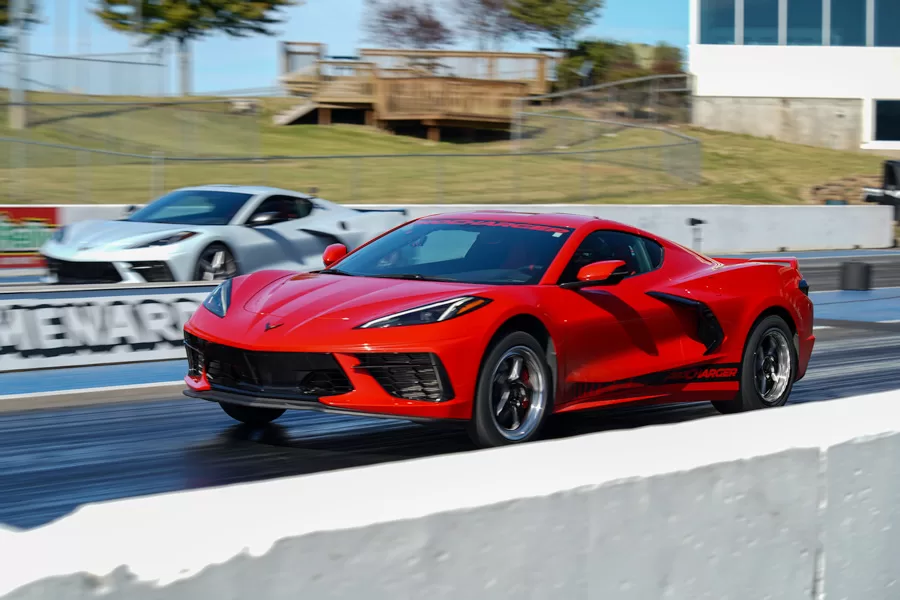 Want to learn about HO vs. Stage II, Tuner Kits vs. Systems, Intercooling tech and much more? Click the button below to visit the ProCharger 101 page.
BUILD & PRICE
HO System starting at $19,999.
Stage II System starting at $20,399
Stage II Tuner Kit starting at $16,999.
For C8 Convertible Systems, visit the C8 HTC page.
Pricing on these units vary by configuration. Configure your purchase now.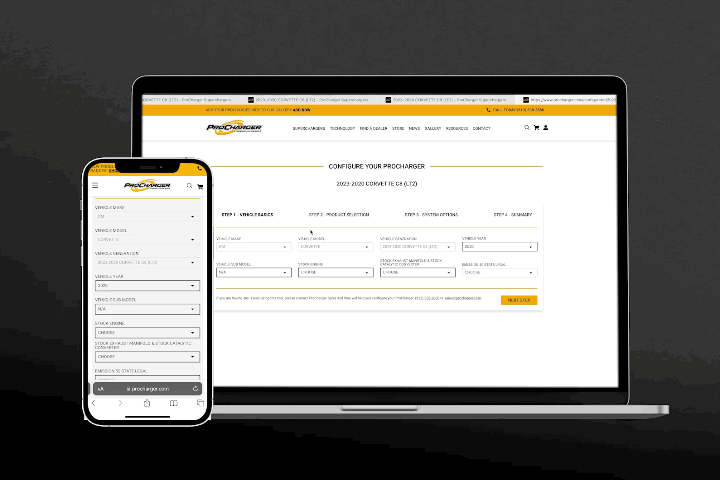 FIND A DEALER NEAR YOU
Looking to make a purchase or a shop to install? We have a large group of dealers ready to serve you with your ProCharger needs. Click below to find a dealer near you!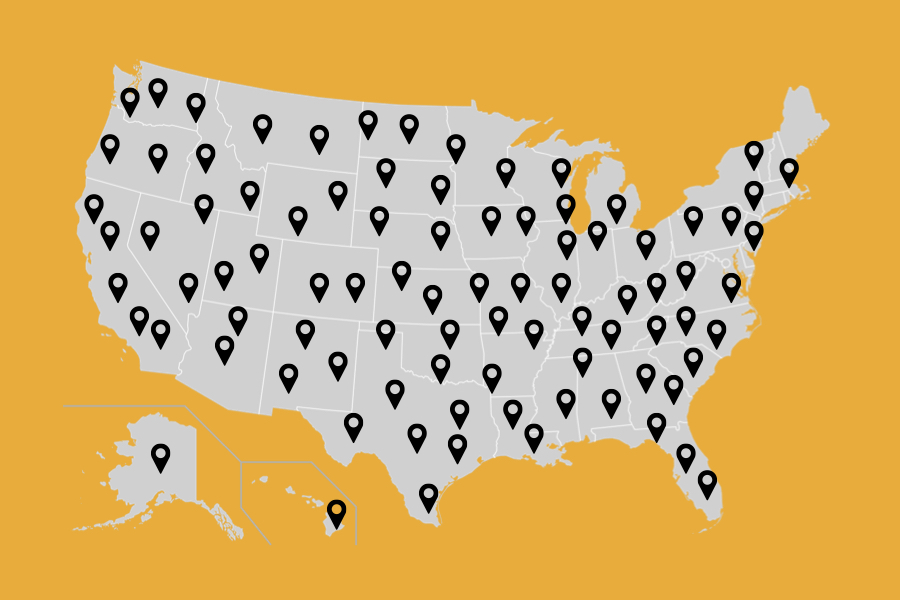 AS SEEN ON: LSX Magazine
While the rest of the world is clamoring over itself, dealing with price markups, allotment auctions, and order constraints on the anxiously-awaited Z06 Corvette, ProCharger has opened the door for any C8 Corvette Stingray owners to enjoy horsepower levels well above those offered by the much higher-priced Z-car. ProCharger's new Stage-II system is now available, so current C8 Corvette owners can easily leap to the front of the horsepower pack with their current ride.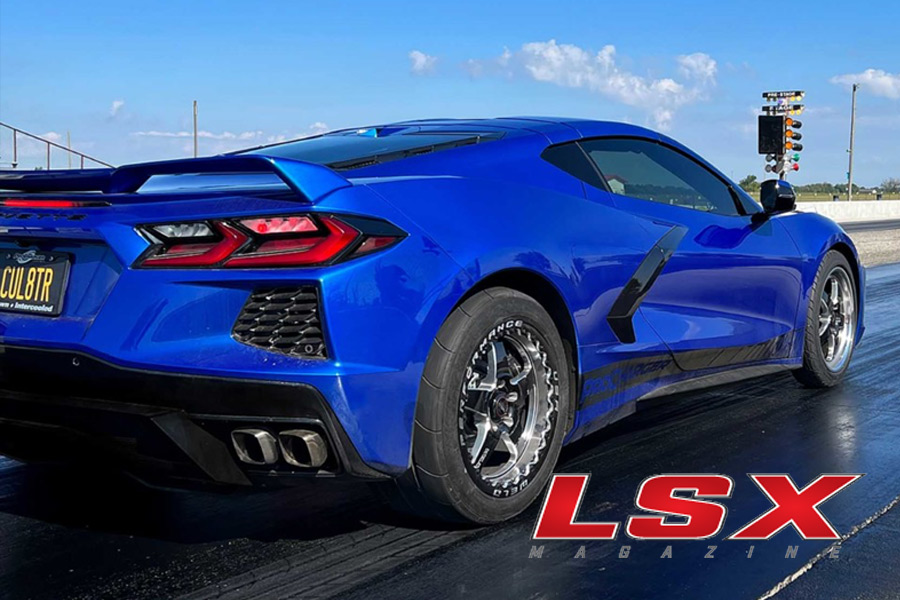 AS SEEN ON: MOTORTREND
At first glance the mid-engine design of the C8 Corvette is intimidating, but this installation isn't as challenging as you think. "The C8 supercharged system is actually 'easier' to install compared to the previous C7 body style since there are no body panels that must be removed, such as the front bumper in the case of the C7. The C8 system only requires an inner fender liner to be removed, the rear trunk panel, and the car's under panels. So yes, even though the mid-engine layout was a complex undertaking for engineering, it actually makes for a smooth and very DIY-friendly installation of the supercharger system."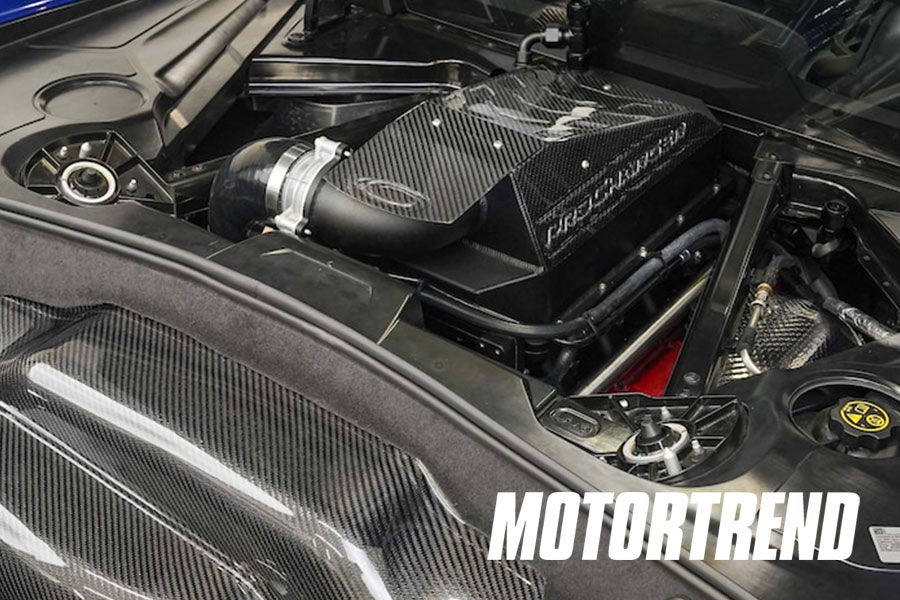 DRIVE TO TRACK / RACE / DRIVE HOME RESULTS!
Are you ready for a 132 mph daily driver?
Cause thats what the C8 supercharger kit delivers, and here is the proof.  ProCharger decided to drive 2.5 hours to the local track, race a couple of passes, and drive another 2.5 hours home (Yes, 5 hours round trip…thank goodness for good gas mileage and a great stereo).
The results that graced the scoreboards from our base model C8 were fantastic, to say the least.  Both passes were almost identical and had very large MPH numbers for the conditions (DA 1.604 ft).
We can't wait to get back to the track again, and with some more practice of the lower rpm launch, we are hoping to shave off a bit more time.
NOTE: This car is 100% stock running 93 octane fuel and our supercharger system/calibration as shipped to customers.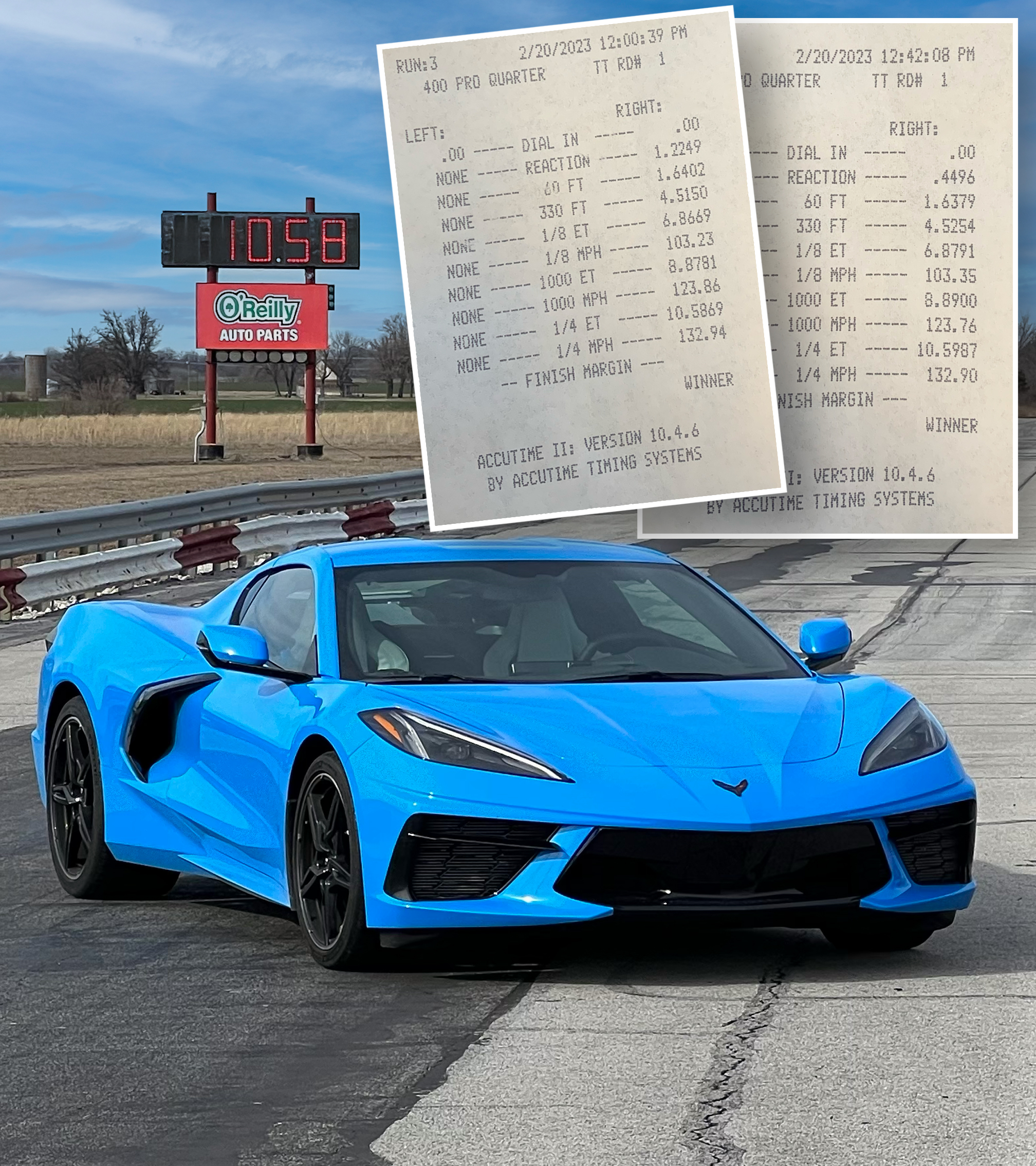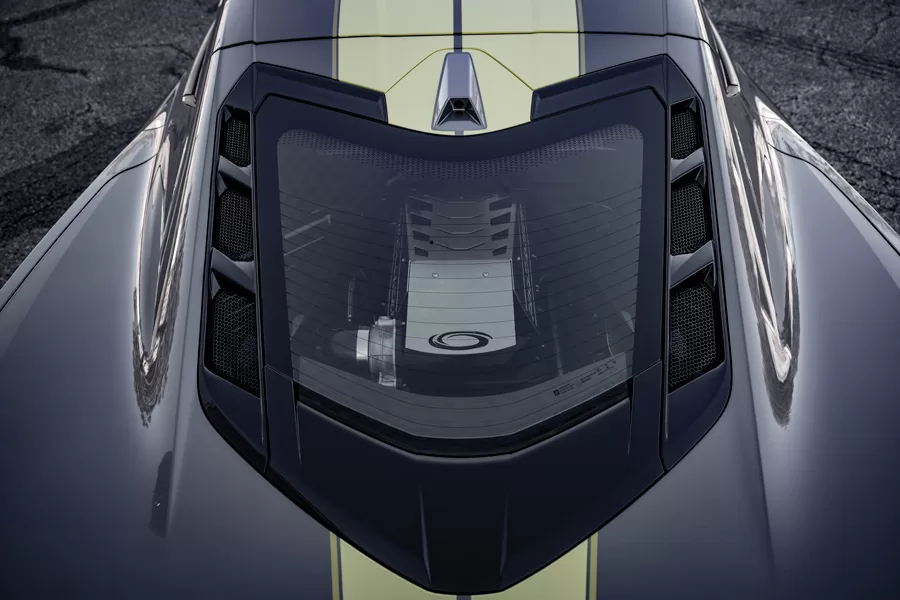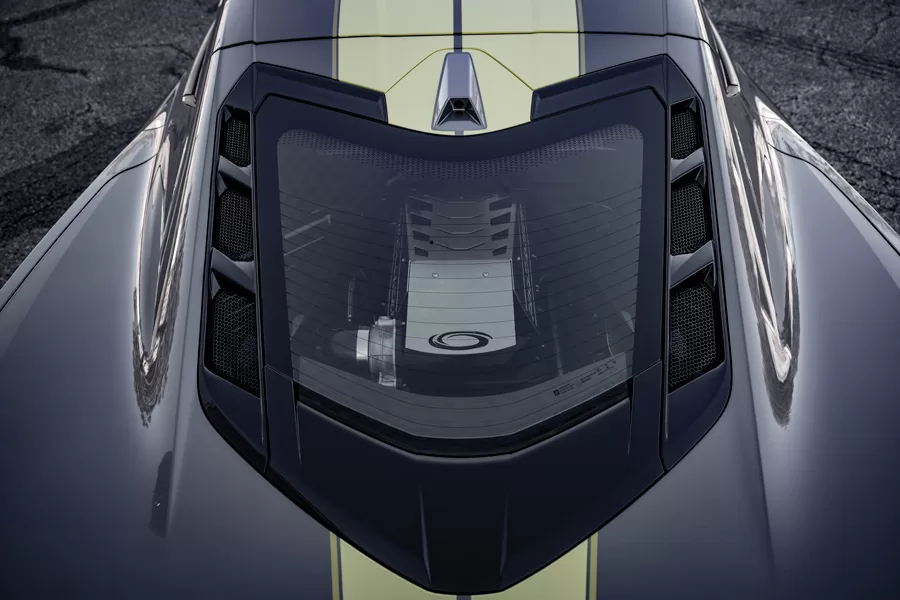 SPEAK TO AN EXPERT
Click to call our sales staff or email us if you need any help. We will be happy to assist you with any questions you may have.
Mon – Fri 8am – 5:30pm CST
Phone – (913) 338-2886
Sales Email – [email protected]
Get a Catalog
Our catalogs feature much of this detail. You can either download a copy or have one mailed to you free of charge.
CALIFORNIA EMISSIONS COMPLIANCE INFO (CARB)
California approved products for street legal use (complete systems) will have an associated CARB EO# for compliance. For a full list of California and 50 state street legal systems, click below.
MORE ABOUT PROCHARGING GM VEHICLES
EMISSIONS COMPLIANCE
ProCharger offers Executive Orders for Emissions Compliance (EO) from California Air Resources Board (CARB) for many of our most popular car, truck and SUV applications. If you live in California, we can only sell you products with EO certification. Check out our full list of EO offerings.