A Legacy of Innovation and Moving the Industry Forward
Motortrend Discusses ProCharger's 30-year Legacy of Innovation and Moving the Industry Forward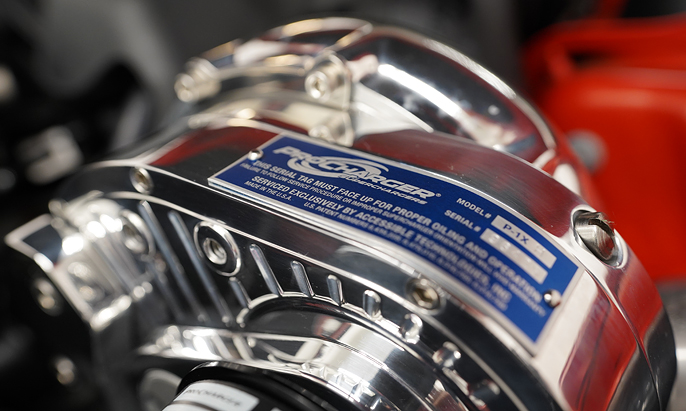 Why should one choose a ProCharger versus a different type or brand of supercharger? Motortrend published an article that answers that age-old question, and we couldn't have said it better. We highly recommend reading the full article, but here are the 12 questions and topics highlighted by Motortrend that showcase ProCharger's 30-year legacy of innovation and moving the industry forward:
1) "How Procharger Has Moved the Supercharger Segment Forward?"
Key quote: "Based on ProCharger's history of many firsts in the bolt-on supercharger market…[such that] over the past 30 years, improvements to supercharger kits in general can in large part be attributed to ProCharger, resetting the performance and price bar higher for everyone. This isn't hype, but a matter of historical record."
2) "What Sets Procharger Apart From the Competition?"
Key quote: ProCharger's disruptive technology "started with intercoolers, impeller design, and lubrication, and continues today with breakthroughs spearheaded by Pro Mod racing technology. By our reckoning, ProCharger has more 50-state-legal supercharger kits for late-model domestic applications than any other competitor…"
3) "Procharger R&D Through Racing"
Key quote: "Since the beginning, ProCharger has punished its products hard in the drag racing environment, testing new compressor technology, intercooler systems, and drive setups. When components break, ProCharger works closely with race teams to improve the product, often attending major events with a service-oriented staff and a hands-on approach to customer support."
4) "Does Procharger's Technology Leadership Pay Off? The Dyno Results"
Key quote: Going into the HOT ROD archives of data, the author compared ProCharger test results with "…test examples of competing kits that were most similar, and discovered two interesting things: Tests of ProCharger supercharger kits yielded higher rear-wheel power output than competing kits." They looked at 4 examples and in all cases ProCharger came out on top. The 4 examples were: Mustang GT With Coyote V-8, 2016 Dodge Challenger With 392 Hemi, 2014 C7 Corvette, and LT1 Camaro SS.
Read the full article to see how and why ProCharger came out on top.
5) "Procharger's Billet Alloy Impellers"
Key quote: "ProCharger started using CNC-machined 7075 T-6 billet aluminum aircraft aluminum in 1994, and still is the only supercharger manufacturer using this severe-duty material for impellers across its entire product lineup. This is important for the durability of the supercharger and its long-term health because of the higher turbine speed used in ProCharger compressors and the temperature and pressure extremes they experience."
6) "Why Are Bolt-On Supercharger Kits So Popular?"
Key quote: "Bolt-on supercharger kits are the obvious choice for hobbyists who want the most power for the least amount of cash and hassle. It's also the best avenue by far for staying on the right side of the law."
7) "Aren't Turbochargers the Same as Superchargers?"
Key quote: "Like a supercharger, a turbocharger is a compressor that feeds the engine more air, but a turbocharger is powered by the heat energy of the exhaust, where a supercharger uses mechanical energy from the crankshaft."
8) "Types of Supercharger Kits"
Key quote: "Supercharger kits are divided into two types: centrifugal and positive displacement…"
9) "Procharger's Standard Air-to-Air Intercooling"
Key quote: "Today, some form of intercooling is considered mandatory for a bolt-on supercharger kit, but back in 1994 it was a first for the industry. Only turbochargers had intercoolers, and once the ProCharger kit came out, the competition scrambled to catch up."
10) "Procharger's P600B—the Breakthrough Blower"
Key quote: Back in 1994, ProCharger offer their first supercharger kit to the media and "guaranteed that their blower kit would put a stock 5.0 Mustang in the 11s with only a pair of slicks. We called bullshit but didn't tell them as much. We felt it was an impossibility based on everything we knew about the 225-hp 5.0-liter Fox-body Mustang. About a week after the ProCharger kit showed up at our door, we had a fistful of 11-second timeslips."
11) "Procharger's Gearbox-Driven Compressor"
Key quote: "Much as the ProCharger intercooler changed the supercharger kit landscape, so did ProCharger's precision-ground internal gearbox…the gearbox advancements pioneered by ProCharger are often duplicated, and that's good for everybody."
12) "Procharger's Self-Contained Internal Lubrication"
Key quote: "While HOT ROD finds both internal and external lube circuits on today's supercharger kits are more than adequate, one cannot doubt the time-saving aspect of a self-contained setup when it comes to kit installation and preparing a vehicle for resale. Here again, others have adopted the practice as standard procedure."