PROCHARGER SUPERCHARGES THE ENTIRE MUSTANG LEGACY: 1964.5 – 2020
FROM PONY CARS TO PROMODS, PROCHARGER FOR EVERY MUSTANG!
Our company was founded on making the best centrifugal supercharger around for Mustangs. Though quickly we grew into other applications both for street, racing, marine, and even industrial. However, what we never lost was our passion for Ford's sports car we all know and love. No matter what your Mustang passion is, from daily driven stock applications to something a little wilder for weekend fun, we hope you enjoy our deep dive into the generations of Mustang boost!
---
EARLY MUSTANG 1964.5 TO 1978: (FIRST / SECOND GENERATION)
Starting with an original 1964.5 convertible 289 V-8
Rocking a blow through carb set up, this ProCharged pony car has spiced up the drives to work for its owner Stacey. The ProCharger system fits in between the factory frame and fenders without any modifications since after all, these cars are extremely rare these days. The added "boost" in performance really helped to wake up this pony-car's drive to and from the office and to shows on the weekends. ProCharger made this system ultra-easy to install, and it also fits most "early" Fords with the 289/302 V8's and even some 351W based motors. For more information on these amazing systems, please click below.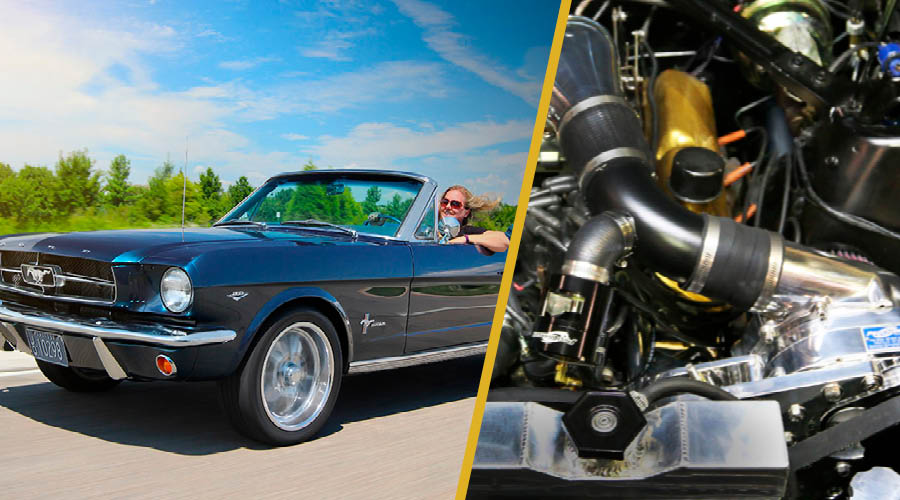 To a Wild 250+ mph 1967 GT500 ProMod
Alex Laughlin has grabbed everyone's attention in NHRA ProMod behind the wheel of the Elite HP's 1967 Shelby GT500. Tune into your NHRA racing schedule to watch this 3,500+ HP ProCharger F-4X powered Shelby do battle on the main stage. For more details on this big power ProCharger and matching CrankDrive system please click HERE.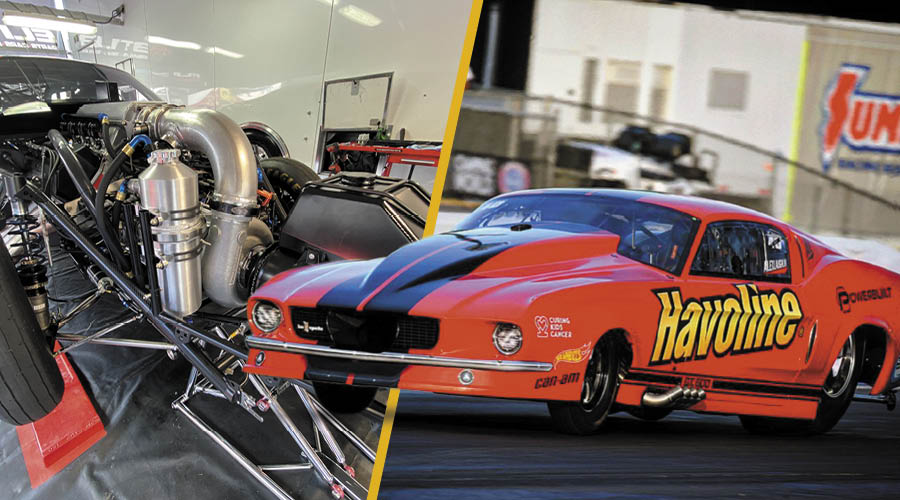 ---
FOX BODY – THE 80'S MUSCLE 1979 – 1993: (THIRD GENERATION)
A supercharged "Fox" never goes out of style
It doesn't take many modifications to make these cars amazing weekend toys, and here is a perfect example. This 1993 Cobra owned by Erik is a prime example of a well-preserved car, with some tasteful modifications and a touch of boost. Erik opted for a ProCharger D-1SC system, featuring twin high flow intercoolers feeding 10psi of boost to the stock 302 engine. To see all the amazing configurations from mild to wild for the 1979-1993 platforms, please click below.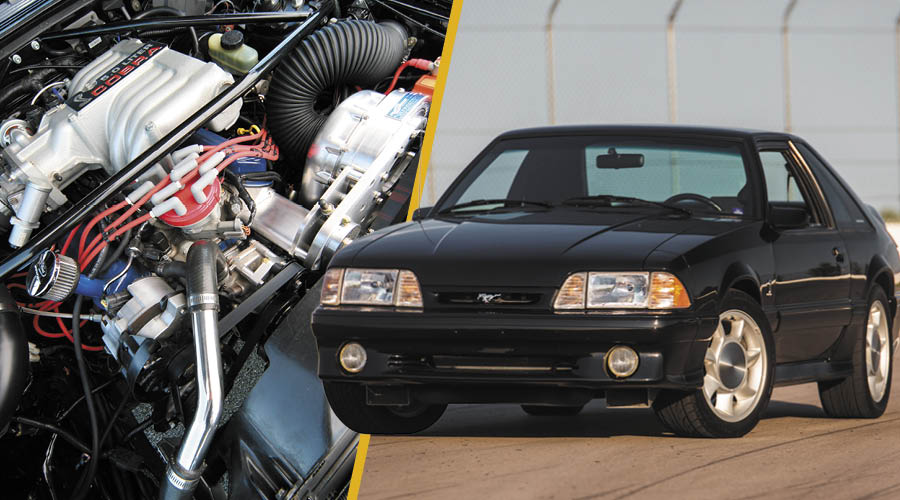 Dan Whetstine has one wicked boosted Small Block Ford!
From the zoomies to the ultra-clean engine bay, we absolutely LOVE this wicked fast Fox Body Mustang built by Dan and Tim Essick (mentioned later in this blog). The power comes from an all-aluminum 351w based engine, and class legal ProCharger F-series supercharger, that's driven via the crankshaft. No matter if you are looking for 400hp for a stock engine, or 2,500+ hp for a racing application, ProCharger has the perfect supercharger for your small-block Ford race engine. For more information on these race superchargers, please click HERE.
---
SN95 – PUSHRODS MEET MODULAR 1994-1998: (FOURTH GENERATION)
From Push Rods to the "Modular" 2 and 4 valves…
During the late '90s the Ford Mustang went through many power plant changes…the 302 got phased out, while the 4.6L got phased in. Good thing the ProCharger engineers were working overtime to keep up with all of the changes, offering bolt-on supercharger systems with gains up to 85%! (Yes, we said 85%) So no matter what engine you have from 1994-1998 (including the V-6's) we have a supercharger system for you. For more information on these amazing systems, please click below.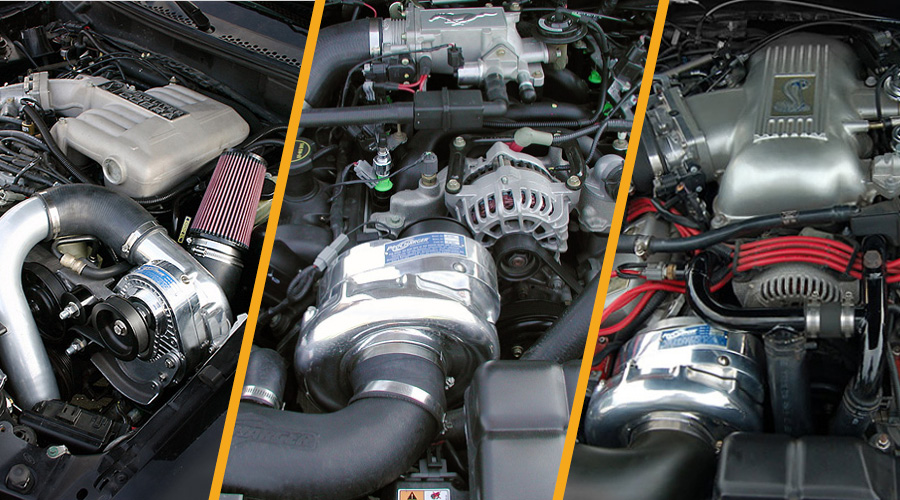 She goes 221+ mph in the 1/4, and nearly 3 seconds in the 1/8th
Andy Manson is knocking on the 3-second zone in his LDR prepped Mustang. Powered by a small block Ford engine from Disomma, and rocking a ProCharger F-3R-121 for boost. This car has been one of the most consistent cars on the track for years and years. If you see Andy pull into the lanes, you better have your game face on, cause you know he's going "A to B" as they say, and hes going to do it in a hurry. To learn more about how to make 2,500+ horsepower from your small block Ford race engine, click HERE.
---
NEW EDGE / MODULAR MUSTANG 1999-2004: (FOURTH GENERATION)
From the GT's with "2 valves" to the Cobras and "4 Valves"
The wave of performance that came from the "ModMotorMustang" era was an absolute highlight of the Mustang career and has kept the momentum even to this day. Due to the added complexity of the SOHC and DOHC motors, one of the best "bangs for the buck" modifications to these engines was… you guessed it…boost! And nobody does 4.6L boost better than ProCharger. For more information on these amazing systems, please click below.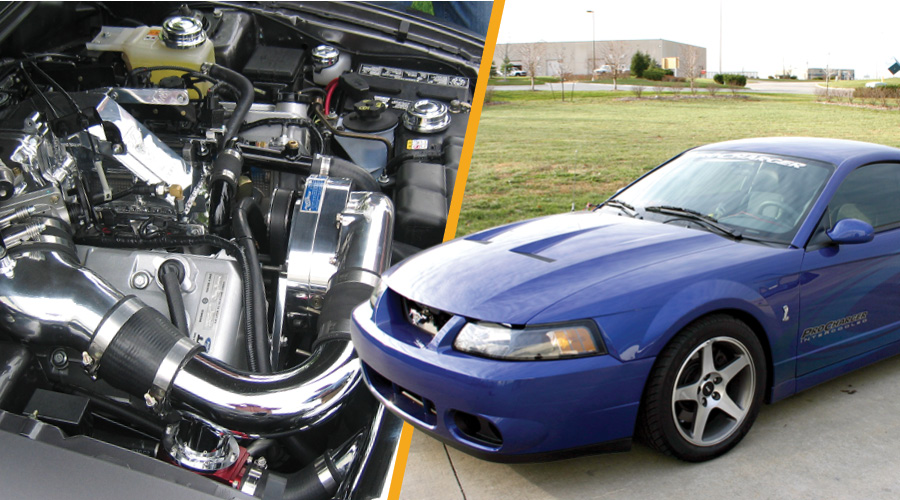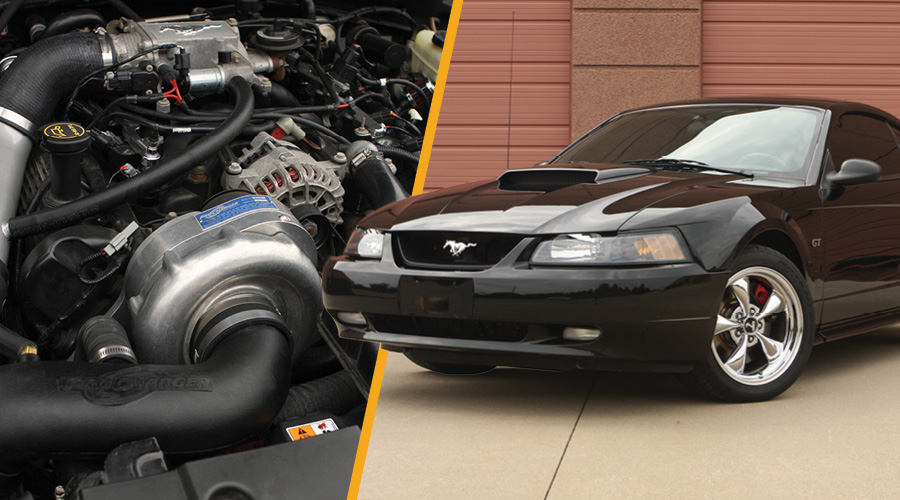 The race toy with the heart of a Navigator
Built / Tuned and driven by the owner Dan Rosner, this 5.4L modular powered Mustang is an awesome example of what can be built at home in the garage for a little weekend fun. It also helps when you keep winning races and putting a little $$$ in the pocket. Dan uses a ProCharger F-1A-94 to add about 15psi of boost to his 5.4 that has been modified with aftermarket rods/pistons and camshafts to put this new edge Mustang well into the mid 8 second zone. For more information on this car please click HERE.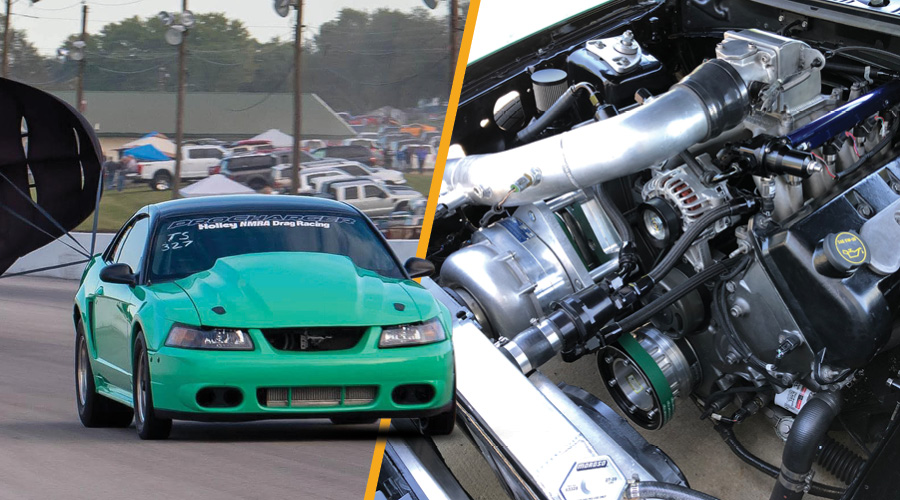 S197 – RETRO IS BACK PLUS COYOTE 2005-2014: (FIFTH GENERATION)
Ford adds a valve(s) to the base V8, and the V6 gets more power!
The Ford engineers shocked the world when they lifted the cover off the new retro-inspired S197 body. Not only that, but both the V8 and the V6's underwent major changes all in the name of good old fashion horsepower. During the last years of this generation, the major shift to the "Coyote" based engine platform happened, and we all know what that's lead to. Thankfully ProCharger engineers worked hard, and not only kept up with Fords changes year after year. But also offered the BEST supercharger kits for massive HP gains for the "3 valve" 4.6L engine, as well as the "Gen1" Coyote for GT's and Boss302s. For more information on these amazing systems, please click below.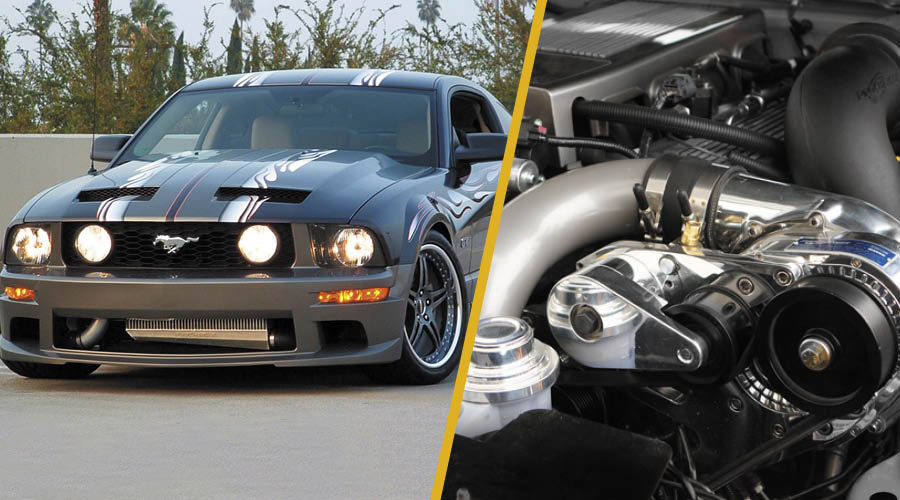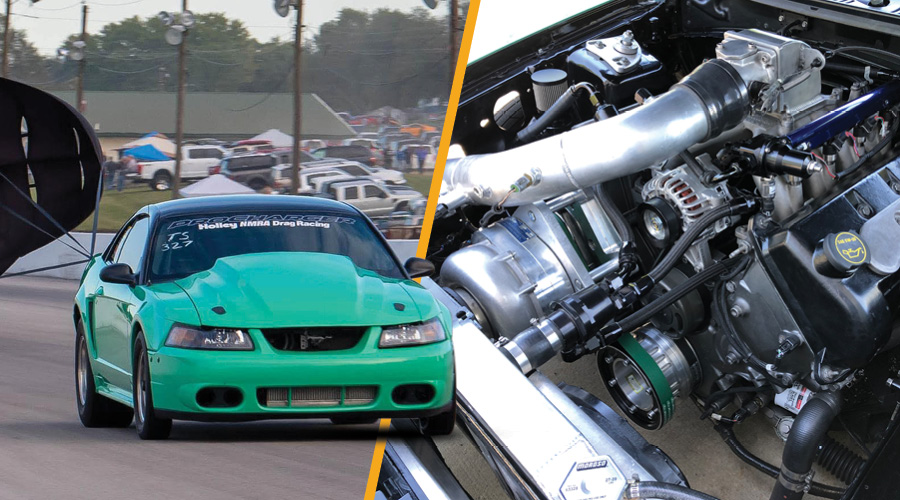 Jake Conant might have one of the baddest GT500's around!
Now we don't make a "bolt-on" kit for the GT500 cars of this body style. However when it comes to racing Jake shows off what happens when you unbolt the factory supercharger, and add a ProCharger F-1A-94 to a wonderfully built 5.8L Mod Motor. This car keeps getting faster and faster running in the 4.5 zone in the 1/8th mile at full Ultra Street class trim. If you want to put your Mustang into the winner's circle in virtually any class legal racing, please give us a shout at [email protected] For more information on this amazing ProCharged Shelby, please click HERE.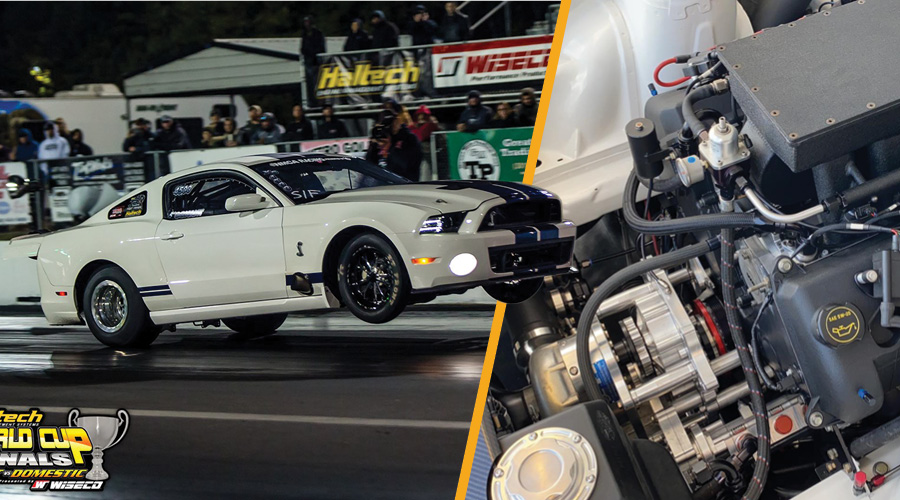 ---
S550 – "THE MODERN" MUSTANG 2015-2021: SIXTH GENERATION)
The technology monster, wrapped in a pony car exterior.
How does 877hp on pump gas sound? Or maybe a 300+ HP bolt-on supercharger kit? These are the kind of amazing performance numbers coming from stock Mustangs, running ProCharger supercharger kits on premium pump gas! With all of the technology Ford packed into these cars and we packed into our supercharger systems, we are proud to say that customers of our bolt-on kits can enjoy the biggest power gain we have ever offered! Plus these systems are fully DIY friendly and are often installed in the garage on a weekend. From the exclusive Bullit and GT-350 to the 2nd and 3rd generation of the Coyote engine found in the GT's, we have you covered for every S550 engine that craves boost. For more information on these amazing systems, please click below.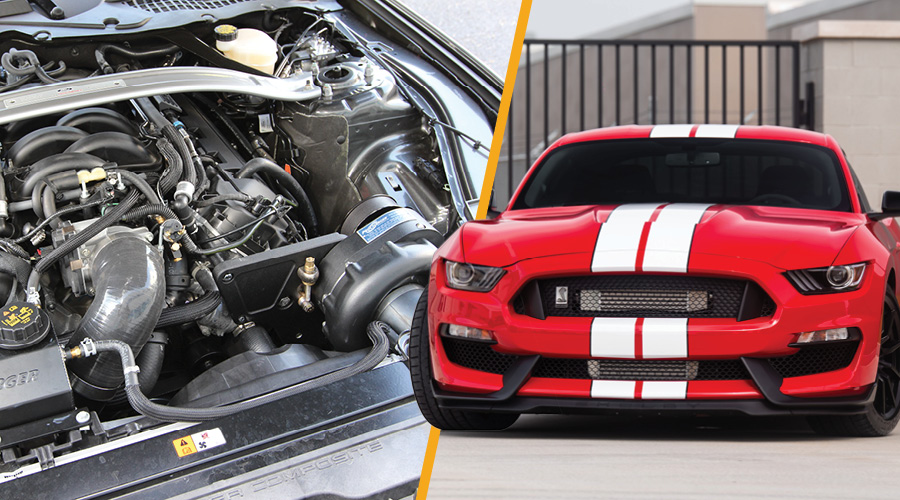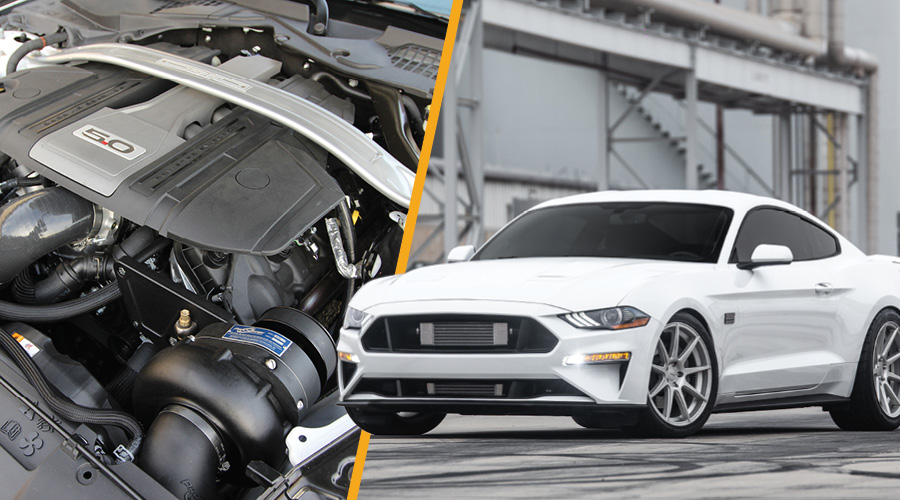 Rick Erdman takes on NMRA Limited Street with ProCharged S550!
Real world DIY performance: That's what is really impressive about this S550 below, as Rick is going round after round in a car that still has the STOCK engine and STOCK PCM! On top of that, Rick is virtually a 1-man show when it's amazing performance,… from building it, racing it, and even tuning the PCM. Proof that a simple combo that's dialed can go deep into the 8-second zone, even with a street supercharger like this D-1SC. For more info on this machine check out this great write-up HERE.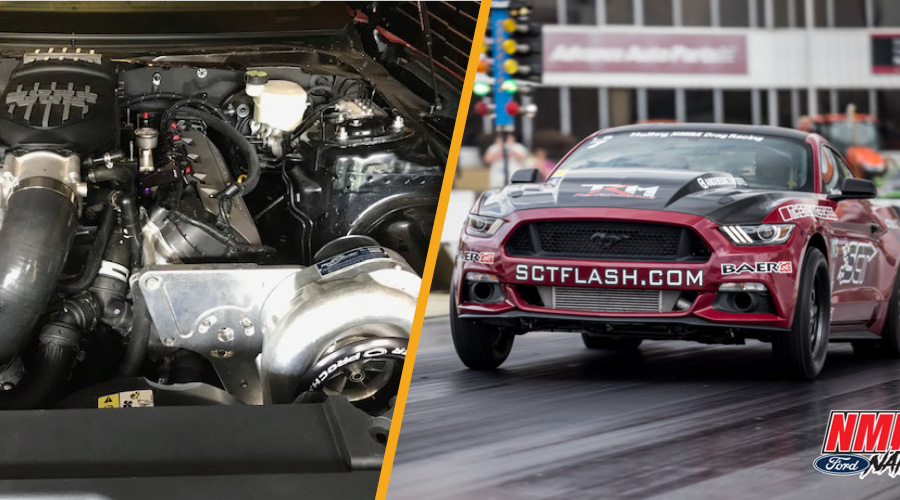 How about some full race eye candy….
We know this car isn't Coyote-powered, or even Ford-powered for that matter. But we felt this stunning 6th Generation Mustang out of the Tim Essick camp known as "brown sugar" is absolutely breathtaking. Not only that it's no stranger to the winner's circle and even championships. For more info on Tims's amazing machine please click HERE.
---
READY TO TURN PONY INTO A SUPERCHARGED MONSTER?
Give our sales staff a call or email us at the following contact methods below. Or you can click HERE to find a dealer nearby to help out with your vehicle. We will be happy to assist you with any technical questions about supercharger systems and the results you can expect.
Phone – (913) 338-2886
Mon – Fri 8am – 5:30pm CST
Sales Email –[email protected]
Tech Email –[email protected]
For up-to-date news, make sure to sign-up for our email newsletter HERE
---
FIND A DEALER NEAR YOU
Looking to make a purchase or a shop to install? We have a large group of dealers ready to serve you with your ProCharger needs. Click below to find a dealer near you!