MEET THE PROCHARGED C8 CONVERTIBLE DESIGN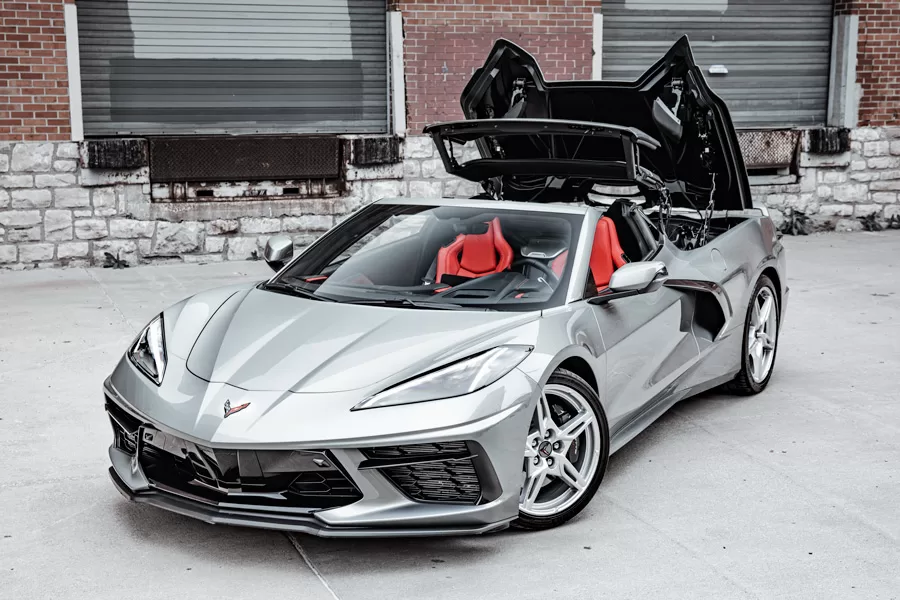 SYSTEMS UP TO 725+ HP AND KITS UP TO 1000+HP!
From the company that powers…
The World's Fastest Supercharged C8, running a 10.1@139
and
The World's Highest HP Supercharged C8, with 881 whp, otherwise stock LT2, pump gas, methanol kit
ProCharger is pleased to share the details of the Corvette C8 Hard Top Convertible (HTC) Stage II System, featuring 7.5 psi of boost and a mind-bending 725+ HP on premium pump gas. The proven calibration drives just like the car rolled out of the factory, but with quite a bit more "giddy up."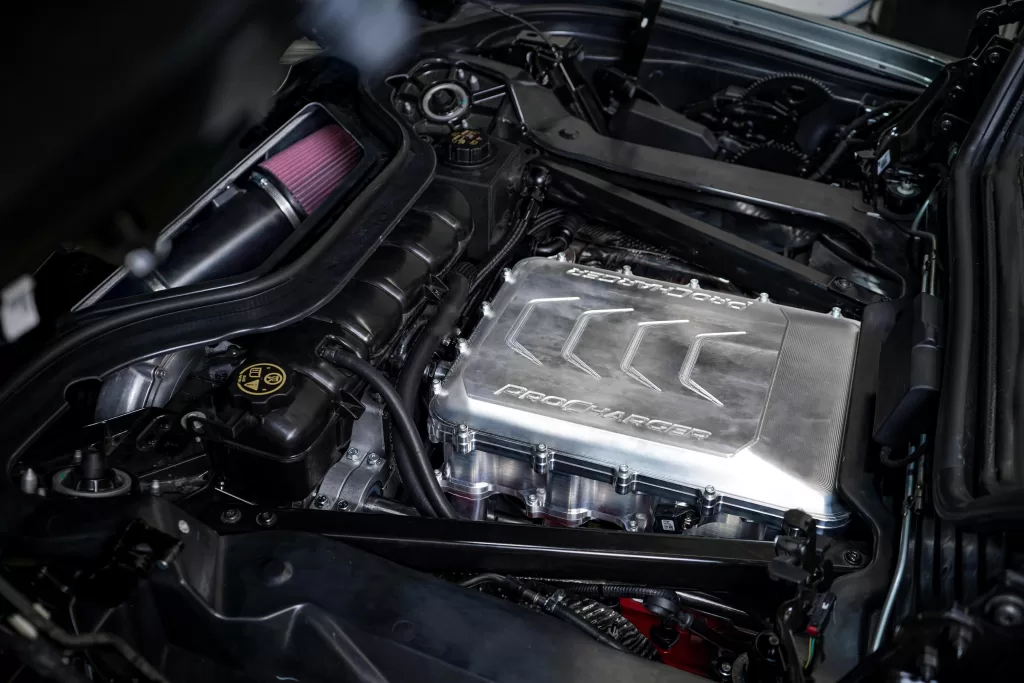 MOUNTAINS OF BILLET MILLED INTO BOOSTED ART
To fit the convertible, with its ultra-tight engine bay, ProCharger engineers had to start from a clean slate for the head unit location, drive system, and intake manifold. Not only does this new C8 HTC system look like absolute artwork, its performance exactly matches the ProCharger C8 coupe system.
KEY FEATURES:
Fully-billet intake manifold
High-efficiency, dual-pass air-to-water intercooler
Self-bleeding intercooler water circuit
Retains factory engine cover
1000+ HP proven drive system
Golf clubs still fit in the trunk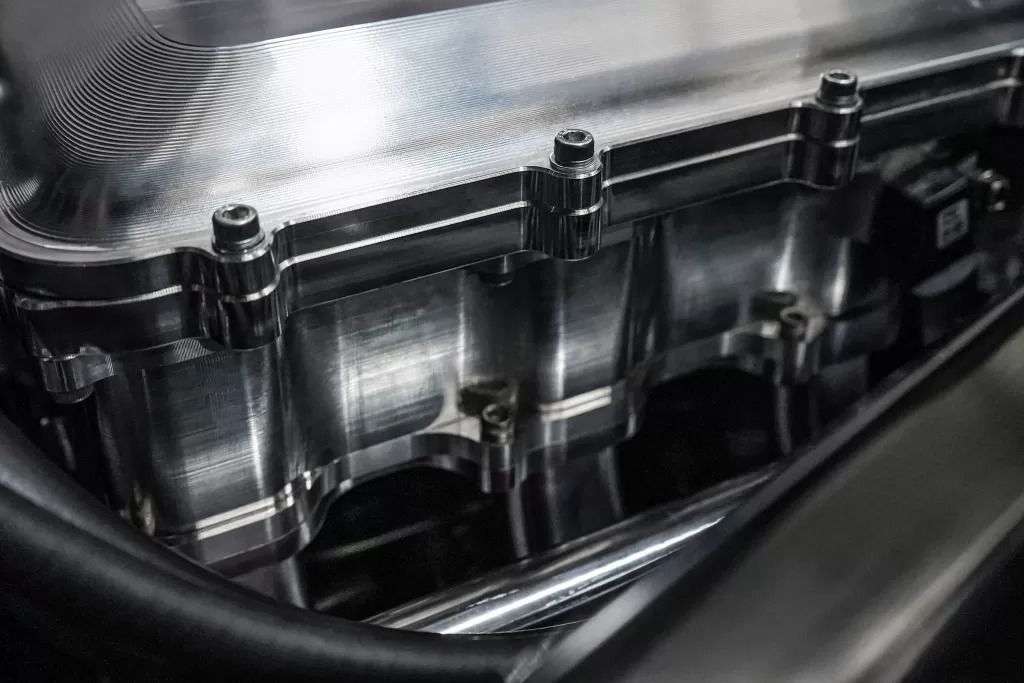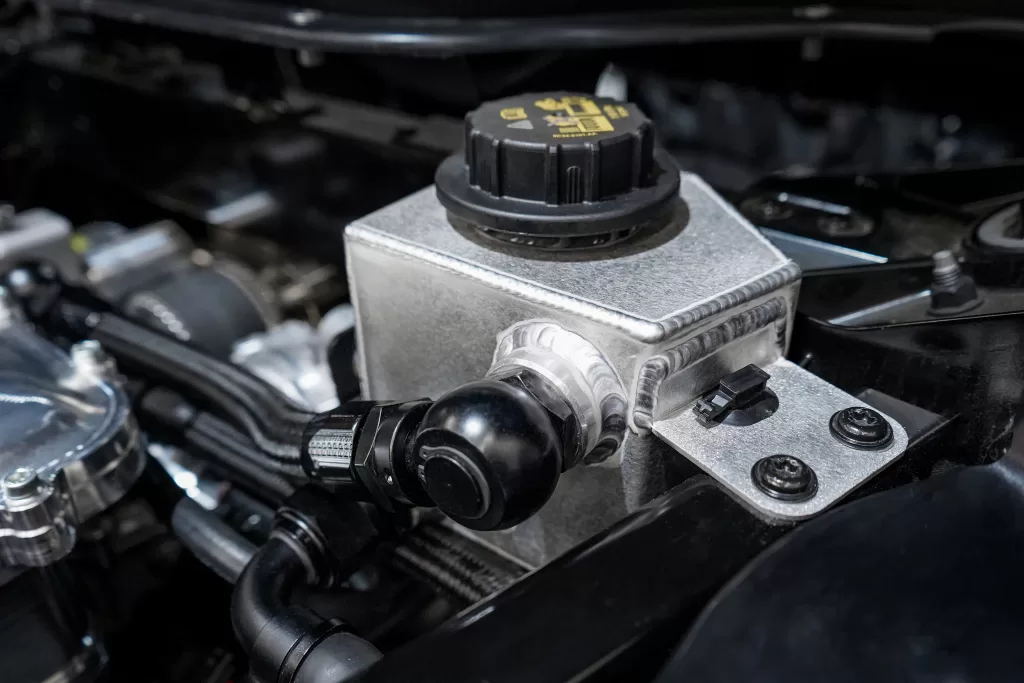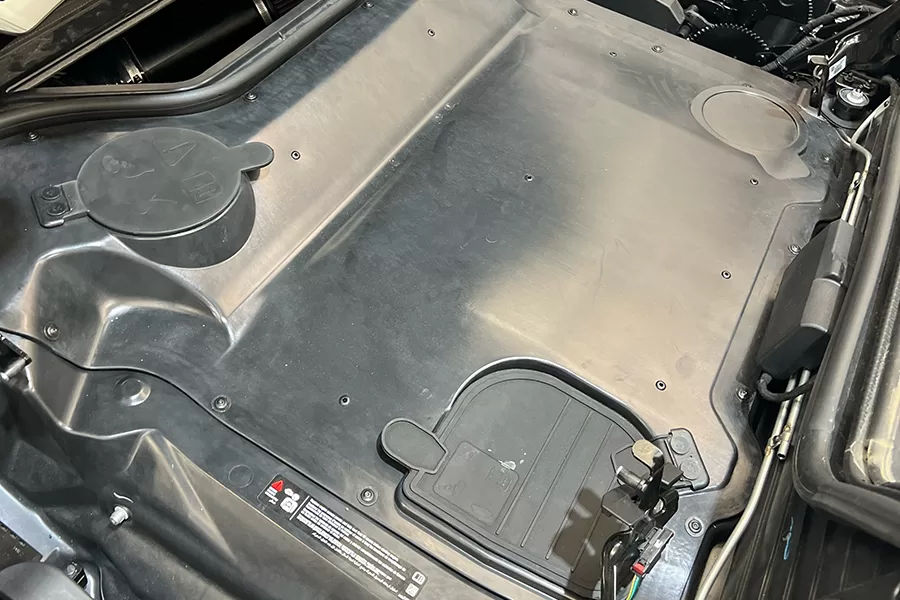 ---
DESIGN DETAILS – IN CAD
Sometimes it's hard to see all the details that go into turning mounds of billet into supercharged art. So to make it a little easier, here are some CAD files to showcase all of the design elements that went into these supercharger kits, from the drive system to the solid billet intake with integrated air-to-water intercooler.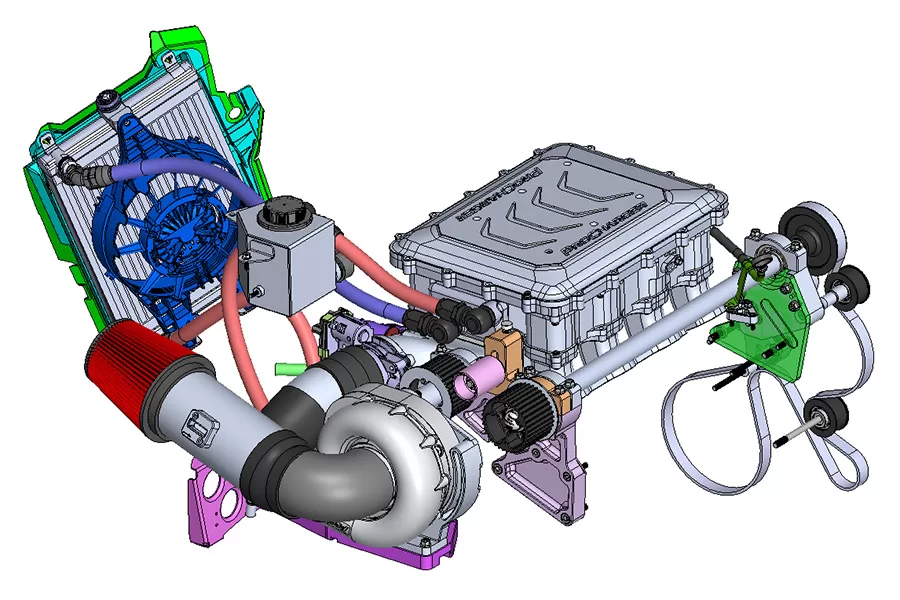 TURNKEY SYSTEMS OR BUILD-IT-YOURSELF TUNER KITS
Looking for a DIY kit you can install in the garage? No problem!
Or maybe you are doing a camshaft and looking to make big power? Also no problem!
The best part of the Stage II HTC offering is that it's not a one size fits all. We have options for virtually everyone. Full systems are a great choice for those with stock cars, looking to have a 100% ready-to-bolt-on solution that ships to your door, ready to install (including PCM tuning).
Now, for those that want to set track records, our Tuner Kit option is what you are looking for. These kits can accommodate E85, methanol systems, or internal engine mods, like camshafts or rods and piston upgrades. Unlike the full systems, tuning is not included on Tuner Kits.
---
---
HORSEPOWER IS GREAT, BUT HOW DOES IT DRIVE?
Over two years of engineering, testing, and refinement went into the ProCharger supercharged C8 Corvette PCM calibration. From 126-degrees in Death Valley summer to -4-degrees in Midwest winter, the test cars and our staff tackled extreme conditions to test this custom operating system (OS). This OS gave 100% control over the PCM, allowing engineers/calibrators to write new tables, add features, and add safety functions specific to forced induction for both the engine and the transmission, none of which are present in the stock C8 PCM. Creating the custom OS/calibration was the only way to ensure the largest power gains possible, amazing shifting, and these exciting features below…
Exclusive factory clutch protection protocol
Exclusive user variable launch control RPM* – BETA TESTING NOW
Exclusive user selection for displacement on demand activation (via steering wheel)
Three bar boost aware airflow model with accurate torque modeling
Full control of fan systems, in relationship to intercooler temperatures
Additional charge air sensors added, to monitor intercooler temperatures
Full diagnostic support for modified / added sensors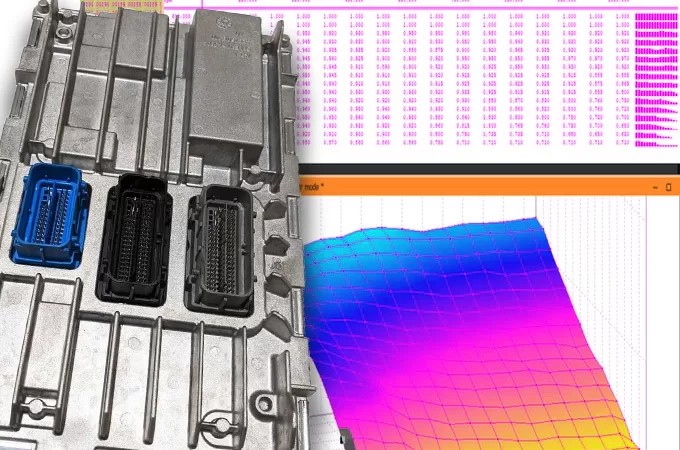 STAGE II SYSTEM DETAILS
7.5 psi, 725+ crank HP
Coolest charge air temps
Largest power gains
Bolt-on installation (no permanent mods)
Easiest installation, only common hand tools (no engine removal)
Air-to-water intercooler
CNC billet intake manifold
Robust CNC billet bracket system
Self-contained ProCharger head unit
For stock engine and stock exhaust
PCM / ECU calibration included
Other C8 options, more details and pricing are listed on the C8 product details page.
STAGE II TUNER KIT EXAMPLE – 881 WHP!
100% bone stock C8 (LT2, stock exhaust)
Stage II Tuner Kit with P-1X head unit
Pump gas 93 Octane
Twin-nozzle methanol system (for additional fueling)
This dyno run was done using the same ECU calibration included in Stage II systems. However, with custom tuning or higher octane fuel (or octane booster) used in the main tanks, even higher horsepower could have resulted. Now just imagine if the camshaft was changed…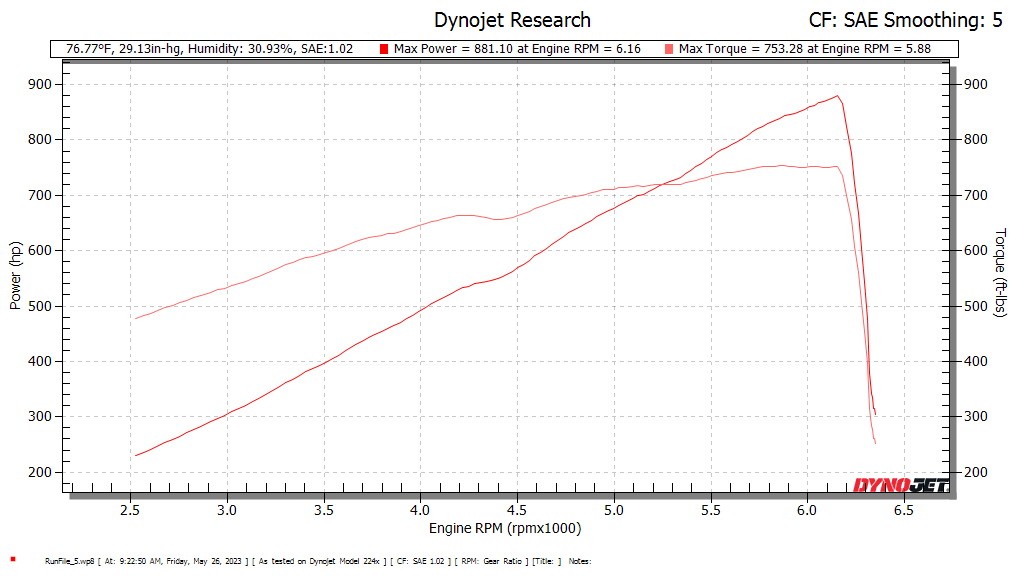 No matter if you are buying a full system or a tuner kit, if you aren't looking to install it yourself, we have a massive installing dealer network all across the US (and even the world). To find one, please visit our Dealer Locator.
---
COME VISIT THE C8 CONVERTIBLE AT SEMA
We'll have a C8 convertible, outfitted with our ProCharger system, at the 2023 SEMA event in Las Vegas October 31-November 3. Swing by our booth in Central Hall and check it out for yourself.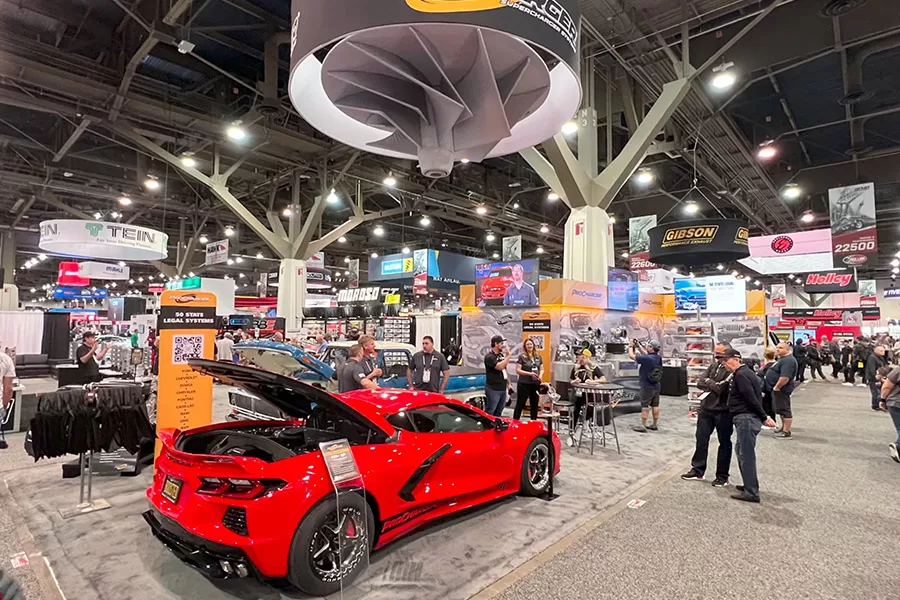 ---
GET YOUR BOLT-ON BOOST TODAY!
Give our sales staff a call or email us at the following contact methods below. Or you can click HERE to find a dealer nearby to help your vehicle. We will be happy to assist you with any technical questions about supercharger systems and the results you can expect.
Mon – Fri 8am – 5:30pm CST
Phone – (913) 338-2886
Sales Email – [email protected]
---
PRODUCT ANNOUNCEMENTS, NEWS, & OFFERS
For up-to-date news, on all things ProCharger, make sure to sign-up for our email newsletter.