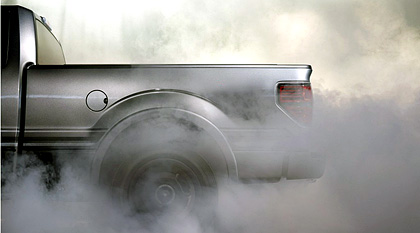 THE NEW F-150 IS GREAT, PROCHARGER MAKES IT BETTER!
In a previous blog, we talked about what a stir 5.0L Ford F-150's were making in the world of performance trucks. That buzz and excitement has not shown signs of slowing down. Being able to bolt on a ProCharger supercharger system onto a completely stock truck and gain 65%+ more HP, is no doubt helping to keep this trend going, and aiding in creating some high HP blue oval trucks. With so many customers enjoying their ProCharger systems on their trucks, we wanted to take the time to feature a few customers and their experiences with the ProCharger system on these new F-150's.
DO YOU WANT A 600+ HP F150?
Of course you do, and thankfully the recipe is simple.
ProCharger P-1SC-1 Supercharger system
Ford Racing BOSS 302 Intake
High Flow Exhaust
Put those three items together, add some custom ECU tuning, and you are left with 510+ rwhp!
(Click for Larger Image)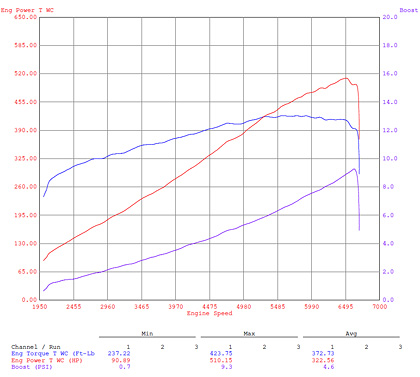 This truck gained a 78% power increase over stock, on a safe tune using only 91 octane fuel. Just imagine the look on the face of whomever tries to mess with this truck, not knowing its making OVER 600HP at the crank! No modifications to the standard ProCharger system are needed to use the BOSS302 intake manifold.
(Click for Larger)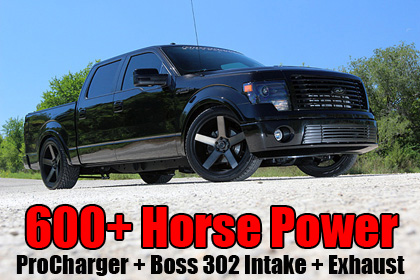 As you can see from the outside, this truck does not look like it lays down 600HP through those big 22″ wheels, for the overall "sleeper" look.
That is unless you happen to catch the rare view of the front grill, as shown below.
(Click for Larger)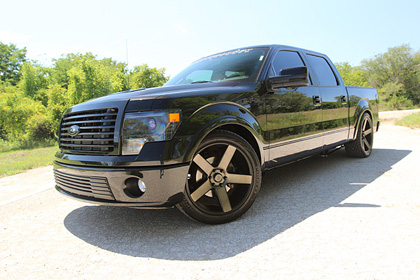 This customer opted for the Race Air-to-Air intercooler upgrade at the time of purchase, knowing that he was going to be turning the truck up later down the road. While benefiting from maximum cooling ability on its everyday driving duties.
(Click for Larger)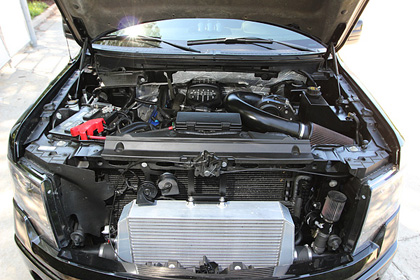 This customer opted for the Race Air-to-Air intercooler upgrade at the time of purchase, knowing that he was going to be turning the truck up later down the road. While benefiting from maximum cooling ability on its everyday driving duties.
(Click for Larger)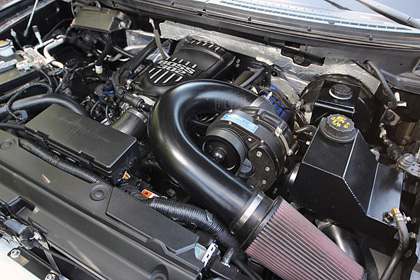 The only complaint he had about the system, is that it has caused a serious traction issue and is looking for better tires for racing usage. Even with traction bars, it has proven to be difficult to put all that ProCharged power and torque to the ground. Now that's a complaint we LOVE to hear about in the office! Once this truck gets some sticky tires under it, we can't wait to hear about some track times from this black beauty.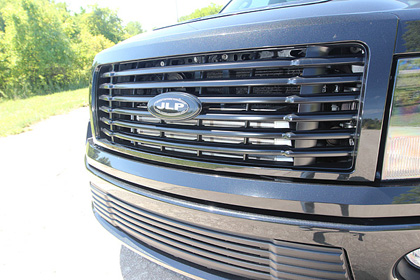 *****************************************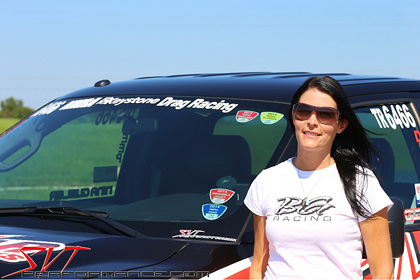 Another ProCharger supercharged F-150, is that of racer Nina Gusler and her 2013 F-150. Nina proudly races her ProCharger power machine in NMRA Truck and Lightning class, where she is currently the #1 points leader, going into the final round. Nina relies on the repeatable power that the ProCharger delivers round after round, which has helped her keep that #1 spot since the 2nd race of the season. (Not bad for her Rookie year!)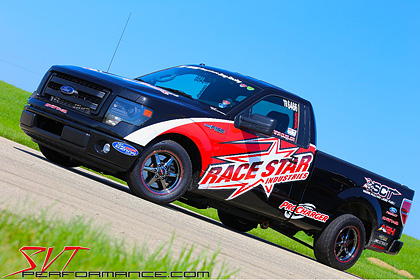 Being the points leader, and possible the soon to be champion you would think Nina would run an exotic combination, however that is not the case. Nina relies on a out of the box ProCharger system (P-1SC-1) with the race intercooler upgrade, Cobra Jet intake manifold, SCT custom tuning, and lots of traction.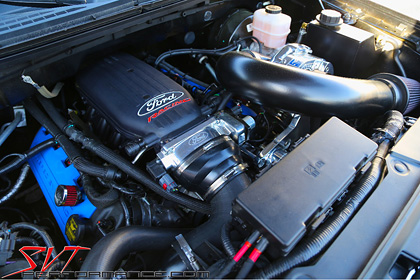 Nina has upgraded the motor to the Ford Racing Crate motor that is a bit lower compression, for plans to turn the trucks boost up even further in the future. However in its current condition, with just 7psi of boost, this truck makes an amazing 576rwhp, and a [email protected] The 11's are just around the corner for Nina and this truck! For more details on this truck, check out her write up on SVTPerformance.com
*****************************************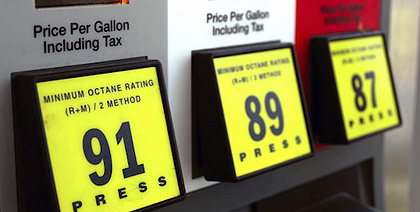 OK, now to totally switch gears from talking about HP and racing, lets talk about miles per gallon. Yes, you read that correctly we are a supercharger company talking about adding HP to F-150's, but ALSO going to mention the additional milage gains customers are picking up. We spend lots of R&D time on our supercharger system, as well as the ECU tuning to not only maximize power/saftey of the engine, as well as maximum economy. That is if you can resist putting your right foot down and turning those rear tires into clouds of smoke with a smile on your face. Even the 600+ HP truck featured above has the owner beyond excited with its new gain in gas milage, reporting up to 23mpg on the highway! For another example, we looked to the internet, and found this example on an internet forum.
(Click text to go to original post)
"So Saturday I took the truck on about a 150 mile round trip. Mostly highway, 65-75 MPH. Before the supercharger i would get 13.5 in town and 15.8 on the Hwy, I kind of figured the mileage would go down. As I get up to speed I see it go to around 18 MPG, I was pretty sure that was incorrect. As I continued to drive it just kept going up!!! I didn't reset it at any point on the trip My truck has 3.73 gears and 33.5s on 18x9s"
And here is an image from his trip, not bad for BIG tires!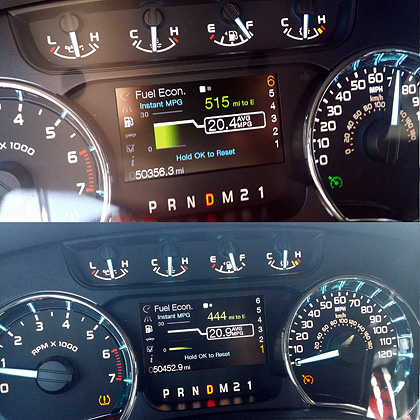 Even if you don't own one of these new 5.0L F-150's remember that ProCharger makes systems for LOTS of ford trucks. And has you covered with the same industry leading power gains you come to expect from a intercooled ProCharger supercharger system, as well as the perk in gas milage that we discussed earlier.
For more details click on the following links.
For those that have the 5.4L or 6.2L Raptors: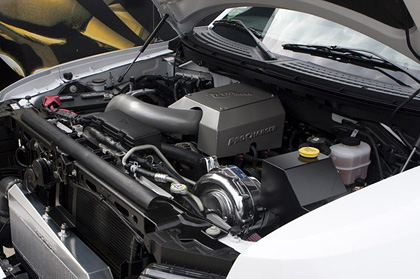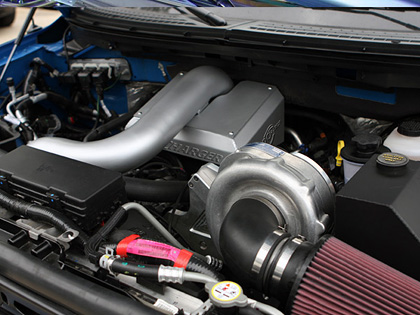 And also 4.6L and 5.4L 2 valve F-150 Owners: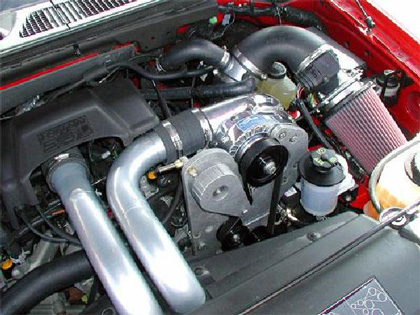 For more details on the 2011+ F-150 ProCharger supercharger system, please visit our main website by clicking HERE.
For all other comments and questions please reach us at [email protected] or by dropping us a line at 913-338-2886 M-F 8:30-5:30pm.