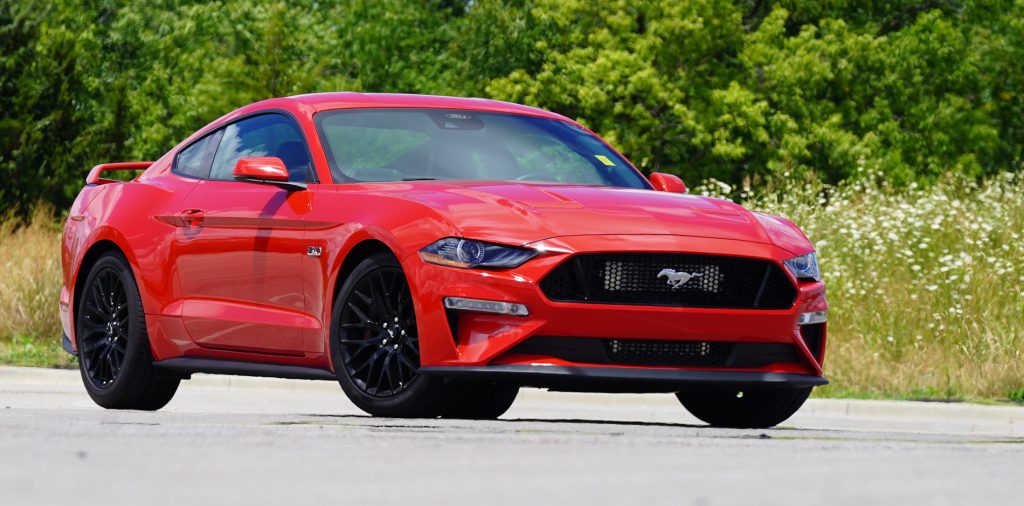 ProCharger supercharger kits for 2022 Mustangs Now Shipping!
ProCharged 2022 Mustangs will "knock your socks off"
The wait is finally over! ProCharger systems and kits for the 2022 Mustangs are ready to ship. Despite OEM delays with new model years, our R&D for the 2022 Mustang is now complete. It delivers the same industry-leading power gains as the 2018-2021 Mustangs and, coupled with the 10-speed automatic transmission, yields an experience that is unlike any previous generation. It's difficult to capture the thrill of this power adder in words. You will want to drive one of these ProCharged vehicles to believe it.
Arguably, the 2018 and newer Mustangs are some of the greatest pony cars ever built. At 460hp, they are fun. But when you bolt on a ProCharger, the 55-70%+ more horsepower will pin you to your seat and put a huge smile on your face!
Installing a ProCharger is easy!
All it takes is some time in the garage and common hand tools to turn your Mustang into a beast. It requires no permanent modifications to the vehicle, no cutting, bending, trimming, or grinding, and it can be done in a weekend. Our installation manual comes with all the detailed instructions and pictures you'll need, but if you crave even more you can check out the installation the guys did over at Muscle Mustangs and Fast Fords magazine.
Muscle Mustangs and Fast Fords magazine did a full step-by-step install of a Stage II ProCharger supercharger system from start to finish. And the gains are big: 276 Rear Wheel HP (RWHP) gained, or approximately 315 Crank HP, with an otherwise stock 2018 Mustang running 8.5 psi and 93 octane pump gas. That's more than the total HP from a Mustang Cobra just a few decades ago! Don't take our word for it, just click HERE or on the image below.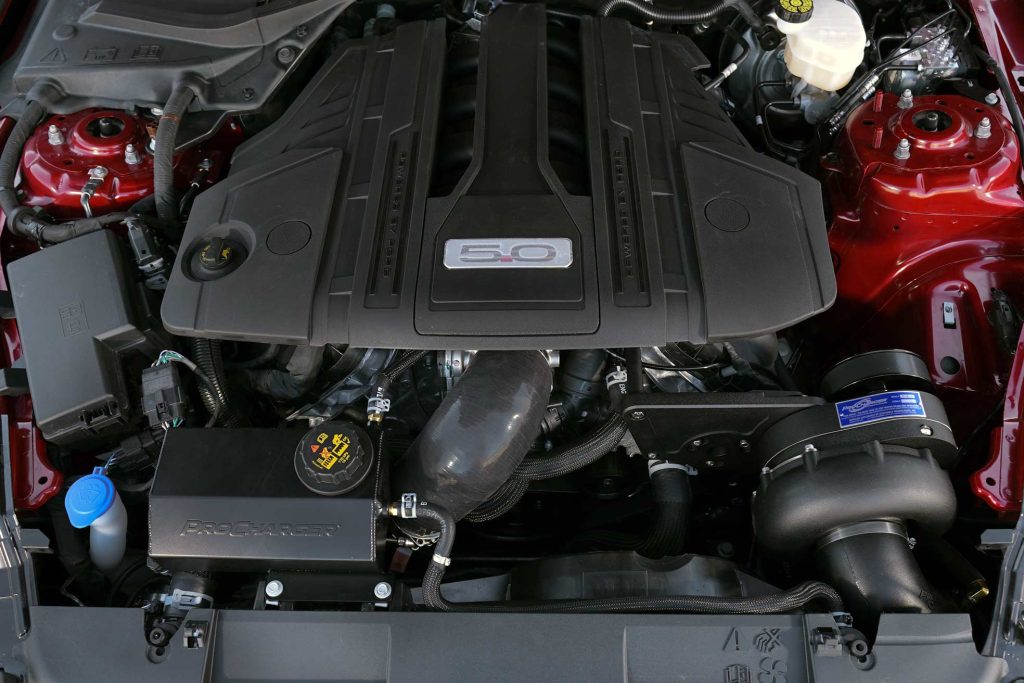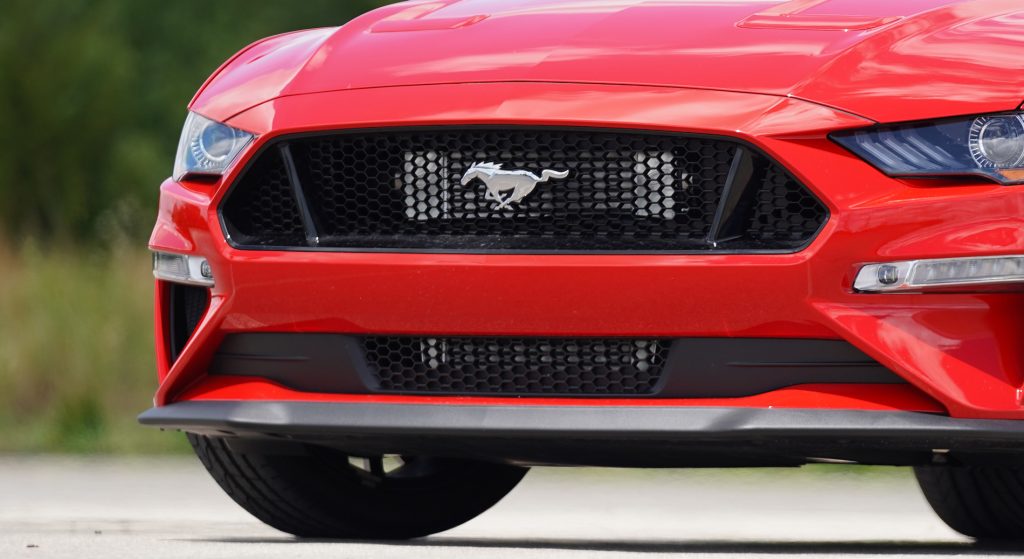 ---
Just how fast can your Mustang go with a ProCharger?
Nick's Fosnaugh's Mustang with the ProCharger Stage II kit runs 7's in the 1/4 mile!
Yes, we said 7 seconds… 7.80 @ 177 mph to be exact. When most other streetcars are running 10's, or even a 9-second glory pass, in the quarter mile, Nick is running 7's with the very same Stage II kit outlined in our Mustang product offering. What's shocking to most is that the car still has the independent rear end suspension and loads of other stock parts, keeping the car pretty hefty on the scales.
Nick has put together an amazing combo, while still keeping all the goodies you would enjoy on the way to work… AC, full interior, stereo, etc. For more details on this build, please refer to his 125 page long build thread on Mustang6g forums by clicking HERE.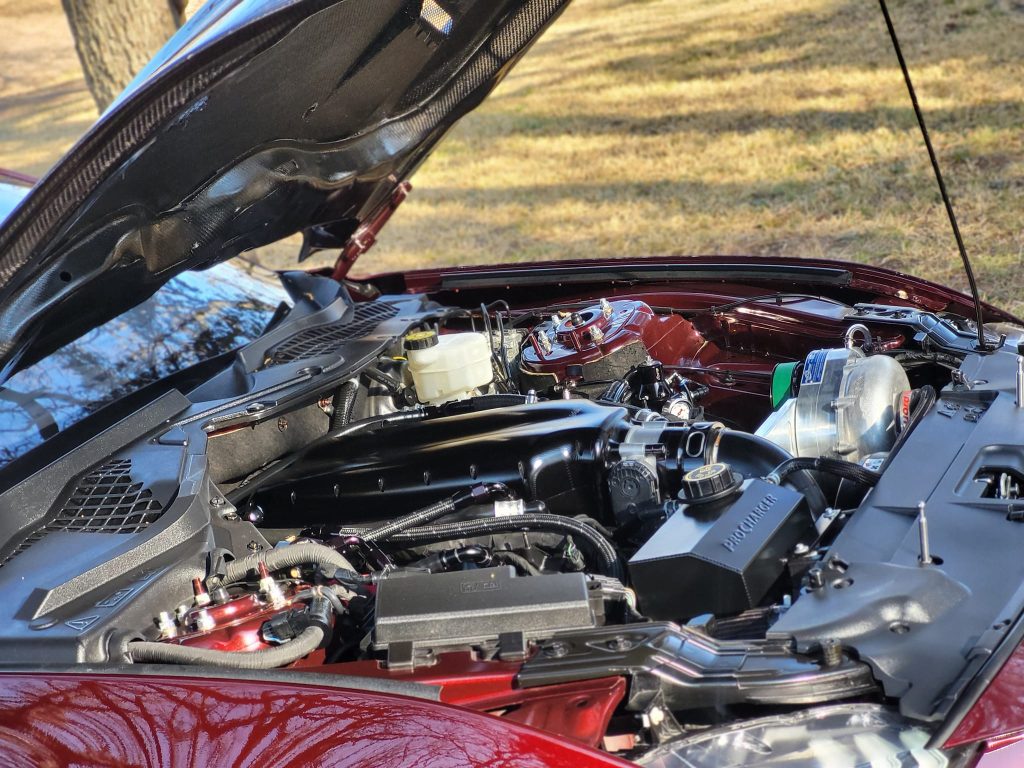 ProCharger parts used to make this happen:
ProCharger Stage II Mustang Kit w/ F-1A-94 head unit
ProCharger Stage II Air to Air Intercooler
ProCharger Coyote Crank Support
ProCharger Blower Guard Air Screen
---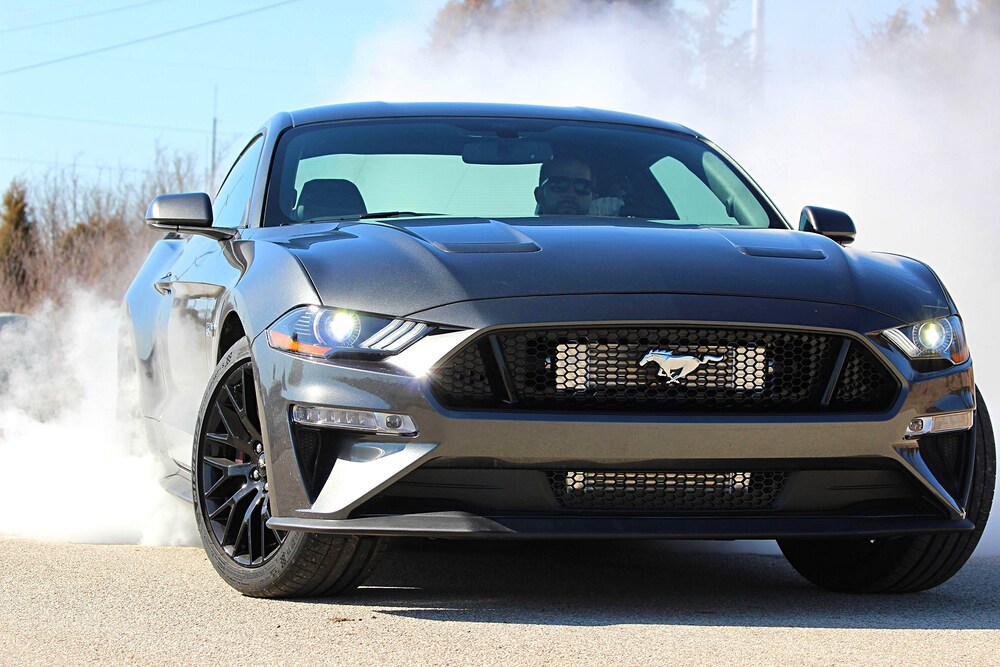 Learn more about the ProCharger options for the 2022 Mustang GT
---
Want to learn more about adding boost to your Mustang?
Give our sales staff a call or email us at the following contact methods below. Or you can click HERE to find a dealer nearby to help out with your vehicle. We will be happy to assist you with any technical questions about supercharger systems and the results you can expect.
Phone – (913) 338-2886
Mon – Frid 8am – 5:30pm CST
Sales Email – [email protected]
Tech Email – [email protected]