PROCHARGER COYOTE CRANKSHAFT SUPPORT ASSEMBLY: NOW SHIPPING!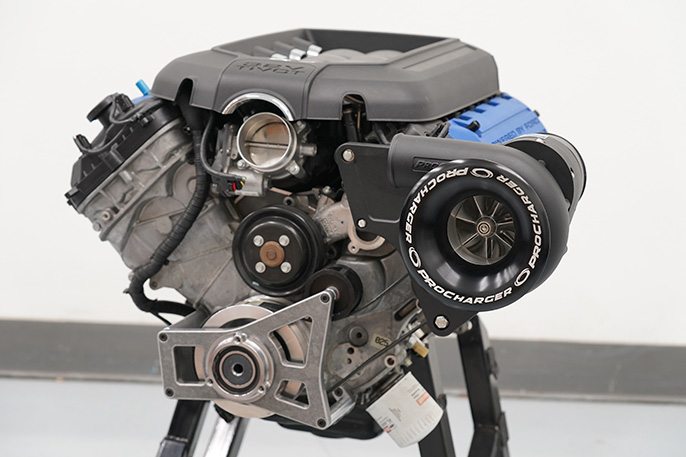 SUPPORT YOUR LOCAL COYOTE CRANKSHAFT:
Is the crank support absolutely mandatory? No really, but consider it cheap insurance with the Coyote engine, just like billet oil pump gears. More boost and rpm mean more load on the crank snout—in high boost/high-horsepower applications in a racing situation, the fragility of the stock crank comes into question and the snout has been known to break. And it's not just supercharged cars either—even turbocharged applications have experienced crank failure under high-stress situations. Thankfully for those running a ProCharger, we have a cost effective piece that will help support the crankshaft at elevated HP levels.
---
ARE YOU STEPPING UP THE POWER LEVEL ON YOUR PROCHARGED COYOTE MUSTANG?
Ford's Coyote is all but bulletproof, but when you really up the boost and start banging if off of a rev limter at the dragstrip, you might want to seriously consider ProCharger's Coyote Crank Support field Upgrade. It's cheap insurance against possible breakage. Give our sales staff a call or email us at the following contact methods below for more information.
Phone – (913) 338-2886
Mon – Fri 8am – 5:30pm CST
Sales Email – [email protected]
Tech Email – [email protected]
Racing Email: [email protected]
Sign up for our email newsletter HERE