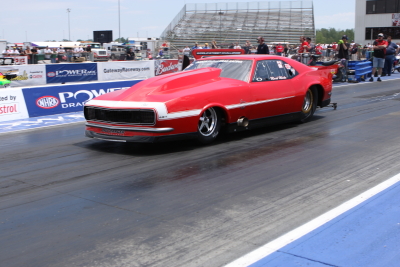 PROCHARGER CHAMPION: MARK MICKE
ProCharger supercharger racer Mark Micke, of Jefferson City, MO, just finished another outstanding year in NMCA Pro Street competition. The 1967 Jerry Bickel Pro Mod Camaro, owned by Mark Micke and Jeff Dickey, is powered by a 2700+ horsepower 526 cid BBC breathing through the big ProCharger F-3R-139 self-contained supercharger, making more than 40 psi of boost on methanol.
Micke ran hard and consistent all year securing the 2008 NMCA Pro Street Championship by more than 300 points, but that wasn't the team's only 2008 accomplishment. At World Street Challenge 1 in St. Louis, the Mark Micke / Jeff Dickey team set a new record for the fastest centrifugal supercharged car in the world with a ¼ mile pass of 6.25 @ 227.65 mph. The team also took the WSC1 Pro Mod championship at this event, competing against the top turbo and nitrous cars in the country.
With the Orlando World Street Nationals still to go, Micke is currently sitting at 30 round-wins with only 4 losses for the entire 2008 racing season!
ProCharger would like to congratulate Mark Micke, Jeff Dickey, and their crew on their outstanding 2008 performance and on becoming the 2008 NMCA Pro Street and WSC1 Pro Mod Champion.
Click here for more racing news.