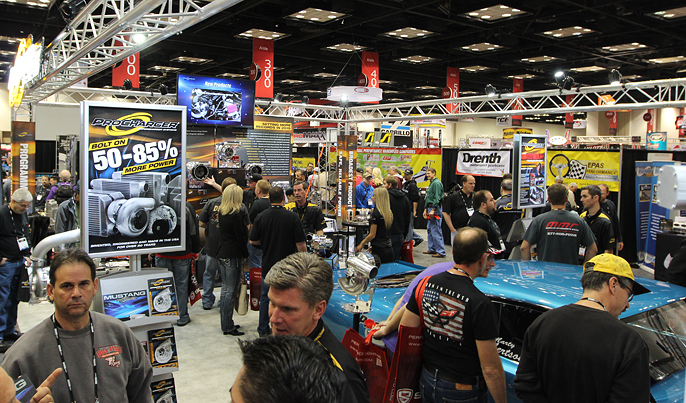 PROCHARGER BRINGS 5,797 HP TO PRI!
THE PROCHARGER BOOTH WAS FLAT OUT PACKED!
Since 1999 ProCharger superchargers comes to the Performance and Racing Industry (PRI) show ready to put excitement in our customer and racers eyes, and the 2015 show was no different. The staff worked hard to get the booth ready to show off the newest racing superchargers, new boost related toys, and a booth filled with legit/real ground pounding action. How much horsepower are we talking?…try 5,797 supercharged HORSEPOWER!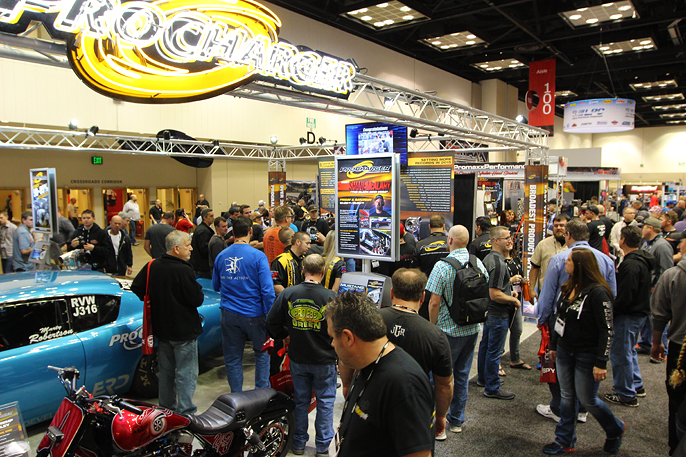 From the moment the show doors opened, we were delighted to talk to so many people, losing our voices by the end of the day was common. It was great to have our customers be able to ask questions about our products, and also share their ProCharger related stories and racing tales. We love boost, but we love hearing about your builds and racing accomplishments, even more. Enjoy some of the images below of the items we had on display in the booth.
The 3,300+ HP show stopper dubbed "Bad Fish." This car caused such a commotion, even those guys from the OKC "racing show" talked about it on their pod cast live, as well as many other website features since the show. It hard not to notice this car with the BRAND NEW ProCharger F-3X-143 hanging off the front of it, and packing a BAE HEMI behind it. This car has already knocked down a 4.04 in testing with an F-3R-136, and put the radial world on red (maybe blue) alert.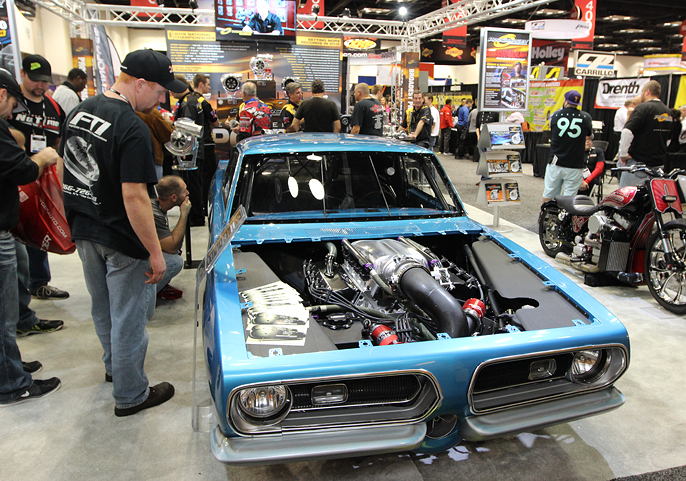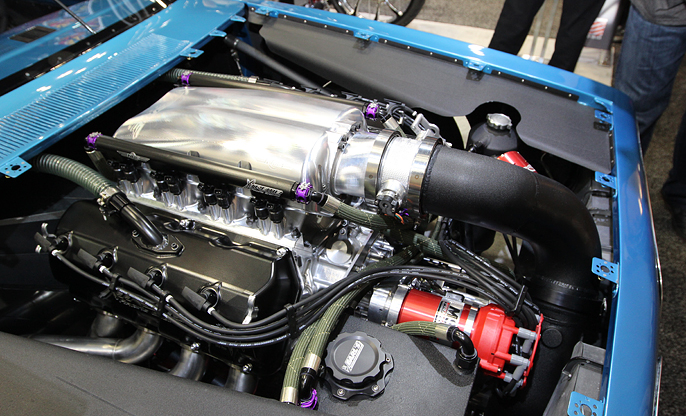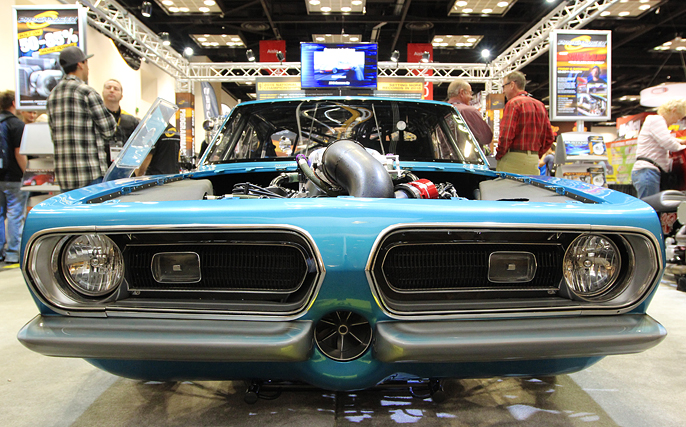 Another item catching the attention of the NHRA racers is this Top Dragster motor. This engine is no display piece at all, and wowed the crowd when they discovered it was actually removed from the dragster to come to the show! This engine pack over 2,170 HP, and features the ProCharger F-1X-12RD RaceDrive system. This system allows the blower and drive system to be placed in a space saving manor, while allowing to be installed in many tight chassis arrangements without modifications. This package has proven itself this year to make for very consistent top contenders, as well has helping many across the divisions to wins on race weekends. (NOTE: The NHRA Top Dragster Champion this year is powered by a ProCharger supercharger)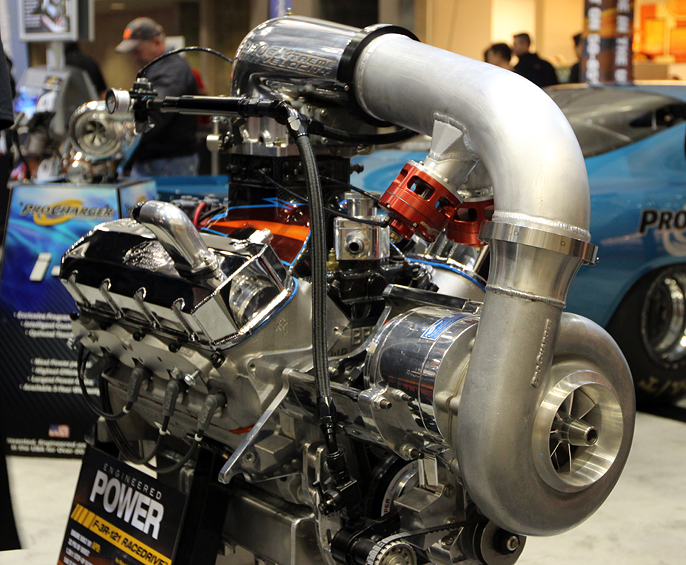 Now that you have seen literally thousands of HP from some 4 wheel ProCharged monsters, how about this 2 wheel terror! People's jaws dropped when they heard that this bike in fact is packing 327 rear wheel horse power. Yes, not only is it making that impressive power number, but its doing it's on PUMP GAS, and has been ridden all over the country. This bike piled on thousands of miles as it toured from stop to stop on the Hot Bike Tour. The power and durability are what bike builder Kendall Johnson Customs set out to prove with this monster Harley.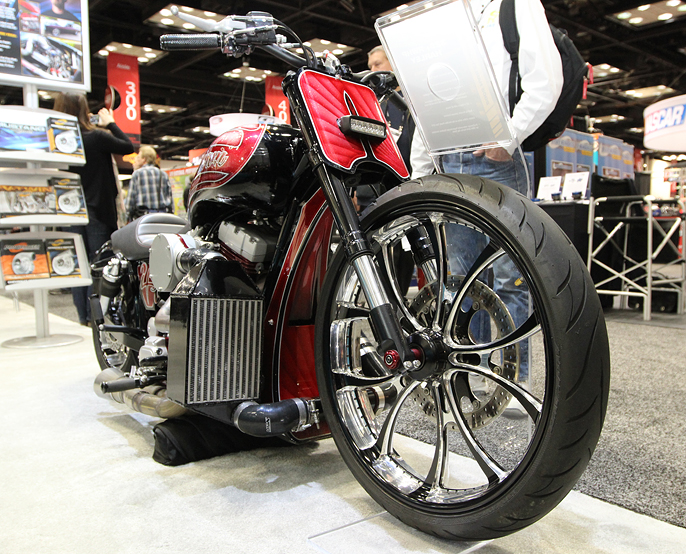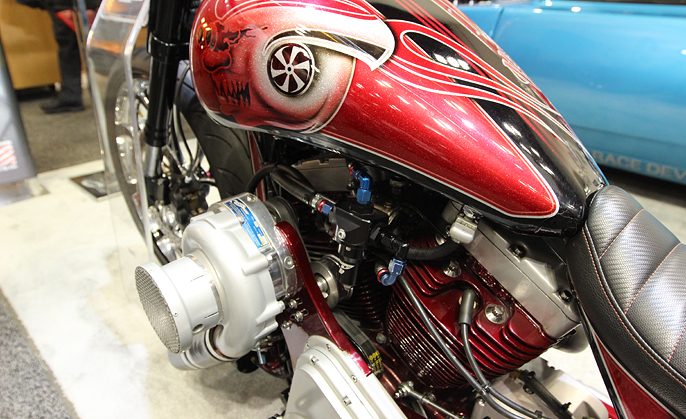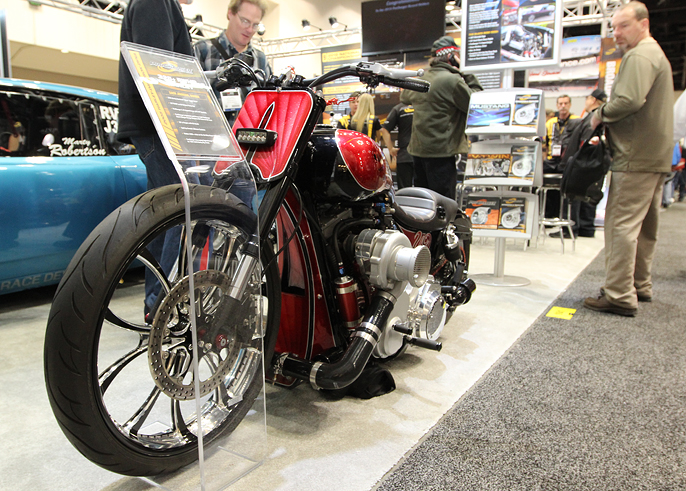 With all of this supercharged power packed in one booth, it's only fitting that some of this year's Champions would be stopping by the booth. ProCharger was proud to power 9 National Champions' cars this year, and couldn't be more proud of the drivers, owners, and crew members. We understand the dedication and skill set it takes to become a Champion in heads up racing, and applaud you all.
The crew from the American Racing Headers / Farks Supercars Champions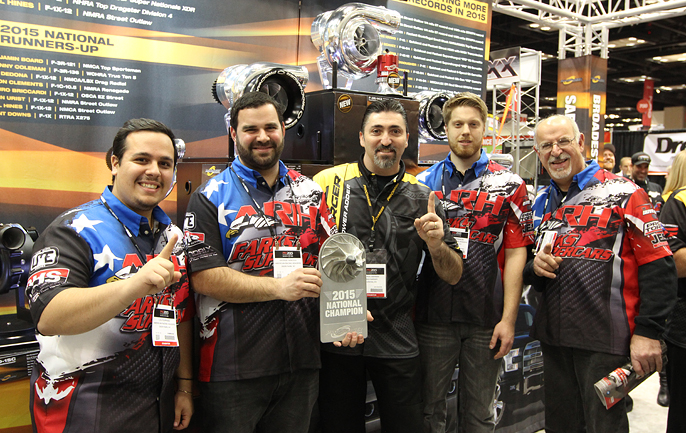 JR Baxter getting his award for his efforts in snagging a Championship this year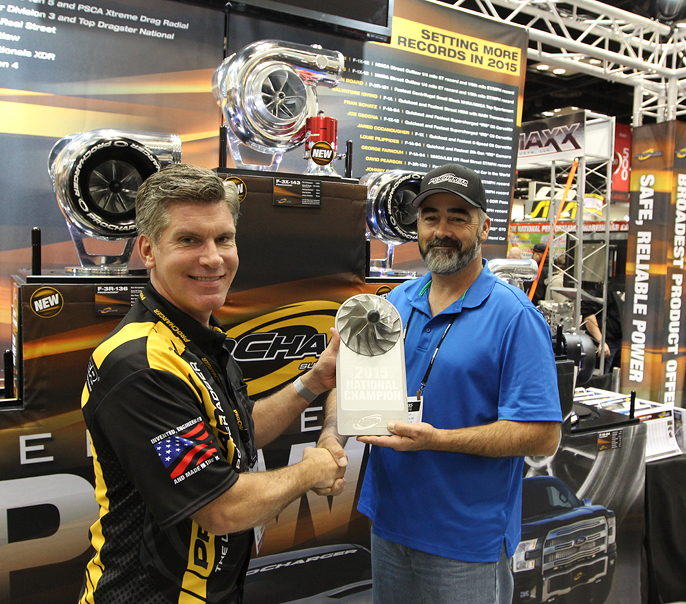 Eric Gustafson brought the domination again in the 2015 season, and took home a Championship.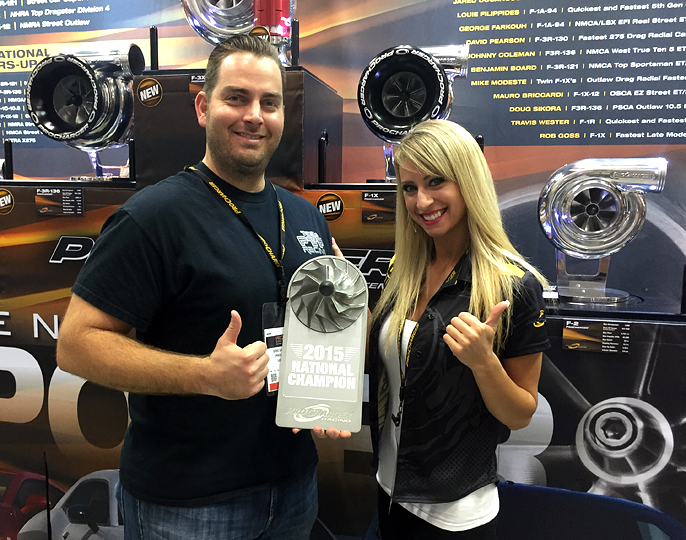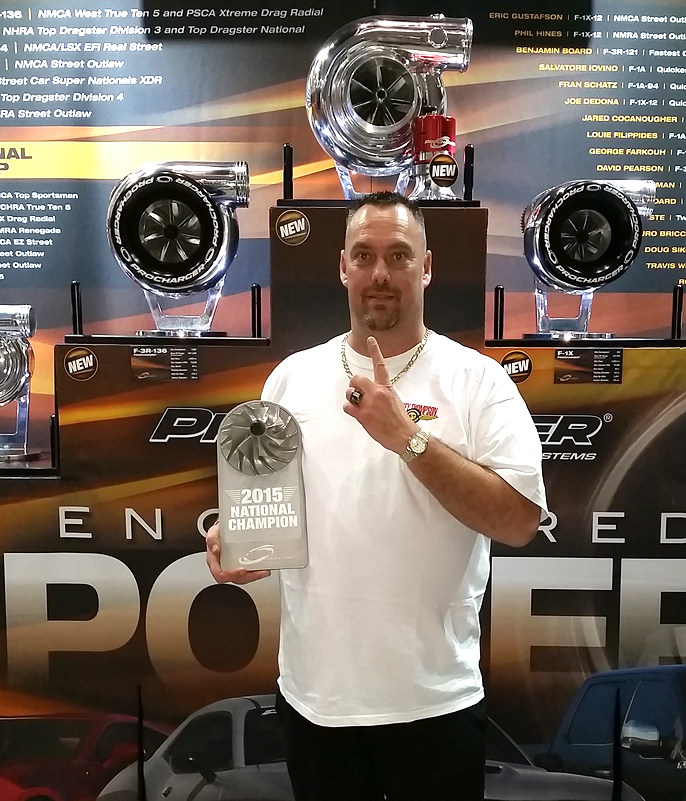 Kathy Fisher came by the booth. Kathy had a great seaon this year with her ProCharger powered dragster.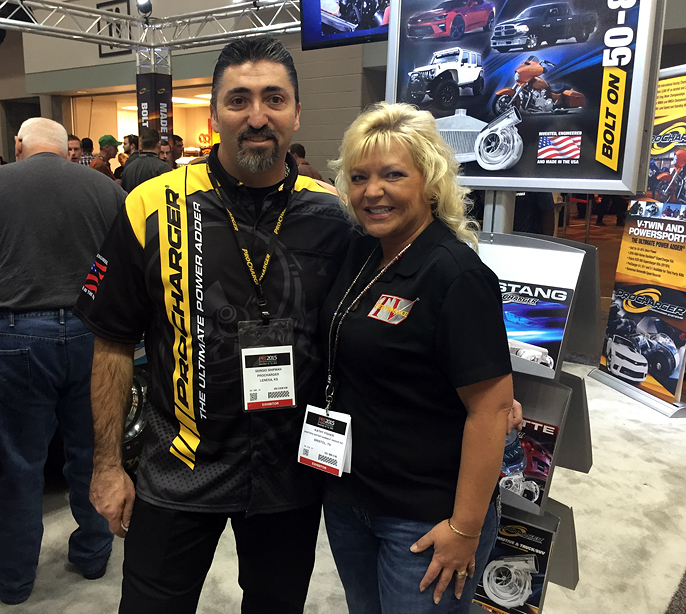 If there was 1.5 guys that could draw the biggest crowd you have seen it's…Oklahoma drag racer and TV personality Shane McAlary, driver of "The Black Bird" 1977 Chevy Vega and his co-pilot "Bob." Shane was having a blast answering questions all day long, and signing autographs. "Bob" however did't have much to say, but was never shy when it came to photos being taken. Shane is an absolute great guy to talk to about all things boost, racing, and life on TV. We hope everyone enjoyed the face to face time as much as we did. We wish Shane and his co-pilot the best of luck with their upcoming season.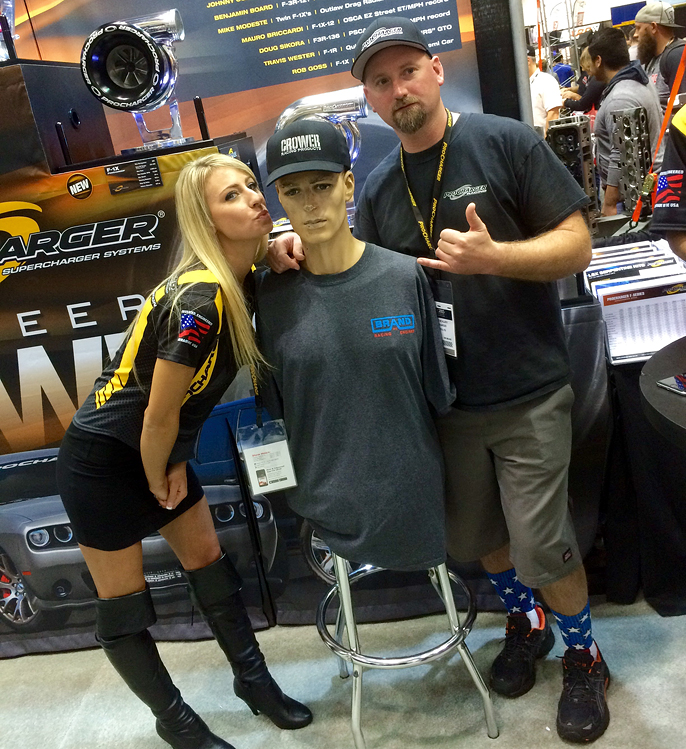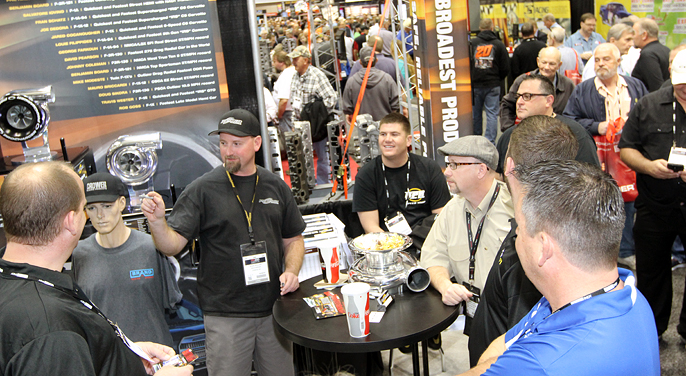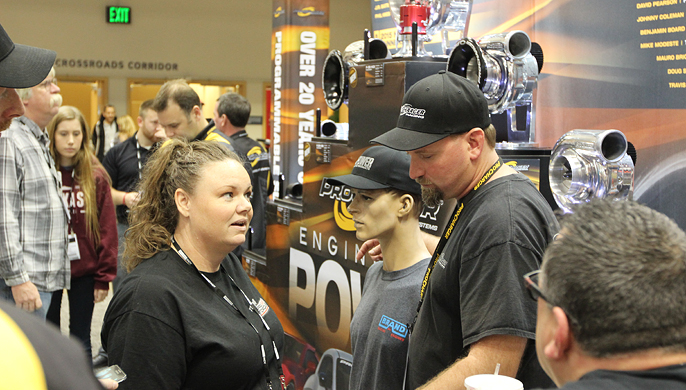 No matter where you looked at PRI it seemed you could find a little ProCharger action sprinkled in. From superchargers on display at other vendors, or even full blown cars on display this year did NOT disappoint. Here are some of the rides we found around the show, while we checked out the rest of the halls.
This killer NHRA Top Dragster is showing off its shinny ProCharger RaceDrive supercharger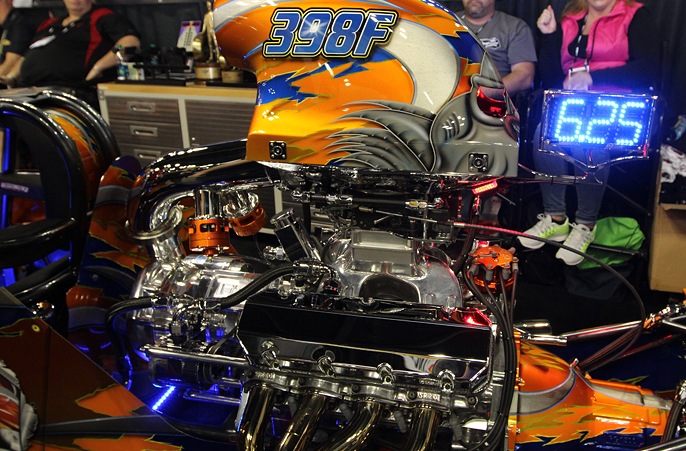 American Racing Headers brought out their new race toy to the show. Look for more of this wild ride soon.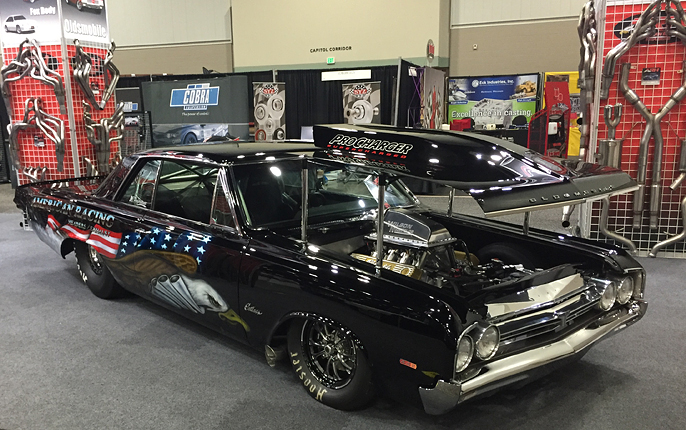 Chris Alston showing off their gear drives for ProCharger race cars.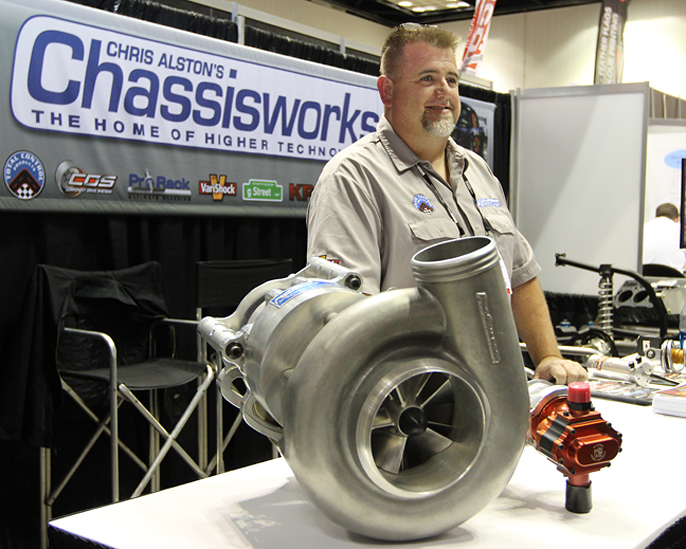 Our friends over at DIYAutotune and MegaSquirt showing off the "LSX-Willies"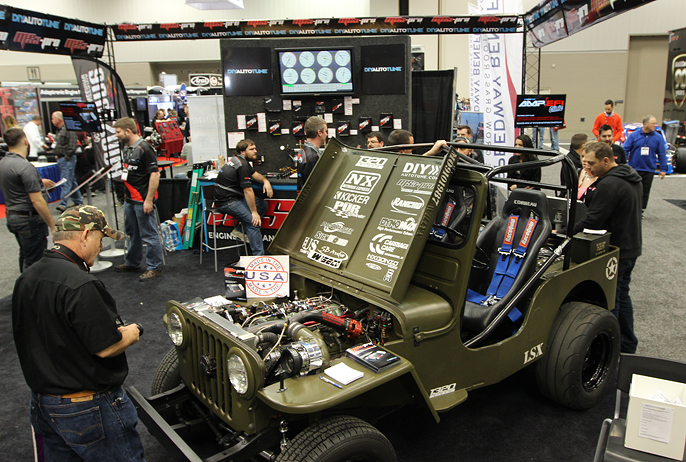 The baddest engine run in stand on the planet. Haltech has a fully operational coyote with a ProCharger on it!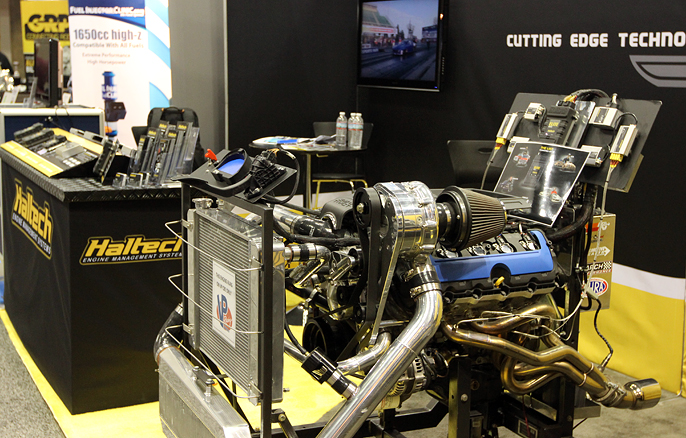 Here is the new ProCharger F-3X-143, and ProRace Valve standing Proud over the crowd.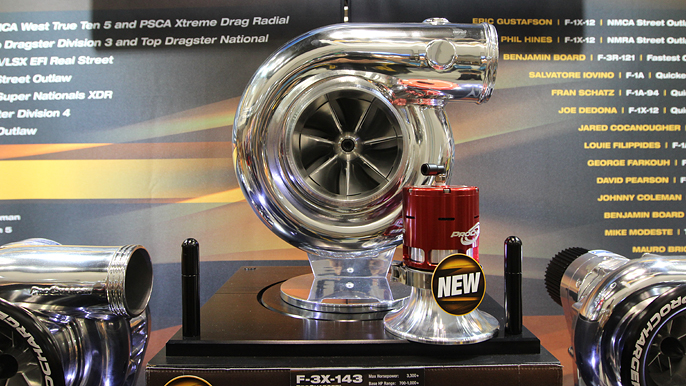 Mast Motorsports showed up to the show with the big F-2 ProCharger powered LS. The looks of this thing are killer!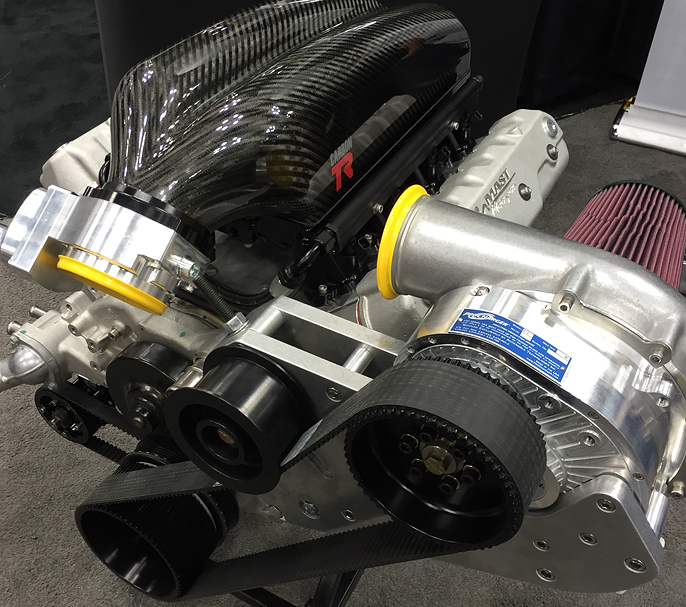 The NMRA and NMCA awards ceremony to honor this years Champions was held at the PRI show as well. This is a great time to see all of these amazing racers and crews in a more relaxed environment, while enjoying some time in the spot light (off the track). ProCharger couldn't have been more proud of our racers, and enjoyed seeing them speak from the podium about this years accomplishments, efforts and stories from the track. We wish all the racers a great winter "prep" season, and a smooth start to the 2016 season ahead.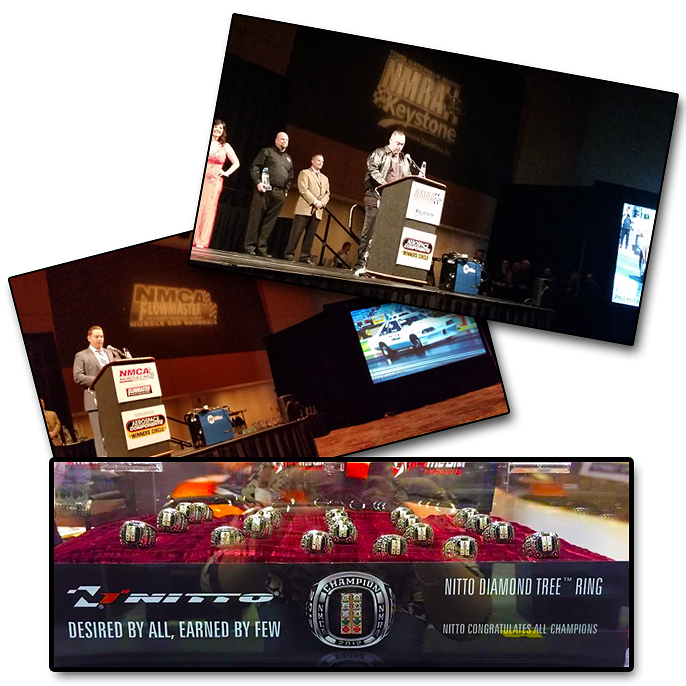 As part of the 2015 SEMA MPMC Education Day, some of the ProCharger team presented a seminar on "Boost 101" that as well attended – discussing our technology, new products and performance advantages.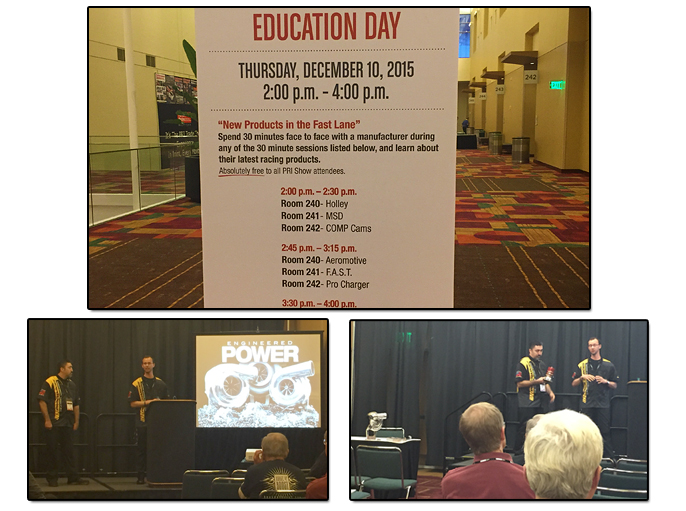 Well that concludes our wrap up of the 2015 PRI show, and we hope you enjoyed it. If you have any comments or questions about the show or any of our prouducts PLEASE give us a shout at either methods listed below.
PHONE: 913-338-2886
EMAIL: [email protected]