PROCHARGER ADDS BIG POWER TO CAR CRAFT BUDGET LS BUILD
Those crafty horsepower junkies at Car Craft magazine recently ran a series of articles documenting the horsepower potential of a junkyard-sourced 5.3L GM LS engine. In a nutshell, the project outline was to; purchase a budget LS engine, toss in a performance camshaft, a new carb, headers and oh yeah, a ProCharger self-contained supercharger.
However, before they bolted on the supercharger, the engine was base-lined naturally aspirated. Still running the stock block, pistons, crank, rods and cylinder heads and 650 cfm carb, the junkyard 5.3L recorded 414 HP at 6,100 rpm.
Add ProCharger Boost
Starting with a ProCharger LS transplant supercharger kit from The Supercharger Store, the Car Craft crew then set out to see just how much power they could make with their budget-friendly components. Based upon their previous experiences with bolting on ProCharger superchargers, the team calculated a 50% increase from their base N/A horsepower.
The result: 644 ProCharged horsepower, that's an increase of 225 HP or a 55% gain in horsepower!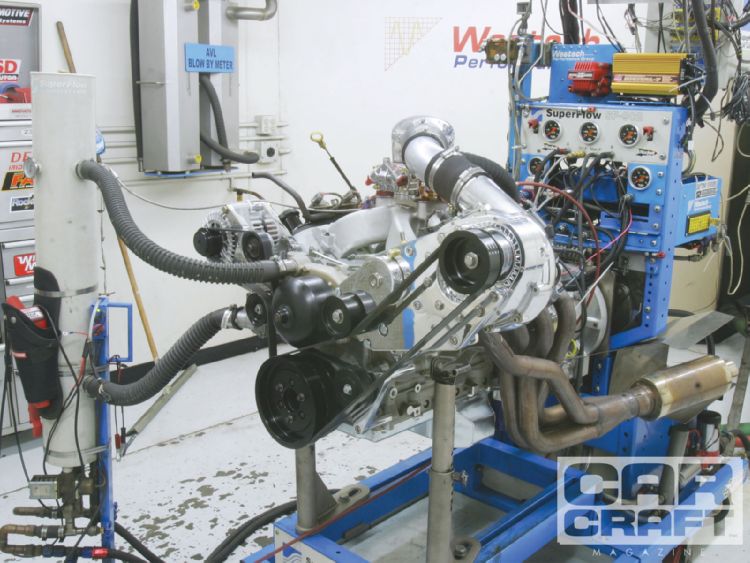 This ProCharger-equipped 5.3L made 644 HP for Car Craft
For a complete rundown of their ProCharged budget 5.3L GM build, visit the Car Craft web site. Check out these pages for more information about the industry-leading ProCharger LSx Transplant Supercharger Kits or give our Sales Team a call at (913) 338-2886, M-F, 8:30 AM to 5:30 PM central time.
Because they were still running the stock pistons and relatively high LS compression ratio, the Car Craft team elected to add a simple water-injection system to their testing. Running slightly less boost would have eliminated this need while still producing more than a 50% gain in power. Adding an intercooler also would have eliminated this need and also would allow for a larger increase in power, well above the 225 horsepower gain.
LSx Transplant Kit available for cast iron engine blocks, too
The article mentions that ProCharger "is working on a kit" for use on the iron block GM LS engines. This kits is now available, meaning ProCharger LSx Transplant supercharger kits can be used on either aluminum or cast iron engine blocks.
This isn't the first time the capable Car Craft crew used a ProCharger to build some serious, budget-friendly horsepower.
Car Craft bolted a ProCharger supercharger onto a "junkyard 5.0L Ford" and made 605 HP
Back in the December 2007 issue, they bolted a ProCharger onto a junkyard 5.0L small block Ford and twisted out 605 HP.
Their next ProCharger-enhanced attempted yielded 611 HP from a "boat anchor" 350 cid Chevy (Feb 09 issue of Car Craft). Clearly, these guys love to share their budget horsepower secrets with their readers and rely on ProCharger to generate the numbers that are both attainable and realistic. Keep up the great work!
Spring 2011 Camaro Now magazine
Speaking of great work, the ProCharger-equipped Proven Wicked Camaro is featured in the Spring 2011 issue of Camaro Now magazine. A newsstand only publication, this beautiful publication is focused exclusively on Gen 5 Camaro owners.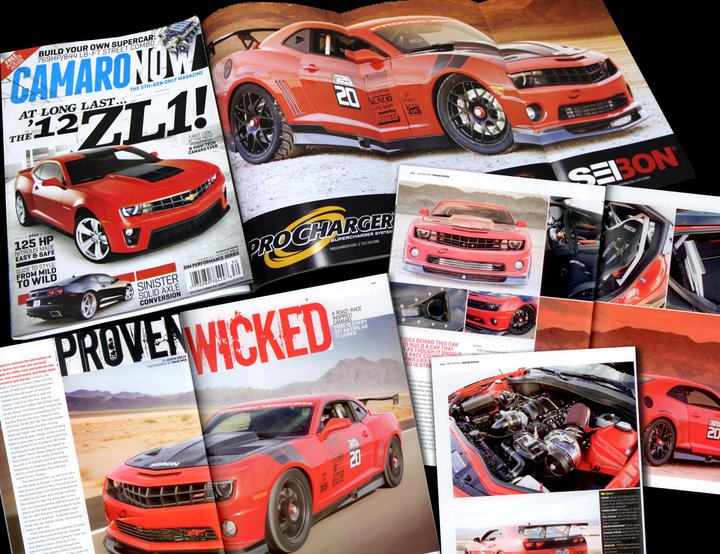 As an added bonus, this ProCharger supercharged and intercooled Camaro is also featured on the massive, pull-out poster that's included with the magazine. If you're a fan of late-model Camaros, especially ones built to run as fast as they look, then be sure to stop by your local newsstand to pickup a copy of Camaro Now before they're all gone.
The Proven Wicked Camaro made its debut at the 2010 SEMA Show in Las Vegas where it drew compliments on its purposeful and powerful combination of looks and performance. This car has made nearly 570 rwhp and was in action at April's Camaro5 Fest in Phoenix, AZ. Check out the video below.
Own a Gen 5 Camaro SS and want to add 170 to 200 HP to an otherwise stock engine? Look no further than ProCharger!