2023-2016 CAMARO SS (LT1)
BOLT ON 170+ HP WITH 2016-2023 CAMARO SS SUPERCHARGER KITS!
Without a doubt, ProCharger has become the proven leader in LT1 forced induction. Since the release of the C7 Corvette a few years ago and new GM LT1 trucks and SUV's shortly thereafter, adding supercharged boost to the new direct injected LT1 engine has gone mainstream. Thanks to highly efficient ProCharger head units and air-to-air intercoolers, creating supercharged monsters ranging from 600HP to 1,200HP has become the new "normal" and the next generation of Chevrolet Camaro SS is no exception!
With only 7 psi on pump gas your 2016-2023 Camaro SS can enjoy a gain of 150+ HP, thanks to our HO Intercooled System with P-1SC-1 head unit. The addition of the Stage II intercooler upgrade will yield 170+ horsepower at the same boost level!
We designed the 2016-2023 Camaro SS HO Intercooled System to be equally compatible with both stock or modified vehicles out of the gate, with a robust billet bracket design that utilizes strategic mounting points on the LT1 motor for maximum bracket strength and integrity. This system will firmly hold ProCharger head units ranging in size from the entry-level P-1SC-1 all the way up to an F-1A-94. No removal of any OEM parts is needed with this bracket installation, which not only speeds up the install, but it also ensures that all factory braking, cooling, and oiling systems on the car work just as GM intended.
CAMARO SS SUPERCHARGER KITS
| Description | Hp Gain | Max Boost | Intercooler | Part # | EO # |
| --- | --- | --- | --- | --- | --- |
| HO Intercooled System with Factory Airbox and P-1SC-1 supercharger | 150+ | 7 psi | 3 core | 1GY211-SCI | D-365-29 (16-21) |
| HO Intercooled System with P-1SC-1 supercharger | 150+ | 7 psi | 3 core | 1GY212-SCI | - |
| HO Tuner Kit with P-1SC-1 supercharger | specify | specify | 3 core | 1GY202-SCI | - |
| Stage II Intercooled System with P-1SC-1 supercharger | 170+ | 7 psi | Stage II | 1GY312-SC | - |
| Stage II Tuner Kit with P-1SC-1 supercharger | specify | specify | Stage II | 1GY302-SCI | - |
| HO Tuner Kit with Factory Airbox and P-1SC-1 supercharger | specify | specify | 3 core | 1GY201-SCI | - |
| Competition Race Tuner Kit with F-1D, F-1, or F-1A supercharger | specify | specify | 1250+ HP Air-to-Water | 1GY402-F1 | - |
| Competition Race Tuner Kit with F-1A-94, F-1C, or F-1R supercharger | specify | specify | 1250+ HP Air-to-Water | 1GY402-F1R | - |
Tuner Kits: These kits make sense for someone wanting to perform custom tuning of the car and push the envelope in performance.  Will most likely be experimenting with alternative fuels such as 93 octane, race fuel, E85 fuel, and methanol supplemental fuel.  In addition, possibly changing engine components like heads, headers, exhaust, and cams for the engine. No tuning or fuel components provided.
Want to learn about HO vs. Stage II, Tuner Kits vs. Systems, Intercooling tech and much more? Click the button below to visit the ProCharger 101 page.
As Seen On: Super Chevy Network
Click here to see GM High-Tech Performance magazine's ProCharger supercharger kit install article, showing how easy it is to add 140-160+ RWHP to an otherwise stock 2022-2016 Camaro SS with only a few hours, standard hand tools, and a floor jack!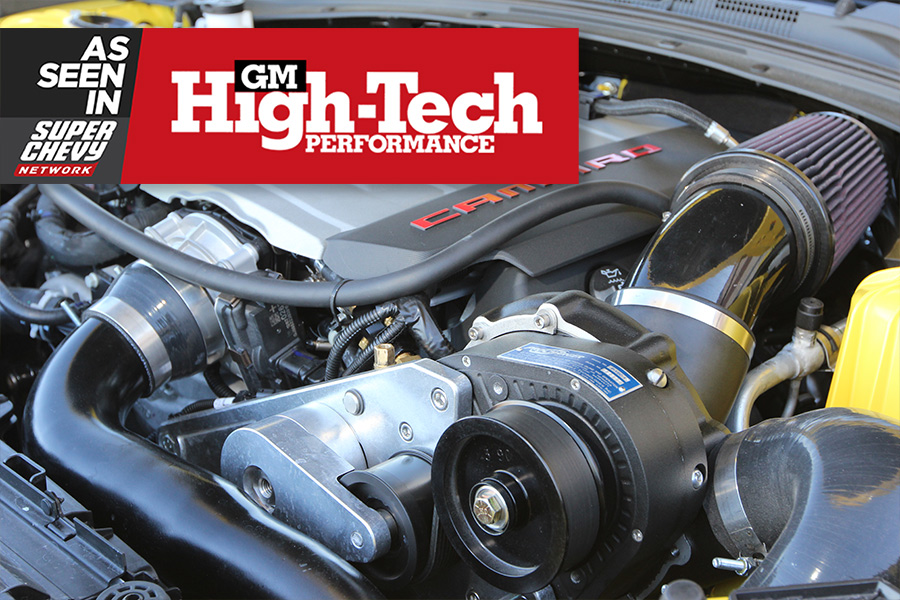 EASE OF INSTALL
With only 7 psi on pump gas your 2022-2016 Camaro SS can enjoy a gain of 160+ HP, thanks to our HO Intercooled System with P-1SC-1 head unit. Complete Intercooled Systems come with our proven tuning calibrations and a handheld programmer, making DIY installs a breeze. Higher boost levels and horsepower gains of up to 50% are possible with an Intercooled Tuner Kit and custom tuning, and even higher with modified motors. For hyper-custom racing builds, F-Series supercharger models up to the record setting F-1A-94 can be installed without the need for trimming or additional brackets.
Using a robust billet bracket system with a dedicated belt drive and patented crank pulley design, we are able to secure a 7.65″ supercharger drive pulley onto the factory harmonic balancer. The ProCharger crank pulley works by using a system of "cam-locks" to securely grip the factory balancer, taking the load off the crank bolt ensuring years of service without worry.
Combining this 7.65″ crank pulley with our robust ProCharger tensioner near the supercharger pulley, the system was designed for maximum belt wrap. This ensures consistent belt traction for both the factory 7 psi system offering and higher boost levels with Tuner Kits and modified vehicles. With the best belt wrap possible, ProCharger's tensioner is unique in that it is spring loaded, but also allows the customer to add as much pre-load adjustment as they want into the belt. This tensioner has already been proven in similar applications to support 1300+HP when used with dedicated 8-rib belts–so handling the factory 7 psi is no stress at all.
This system was also designed to be the easiest Camaro supercharger system install we have ever offered (5-6 hour install time), and you can change the pulley and 8-rib belt without removing the bracket or the supercharger.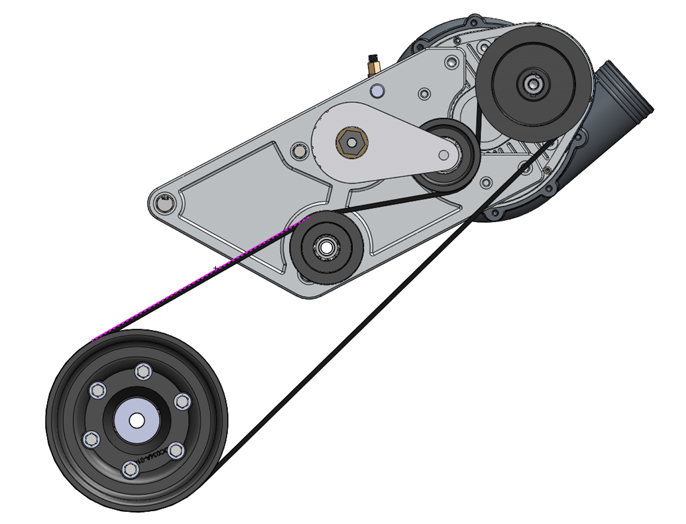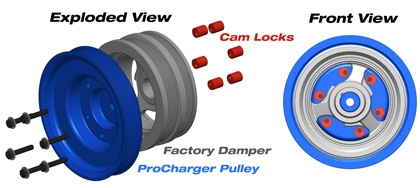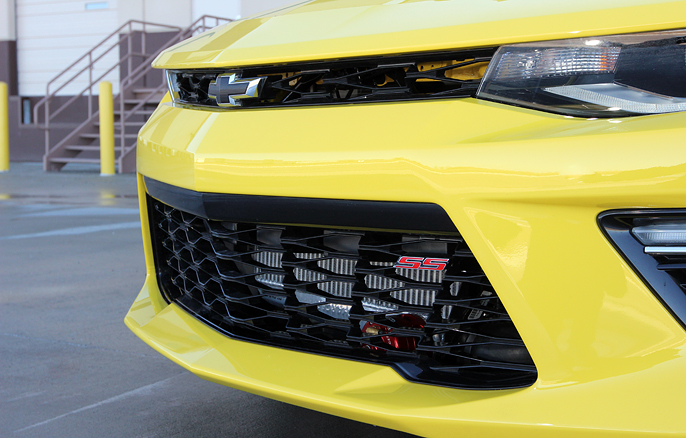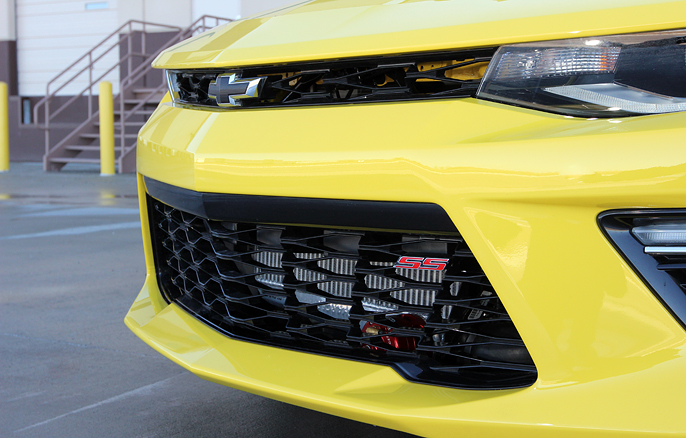 GM spent a great deal of time on the airflow design of this new Camaro SS, from the new front fascia to the three front mounted radiators. With this in mind, ProCharger specifically designed two different intercoolers for the 2022-16 Camaro's horsepower and cooling needs. Starting with a fresh core designs, the cross flow section of the intercooler core was increased in size to eliminate pressure drop as much as possible, while still retaining cooling capacity.
Neither intercooler option requires any cooling systems to be removed on this new Camaro. These supercharger kits will come with one piece of preformed-silicone charge tubing from the intercooler to throttle body. This helps create the best airflow possible and also eliminates any chance of rattles or vibrations caused by metal tubing in tight spaces (such as around the headlamps). The added insulation of silicone helps to cool the air charge inside the tubing around the Camaro's hot radiators.
AIR TO AIR INTERCOOLER OPTIONS:
HO Intercooler
HO Intercooler = 432 cubic inches of cooling core
(with standard proflow bypass valve installed)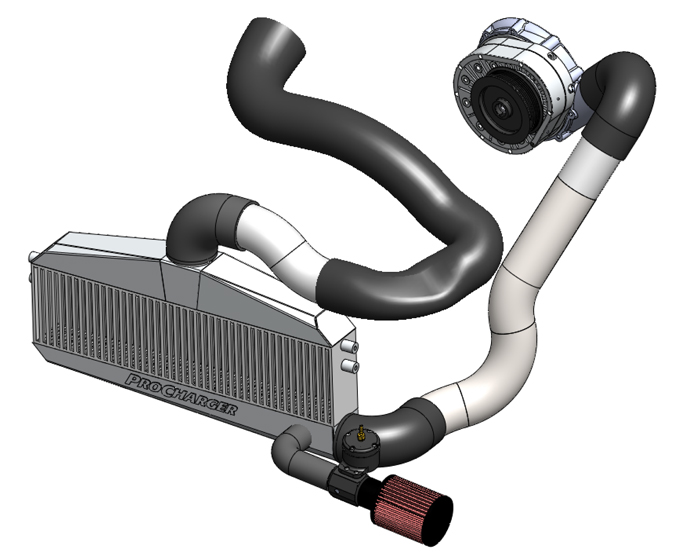 Stage 2 Intercooler
Stage 2 Intercooler = 756 cubic inches of cooling core
(with optional "Race" bypass valve installed)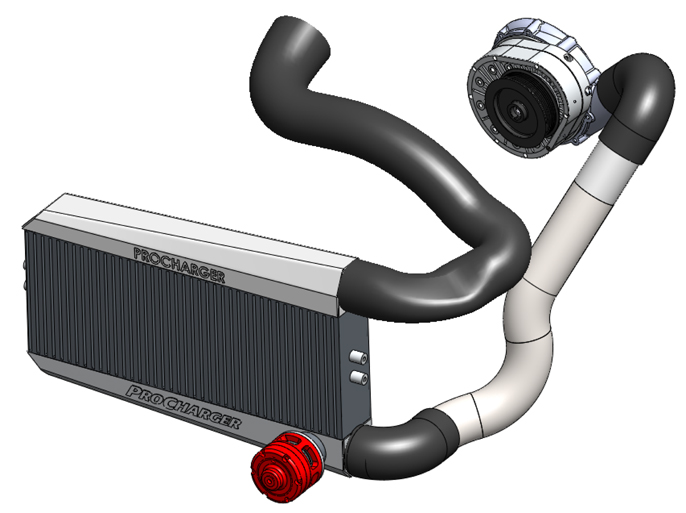 AIR TO WATER INTERCOOLER OPTION:
Competition Air to Water – With half-mile racing becoming more mainstream and "street" cars with well over 1,000+ rwhp, we knew a dedicated competition intercooler option was needed. This air-to-water system can be used as a closed loop system (as shipped), or modified to add an expansion ice tank for 100% dedicated track use.
BILLET INTAKE MANIFOLD OPTION:
This can be purcahsed with our without fuel injector bungs / rails for those running an aux piggy back fuel system.
*NOTE: available for tuner kits only.  (Shown in image below) 
*Click Image for Larger Wallpaper High-Resolution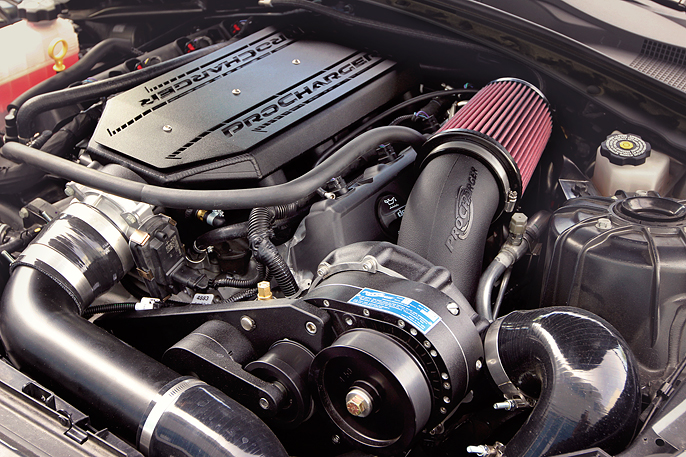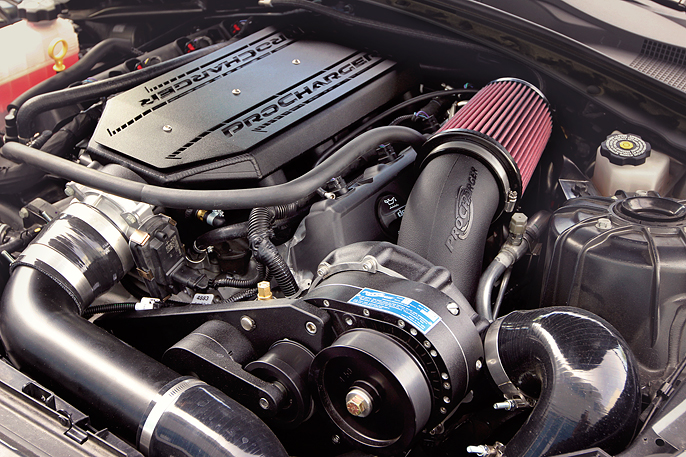 TUNING INCLUDED IN COMPLETE SYSTEMS
Tuning for full systems is included with the 7 psi factory system offering. This comes in the form of a simple-to-use hand held programmer that also allows the customer to monitor and data-log the car's systems. This handheld programer also comes with the ability for OBD2 code scanning. With long-term reliability in mind, these tunes are set up conservatively from ProCharger to account for fuel variations across the country. As always, more power can be achieved with custom tuning from your dealer or tuning shop.
100% REVERSIBLE
ProCharger understands that some customers might eventually sell their Camaro and want to return it to stock. With that in mind, ProCharger engineers took the time to ensure you can return the car to 100% OEM stock. Nothing on your Camaro will be trimmed/cut/bent or modified in any manner.
OPTIONAL UPGRADES
ProCharger has many options to help you create a truly unique system that not only fits your power goals, but also looks great under hood:
Polished, Black or Satin Supercharger finish
Polished, Black or Satin Bracket finish
Helical Gear set for Noise Reduction (P-1SC-1 & D-1SC only)
P-1SC-1 up to F-1A-94 head units available
Standard HO or Stage 2 Air-to-Air Intercooler
Race Bypass Valve upgrade (for cars over 750HP, or those that want a loud bypass)
Full systems or Tuner Kits
P-1X/D-1X UPGRADE
The ProCharger P-1X and D-1X head units feature the robust, self-contained gearcase that is standard on most ProCharger models, but with a new aerodynamic compressor design that creates cooler charge air temperatures and more horsepower at the same boost level than our industry-standard P-1SC-1 and D-1SC. This higher efficiency design was engineered to be a bolt-in replacement for P-1SC-1 and D-1SC equipped systems and has even greater max-power potential.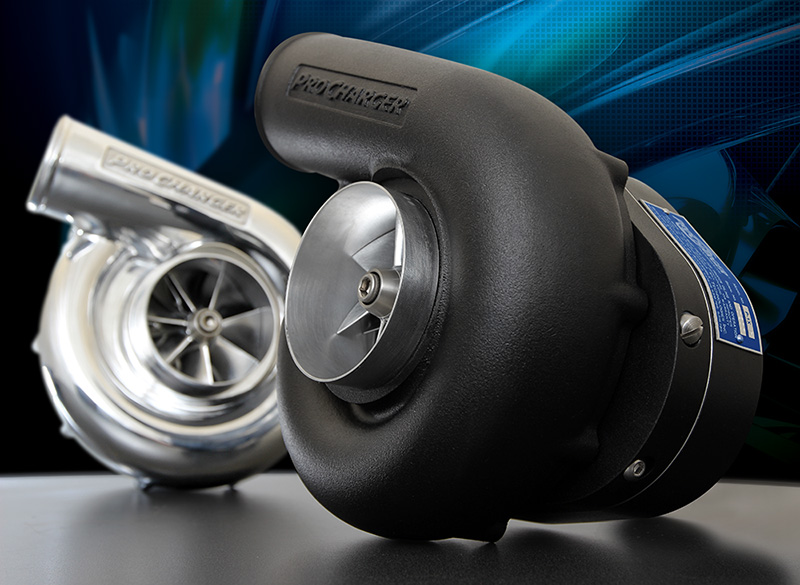 FIND A DEALER NEAR YOU
Looking to make a purchase or a shop to install? We have a large group of dealers ready to serve you with your ProCharger needs. Click below to find a dealer near you!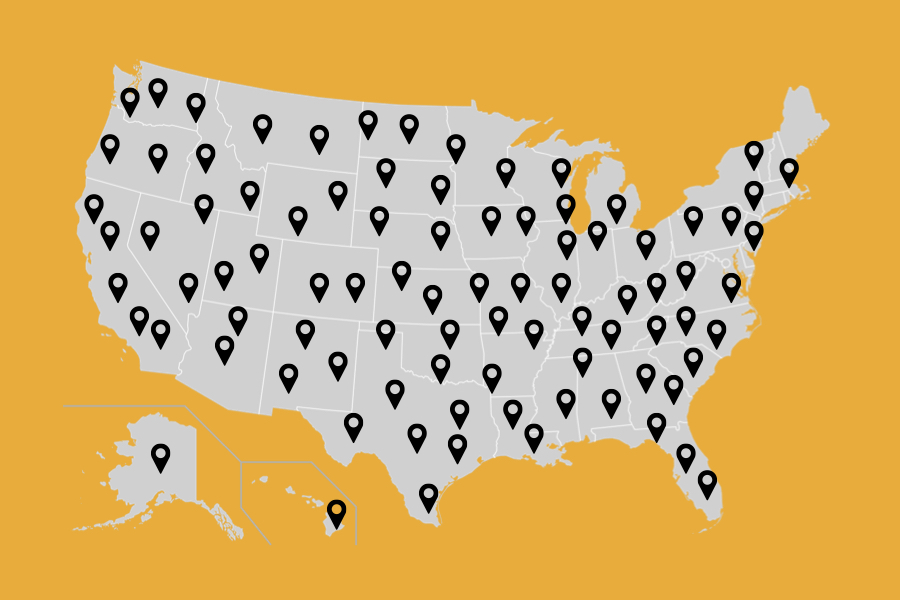 BUILD & PRICE
Kits starting at $7,449. Pricing on these units vary by configuration. Configure your purchase now.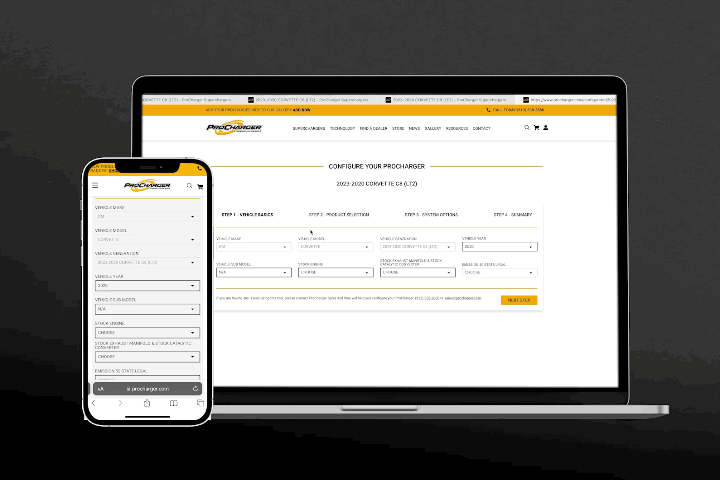 SPEAK TO AN EXPERT
Click to call our sales staff or email us if you need any help. We will be happy to assist you with any questions you may have.
Mon – Fri 8am – 5:30pm CST
Phone – (913) 338-2886
Sales Email – [email protected]
INSTALLATION MANUAL
Get a Catalog
Our catalogs feature much of this detail. You can either download a copy or have one mailed to you free of charge.
CALIFORNIA EMISSIONS COMPLIANCE INFO (CARB)
Some ProCharger superchargers for this vehicle are NOT legal for street use in California. These products are intended for racing or off road applications only. California approved products for street legal use (complete systems) will have an associated CARB EO# for compliance. For a full list of California and 50 state street legal systems, click below.
EMISSIONS COMPLIANCE
ProCharger offers Executive Orders for Emissions Compliance (EO) from California Air Resources Board (CARB) for many of our most popular car, truck and SUV applications. If you live in California, we can only sell you products with EO certification. Check out our full list of EO offerings.