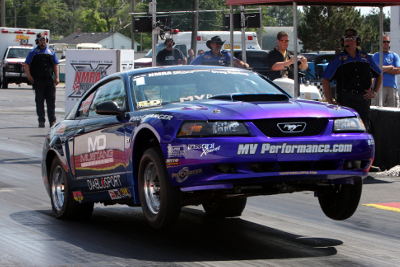 2008 CUSTOMER ACHIEVEMENTS
ProCharger powered racers had another outstanding season in 2008. With 10 national drag racing championships in 2008 and 11 in 2007, ProCharged customers have demonstrated amazing, record-shattering performance in the real world, with no other forced induction manufacturer even coming close. But national championships are not the only achievements ProCharger powered racers made in 2008, there were several record-breaking runs and outstanding performances, once again dominating the industry.
Beyond the champions listed in this blog and in the racing section of the website, two racers also finished runner-up in the points standings. AJ Powell took the runner-up position in NMRA Super Street Outlaw, right behind ProCharger champion John Urist. Powell's Mustang runs 7.40's @ 189 mph with a ProCharger F-3R. Tim Matherly also had a great showing in NMRA running the Real Street Class. Matherly also took 2nd place running consistently in the 9.70's @ 139 mph with a ProCharger P-1SC-2.
If you have been reading this blog you are aware of the other amazing achievements our customers and racer have made this season. If not, see the links below to be directed to some of the outstanding 2008 accomplishments made with ProCharger superchargers.
Championship Outlaw Tractor Puller
World's Fastest Gas Camaro at Bonneville
World's Fastest Production Mustang at Bonneville
DynoMax Power to the Wheels Finalists
Car Craft Street Machine of the Year
ProCharger Bracket Challenge Winner
PSCA Wild Street Record Setting Run