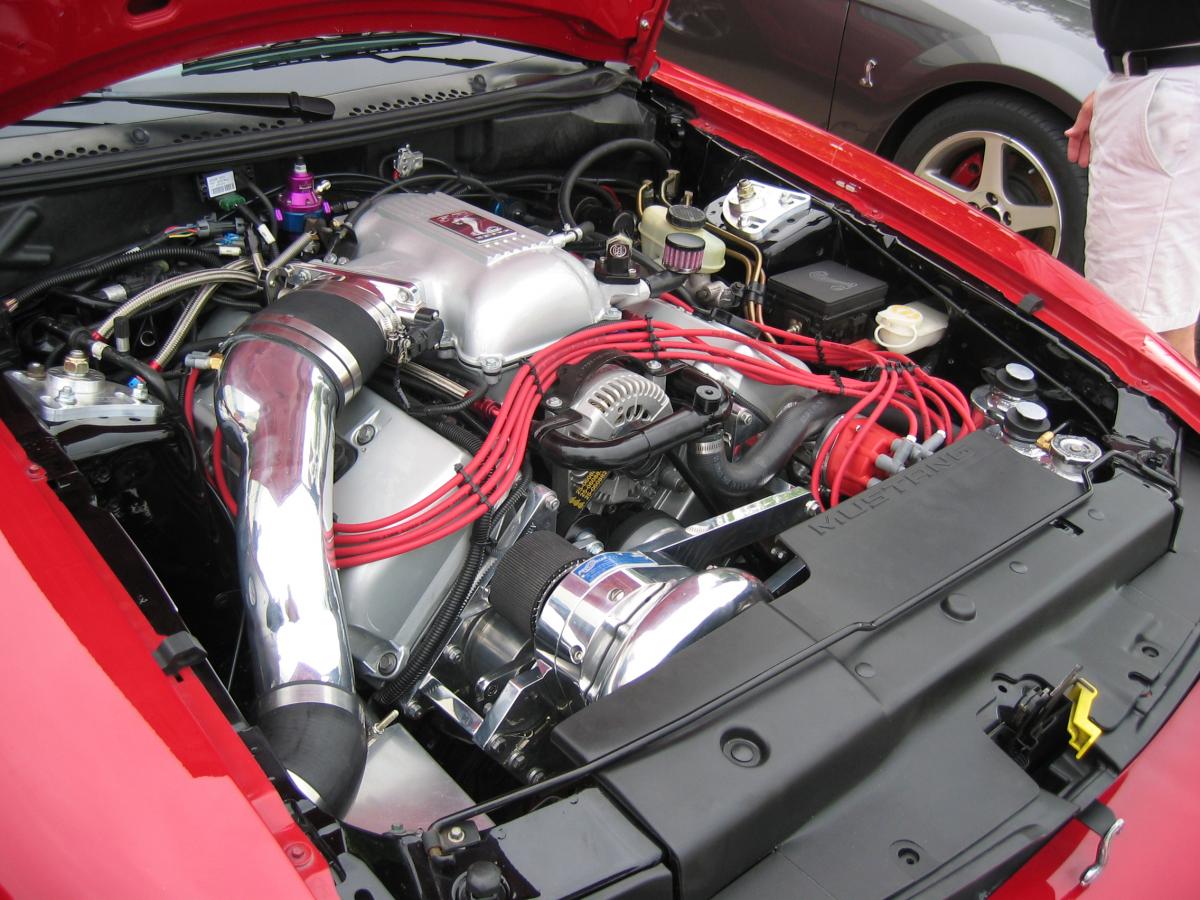 1996-1998 COBRA (4.6 4V) RACE ONLY KITS
| DESCRIPTION | BOOST | HP GAIN | INTERCOOLER |
| --- | --- | --- | --- |
| Serpentine Race Kit with F-1A (dedicated 8 rib) | specify | specify | - |
| Cog Race Kit with F-1C or F-1R | specify | specify | - |
PROCHARGER RACE KITS, 135-210+ CRANKSHAFT HP
Most 4.6L 4V ProCharger customers report gains of 135 to 210+ crankshaft horsepower and are able to run 13 to 20 mph faster in the 1/4-mile. That means that with proper traction and good driving, you can take almost two seconds off your ET! Of course, even larger gains are possible with additional bolt-ons or racing fuel.
Both the Serpentine Race Kit and the Cog Race Kit utilize the patented, proven and F-1 Series superchargers.  The Serpentine Race Kit uses the F-1A, a compact, 8-rib shared supercharger drive system, a highly-effective, air-to-air intercooler, OEM-quality mounting brackets, fuel system upgrade, tuning and all necessary supercharger and intercooler tubes for installation onto your 4V Mustang with no major modifications to your car or engine. ProCharger Cog Race Kit uses the F-1C or F-1R supercharger.
ProCharger supercharger kits feature easy installation and minimal relocation of components.  Additionally,ProCharger Race Kits avoid the issues associated with the complexity and maintenance of an air-to-water-to-air intercooler configuration. ProCharger systems for 4V Mustangs feature a visually appealing, "from the factory" look and come with a standard 3-year warranty on the intercooler and 1-year warranty on the supercharger (Optional 3-year supercharger warranty is available).
Building a modified 4V engine for your Mustang? An intercooled ProCharger supports the highest boost and power levels in the industry. Give ProCharger a call to learn more.
PROCHARGER 4.6L 4V CHOICES & UPGRADES
• Polished supercharger finish
• 950 HP Intercooler System Upgrade
CALIFORNIA EMISSIONS NON-COMPLIANCE INFO (CARB)
NOTE: ProCharger Race Kits for the 1996-1998 Ford Mustang Cobra are NOT legal for street use in California. These products are intended for racing or off road applications only. California approved products for street legal use (complete systems) will have an associated CARB EO# for compliance.  Click here for a full list of California and 50 state street legal systems.
PRICING
View our Application and Specifications Price Guide.
SPEAK TO AN EXPERT
Click to call our sales staff or email us if you need any help. We will be happy to assist you with any questions you may have.
Mon – Fri 8am – 5:30pm CST
Phone – (913) 338-2886
Sales Email – [email protected]
FIND A DEALER NEAR YOU
Looking to make a purchase or a shop to install? We have a large group of dealers ready to serve you with your ProCharger needs. Click below to find a dealer near you!
EMISSIONS COMPLIANCE
ProCharger offers Executive Orders for Emissions Compliance (EO) from California Air Resources Board (CARB) for many of our most popular car, truck and SUV applications. If you live in California, we can only sell you products with EO certification. Check out our full list of EO offerings.