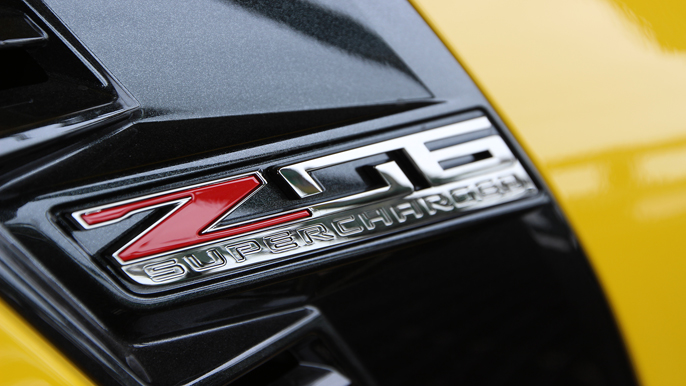 WILL 1000+ HP NEW 2015 Z06'S BECOME THE BENCHMARK? WE THINK SO…
THAT SIMPLE FOUR-DIGIT POWER NUMBER HAS BEEN THE HOLY GRAIL FOR STREET DRIVEN PERFORMANCE CARS.
Being able to claim having over 1000 horsepower is a bragging right well deserved. GM has laid the foundation with the LT-4's strong forged motor, now ProCharger superchargers provides you the power adder to make it reality.

For years people have been adding ProCharger superchargers to their daily driven streetcars, and bolting on power gains of over 200+ HP with factory engines. For the better part of a decade (if not longer) these engines have not had forged internals or compression ratios ready for large amounts of boost. Well, all of that has changed with the LT-4 in this new Z06.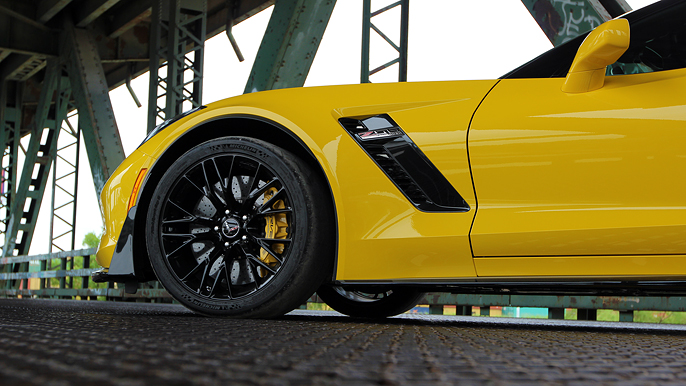 With its fortified forged engine and relatively low compression, ProCharger knew people would be wanting to build the ultimate supercharged supercar, and would need a power adder that could deliver what this engine could handle. So we set out to create a simple way to remove the small factory roots blower, and bolt on (with no permanent modifications) a ProCharger headunit capable of supporting 1,600+ HP!
Yes, we said 1,600+ HP. But we know that over time customers of ours will very well push that number above that just as they have with ProCharger supercharged C6 Corvettes now in the 1,600HP range (VIDEO), thanks to the super efficient boost and power created by the ProCharger centrifugal headunits. Packs of ultra high horsepower street driven Corvettes have become mainstream on the Internet these days.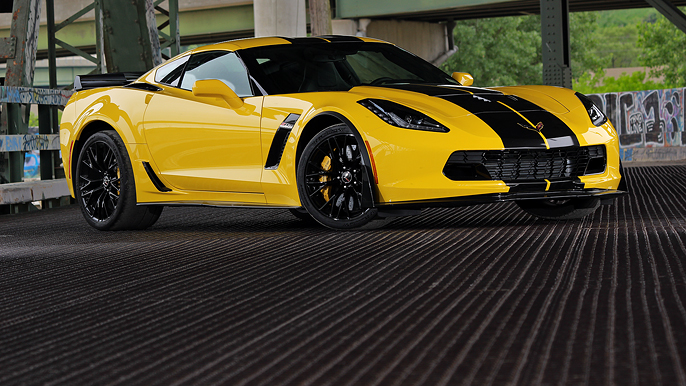 When we first set out to perform this swap from roots to centrifugal, we wanted to see what the gains would be at the 100% stock boost level (10 psi). Just to prove the concept of that gain in efficiency and power production. With simply removing the factory blower and using the same factory timing, fuel and boost, we were rewarded with a gain of 115 HP over stock! After testing at the stock boost level was complete, we upped the boost by just a few psi to 13 psi with a D-1SC head unit, and were rewarded with 720 RWHP! (827 HP*)– while still running the factory timing, and pump fuel.
Now with gains that large, and power levels that good on the factory engine with a camshaft designed for a roots blower, you can tell that with a camshaft change and more boost that elusive "1,000 HP" number is easily obtainable for Z06 owners, more then ever before. Knowing the power levels of these cars was going to be crazy out of the gate, we made sure everything in the system was ready for the task.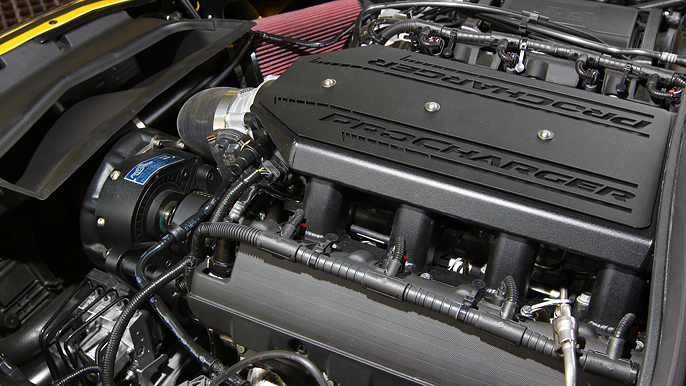 INTAKE MANIFOLD:
ProCharger started by building a 100% custom LT-4 sheet metal intake manifold to replace the factory roots supercharger (you simply unbolt the factory blower, and drop this into place). This intake features CNC billet intake runners and base plates and thick wall sheet metal built to withstand insane amounts of boost. Spending lots of time in the design stages helped to not only optimize flow/power potential, but also ensured the factory hood line was maintained. For those reading this blog with a Stingray LT-1 based Corvette, we made this intake work for you as well. (Photos show the different color options avalible)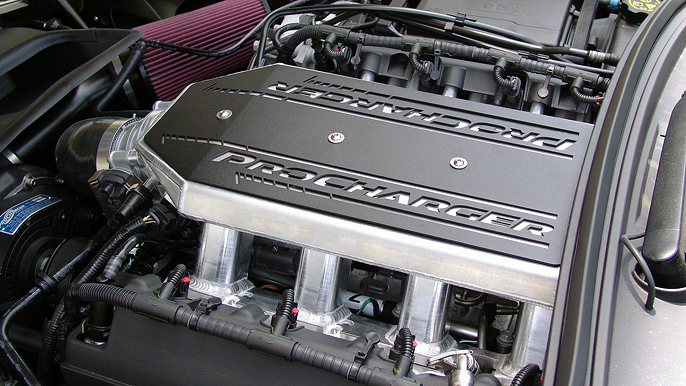 BLOWER OPTIONS:
From mild to wild, we have a head unit ready to support whatever power level a customer wants to throw at this LT-4 engine. The base system comes with the super efficient P-1SC-1 (a head unit capable of 825 HP) all the way up to the F-2 unit (capable of 1,600 HP). Each ProCharger supercharger is self contained with its own oiling system, and built out of aircraft grade billet aluminum. Even our gear cases are CNC billet for the ultimate in reliability.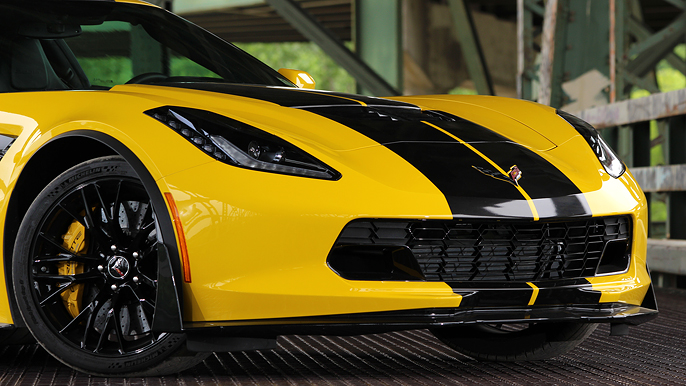 AIR-TO-AIR INTERCOOLER:
ProCharger spent months working on building the ultimate air-to-air intercooler for the C7 Corvette platform. To read more about the massive amount of testing, please check out our previous blog by clicking HERE. Road course testing, Drag strip testing, lab testing, and the ever important stop and go traffic testing. We put our intercooler system through its' paces to make sure it would keep the air temps cool, engine temps cool as well as left all the amazing aerodynamics of the C7's design in place. ProCharger designed two different intercooler systems, each designed to best match the needs of how the car is being used. Please click this blog link HERE for more details.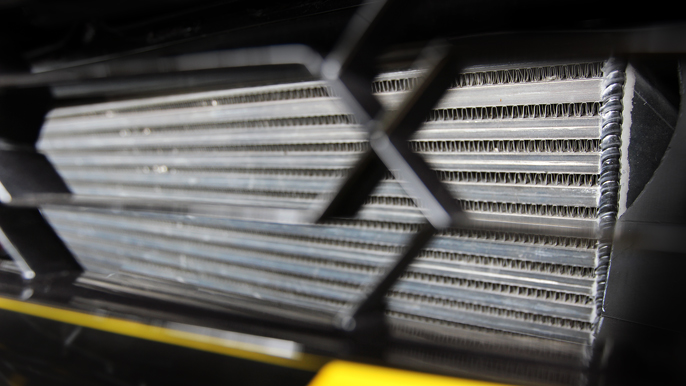 REVERSIBILITY:
We know that the last thing someone wants to do is cut/trim/hack up a new car, so we went to great lengths to make sure this installation was 100% reversible. The factory blower is easily unbolted and removed, along with its supporting hardware/lines etc, and can be reinstalled just as easily. From our bolt-in intake, blower bracket, to the intercooler system, everything is 100% plug and play. No cutting, bending, tweaking, or trimming of any sort.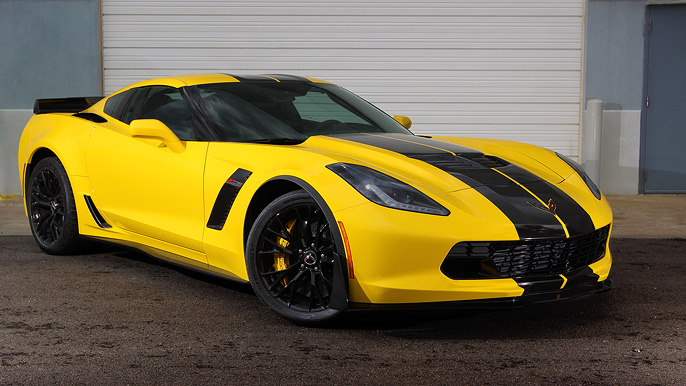 OPTIONS:
Available Head Units: P-1SC-1 through F-2 (please see this chart)
Available Head Unit Finishes: Satin, Texture Black, Polished
Available Bracket Finishes: Satin, Texture Black, Polished
Available Intake Finishes: Satin, Texture Black
Available Intake Plate Finish: Satin, Texture Black
Available Bypass Valves: ProFlow, Bullet ProFlow, Race Valve
Available Intercoolers: Vertical, Horizontal
When you're ready to take your Corvette Z06 from stock to supercar power levels … Contact us at (913) 338-2886 and we can show you how. You can also contact us via [email protected]
*CRANK HP based on drivetrain loss of 14.9%
Rated Flywheel 650 HP stock vs. Actual Rear Wheel 553 HP stock