VIDEO CHALLENGE 2 AND THE WINNER IS…
From the many videos that were submitted, voting for the top video in the ProCharger Video Challenge was fast and furious right up to the finish line! With votes coming in up until the last minutes, the votes were tallied Thursday morning Sept 1st, and the winners are…
1st Place and the Grand Prize winning video: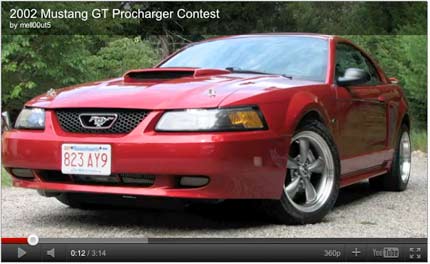 1st Place and the $5,000 Grand Prize winner:
2002 Mustang GT Procharger Contest

2nd Place and $1,500 went to:
My ProCharger

3rd Place and $750 went to:
Procharger Video Challenge 2011

4th Place and $450 went to:
Procharger Trailblazer SS AWD Donut Burnout

5th Place and $300 went to:
S&S Speed 2011 Procharger
Congratulations to the Top 5 finishers! The Grand Prize winner of the ProCharger Video Challenge will receive $5,000; Runner up: $1,500, 3rd Place: $750, 4th Place: $450 and 5th Place: $300. ProCharger would like to thank all the owners, enthusiasts and dealers who created and submitted videos for the first ProCharger Video Challenge.
From all the videos that were initially submitted, to the Top 10 Finalists and of course, to the Top 5 finishers, each and every one of these videos were great accounts of "the ProCharger story" as told by the people who want only the ultimate power adder on their car.
The Winners from Video Challenge 1 can be viewed here
http://www.procharger.com/videochallenge1_winners.shtml