TOYOTA TRUCK SUPERCHARGER SYSTEMS AND KITS AVAILABLE NOW!
BOOST HORSEPOWER ON YOUR TOYOTA TRUCK WITH PROCHARGER
In the Toyota world of the Tacoma truck and 4Runner SUV, supercharging has a rabid following since in stock form these trucks are pretty underpowered—especially when you bolt on bigger wheels and tires, light bars, winches and all the stuff enthusiasts like to add. Plus there's a huge group of "Overlanding" folks that add even more equipment like camper setups and more. All those aftermarket parts certainly do make the 'Yotas look tough, but they also add a lot of weight, further highlighting the lack of power. Hence the love of supercharging with these trucks.
The problem has been limited options for superchargers in this market, especially after Toyota eliminated the TRD supercharger as an option a few years ago. There has also been a lack of available tuning with superchargers. But that's a thing of the past with ProCharger's supercharger systems, and we also have the largest power gains in the industry. ProCharger technology delivers industry-leading 40-45%+ power gains for Toyota owners, as well the quickest and easiest installation. With highly effective air-to-air intercooling and the efficient D-1SC ProCharger, together with optimal mounting locations for both supercharger and intercooler to avoid heat soak, ProCharger Systems and Kits are designed to give you that much needed boost in performance.
We have complete Systems available right now for the 2005-15 4.0L Tacoma, the 2010-19 4Runners, and the 2016-20 Tacoma will hopefully be available very soon.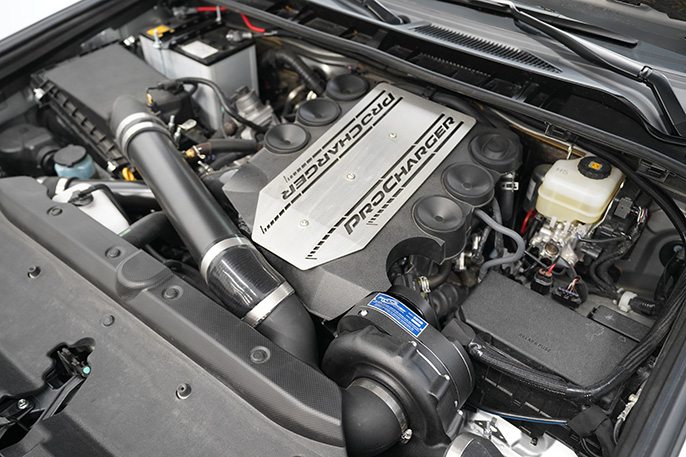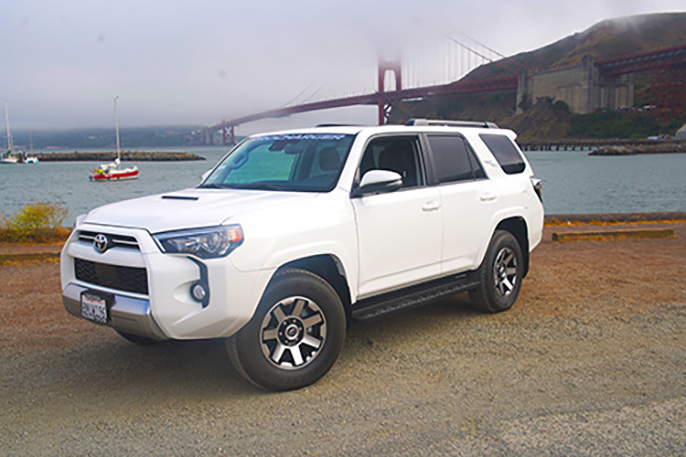 ---
HO INTERCOOLED SYSTEM
Produces the coolest charge air temps and largest power gains
Provides boost/power on demand, which is great for on-road and off-road performance
Easiest installation, only requiring common hand tools
Utilizes factory airbox and filter – Making fitment to a snorkel a breeze
The air-to-air Intercooling provides consistent, reliable power, even in extreme conditions
Optional intercooler available for winch and aftermarket bumper installations
Optimized supercharger and intercooler location minimizes heat transfer
Retains the factory intake manifold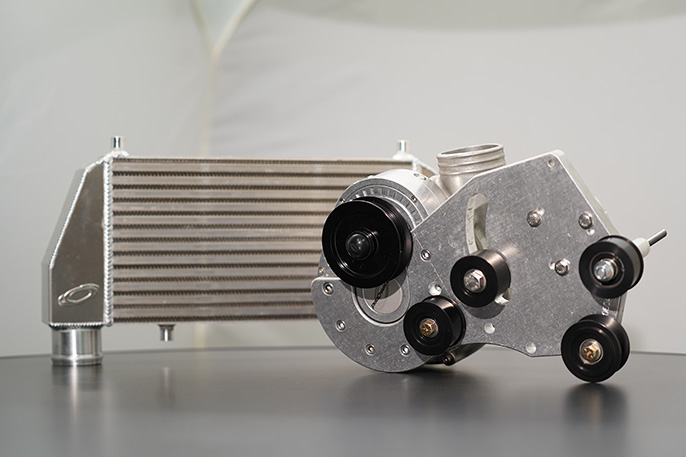 OPTIONAL UPGRADES INCLUDE
Polished, or black supercharger and bracket finish
Helical gearset for noise reduction
Intercooler option for aftermarket bumper and/or winch setup
ProCharger engine cover
Black intercooler finish (raw finish standard)
---
TACOMA TESTIMONIALS
"It was pretty sweet driving [my Tacoma] for the first time. Before, this thing would downshift to third to get going, now just one downshift and she's moving and I'm loving it. It really likes 4th gear pulls and is much better in town. Pulling the trailer compared to before – she's no Powerstroke but is 100% better now and it will pull the trailer in overdrive. Out 'wheeling my first weekend it was great—a few times when I had to hammer down to get up some hills it was no problem. The best part is I can get sideways and have fun in the dirt now. I could never do that before" – Matt H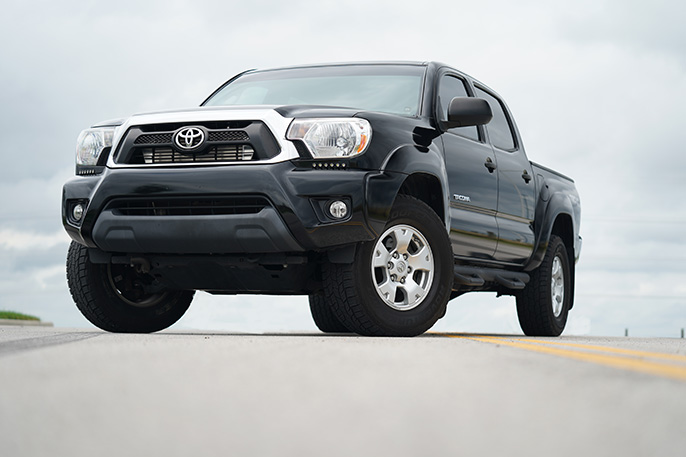 'I own a 2010 Toyota Tacoma double cab short bed with a 1GR-FE a 4.0 V6, a 6-speed manual transmission, it is a TRD off road trim package and has 150k on the ticker. I added 31.5″ tires, steel front and rear bumpers, tire carrier, rock sliders, bed rack, and tent. This was a lot of added weight, and before the ProCharger my truck was making approximately 225whp. Safe to say this is no race truck, it was actually a dog. We are now pushing 311 whp at 9psi! WHAT A DIFFERENCE! This truck used to be so slow it could be dangerous getting on the highway. It had no power to accelerate to overtake on the highway and it would honestly struggle climbing highway hills at altitude. The ProCharger makes a night and day difference.
When you buy a kit from this company you can rest assured you are buying not just parts, but an entire quality product. I recently took my truck out to the Colorado mountains for a camping trip, traveling about 1,400 miles round trip in a week. I had my small off-road trailer in tow (about 800-1,000 lbs towing load) and was excited to see how my truck would perform. The added power was completely necessary. There are some long uphill drags of I-70 in Colorado that I used to have to drop a gear and floor it just to get up. The boost made the hills barely noticeable even with a steel trailer behind my small truck. Getting up to highway speeds used to be painfully slow, now I can get up to speed without getting out of 3rd and have still have more power just waiting under my right foot.

This has so far been the best modification I have done to my Tacoma. Its lack of power had always been a point of contention but this unit has solved all my worries. Bolt on 50% more HP and put your foot down. It's that simple!" – Alex
---
TACOMA 3.5 KITS COMING VERY SOON!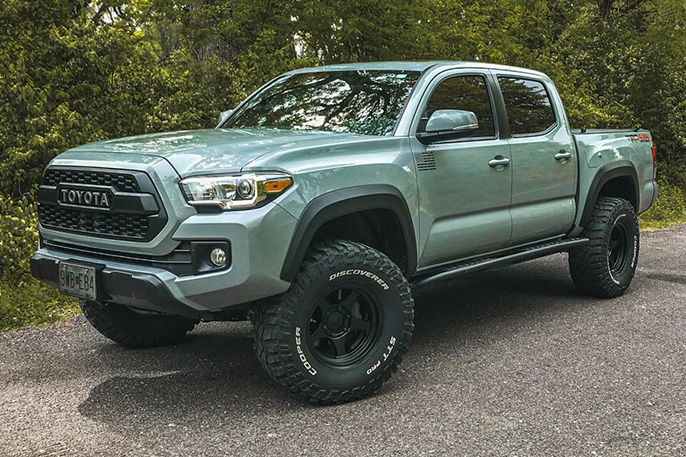 We've teased about it for a few months now, but we're right on the verge of finalizing a supercharger system for the 3.5L-powered Toyota Tacoma pickup, so watch for more details very, very soon. We're nearing the final stages of tuning and packaging and should have kits ready to ship withing a few weeks!
---
OVERLANDING IS JUST BETTER WITH PROCHARGER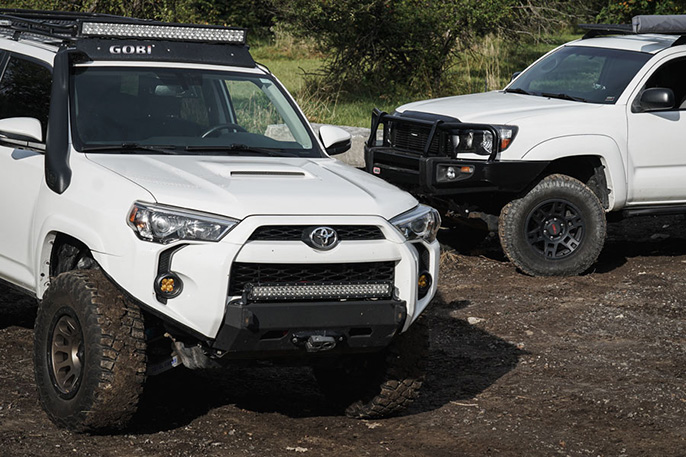 One of the biggest trends in off-roading these days is overlanding. That term and movement describes self-reliant adventure travel to remote destinations where the journey is the primary goal. Usually that means highly equipped off-road trucks where the principal form of lodging is camping in roof-mounted "tents." While an expedition is defined as a journey with a purpose, overlanding sees the journey as the purpose. Installing a ProCharger supercharger system is the most effective way to make your Toyota Tacoma or 4Runner perfect for that!
---
NEED MORE POWER FROM YOUR TOYOTA TRUCK/SUV? YOU NEED A PROCHARGER!
Let's face it, the new Toyota Tacoma and 4Runner are great trucks, but they are seriously lacking in power. A ProCharger supercharger system adds 40-45% more power, exactly what these trucks need especially off-road and with heavy equipment for the trip. Give our sales staff a call or email us at the following contact methods below. If you're ready to install a ProCharger on your Toyota truck but not sure if you want to tackle the installation, click HERE to find a dealer nearby to help out.
Phone – (913) 338-2886
Mon – Fri 8am – 5:30pm CST
Sales Email – [email protected]
Tech Email – [email protected]
Racing Email: [email protected]
Sign up for our email newsletter HERE