TOP DRAGSTERS: HOW MANY WAYS CAN YOU INSTALL A PROCHARGER? (ALL 5 COVERED)
IN RACING YOU WANT POWER, RELIABILITY, AND CONSISTENCY:
Thankfully, ProCharger helps racers check off all three of those boxes with ease (and then some). The number of wins and championships that ProCharged Top Dragsters have racked up in the NHRA speak for themselves, so thankfully we don't need to. However, what we do need to talk about, is the supercharger mounting options for virtually any dragster chassis needing boost. So let's dive into the blog, and discuss the following (5) mounting options for ProCharger head units.
– DragsterDrive
– Reverse Belt Drive
– RaceDrive
– CrankDrive
– Conventional Belt Drive
---
DRAGSTERDRIVE SYSTEM: (REVERSE MOUNT)
While this layout might look like the conventional cylinder head mount (which we will talk about later), the DragsterDrive offers some great features specifically designed for use with Dragsters. Here are some of the quick features that set this drive apart from anything else.
– Reverse Mounted Supercharger (inlet faces forward)
– Boxed Bracket design (no chance of flex under extreme loads)
– Integrated crank support bearing (reduced crank load)
– Integrated supercharger input support (reduced input shaft load)
– Crank Trigger / Timing pointer built-in
– V-band drive for oil / fuel pump
– Alternator drive optional
*- Currently only for BBC
The features above all add up to cleaner airflow to the supercharger, amazing bearing support, belt tracking, and overall the highest durability of any belt-driven supercharger system. All while fitting into a dragster chassis that might not otherwise allow a CrankDrive or Reverse belt drive to be used.
---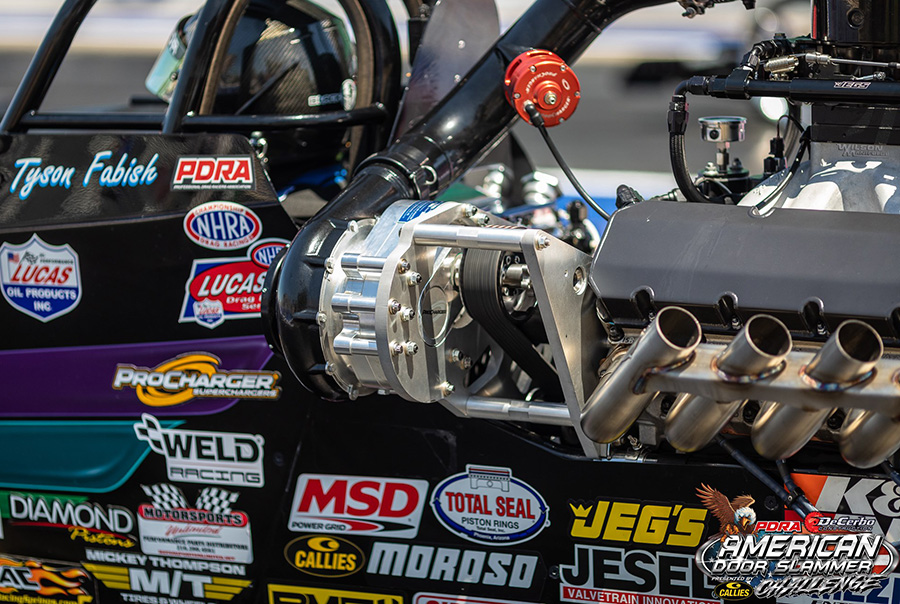 REVERSE BELT DRIVE SYSTEM: (LOW MOUNT)
A keen eye will notice this system shares all of the same awesome features as the DragsterDrive above, with an ultra-compact design tucking the supercharger behind the driver's seat, near the centerline of the chassis. We could repeat all of those amazing features, however, it mostly just comes down to the personal preference of looks and if the chassis can allow this to be fitted. Here are some images of this system.
– Currently only for BBC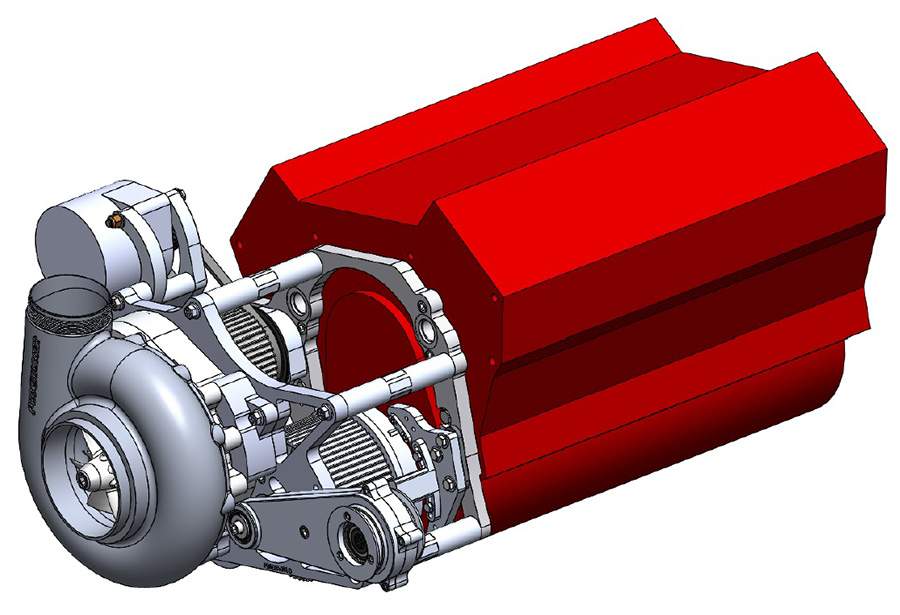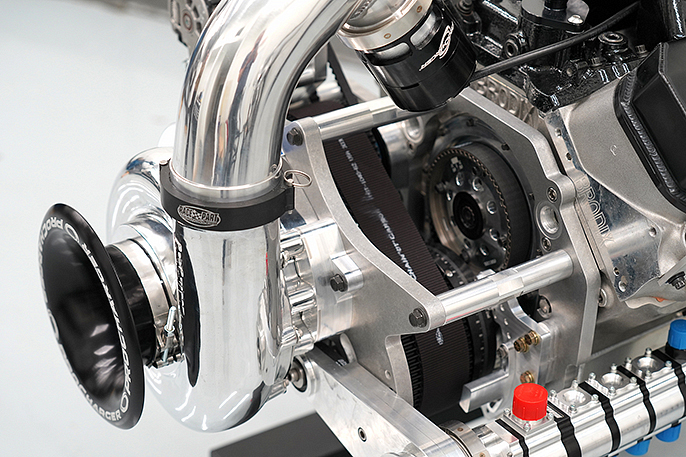 ---
RACEDRIVE SYSTEM: (INTEGRATED DRIVE SYSTEM)
Originally designed for use in Top Dragster and Top Sportsman classes, this drive system has seen its way onto street cars / trucks and even many NoPrep race cars. However, this system intends to give the customer the benefits of a CrankDrive system, with a more vertically mounted package to fit tight chassis or engine bays. The way this was accomplished was by integrating the entire step-up ratio from the crankshaft has been enclosed inside of the RaceDrive gearcase. Blower speed changes are made by gear changes vs belt / pulley changes with support up to 2,400hp. Some key features are…
– Compact location
– Direct drive from crankshaft
– Mutiple gear ratio combinations
– Quick change gears
– Three accessory drive PTO's
– Will require custom brackets for mounting to many engines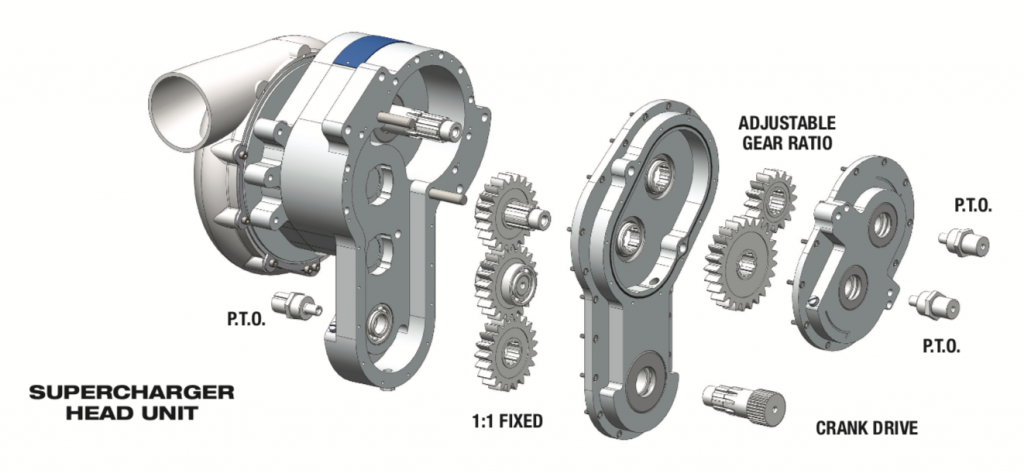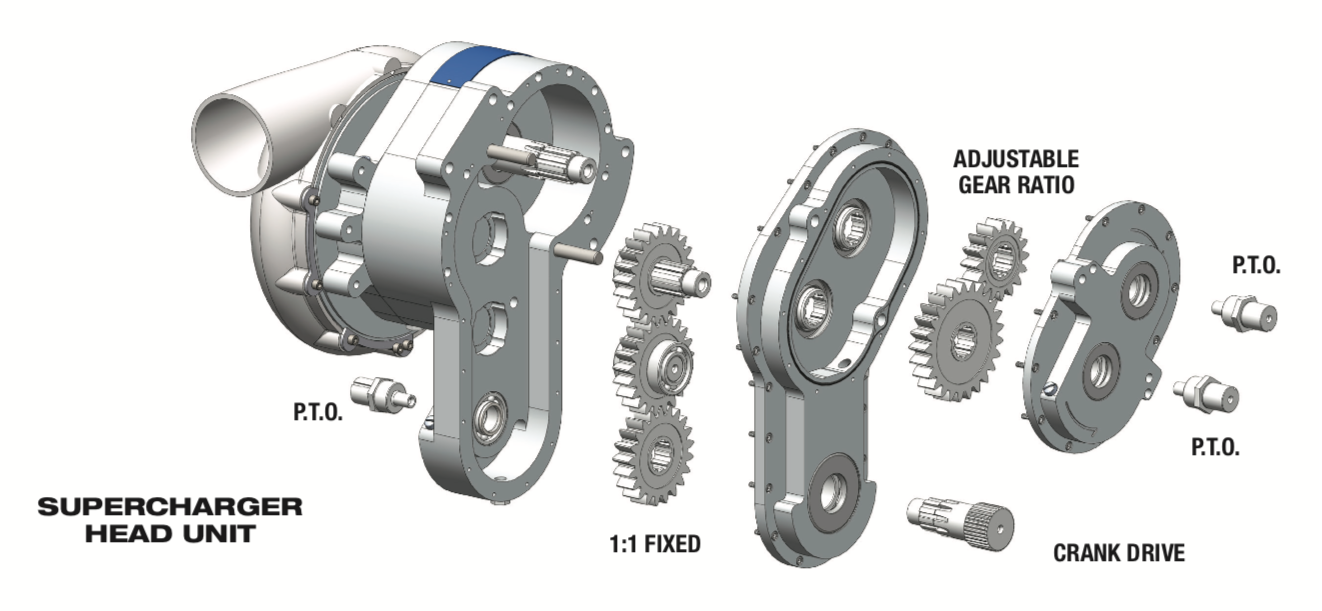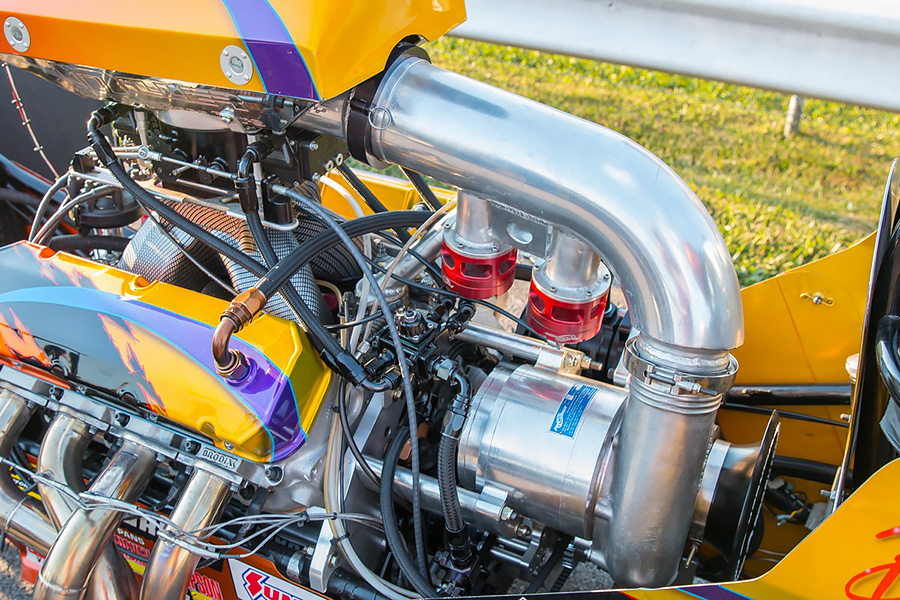 CRANKDRIVE SYSTEM: (DIRECT TO CRANKSHAFT LOW MOUNT)
We have all seen this unit in action, taking win after win in NHRA ProMod supporting 3,500hp or more. Well, now it's becoming very common to see this CrankDrive system in anything from an ultra trick streetcar, to Top Dragster when the chassis allows it. While still being very lightweight, the ProCharger CrankDrive features an ultra-robust case design, as well as extreme duty gearsets and bearings. This all adds up to the ultimate in durability even at power levels approaching 3,500 horsepower and beyond. Some key features are…
– Direct to crankshaft mounting
– Quick change gear ratios
– V band drive for oil / fuel pump
– Full bolt on applications for most popular race engines
– Allows engine to be manually rotated
– Supports F-1 to F-4 head units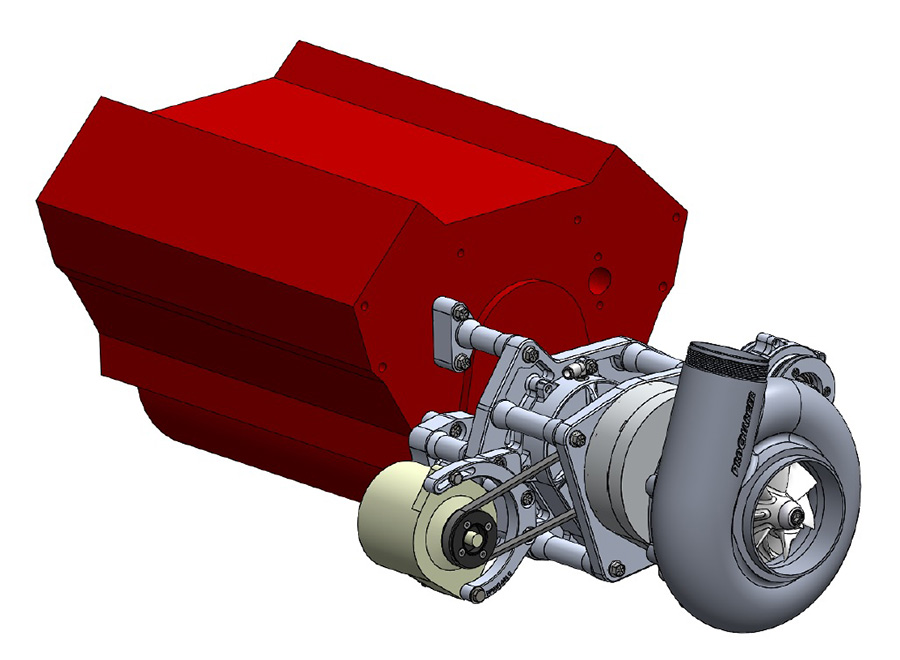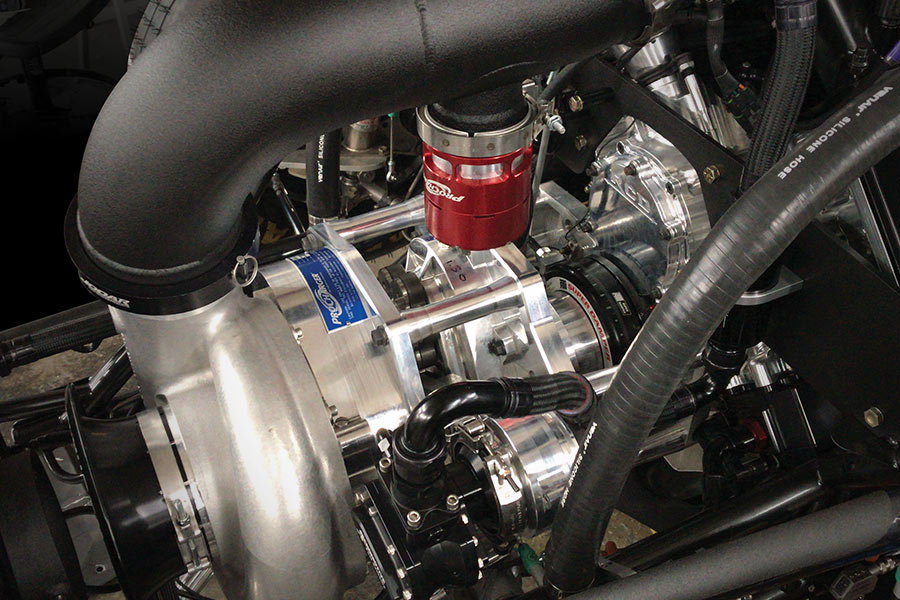 CONVENTIONAL BELT DRIVE: (CYL HEAD MOUNTING)
It might be last on our list to talk about, however that doesn't take away from the fact that for 25 years this design is still winning races and even championships in NHRA Top Dragster to this day. Benefits include being one of the most cost-effective, easiest to install, and easiest to fit into virtually any existing chassis. Normally this setup is seen running F-2 head units and an 8mm belt system, however, some racers run the F-3 head units while using the 14mm belt (and even a handful of serpentine setups). Details on this mounting method are…
– 8mm and 14mm drive belts available (plus v-belts)
– Virtually endless belt / pulley combinations
– Cost effective / easy to install
– Allows conventional accessories in standard locations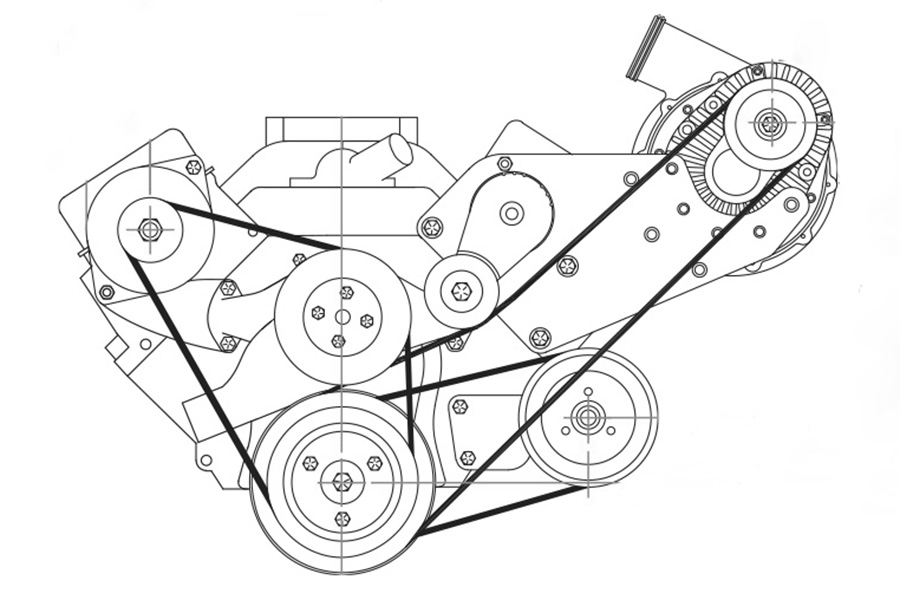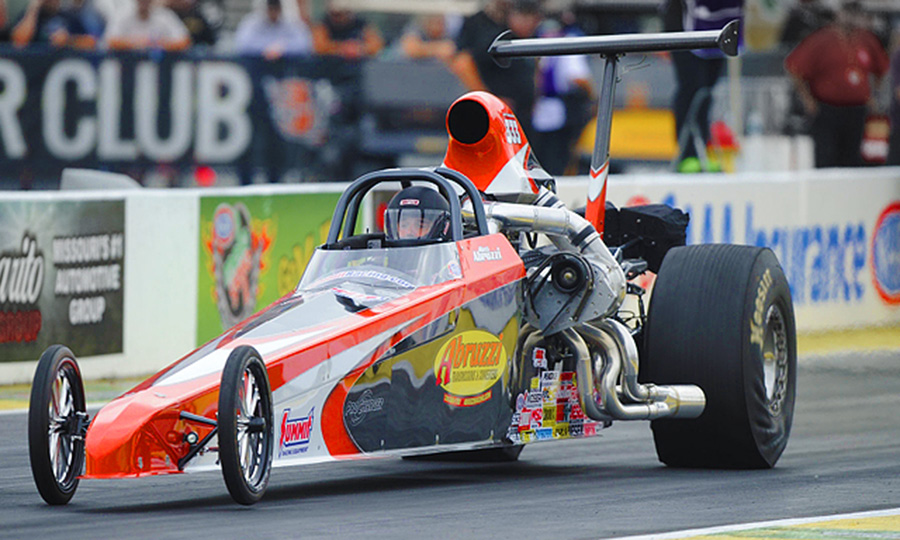 WANT TO TALK MORE ABOUT THESE PROCHARGER OPTIONS?
Give our racing staff a call or an email at the following contact methods below. We will be happy to assist you with any technical questions you may have about our systems, and the results you can expect. Thanks for reading!
Phone – (913) 338-2886 M-F 8:00am – 5:30pm CST
Racing Email – [email protected]