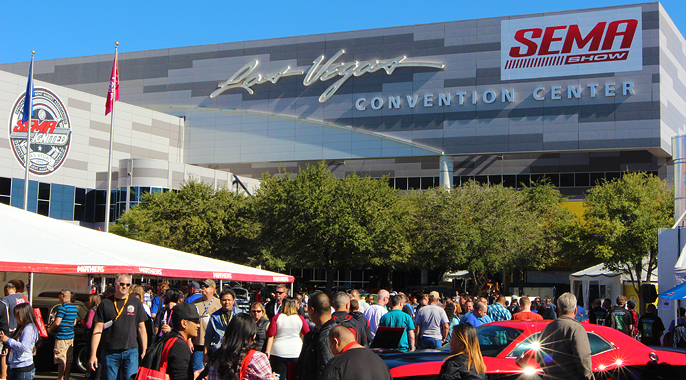 THE WRAP UP : SEMA 2015
THE AUTOMOTIVE DREAM WORLD KNOWN AS SEMA HAS ENDED…
But don't worry; these 4 days of automotive heaven will be talked about for the next year. As photos, videos and stories circle around the internet, everyone will soon be able to relive almost every square inch of the show. SEMA truly is that one event that can bring the entire world of hot-rodding together to create the ultimate "think tank." Where companies/builders/gearheads from around the world can share projects off and ideas of what is possible. This blog is dedicated to show you an inside look at this year's show.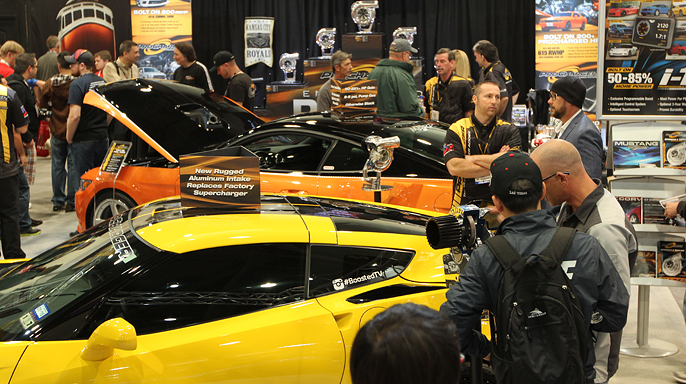 JAM PACKED BOOTH FILLED WITH SUPERCHARGED EXCITMENT…
From the moments the show doors opened, till the very end, the booth was packed! Some were curious about all the new products, while others just wanted to say "Thanks" and share their ProCharger supercharged rides story. To satisfy everyone's supercharged dreams we brought out a little bit of everything from cars, a bike, an engine, and all the supercharger eye candy a person could take. Speaking of candy….
Could this be the fastest candy dish in all of motorsports?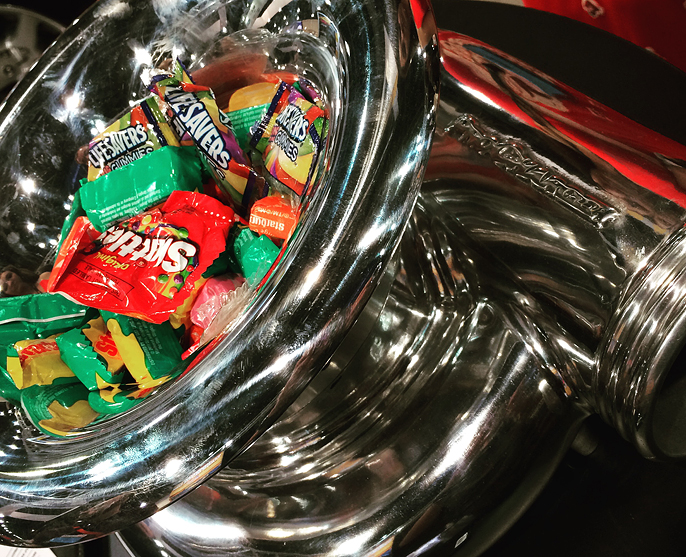 Stacey David from the TV show "Gears with Stacey David" was a welcomed face to the booth. Plenty of people got the chance to get his autograph, and talk "shop" about their projects with Stacey.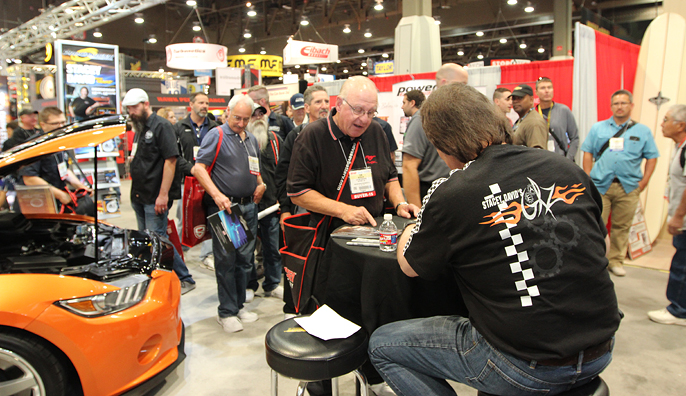 The crowd stopper for those in love with GM products was by far the 1,020 rwhp yellow monster Corvette Z06 from AMP Performance out of Arlington TX. This car features the new ProCharger LT-4 supercharger swap system with a F-1X head unit. Other than a camshaft change, this cars LT-4 engine remains OEM stock, and runs on 93 pump gas.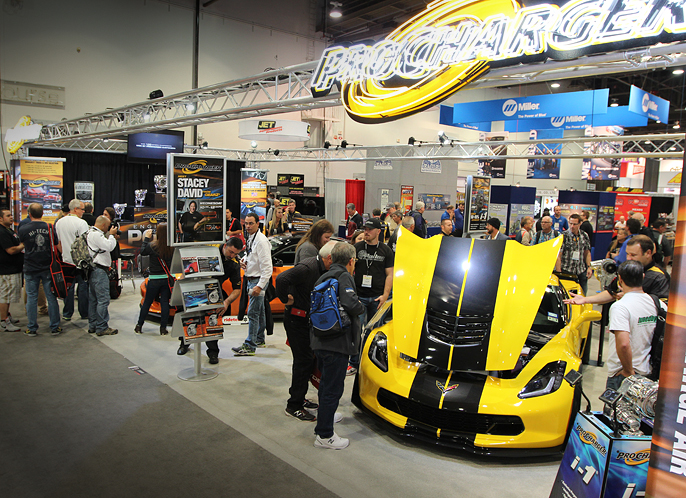 Delivering 4 digit power numbers, while retaining OEM fit and finish is what this system is all about. Many hours when into the ProCharger LT-4 custom CNC billet intake to not only maximize performance, but to also retain the factory hood line. On this booth car the optional black powder coating blends wonderfully in the factory blacked out engine bay.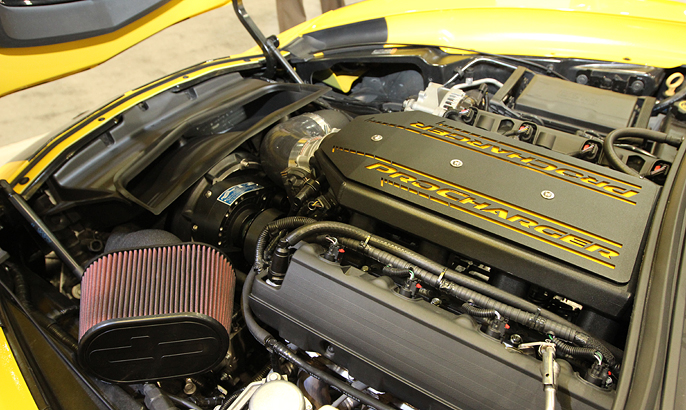 Over the last couple months this yellow Z06 has not only traveled across what seems to be the entire internet, but also all over TX as it has traveled to various shows and events. But thanks to SEMA, people from all over the world were able to see it in person, and some even got to hear it run as it left the show on its way to the SEMA cruise. For those that missed it leaving, here is a short video clip to enjoy.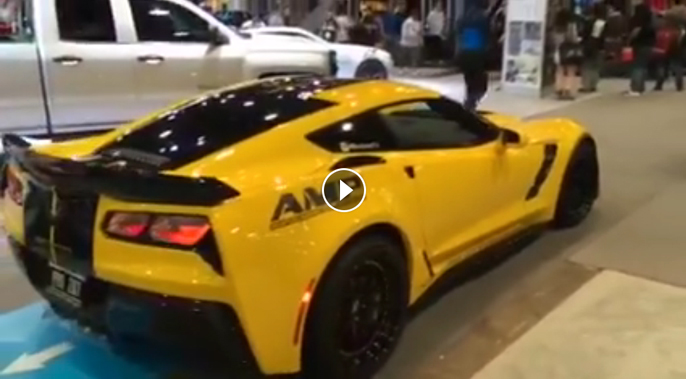 The two baddest GM Corvettes sitting right next to each other. So much horsepower and engineering is truly a thing of beauty.
***Click for larger image****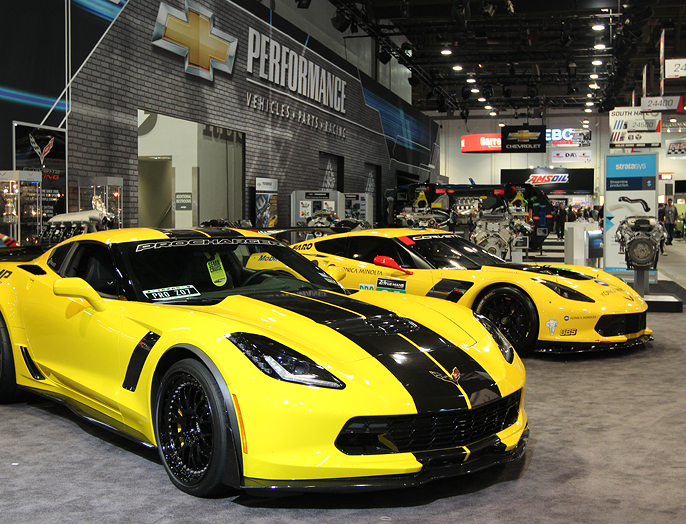 FOR THE FORD LOVERS WE HAD YOU COVERED AS WELL…
ProCharger just released our supercharger systems for the 2016 Mustang GT and V6 S550's, and had to bring one to the show! This orange 5.0L crowd stopper was built by Terry Delong of Proconcepts from Avilla IN. Those Mustang fans with a keen eye might notice the custom front bumper, alone with other subtle touches that set this pony apart. One thing that isn't subtle is the 600+ rwhp this car delivers on just 9 psi of boost!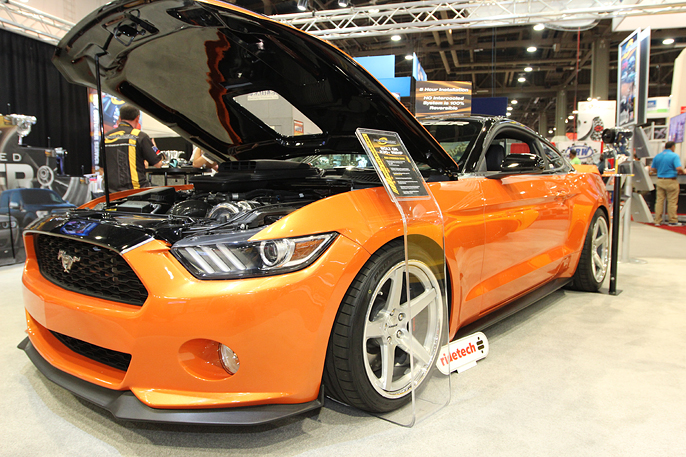 The big talking point other than the 200HP gain this car had was that this car was driven to the show! Yes that is correct, the gang at Proconcepts bolted this system on, loaded the supplied tune and drove this car all the way to the show from IN (1,800 miles)! Now that speaks volumes of the level of quality and confidence you can have in ProCharger hardware and tuning. These new S550 supercharger systems can be bolted on in just 5-8 hours with common hand tools, with no permanent modifications to the car.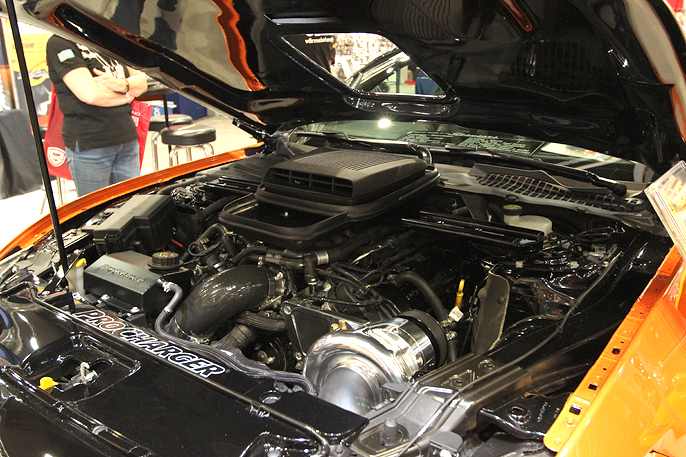 TWO WHEELED SUPERCHARGED ACTION, AND LS TRANSPLANT FUN…
One of the most photographed things at the show was this stunning bike. This H-D bagger with it's massive front tire, and stretched out proportions grabbed everyone's attention (and camera snaps). Let's be honest, just look at this thing and tell us you don't want to feel those bars in your hands. This supercharged two wheel machine was built by CamTech Custom Baggers from Summerville SC.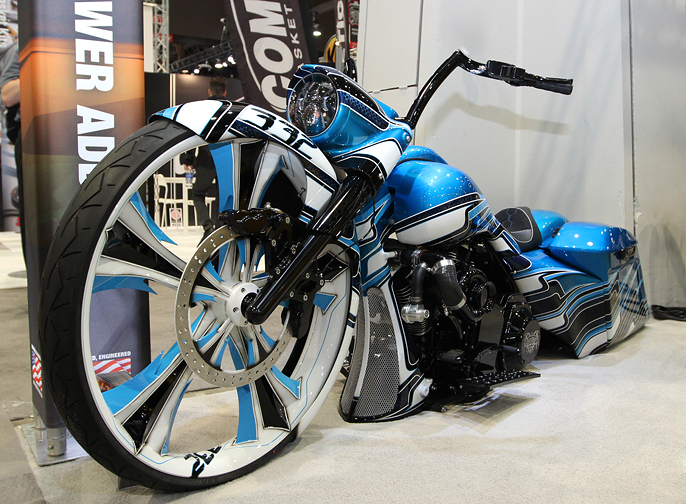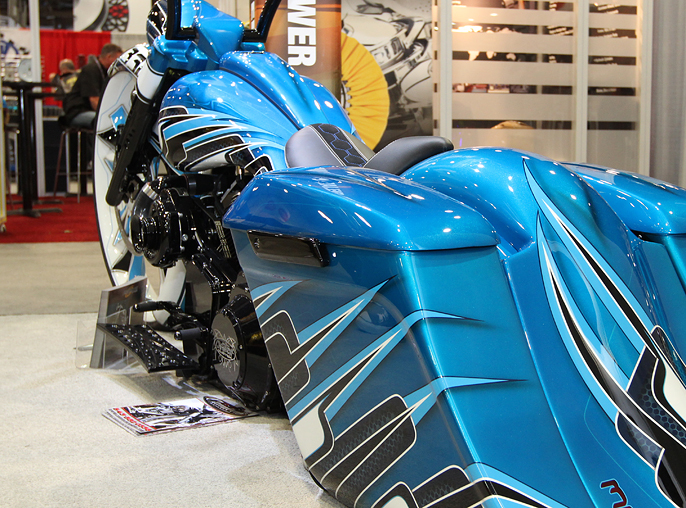 The engine we displayed this year showcased our very popular "LS Transplant System." This supercharger system is perfect for those that want to boost the LS motor that they have grafted into their car/truck/race toy. Changing it up a bit this year we showed the motor off in a configuration that is gaining traction, which is the blow through carb method.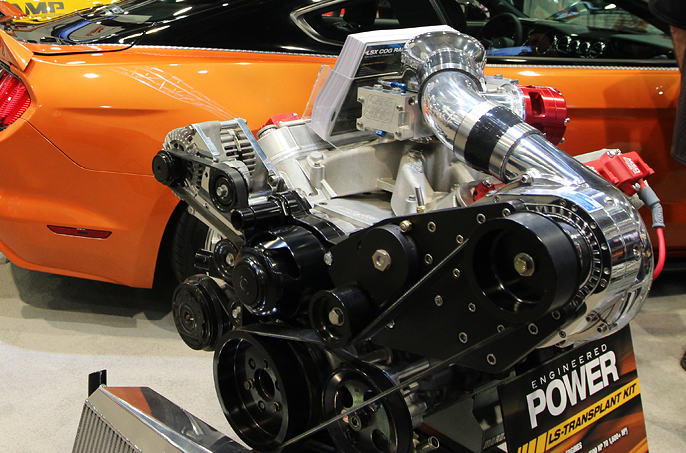 For those looking for this same "Blow Through" look the guys over at FAST had a cool display a couple booths down from us. Showing off how you can use their EFI system that "looks" like a carb, and would work in the same fashion as a blow through style system. We can't wait to see more people using this system with ProChargers.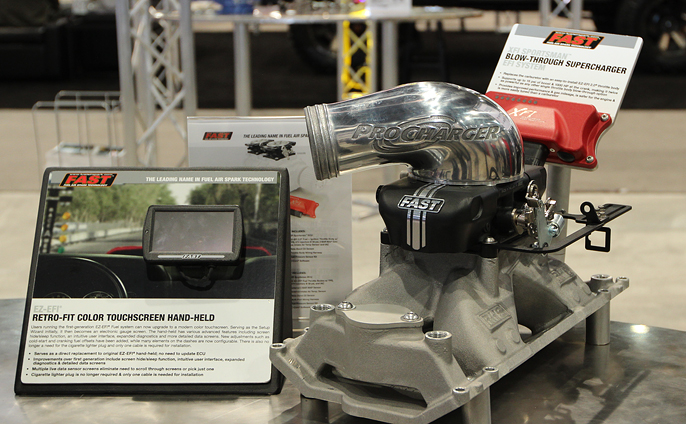 PROCHARGER SUPERCHARGERS EVERYWHERE ON THE GROUNDS…
We literally could make this blog so long; your finger would get sore from scrolling. So how about we just link you to an amazing gallery of images full of ProCharger supercharged action. We are not kidding when we say we have a little bit of everything, from more bikes, cars and even trucks! If you want the ultimate overload in images, click the link below and feel like you were at the show!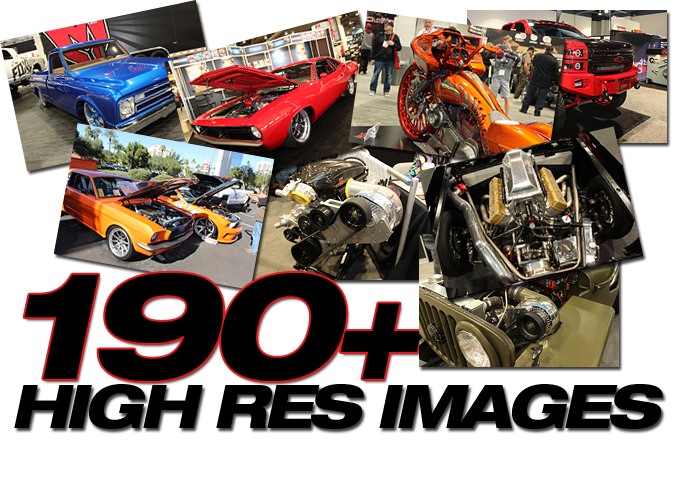 SO MANY NEW PRODUCTS, THEY HAD TO GIVE US MORE ROOM!
Ok, so one of the coolest areas of SEMA is the "New Products Display." Where you can check out all the goodies that companies are debuting for the up coming year (without all the walking). This year ProCharger debuted 11 different new products, and was even honored with an award for the new Corvette i-1 supercharger kit! This blog would get way to long if we listed off each new product, but some of the highlights are the 2015 Challenger kits, as well as the 2012+ Jeep SRT Grand Cherokees.
(Superchargers for days!)
Below is the award-winning i-1 Supercharger system for C7 (LT1) Corvettes. To see a killer burnout video from this system CLICK HERE.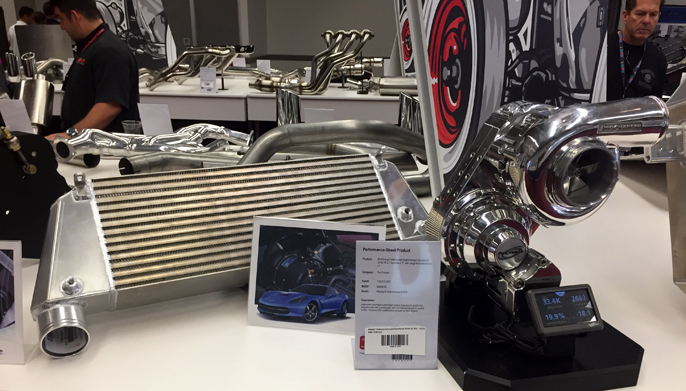 THANKS AGAIN TO THOSE THAT CAME BY…
If you didn't make it by our SEMA booth, please feel free to stop by Booth #101 at PRI!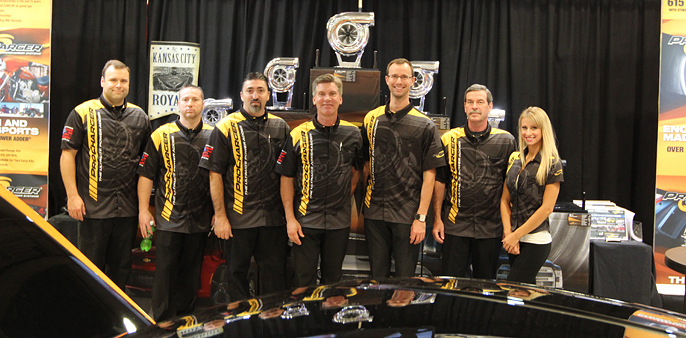 If you have any questions on the products we manufacture right here in the USA, please contact us by the following.
Phone : 913-338-2886
Email : [email protected]