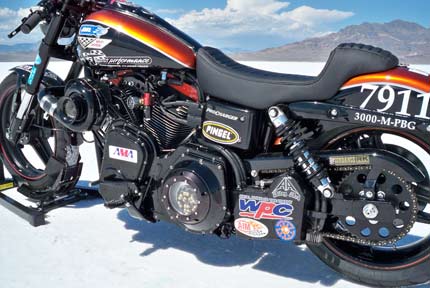 THE WORLDS FASTEST STREET LEGAL HARLEY-DAVIDSON
Hiro Koiso is an engine builder / tuner at Red Rock H-D in Las Vegas, and his racing team returned to the salt at the 2011 BUB Speed Trials. Hiro managed to make 15 passes during the week and the Hiro Koiso Racing team set 2 new FIM world and 4 AMA national records in 3000cc Blown classes. That included a one-way top speed of 193.596 mph without fairings!

This bike has been ridden on street prior to the race and has laid claim to being "the world fastest street legal Harley-Davidson". This performance at Bonneville was made all the sweeter by difficulties of the past year.
"This year's preparation was tough but it was all worth it." Hiro commented. The year started out by recovering the bike – and himself – from a crash in the 2010 racing event, as well as recovering the race engine which was stolen from the shop in May 2011. "I was so glad to be back on the salt to redeem myself." His 2006 FXD-I is powered by a JIMS131 Twin Cam engine modified by T-Man Performance, and all internal components are WPC metal surface treated.
Air is forced fed through a ProCharger B-1 supercharger to create the record setting power. Power from the engine is transferred by an AIM 3rd generation CF2 clutch and Sundance / RK chain, with gear shifting done by a Pingel electric shifter. The engine boasts 224 Horsepower at the rear wheel.
4 new AMA records. 3000 M-PBG 188.509mph, 3000 M-PBF 190,413mph, 3000 MPS-PBG 188.231mph, 3000 MPS-PBF 191.507mph. (all records are subject of ratification)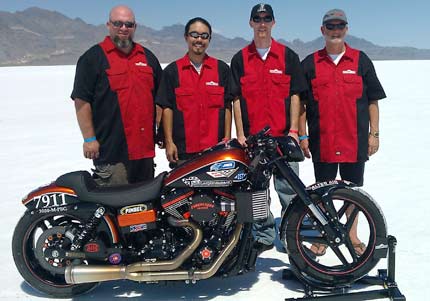 Hiro Koiso Racing 2011 Bonneville racing was sponsored by Alter Air Mechanical Services, T-Man Performance, JIMS, ProCharger, WPC metal surface treatment, AIM corp., IST, Pingel, Sundance, Worldwide bearings and Red Rock Harley-Davidson.
For more information: Hiro Koiso Racing, FaceBook fan page.