THE WAIT IS OVER! 2014 CORVETTE C7 AND SO MUCH MORE!
So many platforms will be released in the next couple weeks it's almost mind blowing (no pun intended), and we felt the need to get you up to date.
The wait is over for two VERY hot platforms that have been begging for ProCharged boost. Both of these supercharger kits (as well as others) are being released with VERY attractive introductory pricing, for a very limited time. (Contact your ProCharger dealer for more details). So let's cover a few details about these kits we are so excited to offer.
ProCharged supercharged 2014 C7 Corvettes are producing a staggering 40-50% power gain at just 7 psi! (Stick and Auto)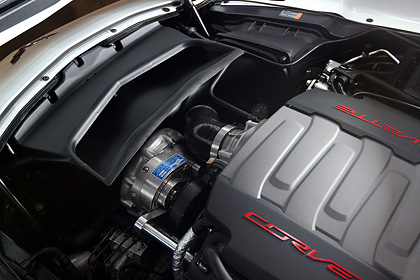 *Satin Finish, OE Inlet Interface (Click for Larger Image)
With all the options these new C7 Corvettes have, ProCharger brought in loads of BETA cars for testing, to make sure we had you covered, no matter what combo you have chosen for your C7. So thanks to a long R&D process, we can offer a supercharger system for the full line up. (Stick or Automatic, Wet Sump or Dry Sump, Z51). This industry leading, OEM quality supercharger system delivers close to 600 RWHP (depending on make of dyno, altitude, etc) on an otherwise stock C7 with only 7 psi of highly efficient, intercooled ProCharger boost.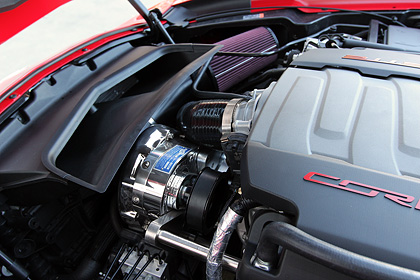 *Polished Head Unit, with Race Inlet
With so many exciting aspects to this systems design, it will have to wait till another blog post just to cover all the details. However what we can say is, options, options, OPTIONS! ProCharger is now offering (2) different intercooler placements (with the largest and most effective intercoolers for the C7), (2) different air inlets on this system, and (3) different finishes for the blower and brackets, along with our industry leading supercharger lineup! Doesn't get much better then that as far as customization ability.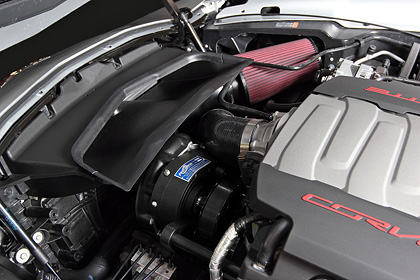 *Black Finish, with Race Inlet
Tuner kits are shipping Jan 28th, with full systems shipping in Mid Feb. with handheld tuning!
*************************************************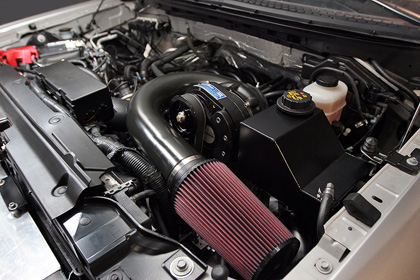 *Stage 2 System, Black Finish, Forward Inlet (Click for Larger Image)
Now moving onto the long awaited supercharger system for Ford F-150 5.0L trucks. ProCharger F-150 systems will be offered in two forms, High Output (HO) and Stage 2, as well as (3) different finish options, and (2) air inlet options. These offerings produce the most power per psi of boost available, with the HO system producing a 45-55% power gain with just 6-7 psi and factory fuel injectors, while the Stage 2 system produces a power gain of up to 65-70% with 8-9 psi, larger fuel injectors and the Stage 2 intercooler. Final details on both systems will be released before this systems ship date of Jan. 28th.
*HO System, Satin Finish, Rear Inlet (Click for Larger Image)
As stated in the first paragraph, we have LOTS of systems shipping VERY soon, and amazing introductory pricing. So here is a quick run down of what's coming, so you can talk to your dealer for more details.
–2014 Corvette C7–
Tuner Kit (January 30th)
Full System (Feb 5th)
–2014-11 Ford F150–
Tuner Kit (Jan 28th)
HO Full System (Jan 28th)
Stage 2 Full System (Feb 6th)
–2014 GM 5.3L Truck–
Tuner Kit (Feb 10th)
Full System (Feb 17th)
–2014-11 Ram Hemi 5.7L Truck–
Tuner Kit (Now Shipping)
Full System (Jan 29th)
–Coyote Transplant Kits–
Serpentine Belt Kit (Now Shipping)
Cog Belt Kit ( Feb 7th)
–2014-2011 Challenger/Charger R/T 5.7L–
Tuner Kit (Feb 12th)
Full System (Feb 12th)
–2014-2011 300C 6.4L SRT–
Tuner Kit (February 12)
Full System (February 12)
(2014-11 Challenger and Charger 6.4L SRT Systems and Kits are already shipping, no introductory pricing on 6.4L systems and kits)
–2014-12 Jeep Wrangler JK (3.6L)–
Tuner Kit (Feb 26th)
Full System (Feb 26th)
Additionally, 2014 Camaro complete systems (manual trans only for now) and tuner kits (manual and auto) are Shipping Now.