THE SEMA WRAP UP! 7 NEW PROCHARGER PRODUCTS, AND LOTS OF PHOTOS!
What an awesome year it was out in Las Vegas, at the annual SEMA show! And just like you would expect there was an outstanding ProCharged presence this year both inside and outside the venue. The level of builds and quality brought out this year, was truly at the top of its class. Featuring one of the widest, and WILDEST variety of vehicles we have seen in years, ranging from the Bojix Design Mustang GT in the Ford booth (featuring an i-1 ProCharger) to a custom Harley with not one, but TWIN ProChargers installed on it! And always, many other ProCharged cars/trucks/motors scattered all over on display.
(Bojix Design Mustang in Ford Booth)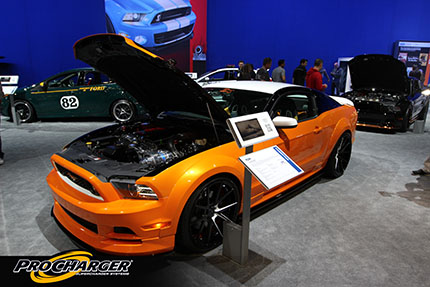 (The show was a PACKED house, all week long)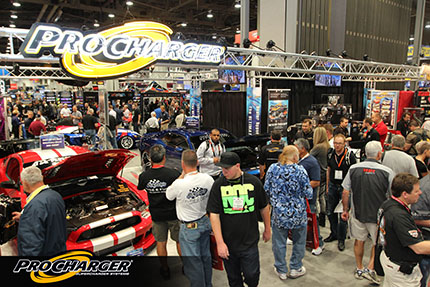 Located in the Central Hall, the ProCharger booth was hard to miss (right between the Ford booth and the GM booth, and lit with neon in true Vegas fashion). The ProCharger sales team was kept busy with the crowd swarming around all our new products to get a closer look and learn more. Kept secret until the show, this years booth vehicles were a combination of two American icons, (Mustang and Challenger)
APR Performance's 2014 5.0 4V Mustang GT featured the ProCharger i-1, showcasing the new optional black finish, and race intercooler upgrade. This car turned heads all week, with its awesome wide-body kit, brake upgrade, and many other features. The other thing it turned was the cameras (video that is), Click the Image BELOW to go to the interview with StangTV about the i-1 on this car.
(Click to Play Video)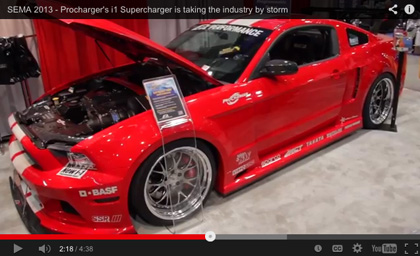 The 2013 HEMI SRT8 Challenger featured a ProCharger P-1SC-1 supercharger, again wearing the optional black finish to match the engine bay, and larger optional intercooler upgrade as well. And of course you want that extra power from the P-1SC-1, when your trying to turn that set of 405/25/24 rear tires! Well there is no issues with that now that this 6.4L is packing 650+ HP with just 7psi of boost.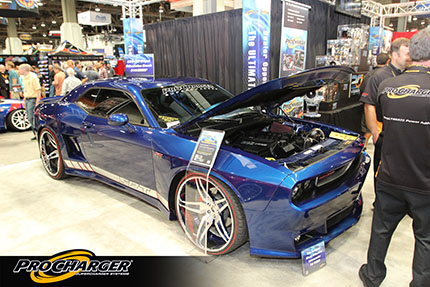 (Red White and Blue, doesn't get better then that)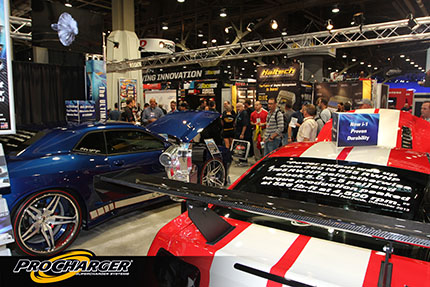 Receiving plenty of attention was the industry's first and only programmable ratio supercharger, the ProCharger i-1 display with interactive touchscreen. The ProCharger i-1 is now available for the 2014-11 Mustang 5.0 4V, 2013-12 Boss 302 Mustang, 2013-10 Camaro SS, 2013-08 C6 LS3 Corvette, and 2013-10 Ford F-150 SVT Raptor–available in both 100% complete intercooled systems for stock motors and tuner kits for modified motors. Additionally, the new optional black finish is available, as well as a standard satin or optional polished finish.
(Customer asking about i-1 products)