THE PROCHARGER SUPERCHARGED C8 CORVETTES GET EVEN MORE TRACK TIME!
HAVING ONE COMPANY R&D CAR IS GOOD, BUT TWO…OH SO BETTER!
Data, Data, and more Data…it's what testing is all about here at ProCharger superchargers. And what better way to get that done, than to have DOUBLE the amount of data with two company-owned C8 Corvettes for our engineering teams to use on the street, the dyno, and the track. In this week's blog post we will tease you with a great video of the sights and sounds from the latest road course adventure. Without more delay, let's get to the video and the details!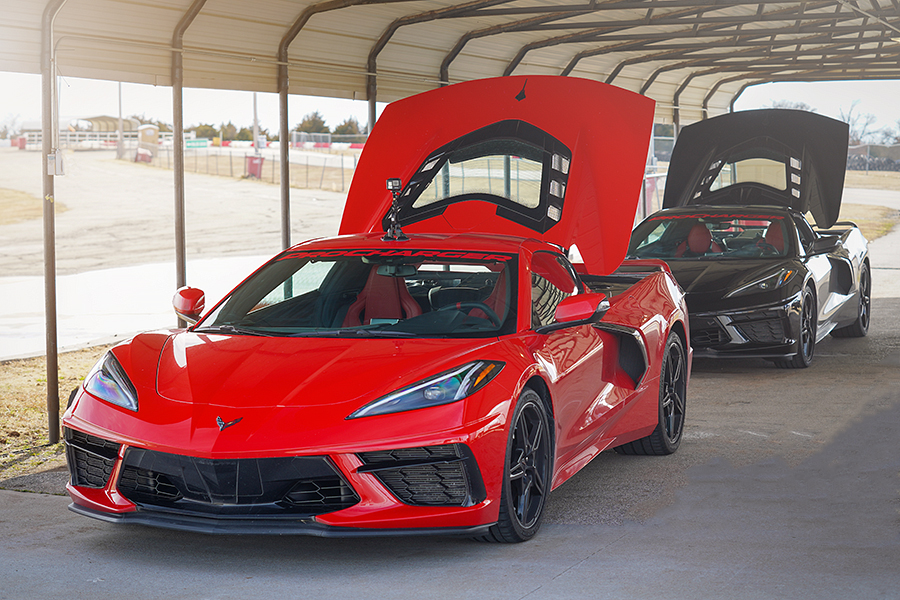 ---
TAKING ORDERS NOW, FOR THOSE TO BE FIRST TO SUPERCHARGE!
ProCharger was the very first supercharger manufacturer to offer intercooled kits for C7, C6, C5, and C4 Corvettes, so it's no surprise that we are at the forefront of development on a supercharger kit for the 2020 C8! Thanks to the engineers at ProCharger, you can now add 225+ more horsepower to an otherwise stock C8 Corvette (including stock exhaust). That's right, the car that is already making waves with the performance numbers coming from its LT2 now can get a major boost in performance.
| | | | |
| --- | --- | --- | --- |
| DESCRIPTION | BOOST | HP GAIN | PART # |
| HO Intercooled Tuner Kit Plus (w/timing control) P-1SC-1 | 6 psi | 175+ | 1KC332-SCI |
| HO Intercooled Tuner Kit w/ P-1SC-1 | specify | specify | 1KC302-SCI |
| Stage II Tuner Kit (w/port injection option) P-1SC-1 | 8-9 psi | 225+ | 1KC212-SCI |
Tuner Kit: (No tuning or fuel components provided)
Tuner Kit PLUS: (with timing control)
---
HO INTERCOOLED TUNER KIT
Produces the coolest charge air temps and largest power gains
Bolt-on installation (no cutting or trimming)
Easiest installation, only requiring common hand tools
The air-to-water intercooler system
CNC Billet intake manifold
Robust CNC billet bracket system
Self-contained head unit
HO INTERCOOLED TUNER KIT PLUS
Adds timing control
Boost set to 6psi
STAGE II INTERCOOLED TUNER KIT
Boost set to 8-9psi
Intake manifold can be outfitted with port injection
OPTIONAL UPGRADES INCLUDE
Polished, or Black supercharger and bracket finish
Helical Gear set for noise reduction
Injector bungs and fuel rail for intake manifold for port fueling (Stage II only)
Black finish for intake manifold (raw finish standard)
Black finish for intake manifold cover (raw finish standard)
Supercharger upgrades such as P-1X, D-1SC and D-1X
Carbon fiber upgrades
** Click images for larger size **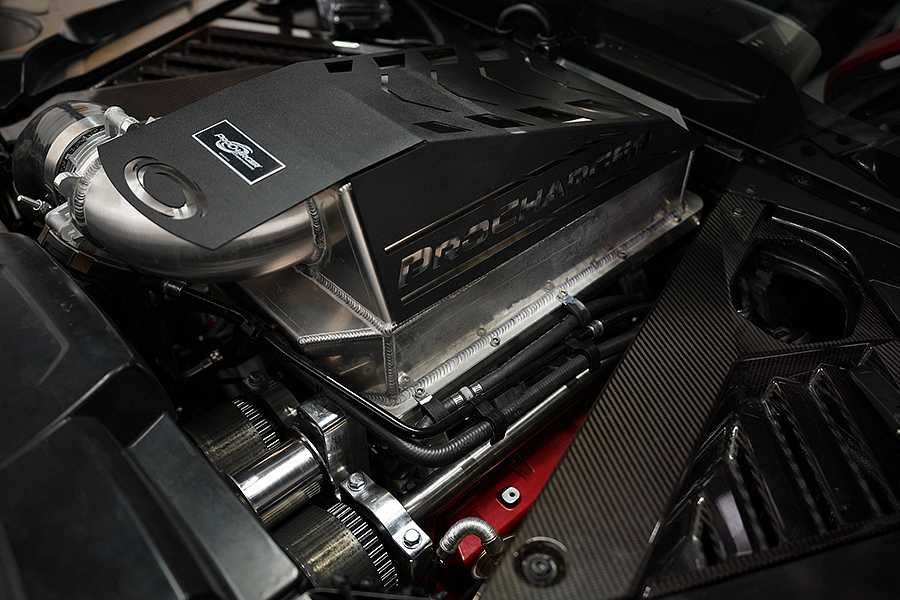 ---
READY FOR THE RUSH OF A C8 WITH 225+ MORE HP?
Subscribe to our EMAIL LIST and follow us on FACEBOOK to get the most up-to-date information and announcements! Or give our sales staff a call or email us at the following contact methods below. Or you can click HERE to find a dealer nearby to help out with your vehicle. We will be happy to assist you with any technical questions about supercharger systems and the results you can expect.
Phone – (913) 338-2886
Mon – Fri 8am – 5:30pm CST:
Sales Email – [email protected]
Tech Email – [email protected]
Get your name added to the list to receive up to date news on the C8