THE "BIG RED CAMARO" IS AN AUTOMOTIVE LEGEND (PACKING PROCHARGER POWER)
SOME LEGENDS ARE BORN…OTHERS ARE BUILT!
We do know that whatever we type in this blog, it will do NO justice to the amount of accomplishments this 1969 Camaro has had over the decades. Yes, we said DECADES. This car, known as "Big Red 1", has been turning heads and setting trends since the mid 80's…and still does today.
As "car guys", we always wonder if a car could tell a story, what would it say? Thankfully, the owners of Big Red 1 have given this car a voice, and its story can be heard at its website. (BigRedCamaro.com) Since this car now has its own (8) episode docuseries that showcases some of this car's accomplishments; from staring in (2) Movies, setting records, going 251mph, hill climbs, land speed, and MORE!
PROCHARGER HELPS BIG RED ACHIEVE 2,000HP! (AND 251 MPH)
Here in the ProCharger office, we are proud to be the power adder of choice for when this Camaro has its engine known as "The Elephant" installed between the frame rails. This 598 cubic inch Big Block Chevy engine features a ProCharger F-3R-121 supercharger stuffing boost through a very special single 4 BBL carb prepped by none other then The Carb Shop. This engine is used when Big Red is out setting land speed records, standing mile, and 1.5 mile events. Power output for the Elephant is right at the 2.000hp mark.
Ride alone, and enjoy what 251 mph looks like!
BIG RED STARS IN ANOTHER FILM RECENTLY:
Yes, Big Red has already graced the big screen on the set of Fast and Furious movie series; however, now it gets another starring role in the all new "CHiPS" movie. Here is a behind the scenes look as Dax takes the ProCharger blown machine for its first spin.
WANT TO FOLLOW THE BIG RED CAMARO ON SOCIAL MEDIA?
Instagram = https://www.instagram.com/thebigredcamaro/
Facebook = https://www.facebook.com/BigRedCamaro
Docuserise = The Original Outlaw Racer on iTunes
Website = https://bigredcamaro.com/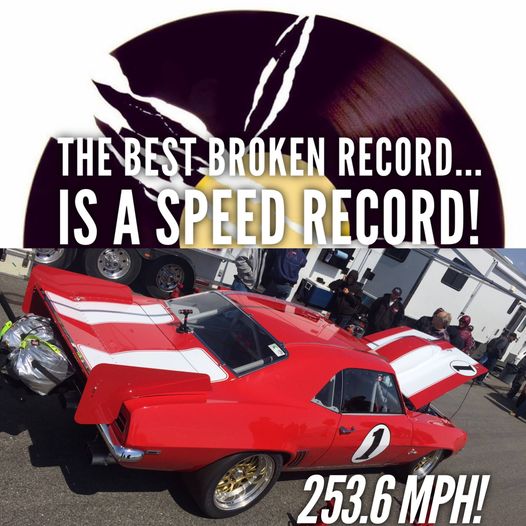 WANT TO ADD PROCHARGER SUPERCHARGER BOOST TO YOUR LEGENDARY RIDE?
Drop our experienced and friendly customer service and sales staff a line at 913-338-2886 8:30 AM – 5:30 PM M-F (CST) or email us at [email protected]