THE 2015 RACING SEASON IS UNDERWAY!
In these last few weekends, tracks all over the country had to dust off the sprayers, draggers, and timing equipment, because it's the best time of the year again, RACE TIME!
When walking through the pits you can feel the excitement/nerves on high alert, because everyone is ready to see if all the changes/modifications they made over the winter months can equal faster E/T's, not to mention wondering what the competition has up its sleeves. Well for ProCharger powered racers, this 2015 season is off to a great start. In this blog we will dive into more details on these opening events, and some rides to keep your eyes on. So lets get this blog STARTED!
NMCA WEST OPENER — FONTANA, CA
Let's start this off by checking in on how our ProCharger supercharged racers faired out in the wild wild west. Well one win would have been nice, but to have TWO WINS at this event was icing on the cake!
James Lawrence came out of the gate with a LOT of changes to his car BlownZ, but also sported a wild new look. The wild wrap on this car had eyes glued to it all weekend, however it was the cars performance that also had people talking. James locked in the #2 qualifying spot and moved through the rounds all weekend. James and the crew worked hard all weekend and it paid off, taking home the big prize at the end of the overall WIN in Street Outlaw.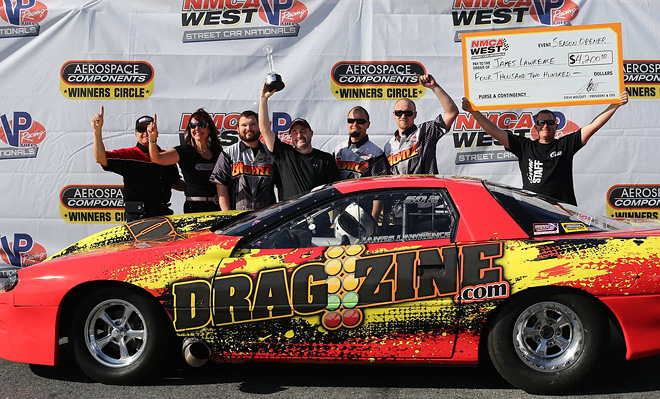 A relatively new name that we haven't mentioned before is that of Johnny Coleman and his 1969 Camaro. Johnny, who has been powered by a ProCharger supercharger for many years now, runs this car in the class named TruTen5 and showed us that he will be one to watch in this 2015 season. Johnny had a shaky start to qualifying, however, he and his supercharged Camaro got it dialed in during eliminations. Round after round, Johnny came up with the win light, which eventually led to him taking it all home for the #1 winning spot.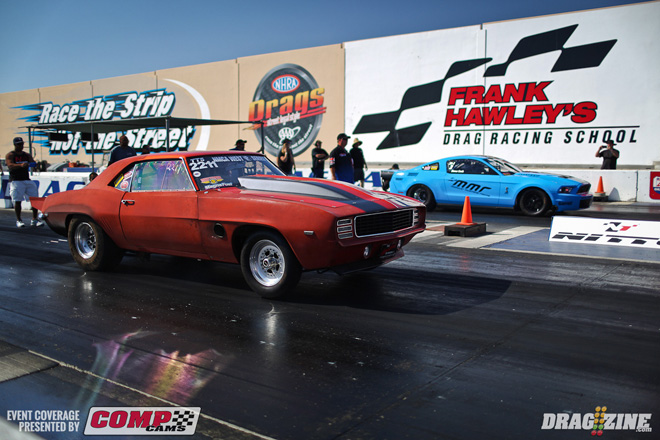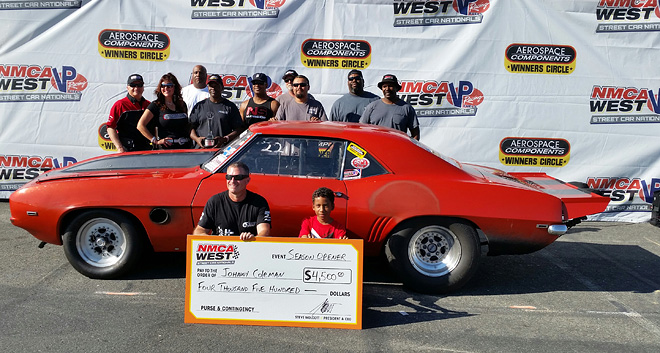 Last years Champion Eric Aldrich was also racing this weekend in Outlaw 8.5, however was using a borrowed car while his ProCharger Supercharged Maverick gets a fresh motor before the next race. So keep and eye peeled for Eric at an upcoming event.
Now after this long blog full of amazing wins, records, and battles we hate speak about wrecks. However at this NMCA event we are sad to say Record holder/Champion Doug Sikora had an unfortunate brush with the wall. The amazing machine of Dougs is pretty banged up, however on the bright side Doug walked away unharmed after hitting the wall at over 180mph. Doug and the team report that they will either fix this car, or start another and get back into racing as soon as it allows.
Speaking of ProCharger powered cars that come back even better after an accident. For those of you that follow the "No Prep" racing events, you will be happy to know the white coupe owned by Eric Bunton known as "Big Baller Coupe" is back up and testing his new combo, after the wreck at the end of last season. Keep and an eye on this car as the year of No Prep events unfold. With one of the first starting this weekend (DETAILS HERE)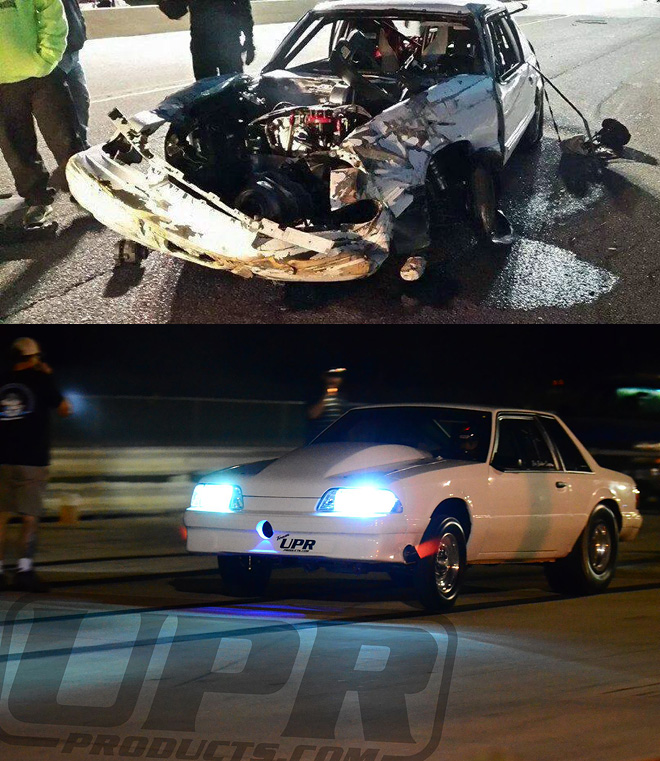 For those that follow 275 radial racing, the name David Pearson and "Lil Evil" have become a house hold name. Well this small block Ford powered machine is at it again with its ProCharger F-3R-136 supercharger, nailing down a [email protected] in testing, then backing it up with a [email protected] in the recent Outlaw Street Car Reunion event. This 4.12 number puts this car as the #1 spot for the fastest car on the planet running a 275 drag radial. The team is doing a great job, and the car is obviously working. Can't wait to see the big 4.0 number on the boards soon.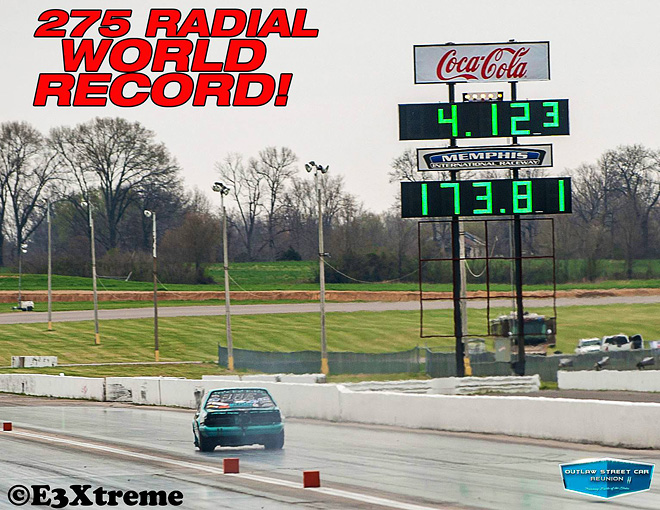 NMRA OPENER — BRADENTON FL
Another race in the south with a great ProCharger racer turnout. This race brought a little bit of everything from ProCharger supercharged trucks, to record runs, and even a 2nd place finish in Street Outlaw.,/p>
Normally we dive right into the race car stuff, however a street car on the property was making a huge statement all weekend. That street car is the 3,800lb Mustang owned by Randy Christian that still packs the 100% OEM stock motor and transmission, gets driven to work, yet knocks down low 9 second passes all weekend. This D-1SC supercharger powered machine laid down a best pass of [email protected] locking in the record of fastest stock motor supercharged coyote, and placing itself #2 fastest stock coyote motor of all time. We are willing to bet with a little more seat time on this ride, 8's will be possible for this street car, and that #1 spot. Ford and Randy have to be proud of that motor, as we are happy to be the power adder behind it.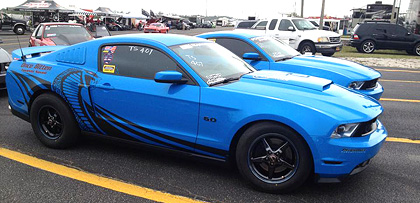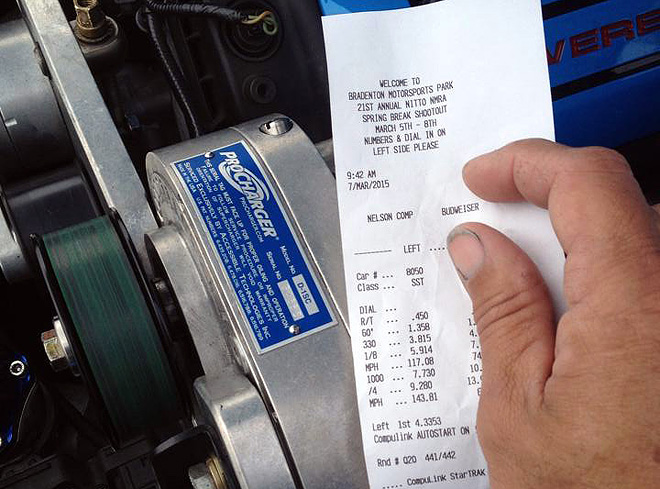 Media Folder: Media Root
Phil Hines had a great weekend in Street Outlaw. (Yes, we know we sound like a broken record each time we say that) Although speaking of broken records, that is exactly what Mr. Phil Hines did down in FL. Not only did Phil lock down the #2 qualifying position, but also set the new record at [email protected]! Though shortly after, 7 time ProCharger Champion John Urist sneaked in a slightly quicker pass to snatch that record. Phil knew he had to turn up the power a little more for the finals, to get his record back and the win. However he dialed it up a little more than the track could handle. With the lack of traction to get it down the track clean, Phil still managed a great runner up spot for the event.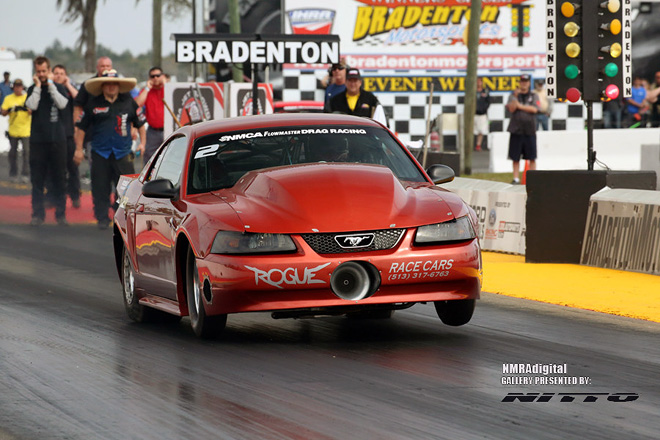 NMCA OPENER — BRADENTON, FL
This event always brings a variety of cars out from last years Multi-Championship winning Eric Gustafson and his Fox Body LSX powered Mustang, to even the FSC magazine project car "Boulevard Boost" 1970 Nova owned by Derek Putnam.
Phil Hines was at it again in Street Outlaw, out to prove that his Ford powered Ford was a force to be reckoned with. All while doing battle all weekend with fellow ProCharger supercharged racer Eric Gustafson. These two racers not only set back to back #1 (Eric) and #2 (Phil) qualifying spots, but Eric also took home the new low E/T class record at a blistering 6.883! These two met in the final rounds for one of the best side by side races so far this year, with nearly matching E/Ts of 6.97 and 6.98. Phil took this win this round, however we are sure this won't be the last battle these two have this season.
(Phil Hines)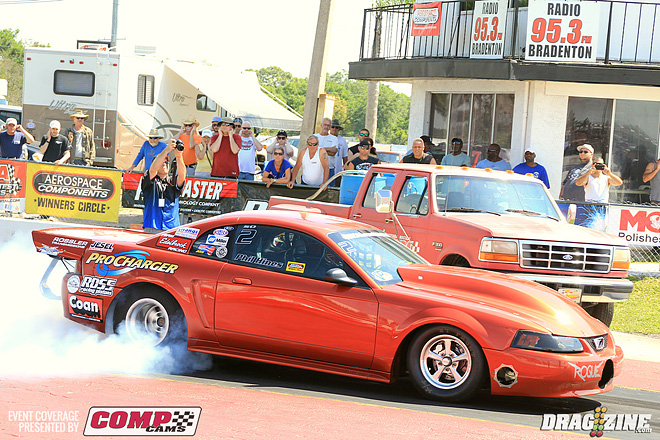 (Eric Gustafson)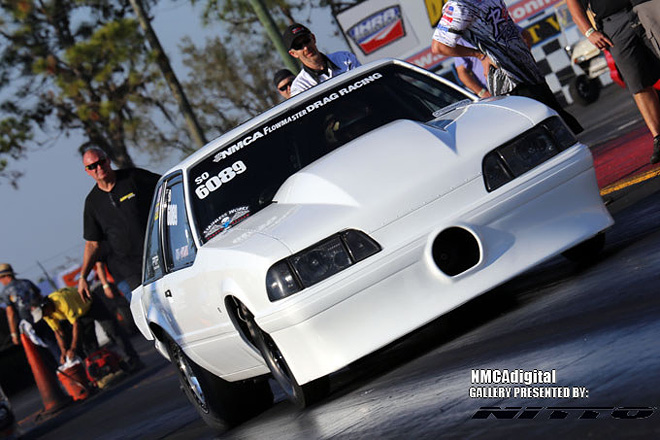 LIGHTS OUT 6 — SOUTH GEORGIA MOTORSPORTS PARK
This event needs no introduction, for it has started to become the place to be for radial action. With so many ProCharger powered racers on the property we started to lose count after having to use all of our fingers and toes. With such a high car count, the variety of ProChargers on the property was also a sight to see. Ranging from Bart Tobener's "little" 9″ street blower (F-1A-94) to racers like Barry Lutz packing the "big gun" F-3R-136. And to add even more flavor to this supercharger mix, "Mustang Mike" was in attendance with his twin F-1X powered Mustang.
This event is often the first time out for racers new combos, and shaking down their rides. Though even with that in mind ProCharger powered racers took home the top (3) qualifying places in the Outlaw Drag Radial class.
So a HUGE congrats for the following racers!
#1) Will Stevenson [email protected]
#2) Mustang Mike [email protected]
#3) Chad Opaleski [email protected]
(Will Stevenson)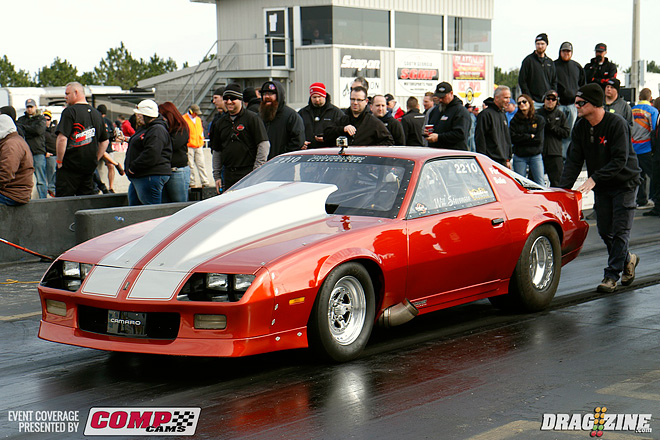 (Mustang Mike)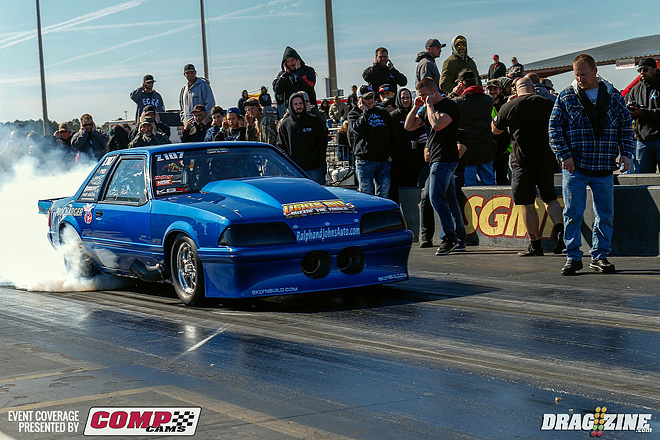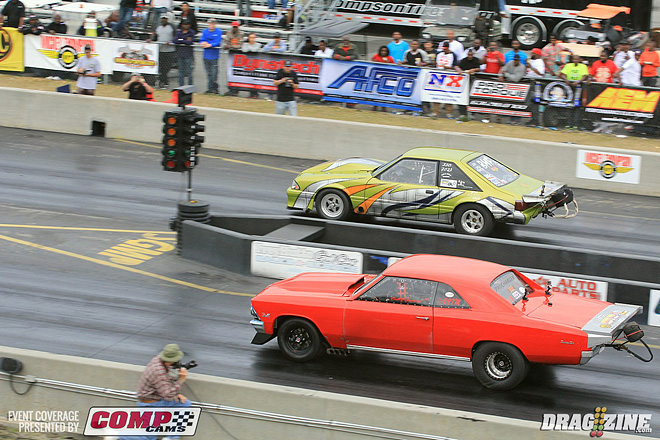 Not only were those qualifying times impressive, but Enzo Peccini also set the fastest 1/8 MPH for any centrifugal supercharger on radials at a mind blistering 193.49 mph!!! With a MPH like that, we are SURE this car will be one to watch this year.
Even though this event was packing plenty of ProCharger powered cars on the track, we found a couple notable street cars on display rocking some ProCharger systems on them. Jessica Barton drove her 700+ HP C7 Corvette all the way from Orlando FL, to help with selling some X275 shirts. Hopefully a few of you got to say hello, snag a shirt, and check out her ride.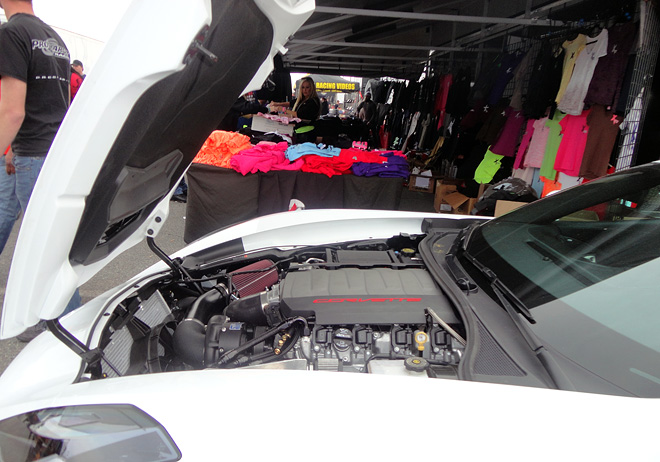 Another ride on the property was a nice Coyote powered Mustang in the UPR Products display. Not only do these UPR guys make some of the baddest suspension and accessory parts on the planet, they are also very knowledgable ProCharger dealers as well. If your looking to chat about how to make your car hook, or boost these guys speak your language. This car featured goes by the name of "Stealth Fighter" and is owned by Sharad Raldiris.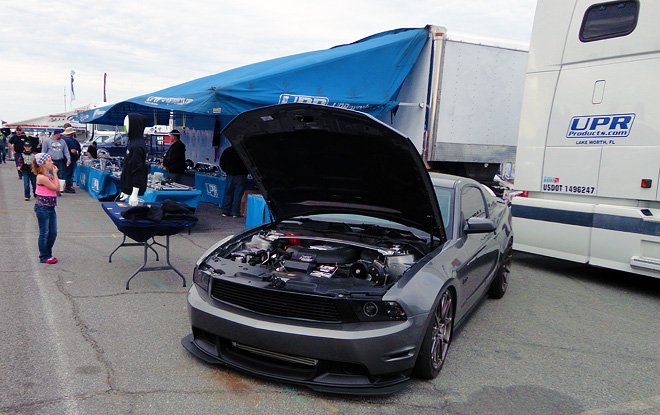 So there you have it, the first seasons update. Our fingers are sore form typing and we are sure your eyes are strained from reading. However there was just so much amazing ProCharger racing news going on these last few weeks, we had to get this blog out there before the list got any longer.
While we are on the topic of racing, we are proud to announce a new addition to the ProCharger staff, who is also a racer to watch in the 2015 season. Benjamin Board has come on board at ProCharger's main campus in Kansas City as the Technical Service Manager. Benjamin will also have heavy involvement in the motorsports program and racer support. Benjamin is not only very familiar with racing, but also ProCharger superchargers, as he has campaigned a ProCharger on his own car for over 9 years. You can check out his car below: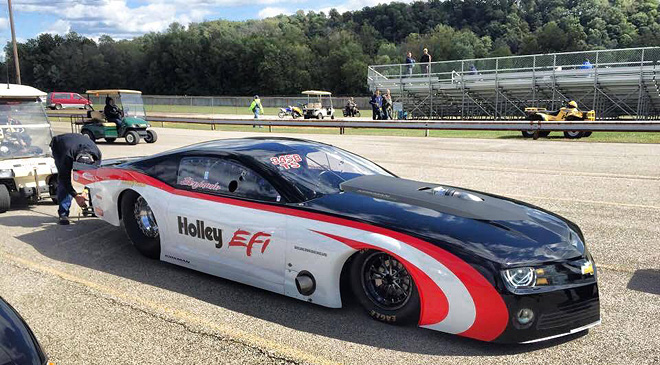 This new gen Camaro has already gone [email protected], with goals of 3's in the 1/8th mile this year. Benjamin's season hasn't started just yet, but this will be one racer you'll want to keep an eye on.
For the latest updates check out our Facebook Page, this blog, or drop us a line at 913-338-2886 or [email protected]
Thanks for reading, and a HUGE THANKS to all of our racers out there!