TERZICH CALLING ON PROCHARGER-POWER FOR PROJECT SICK SECONDS
One of the country's top hot rod and show car builders is again calling on ProCharger power to take his next project to even bigger numbers. Denny Terzich and his ProCharger dealer/company, ProRides, set the hot rodding and drag racing world on it's collective ear back in 2007 by building a ProCharger-equipped, Pro-Street style 1967 Camaro for HOT ROD magazines Drag Week competition.
With Steve Roth driving and Steve Pocratsky riding shotgun, Terzich's ProRides Camaro simply dominated the competition, making Drag Week history by running in the 7s at each drag race event and then driving the car to the next race. When the tire smoke cleared, it wasn't even close – taking the overall win, Terzich's 580-cubic inch, F-3R-131 ProCharged and intercooled Camaro earned the title, The Fastest Street Car in America. Check out the HOT ROD article here.
Ever the competitors, Terzich and crew are making plans to go even faster and once again, will be relying upon the legendary power, performance and reliability of an F-Series ProCharger supercharger for his latest creation, a brand new, purpose built Pro-Mod style 1969 Camaro: Project Sick Seconds. The new car will be equipped with the newest version F-Series supercharger, the F-3R-135.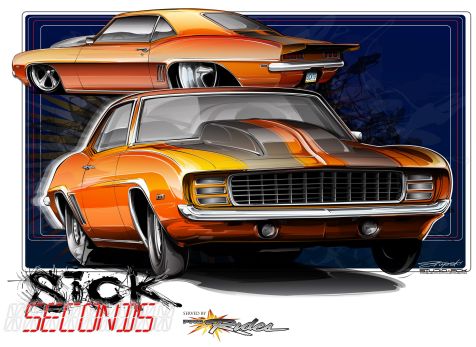 Without giving away too much to his fellow racers who think they can go faster, Terzich and crew aren't releasing much technical information about the car, other than "yes, it'll be ProCharged", "yes, it's gonna be sick fast", and "yes, the goal is to run in the 6's and still drive it to the next track."
Check out the full-line up of ProCharger supercharger solutions for carbureted and aftermarket EFI GM engines here.