SUPERCHARGING THE 2011 5.0 MUSTANG: PROCHARGER LEADS THE WAY
When it comes to supercharging the world's favorite pony car, the Ford Mustangs, there's no argument that ProCharger is the most popular aftermarket supercharger. Now, with the return of the venerable "5.0" badge to the fender, it's truly legend meets legend again.
Following ProCharger's first-to-market introduction of the High Output (HO) intercooled supercharger system for the 2011 5.0 Mustang in July of 2010, thousands of the Mustang faithful were clamoring for more information… more pictures and of course, more power for their Mustangs. Helping to fuel their need for speed and information, the Mustang media was more than willing to tell their readers about the ULTIMATE power adder for these hot new five-liters.
Muscle Mustangs & Fast Ford magazine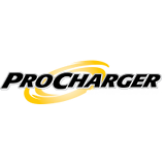 Working with Blow-By Racing in Boca Raton, FL, MM&FF was the first print magazine to get their shot at covering the installation of an HO system onto a manual-transmission 2011 5.0 Mustang. In spite of the oppressive southern Florida heat, this white-hot Mustang laid down some cool ProCharged dyno numbers. With the P-1SC-1 supercharger installed, the install resulted in 524.25 rwhp, a gain of more than 155 hp on a completely stock engine and exhaust system.
If that wasn't enough fun, the horsepower fiends at Blow-By just happened to have a fresh D-1SC ProCharger sitting around, or in this case, waiting to make history. With an off-road pipe, D-1SC, fuel pump booster and custom tune installed, the white Mustang spun the dyno to the tune of 607.53 rwhp…on a stock engine!
If you haven't done so already, pick up the December 2010 issue of MM&FF or check out the online version of the article here.
Thanks to Pete Epple at MM&FF and Chris Jones and his team at Blow-By Racing for all their help in making this installation editorial happen in such a timely fashion.
StangTV.com
With some very fortetious timing, we were able to line up a brand new Mustang that was just being delivered and prepped by Raceskinz for display at SEMA. The gang at StangTV fired up their cameras and docuemented another install, this one in the crazy heat of a California summer. With just 15 miles on the odometer and a bright, shinney ProCharger HO supercharger system under the hood, this car put down 523.8 rwhp in the 103 degree heat. Oh yeah: this installation was completed in just over four hours!

And yes, this is the same car that was featured in Ford's 2010 SEMA display.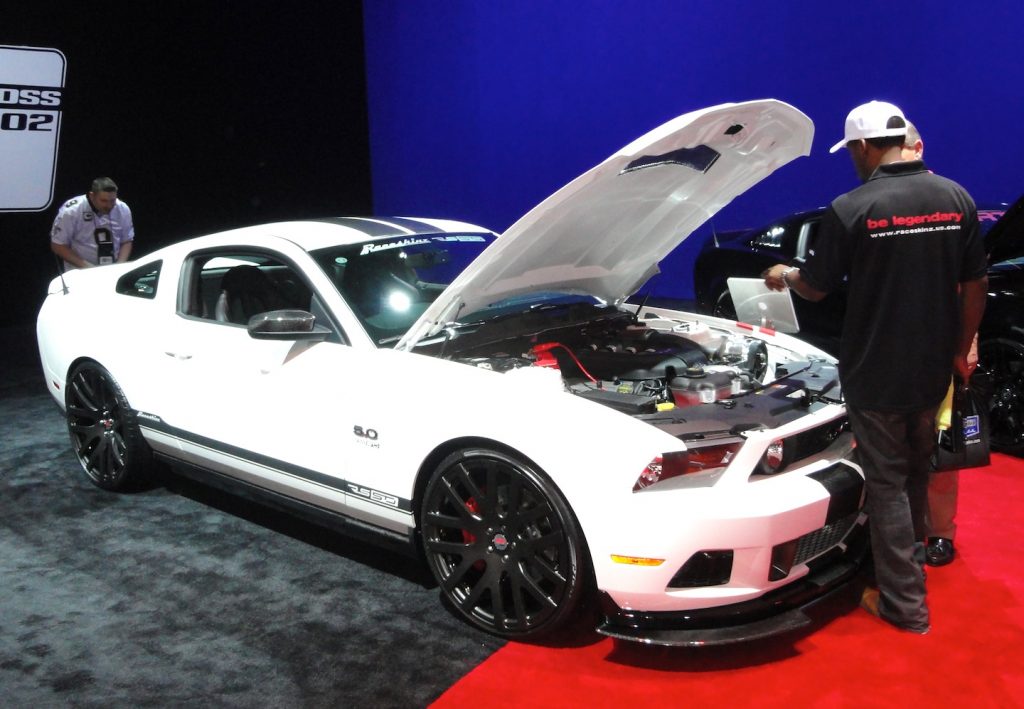 Check out the StangTV.com story and video here and thanks to the PowerTV crew for their efforts and cool heads.
5.0 Mustang & Super Fords magazine
In the magazine that bears the legendary 5.0 name, Tech Editor KJ Jones was more than willing to cover an east coast installation of the HO system onto a new 5.0 Mustang – this one equipped with the high-tech six-speed automatic transmission. Like the previous two cars, this Grabber Blue 2011 5.0 Mustang was fitted with an intercooled HO system and a fully-polished P-1SC-1 supercharger. With the automatic transmission abosrbing some of the new-found power, it still put down a very solid 517 rwhp.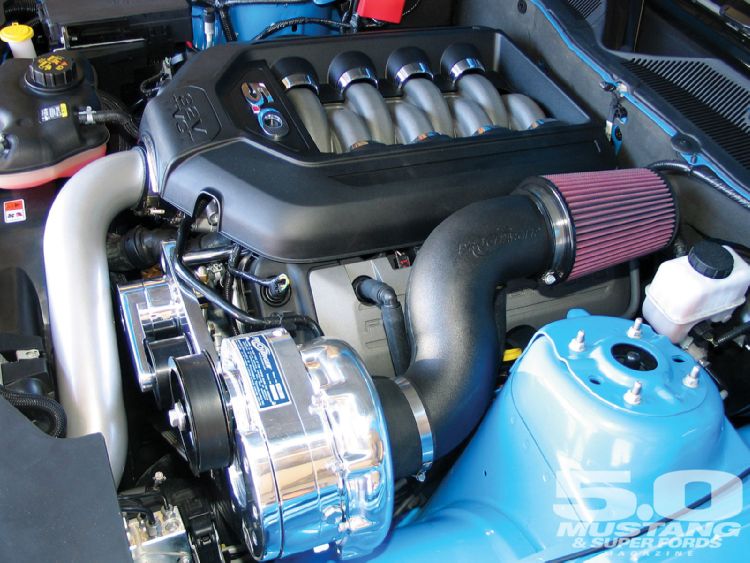 The story appears in the Jan. 2011 issue of 5.0 Mustang & Super Fords magazine or you can read the complete article on 5.0 Mustang & Super Ford's web site here.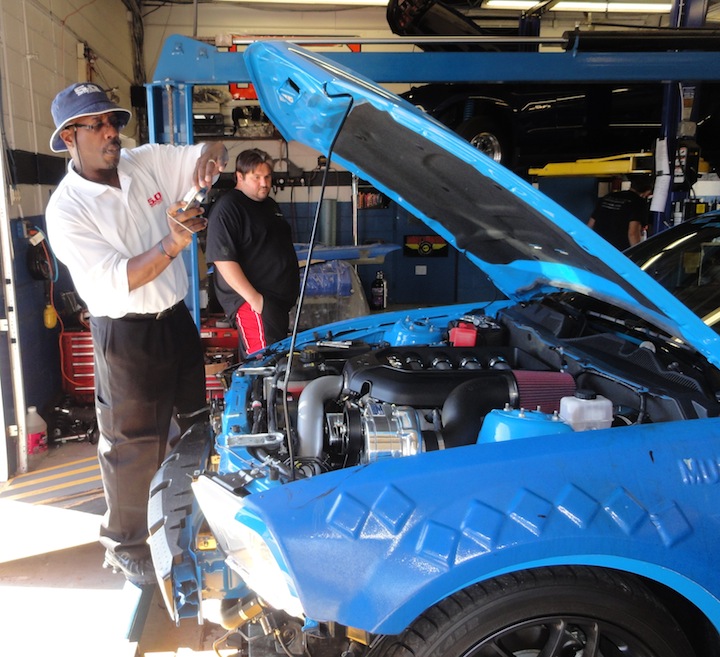 Special thanks to KJ Jones and his astonshing cross-country tech editor efforts and to the crew at Evolution Performance in Aston, PA for their assistance and subsequent efforts to take these new 5.0 Mustangs into numerous eye-opening performances on the track (first forced induction 2011 into the 9s, and the first 2011 into the 8s).
After this editorial, this very same car was fitted with the recently-released Stage II Intercooler and larger air filter and ran in the mid-10s at the NMRA season-ending event in Bowling Green, KY.
When you're ready for some legendary ProCharger power under the hood of your Mustang, contact your local ProCharger dealer or call our Sales and Customer Service Team at (913) 338-2886, M-F, 8:30 AM to 5:30 PM for more information.