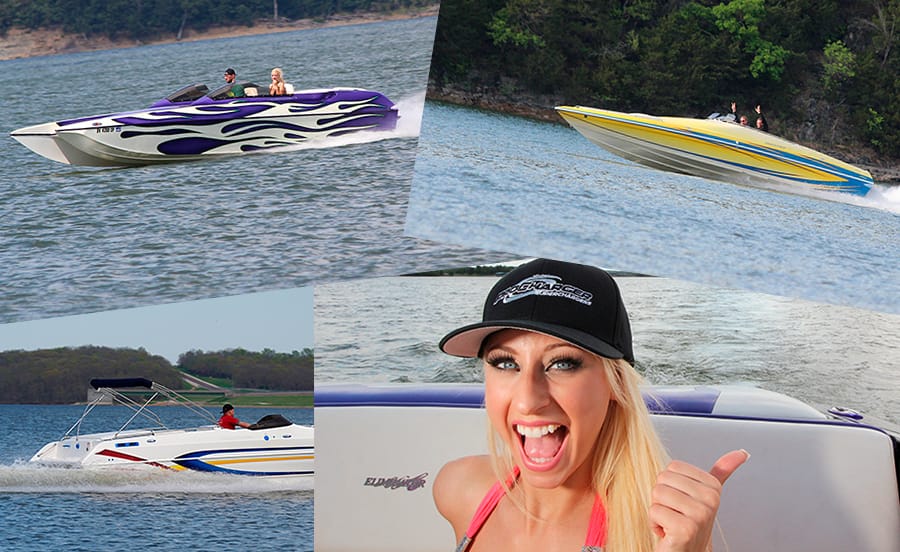 SUPERCHARGING BOATS: THE PERFECT WINTER MOD TO GAIN BIG MPH!
FACT: BOATS ABSOLUTELY LOVE BOOST, AND PROCHARGER DELIVERS!
It doesn't matter what year your hull is, ProCharger has the industry's best marine supercharger systems for modern EFI-powered machines and even older carbureted models. What makes these systems the best…100% bolt-on, require no internal engine modifications, power gains of 50% or more on pump 91 or 93 octane, DIY friendly installation, or by any marine performance center. So let's check out some of the latest offerings…
---
525EFI SYSTEMS CRANK OUT 800+ HP!
M-1SC head unit standard
Boost level: 8psi
Power level: 800+ HP 825 ft-lbs (50% Increase)
Tuned factory computer to run on 91 or 93 octane fuel
Dedicated 8-rib drive system with an H.D. tensioner
Fuel system: (Injectors, Surge Tank, Pumps)
High flow air/water intercooler
Supercharger finish options: Satin, Polish, Black and Blue
Intercooler color options: Satin, Black, Polish, and Blue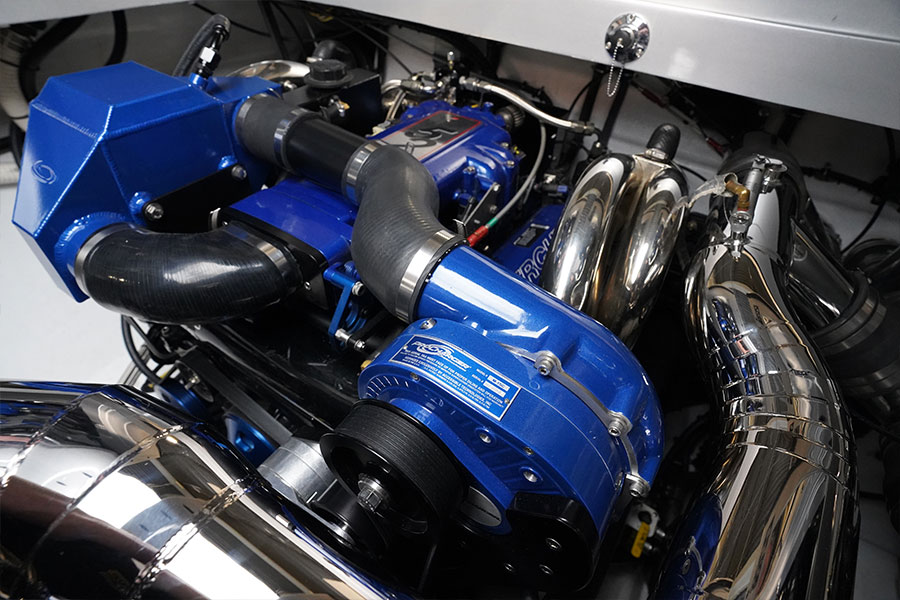 ---
496 MAG AND MAG HO PROCHARGER SYSTEMS = 580-625+ HP!
M-1SC head unit standard
Boost level: 5psi
Power level: 580-625+ HP (45-50% Increase)
Tuned factory computer to run on 91 or 93 octane fuel
Dedicated 8-rib drive system with an H.D. tensioner
Installs quickly with no internal engine modifications
System comes 100% complete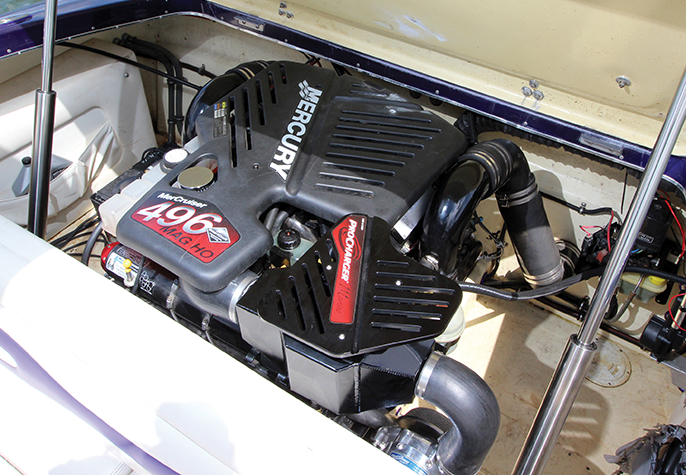 ---
PROCHARGER'S FOR CUSTOM APPLICATIONS AND CARBURETORS!
These days it's becoming common to take older hulls and upgrade them with more horsepower, better drives, and amazing interiors. Well one of the most cost-effective ways to get huge power numbers out of these older motors, is the same as the EFI's… BOOST! We love seeing all of the 454, 502's, 500's, and more getting ProCharger systems installed, and even some custom systems like the one shown below. (This one makes just shy of 1000hp on just 7 psi of boost)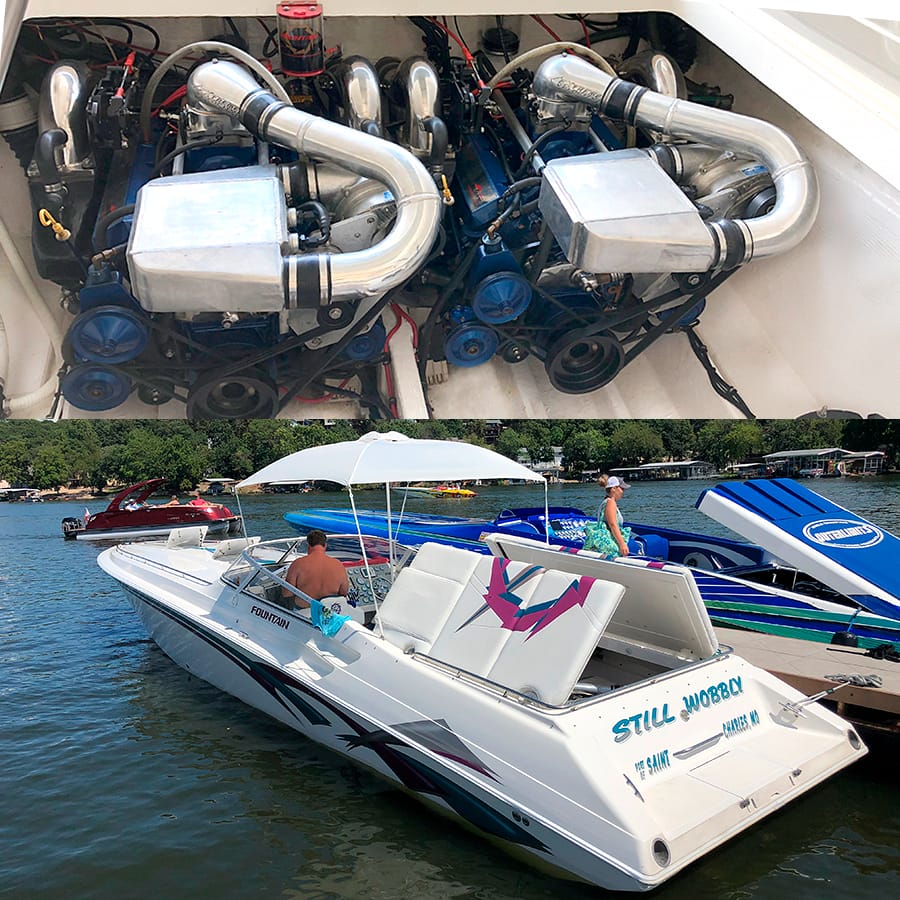 ---
AMERICAN ETHANOL SAYS FAREWELL TO THE BIG BLOCK CHEVYS:
It was an amazing weekend for the owner and crew of the Mystic Catamaran known as "American Ethanol" as it took home the overall Top Gun award for the 7th year in a row at the Lake of the Ozarks Shootout, with a speed of 193 mph in just 3/4 of a mile. However, this victory was bittersweet, as it was the last time this big cat will be powered by its conventional big-block Chevys, as they have served this boat well for years, however, the new motors are ready for 2022.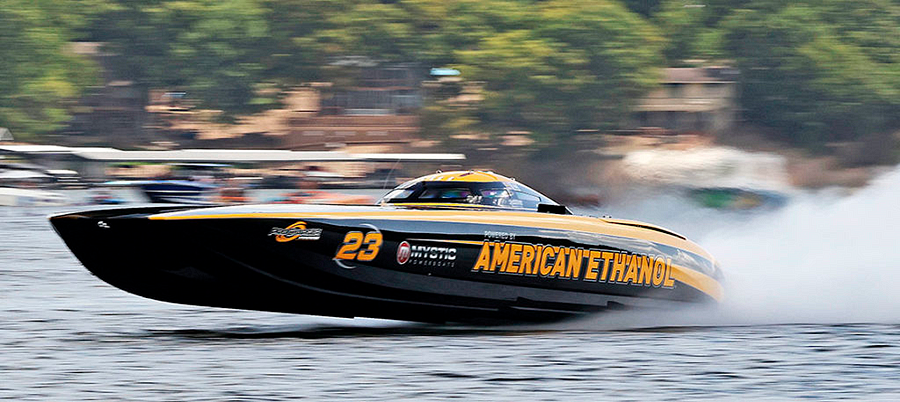 (Image below is the BBC's that are being retired)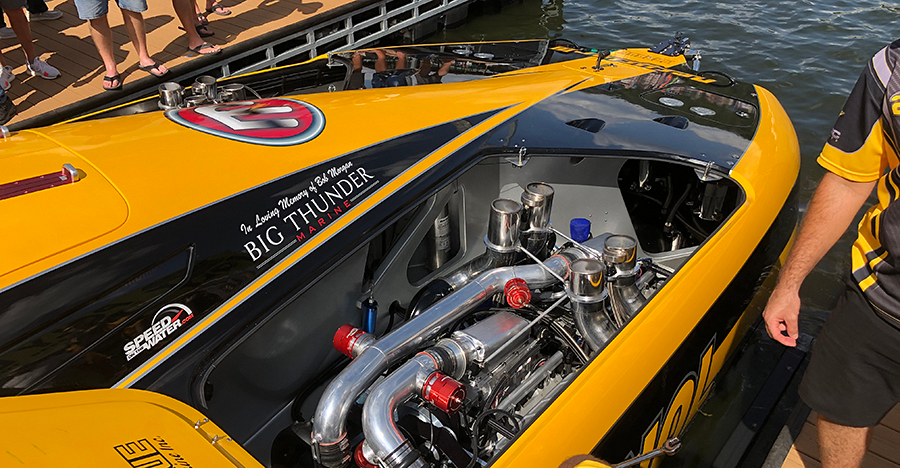 The new engines are powered by ProCharger F-3R-136 head units, pushing cubic loads of boost into the fully custom 4 cam engines (based on the Mercury QC4 platform). We can't give away all the details on these amazing engine combo's however here are some teasers… 40+ psi of boost per engine, 552 cubic inches per engine, (4) engines total, (4) ProChargers, all of the HP. With the new ProCharger superchargers on these engines, they are looking at nearly a 2,000 hp improvement over the previous engine combo being retired. We can't WAIT for the 2022 shootout!
---
READY TO BOLT-ON BIG HP AND MPH TO YOUR BOAT?
Give our sales staff a call or email us at the following contact methods below. We will be happy to assist you with any technical questions about supercharger systems and the results you can expect.
Mon – Fri 8am – 5:30pm CST
Phone – (913) 338-2886
Sales Email – [email protected]
For up-to-date news, make sure to sign-up for our email newsletter HERE