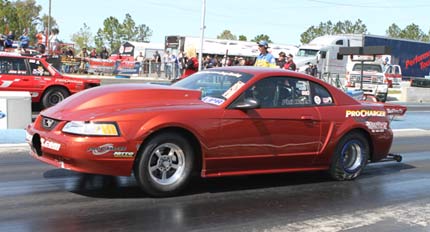 SUPER BOWL VICTORIES
When people think back to great Super Bowl victories it brings thoughts of sports dynasties with teams that ruled over their opponents for years. ProCharger, together with it's racers, form a great team that are solidifying their own legacy/ dynasty. In the street car racing world there is only one Super Bowl, which is held at Joliet, IL July 12 -15 presented by the NMCA and NMRA racing organizations.
In the NMRA Super Street Outlaw class John Urist with his ProCharger F-3A-121 supercharger took the top billing spot by running 7.25 at 199 mph and going into race day Urist was the odds on favorite. Unfortunately, John ran into another ProCharger powered racer Phil Hines. Hines qualified in the number two position with a traction limited 7.488 @ 194 mph. The two all-pro's met in the final round with Hines pulling out the win!
Jason Lee in the X275 class continues to have all of his competitors wishing they were on injured reserve list. Lee wielding his "battle-axe" ProCharger F-1X supercharger, qualified number one by running 7.44 at 190 mph. On Sunday, Jason pushed the competitions back up against the goal line, and with his F-1X punched through for another Super Bowl win!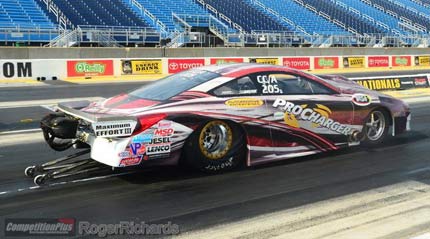 In NHRA action, Rick Hord has been dedicated to racing excellence for years. Rick competes in the Competition Eliminator class which is not for the faint of heart and is often called by its nickname "Complicated Eliminator". The only thing that is not complicated is his choice of power adder: a self-contained ProCharger F-3R-130 supercharger, supplying 40lbs of boost to a very complicated 380 cubic inch Big-Block Chevy.
Together, they sit in between the frame rails of a bullet shaped 2010 Pontiac GXP and make setting records look easy! Rick has two number one qualifiers so far this year and also owns the current ET and mph record in the CC/A class with a 7.01 @ 190.67 mph. Never satisfied and always looking for more, you can bet that Hord with continue to reset his record and put it out of reach for all who attempt to eclipse it.