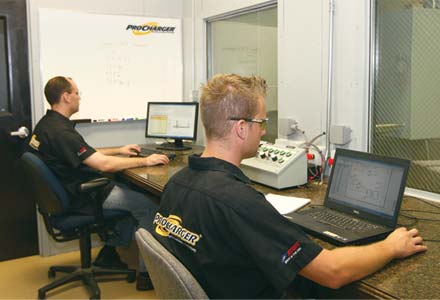 STATE OF THE ART TEST FACILITY
ATI's aerodynamics test lab utilizes state of the art equipment and 3 separate supercharger test cells to help ensure that ProCharger superchargers are the best in the industry.
This test lab, the industry's largest and most capable, allows ProCharger engineers to simultaneously perform aerodynamic (efficiency) testing, gearcase testing (durability, noise and mechanical efficiency), and long term performance testing.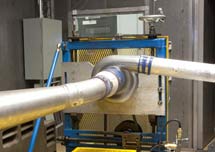 Data from this test cell contributed to the recently introduced, highly efficient F-3A-121 ProCharger, as well as the 3,400+ horsepower F-4 ProCharger. On a daily basis, future ProCharger designs are being tested for efficiency and durability in this lab. Vehicle testing and calibrations engineering are continually ongoing utilizing the company's in-ground Mustang chassis dynamometer. For high horsepower engine testing a 2,000 horsepower in-house engine dyno is utilized.
A hallmark of ATI's success has been a thorough understanding of engine dynamics and customer usage, both on the street and at the track. That perspective and knowledge helps ensure that testing in the aerodynamics lab, on the engine dyno and on the road are all representative of real world conditions.
This in turn produces industry leading real world performance from state of the art compressors and intercooler systems, and maximum power levels nearly twice that of our nearest competitor.
Additionally, knowledge transferred from Inovair, ATI's industrial products division (which features gearcases designed for continuous duty 24×7 operation and compressor efficiencies exceeding 80%), helps fuel further innovation for ProCharger.
For years now, the ProCharger engineering team has been the largest and most capable in the industry. It was only fitting that the test lab be expanded to increase the impact of the engineering team, and the pace and quality of product development. As demonstrated by recent ProCharger models introduced in the past year and new models on the way, ProCharger is committed to not only maintaining, but expanding its industry leadership.

This new test lab is housed in Building 2 of the ProCharger campus (building at right in photo below), and came into service in the fall of 2010.