SETTING RECORDS, QUALIFYING #1, AND MORE WINS: PROCHARGER RACERS ARE JUST GETTING STARTED!
WHERE TO BEGIN WITH THE RACING SUCCESS?
We aren't even sorry that this blog will be a bit long to read. Because we are SO proud of what all of these amazing racers and their teams have accomplished. The monumental effort it takes from these teams and drivers to stay at the top doesn't go unnoticed by our staff here in the office. And this blog is where we love being able to brag about all their hard work. Without further delay let's dive into it…
---
PRO MOD RECORDS / WINS AT WORLD DOOR SLAMMER NATIONALS!
Khalid Al Balooshi does the full hat trick in Orlando…
– #1 Qualifier (Check)
– Sets the Record at [email protected] (Check)
– Takes home $50,000 for the WIN! (Double Check)
"Brad has given me a great car since last year and I think we've got a good shot to do even better this year. We couldn't have asked for anything more than what we did. I'm living the dream." ~ Al-Balooshi said.
This is coming fresh off this team's win thousands of miles away in Bahrain! Yes, the very same car that just took home the championship in Bahrain was loaded onto an aircraft and flown here to the US to compete in this amazing event. Looks like all of that effort and travel paid off BIG TIME! From all of us here in the office we want to say congratulations to the entire Bahrain crew, well done every one to put that ProCharger F-4X powered machine into the winner's circle!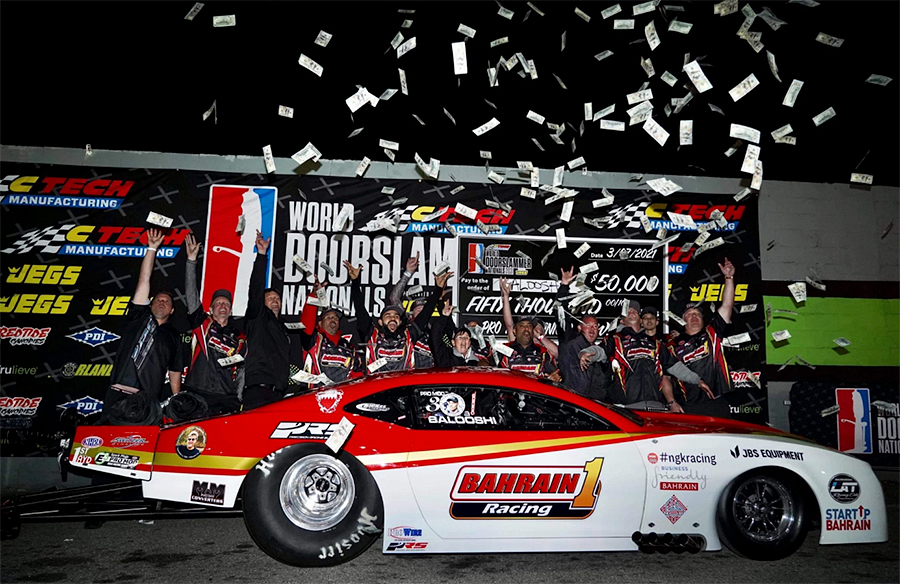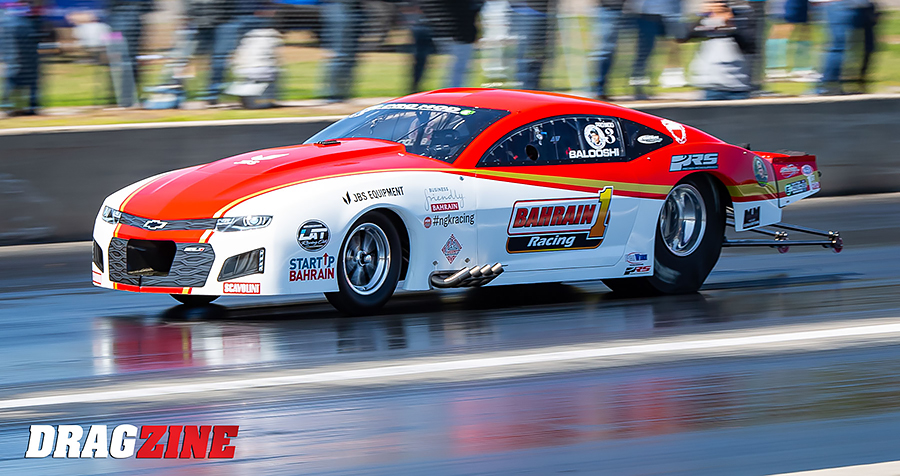 Alex Laughlin takes the R/U spot, with the car's first event out!
Yes, normally it takes multiple races to shake off all the new car jitters, or for the driver to get a handle on the new combo. Well, Alex and the Elite HP racing team with all of their skill and knowledge made it look easy as they clicked off a [email protected] and drove it right into the finals at its first race event. Another huge congrats from all of us here in the office, we can't wait to see what the future holds for 2021 for Alex and Elite HP and this ProCharger powered Pro Mod.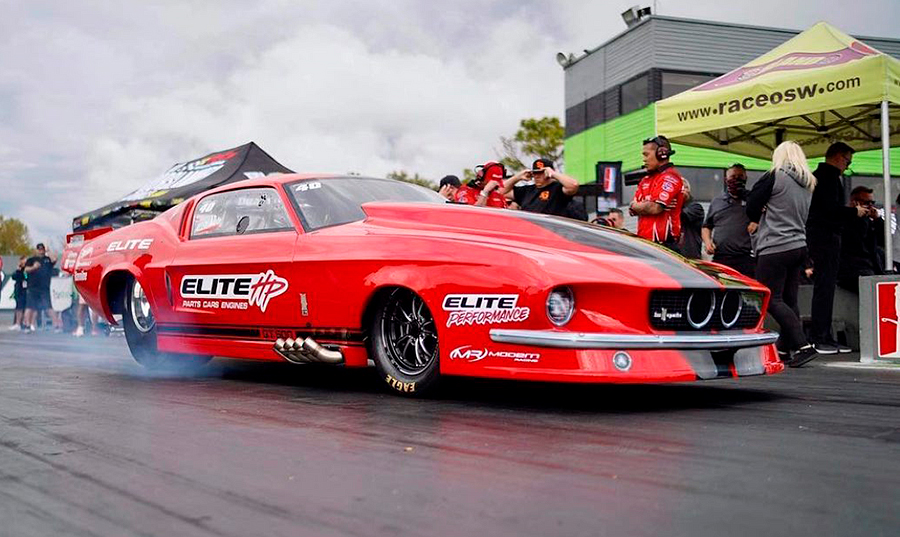 Derrick Brown takes the win in Top Sportsman
After string together multiple round wins in his ProCharger-boosted '14 Camaro, Derric drove right to the $10,000 check in Top Sportsman. He was running low 6-second passes all day until he got loose in the final round, still beating David Cuadra, who encountered traction issues off the starting line and couldn't recover. "The track got a little loose and I probably drove it a little too far," said Brown, thanking crew chief William Brown and supporters like Modern Racing and FTI Converters. "I seen him over there and I just wanted to get out far enough that he couldn't come back and correct himself. I probably took it a little too far but I got it corrected and down the track safe.The car is in one piece, the motor is in one piece and I can go to the next race. [This win] means a lot to me." (Text via Dragzine)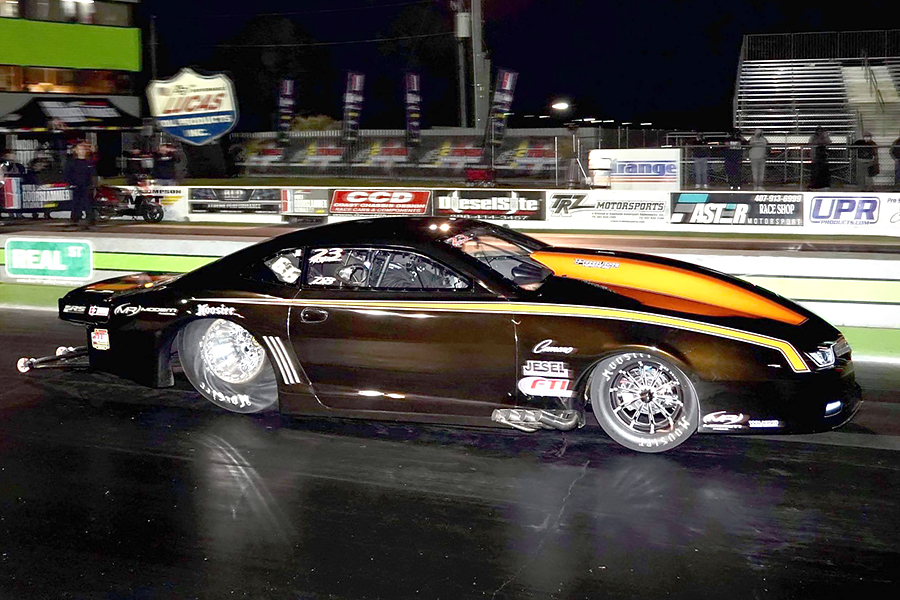 ---
TWO CLASS WINS AT LIGHTS OUT 12 AND MORE RECORDS!
WINNER – Radial vs The World – Jason Lee / Eric Gustafson R&E Racing
Yes, Jason Lee did what we talked about earlier and did the full hat-trick accomplishment as well…
– Sets new radial record
– Qualifies in the #1 spot
– Takes home $20,000 for the WIN!
"Awesome from start to finish. The team did an excellent job. I couldn't ask for better parts, better components, a better team, or a better working car," Lee said of his team, led by car owner Eric Gustafson.
This all-star team between the car owner Eric and wheelman Jason is on a mission in 2021 to prove they have what it takes. Well, no better way to prove that, than taking home all the cash, at the Superbowl of radial races. The big ProCharger F4X powered HEMI never went slower than 3.60's all weekend, as consistent pass after consistent pass put them into the winner's circle. HUGE congrats to Jason, Eric, and the R&E Racing crew from all of us here in the office.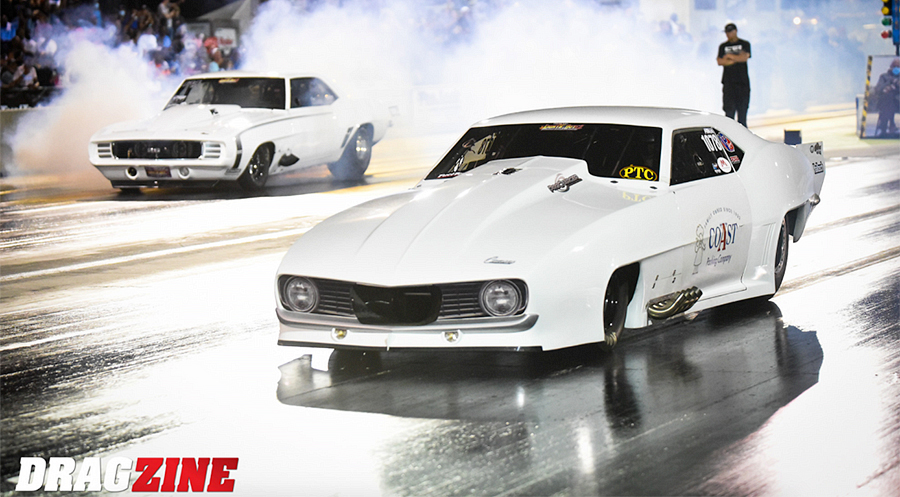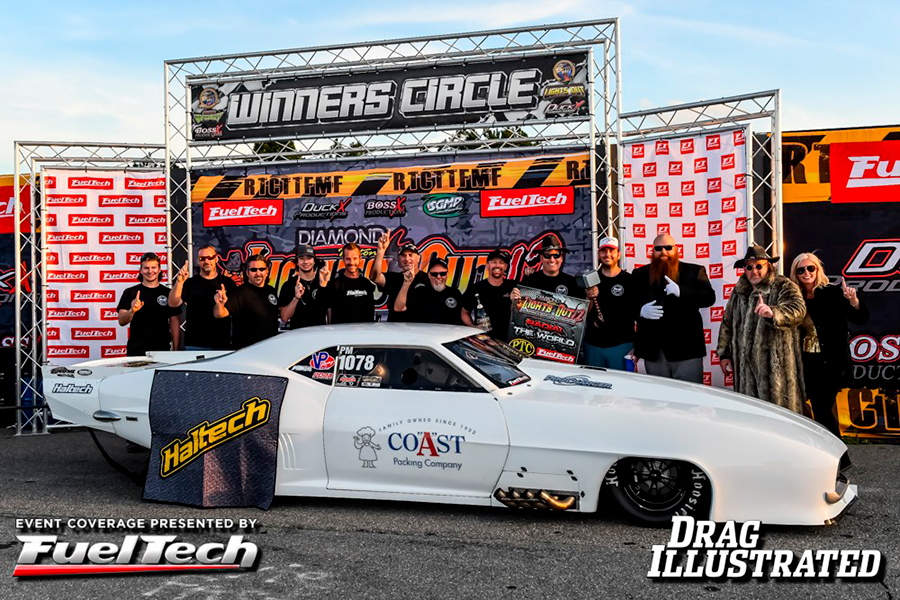 "Jason Lee, behind the wheel of Eric Gustafason's Radial versus The World supercharged Camaro, took a shot at the 40's in prime air during Wednesday's opening qualifier, coming up just a couple of ticks short, but nevertheless resetting the world's elapsed time standard on a radial. Former racer David Hance has put up a bounty of $3,499 for the first driver into the 3.4-second zone in official competition, which spurred Lee and some other players to hustle to the lanes to be among the first cars out in the session" ~ Dragzine
---
WINNER – DXP 235 – Jason Riley
"We've been whittling away at it, making the car faster, changing parts that didn't work. It's been a long, hard road. I'm really happy with that — we're going in the right direction," said Riley in a quote from our friends at Holley Performance.
Jason Riley took his runner-up performance in Limited 235 from No Mercy 11 and turned it into a win at Lights Out 12 by switching his power-adder from a ProCharger D-1X to the smaller P-1X and dropping 200 pounds out of his car per an offseason rules adjustment. Let it be clear, this team managed to get this entry-level supercharger to run [email protected] in the 1/8th mile, on an ultra-small tire! Here in the ProCharger office, we absolutely loved seeing this car make it round after round. After all, the most common ProCharger ran on the street these days, is a P-1X. From all of us here in the office, Jason we all say Thank you, and WELL DONE!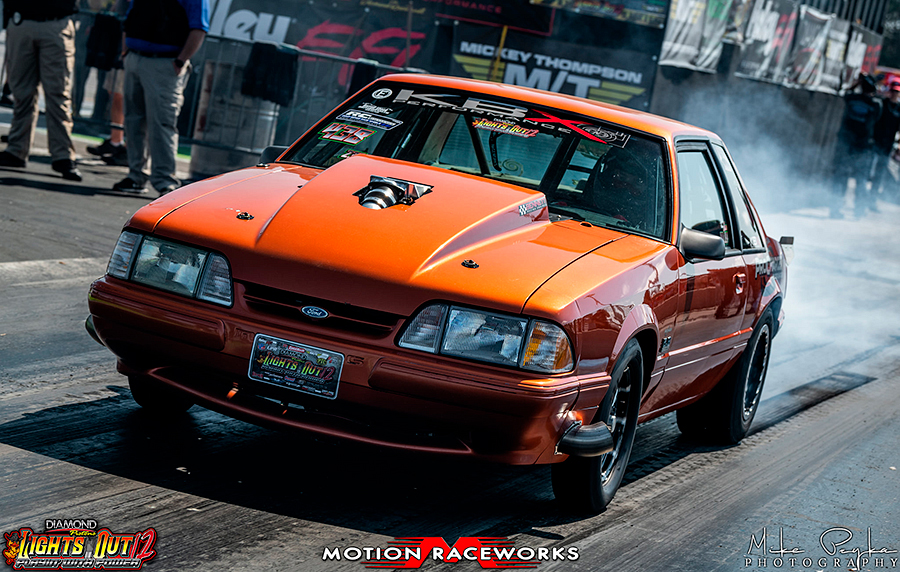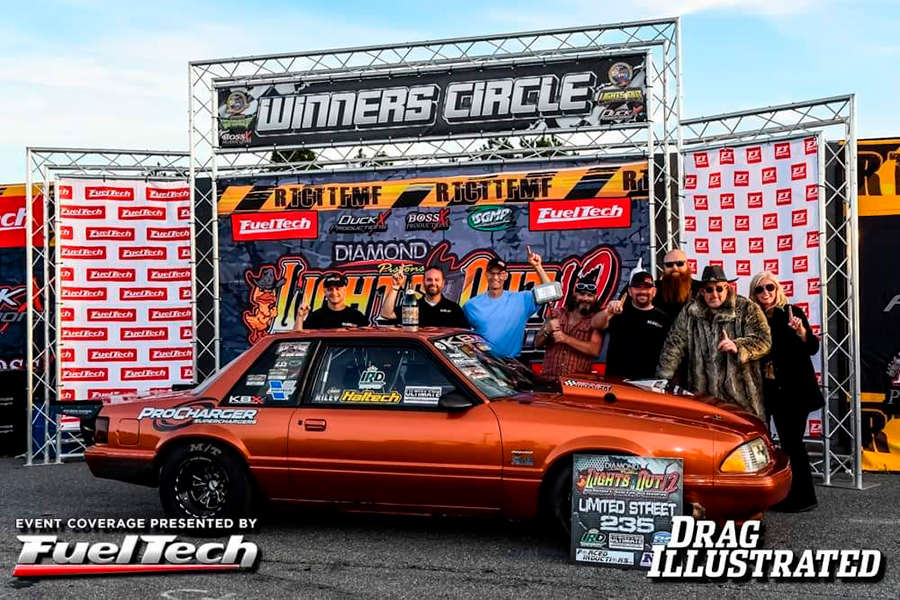 ---
OTHER AMAZING EVENT WINS – NOPREP AND NHRA:
WINNER – Small Tire – Bounty Hunters – Brent Self
If you follow NoPrep at all, you are very aware of this Camaro from the camp known as "Selfish Racing" . When it comes to NoPrep, it's all about reading the track, knowing how much power to lay down, and dead consistent power from your combo. Well thanks to a crank-driven ProCharger setup, one thing Brent can count on, is a deadly consistent boost. The rest is what we all love watching here in the office, and that's the force to be reckoned with behind the wheel, and that's Mr. Brent Self. Congrats to Brent and the team, on another job well done!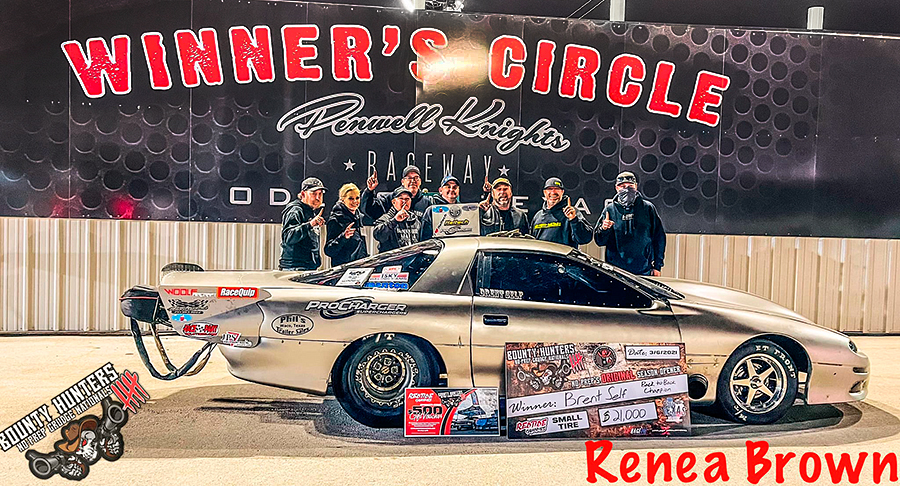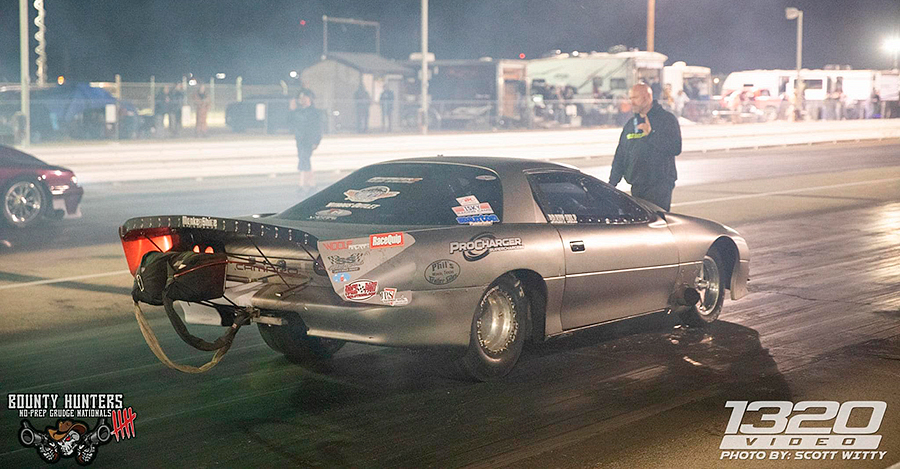 Top Dragster – Baby Gators – Ross Laris
Down in FL, we had Ross Laris from the Laris Motorsports Insurance team going rounds in the Top Dragster class. This class is ultra-competitive, to say the least, and also brings out a massive number of racers to compete for the win. Thanks to the ProCharger RaceDrive BBC combo, Ross was able to show his driving talents and put them into the winner's circle. Congrats to you Ross and your entire crew from us here in the ProCharger office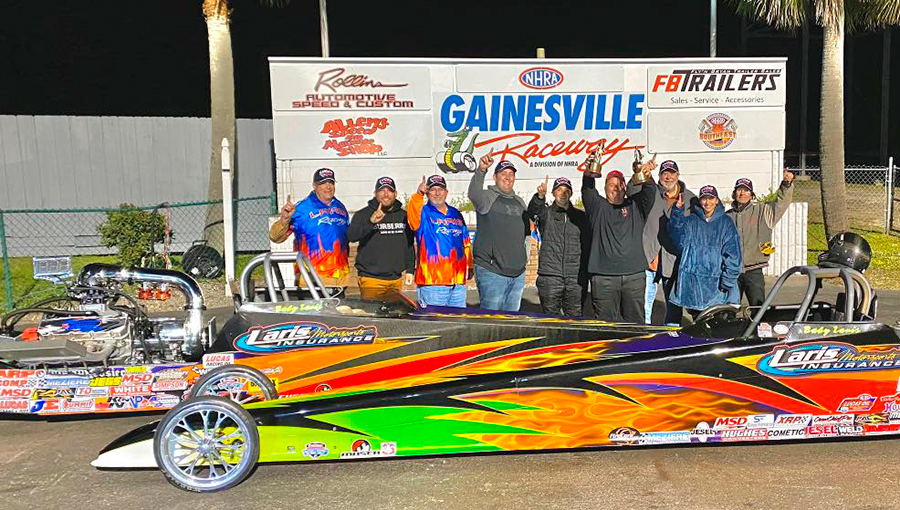 ---
PROCHARGER F-4X HEAD UNITS: TAKING ORDERS NOW!
Its 100% official, orders can now be placed for the ProCharger F-4X supercharger head unit and matching ProCharger CrankDrive system. Even in the testing phase after hundreds and hundreds of passes, this clean sheet gearbox has well outperformed our racer's expectations. The F-4 gearbox will only be mated to "X" class blowers, with power levels from 3,500-4,000hp. Thus, creating the most durable centrifugal supercharger ever engineered for competition at ProMod power levels. For more details, or to place an order for this supercharger please contact [email protected]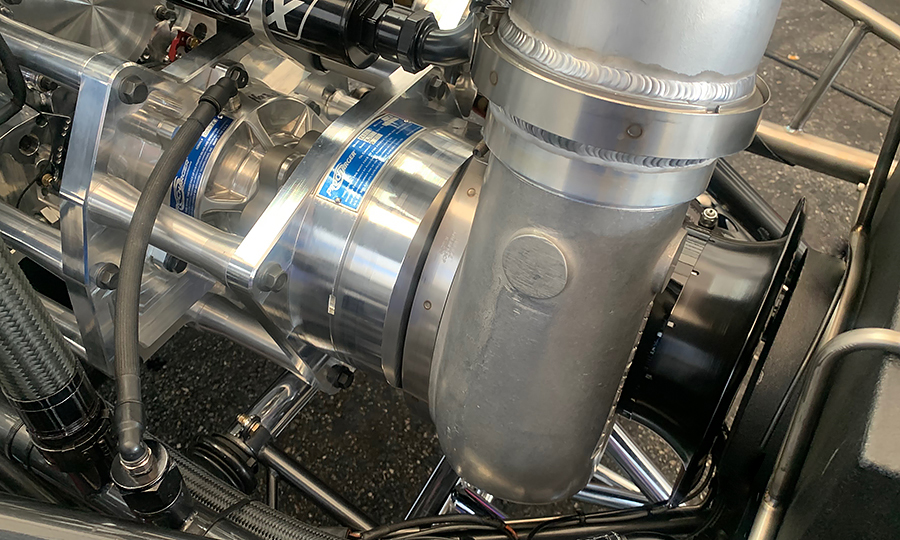 ---
WANNA JOIN THESE FOLKS IN THE WINNERS CIRCLE?
Give our racing staff a call or an email at the following contact methods below. We will be happy to assist you with any technical questions you may have about our systems, and the results you can expect. Thanks for reading!
Phone – (913) 338-2886 M-F 8:00am – 5:30pm CST
Racing Email – [email protected]