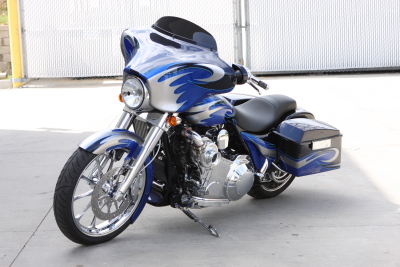 PROJECT BAGGER: 200 REAL-WORLD REAR-WHEEL HORSEPOWER!
Two wheels, two cylinders, and a ProCharger equals 200 rear wheel horsepower! ProCharger's own "Project Bagger" is our idea of a ProCharger power-trip. What started out as a stock 2007 FLHX Street Glide has now been transformed into the ultimate high-power, highway cruiser. The bike now features a Fat Baggers Inc. (FBI) conversion, a Jim's 120-cubic inch, EFI engine and of course, our new HO intercooled ProCharger System for the 2007 Touring bikes. The big D&D Boarzilla 2-into-1 exhaust let's everyone hear – and feel – all that ProCharged power. Oh yeah, and this thing has a cool Navigation / DVD player, too! Look for more updates about "Project Bagger" over the course of the summer or stop by to see it in person at Hollister and Sturgis.
Click here to for more ProCharged and Intercooled Harley Davidsons.