PROCHARGER'S NEW PRODUCTS ARE HOT IN CALIFORNIA AT MEDIA CONFERENCE
ProCharger was excited to participate in this year's SEMA Motorsports Parts Media Trade Conference (MPMC), and arrived with a strong presence. The SEMA MPMC was held at the Orange County Embassy Suites hotel in Santa Ana, CA on January 22nd through 24th. Regina Higgins, Marketing Manager, Mark Bristow, member of the ProCharger Sales & Service team, along with Ken Jones, ProCharger CEO, welcomed the opportunity to share details of all the ProCharger supercharger products.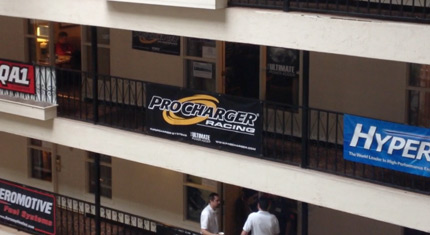 What is the SEMA MPMC? Well, it is a truly unique event that brings together editorial staff from all over the world with racing and high performance parts manufacturers for 3 days of face-to-face, 30 minute meetings. Additionally, this conference provides editorial staff another opportunity (outside of the SEMA show in Las Vegas) to take one more close up look and learn more about ProCharger, as well as many other racing and high performance products.
Shown below is Ken Jones sharing all the exciting ProCharger news with Hot Rod magazine Editor-in-Chief David Freiburger and Staff Editor Mike Finnegan.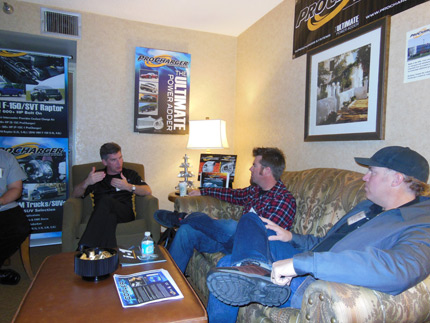 ProCharger wants to extend a warm thanks to all the journalists we met with (over 50!) for your excitement and interest in our new offerings and continued support with ProCharger racing and all of our superchargers. Nowhere else is there an opportunity quite like this!