PROCHARGER VISITS DALLAS FOR STREET CAR TAKEOVER!!!
FIRST THINGS FIRST:
If you live in the Phoenix area, this weekend SCT is in your TOWN.
Click HERE for more details. Oct 9th-11th
---
STREET CAR TAKE OVER — DALLAS
Every month the ProCharger team is crisscrossing the country to support our racers and fans at various national events. And in-between we still get some time to sneak in a little time to check out some more "street" related events. This blog is going to cover our chance to check out both SCT Dallas event.
The first night started off with a car show at the Twin Peaks parking lot, including a portable dyno. The ProCharger superchargers team was set up right by the dyno, which was great for a front row seat, but our ears may not have been so happy. However, is there really anything better than an evening filled with great car conversations, plus the smell of food and race gas? We didn't think so…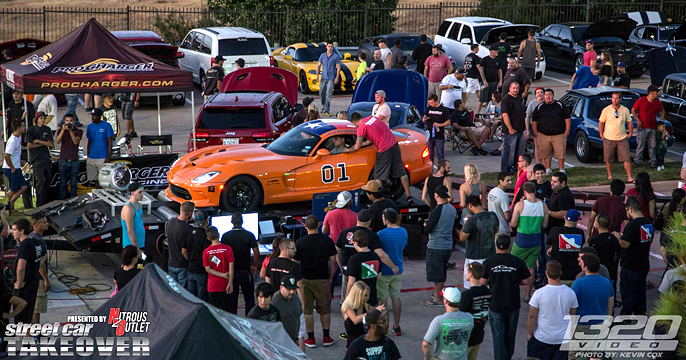 When the ProCharger superchargers crew left our headquarters in Kansas City, we didn't trailer anything down to Dallas, we drove! Our demo cars run the exact same systems we sell to our customers, down to the tuning. So not only can we show off our products to our customers, but also the fact that we drive them all over the country for the ultimate in durability testing.
The 600+ ALL WHEEL HP ProCharger Supercharged Jeep SRT8. We make systems for both the WK1 generation Jeeps, and now the WK2 as well. (up to 2015)
So if you enjoy mind bending mid 3 second 0-60mph times, then you have GOT to get your hands on one of these SUV's (with a ProCharger of course)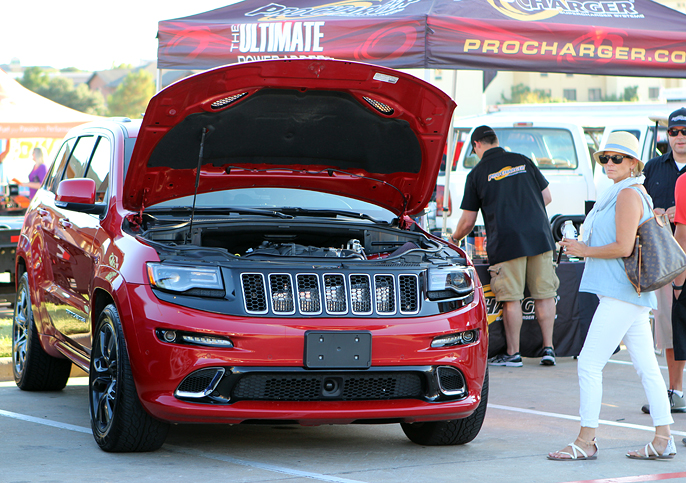 The cut-away of the F-3R-136 supercharger always grabs some attention.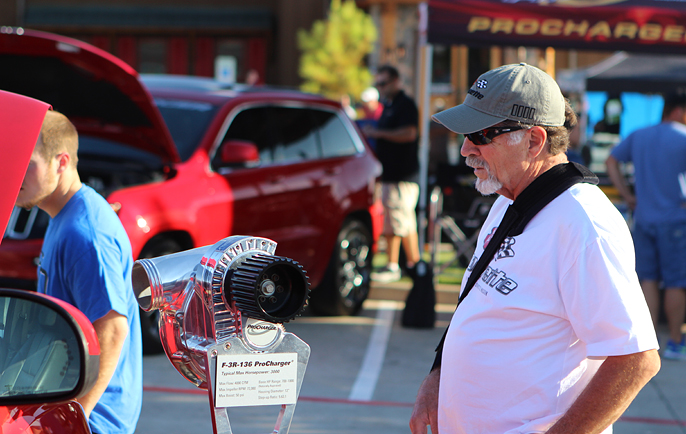 The 2015 Mustang GT also made the trip down to Dallas, rocking 607 rwhp on its 91 octane tune.
This car features the Procharger Stage 2 supercharger system, and a MBRP cat-back exhaust.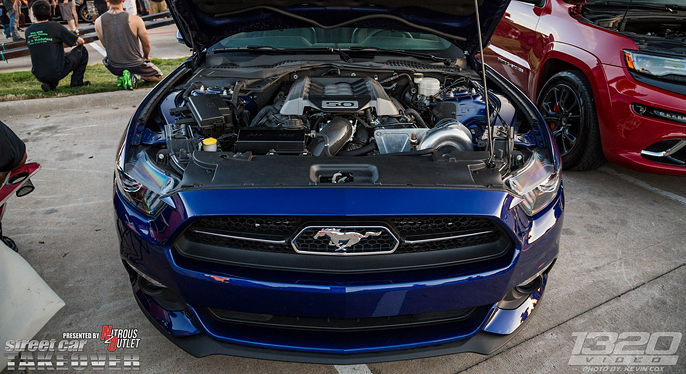 Project "Snow-Plow" made the trip down to Dallas, with its ProCharger i-1 supercharger.
This truck enjoys an 80.1% power increase over stock, with just the i-1 on 8psi of boost.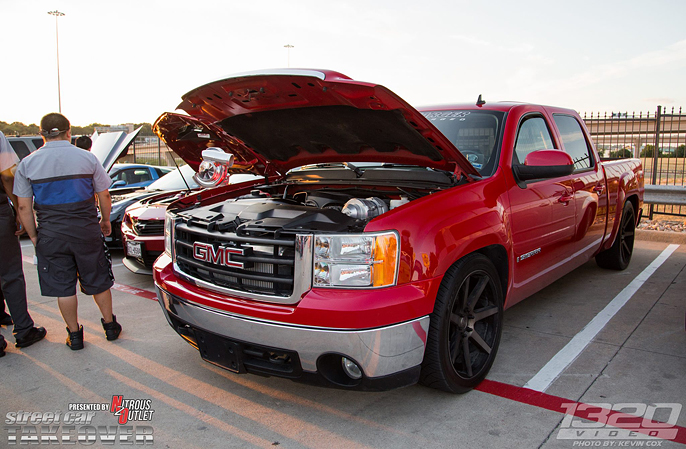 Abel Racing came down from OKC with their 300C rocking a ProCharger D-1SC Supercharger.
This car not only turned the rollers on Friday, but also raced on Saturday, making a long weekend for this 300C.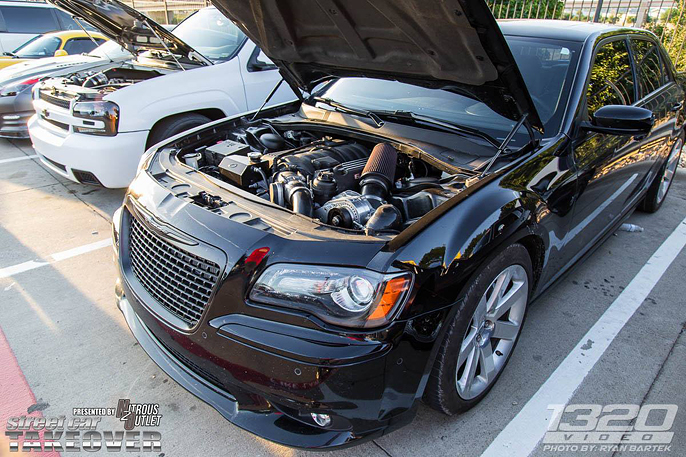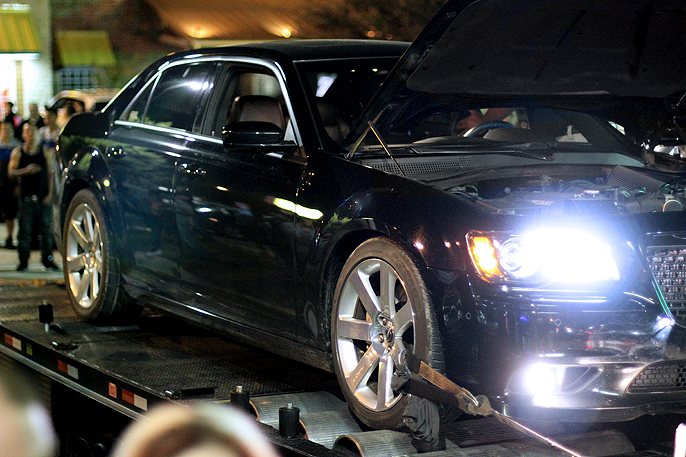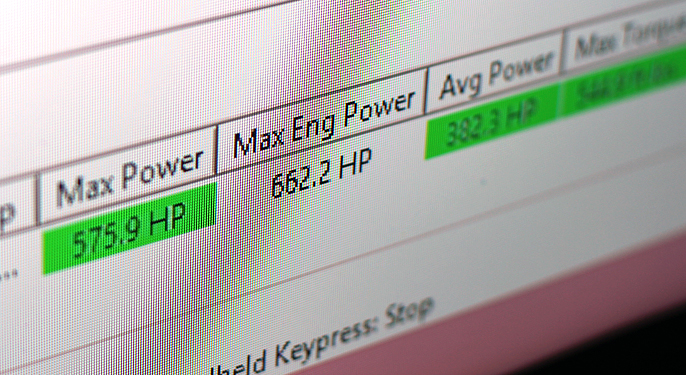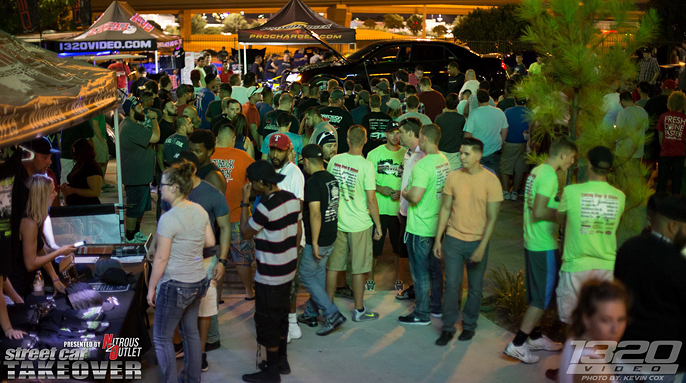 One of the cars that you literally couldn't see most of the time due to the crowd around it, was the ProCharger supercharged C7 Z06. When this 992 rwhp monster built by Advanced Modern Performance fires up, the crowd gathers. And yes, it's still on 93 pump gas and a little meth!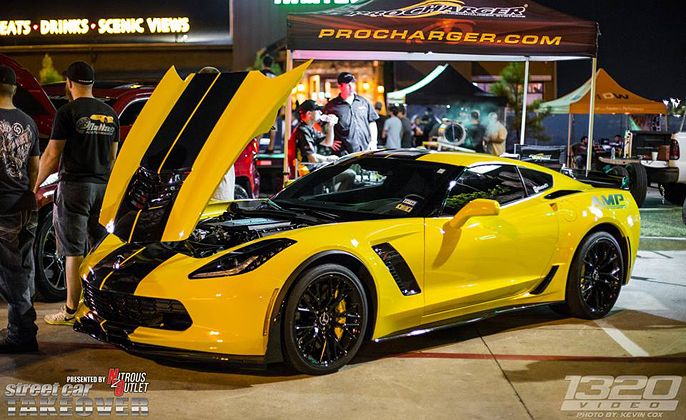 Saturday we loaded up and headed to the track, to check out the roll racing action at the Texas Motorplex. The booth got filled fast with lots of supercharged rides from all over. Here is the quick rundown on the 5,361 rwhp that we knew about, sorry we didn't catch numbers on one of them.
992 rwhp Yellow C7 Z06
835 rwhp Orange C7
911 rwhp Blue C7
998 rwhp Black C6 Z06
607 rwhp Blue '15 Stang
580 rwhp Maroon Jeep
438 rwhp GMC
??? rwhp Blue LS1 Camaro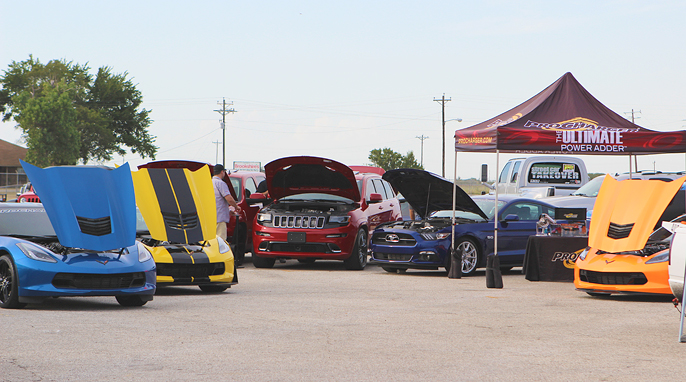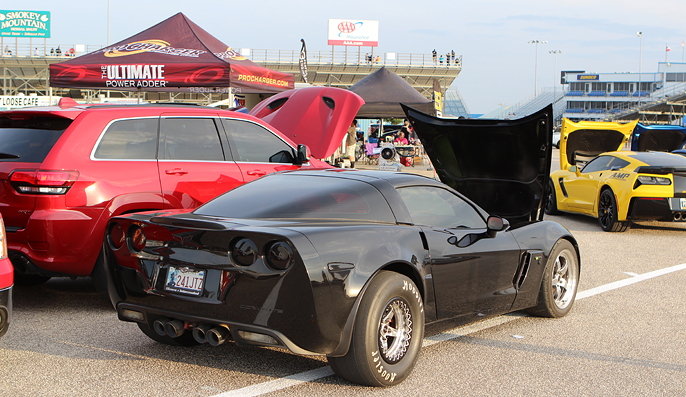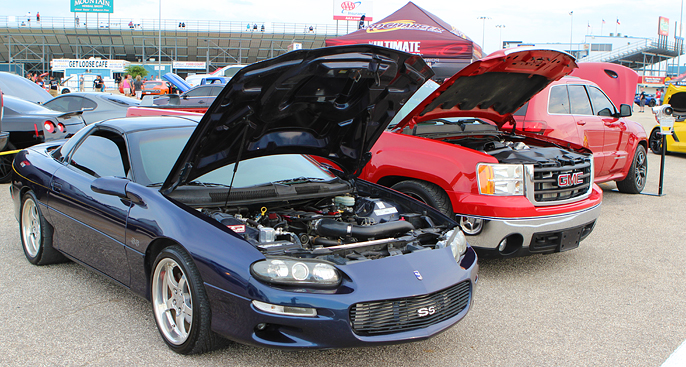 Another car that you will see us feature on our Facebook page soon is this 880rwhp F-1A powered "cam only" LS3 Camaro. This car tore up the roll racing section of Sat. nights action without missing a beat.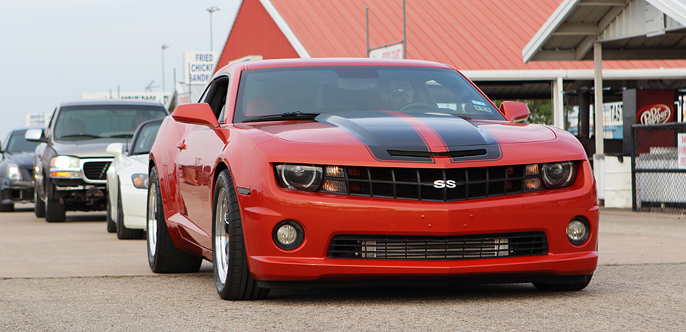 If you haven't checked out one of these SCT events yet, we urge you to. However make sure you get some rest the night before, since they go well into the evening (midnight).
With that being said we leave you with a booth shot, right before packing up and making the long drive back to KC with all the test fleet. (over 1,100 miles in a few days put on these cars/trucks)
If you have any questions on any of the systems we manufacture, please drop us a line.
PHONE: 913-338-2886
EMAIL:[email protected]