PROCHARGER VIDEO CHALLENGE: AND THE WINNER IS…
With more than 50,000 votes received, voting for the top video in the first ProCharger Video Challenge was fast and furious right up to the finish line! With the parachutes pulled, the votes were tallied, and the winners are…
1st Place and the Grand Prize winning video: ProCharged 56 Chevrolet Bel Air, "Gossamer"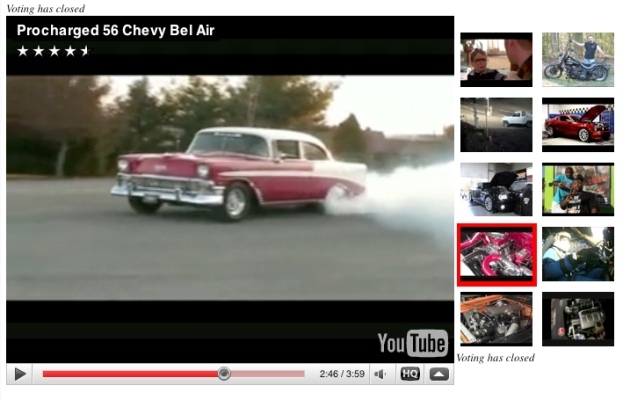 This video is the son's description of the 20 plus year history in building his father's 56 Chevy into the show quality and power packed classic it is today. Talk about a timeless classic: big Chevrolet power thanks to that beautifully crafted ProCharger installation! Congratulations not only on the video, but on the car as well.
2nd Place goes to: Inner Beauty from ASSC Racing
3rd Place winner is: Landspeed Mustang / Team Saline's World's Fastest Production Mustang
4th Place finisher: Godfather Customs' ProCharged Chevy "Silverod"
5th Place winner: 5,000 HP ProCharger Compilation by Big Daddy Performance
Congratulations to the Top 5 finishers! The Grand Prize winner of the ProCharger Video Challenge will receive $5,000; Runner up: $1,000, 3rd Place: $500, 4th Place: $300 and 5th Place: $200.
ProCharger would like to thank all the owners, enthusiasts and dealers who created and submitted videos for the first ProCharger Video Challenge. From all the videos that were initially submitted, to the Top 10 Finalists and of course, to the Top 5 finishers, each and every one of these videos were great accounts of "the ProCharger story" as told by the people who want only the best power adder on their car, truck, SUV, motorcycle or boat: ProCharger.