PROCHARGER V-TWIN: LOOKS AS GOOD AS IT WORKS
It's sad to see the riding season winding down for most of us around the country. There is good news though, with winter time comes winter bike show season. So even if you can't get out on the road, you can still shine up your ride and hang out with other like-minded motorcycle fanatics.
Nearly every big city has at least one great show during the winter months so now is the time to get started. Does your stock bike need something to get you in the game? Is your wild custom looking for the last piece to put you over the top? ProCharger superchargers can get you there either way.
A small sampling of custom builders that can back this up and have used ProCharger superchargers to not only add 40-80 HP or more, but to get the show-winning look, reads like a who's-who of the custom bike world:
•Dirty Bird Concepts
•Azzkikr Customs
•Kendall Johnson Customs
•Arlen Ness
•East Coast Baggers
•DD Custom Cycles
•Leroy Thompson Choppers
•Goldammer Cycle Works
•DUB Performance
•APL Peformance
•Fat Baggers
•Grant County Choppers
•KlockWerks
•All N All Custom Baggers
•Camtech
•Perewitz Cycle Fab
•And on, and on and on …
(Click the images below to see the V-Twin Gallery)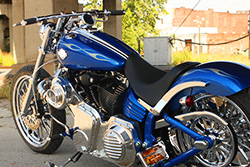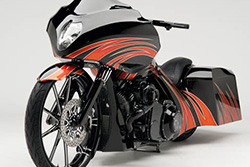 ProCharger has a bolt-on, self-contained, intercooled supercharger system available for virtually every model of air-cooled "Big Twin" H-D motorcycles from the latest 2015 H-D bikes to certain 1994 models. With this extensive line-up it means more people than ever can experience the same jaw dropping power and show quality look of a ProCharger Supercharger system.
For 20 years ProCharger superchargers has been making slow things fast and fast things ridiculous, so if you're ready to install The ULTIMATE Power Adder on your H-D V-twin, visit the ProCharger motorcycle systems page here or call our V-Twin Sales Team at (913) 338-2886, M-F, 8:30 AM to 5:30 PM central time.