PROCHARGER TO DISPLAY AT 69TH ANNUAL STURGIS MOTORCYCLE RALLY
Once again, the ProCharger V-Twin team loads up the 53-ft Big Rig and heads to Sturgis, SD for arguably one of the greatest motorcycle events in the world: the 69th Annual Sturgis Motorcycle Rally.
For the second year in a row, the ProCharger V-Twin display will be located in Champions Park, between 2nd and 3rd Streets on the north side of Lazelle Street. ProCharger will be just around the corner from the Ace Cafe and one of the first displays inside Champions Park.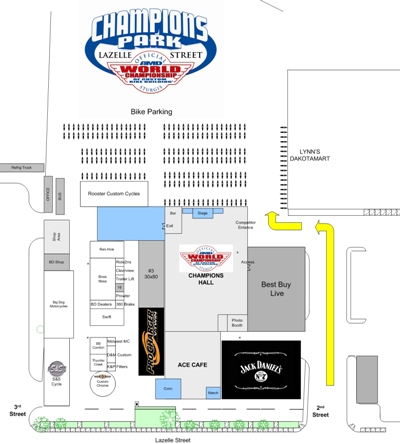 If you're serious about adding some real-world power and reliability to your Harley V-Twin, be sure to stop by the ProCharger display to discuss the supercharger systems and tuner kits available for your particular ride. While you're there, you can see an awesome assortment of ProCharger equipped bikes, both in and outside of the ProCharger display.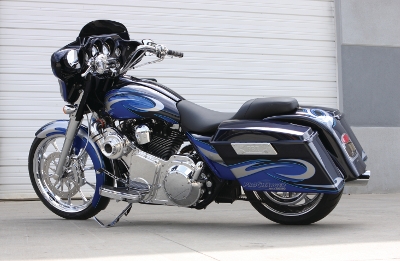 Project Bagger: this 2007 FLHX features a Jim's 120-cu.in. V-twin and ProCharger Intercooled Supercharger System. With 12-psi of intercooled boost from the B-1 ProCharger, this big blue FBI custom bagger puts down 200+ RWHP and still manages 37 mpg out on the road.
Other bikes that will be featured in the ProCharger display include Leroy Thompson's "Trendkill". This 180+ HP custom creation features a ProCharged and intercooled 124 cu.in. S&S engine. Also on display, a fully blacked-out 2004 FLHT that features a black powder-coated ProCharger system feeding the carburetor-equipped engine. Showcasing ProCharger systems for carb-equipped V-twins, this bike now puts out 153 RWHP.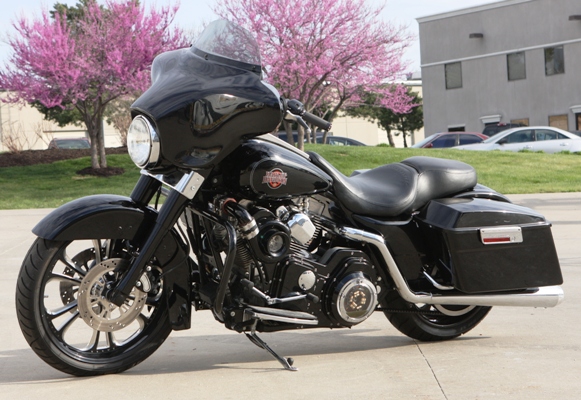 ProCharger Sturgis Debuts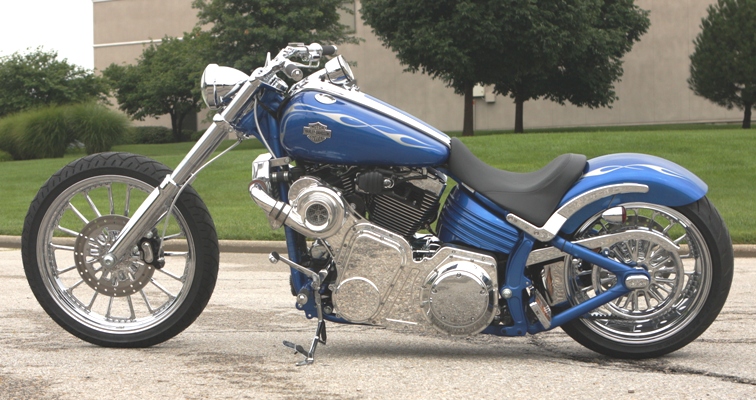 Making its V-twin event debut is a 2008 H-D Softail Rocker C. As documented in the latest edition of Hot Bike magazine, the intercooled ProCharger system added 53 RWHP to the stock engine in a little over four hours of installation time! Check out the installation article here.
Also making its public debut at Sturgis is ProCharger's first powersports supercharger system. Fitted to a 2009 Polaris RZRS and built around the all-new ProCharger A-1 self-contained supercharger, the supercharged and intercooled "Razor-S" now cranks out 84 RWHP, easily doubling the factory output!
ProCharger V-twin power isn't limited to the ProCharger display. Be sure to check out a Klock Werks custom Road King at Black Hills Harley-Davidson and the ProCharged "Gold Road King" located in the Interstate Battery display at the J&P Cycles display lot. Fat Baggers Inc., (FBI) will also have several ProCharged FBI customs on display and for sale at their location during the Sturgis event.
AMD World Championships
Several ProCharger-equipped bikes are scheduled to be entered in the judging, including a Leroy Thomspon custom in the Freestyle class and a 2007 H-D Softail in the Modified Harley-Davidson class. Be sure to check out these awesome customs in the AMD Championship Hall.
During the course of the event, the AMD World Championship Hall plays host to a wide variety of high-profile events, culminating with the AMD World Championship Bike Building Competition. For a complete schedule of events, visit the AMD Championship web site.