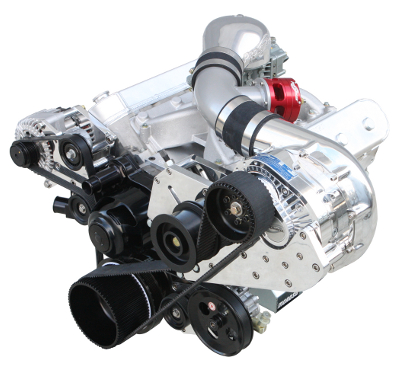 PROCHARGER SUPERCHARGES LSX TRANSPLANT VEHICLES
Building on more than 10 years of LSx forced induction leadership; ProCharger is the first to offer a complete supercharger kit for transplanting modern LSx engines into classic and contemporary vehicles. ProChager LSx Supercharger Kits can be used with several of our self-contained superchargers, including the P-1SC, D-1SC, F-1 and F-2 models. An ultra-high horsepower street / race application that will utilize the legendary ProCharger F-3R supercharger is under development.
ProCharger LSx Serpentine Drive:
Featuring a self-contained ProCharger supercharger, a rigid billet aluminum bracket design, available air-to-air intercoolers, and the ability to retain accessories such as air-conditioning and power-steering, the ProCharger LSx Serpentine Drive Kit is exactly what these LSx transplants need. An intercooled P-1SC LSx kit is good for a safe, fuel-efficient and streetable 530 HP on an otherwise stock LS1, and 620 HP on an otherwise stock LS3 (larger fuel injectors and custom tuning required). Much higher power levels are available on modified engines.
ProCharger LSx Cog Drive Kit :
Looking for even higher horsepower levels? The ProCharger LSx Cog Drive kit is ideal for street, street/strip and all-out LSx racing applications. The LSx Cog Drive kit is compatible with ProCharger's famous F-Series superchargers (F-2 and F-1), and still allows for the use of stock accessories including A/C. Supporting up to 1,600 HP (and even more on ultra-custom applications), and allowing for the option of many different ProCharger supercharger models and intercooler setups, this kit is sure to fit a wide range of horsepower needs today and years down the road.
Both ProCharger LSx Supercharger Kits will be available in early 2009. Visit ProCharger.com or call (913) 338-2886 for more information about these and other ProCharger Supercharger kits and systems. Click here to see the full ProCharger LSx Press Release.