PROCHARGER SUPERCHARGERS POWER UP 2011 DEALER EXPO
You didn't have to look far to see ProCharger's powerful impact on the recently completed International Powersports Expo that was held Feb 18-20 in Indianapolis, IN. The ProCharger display, just inside one of the main entrances to the show, was packed full of ProCharger-equipped vehicles.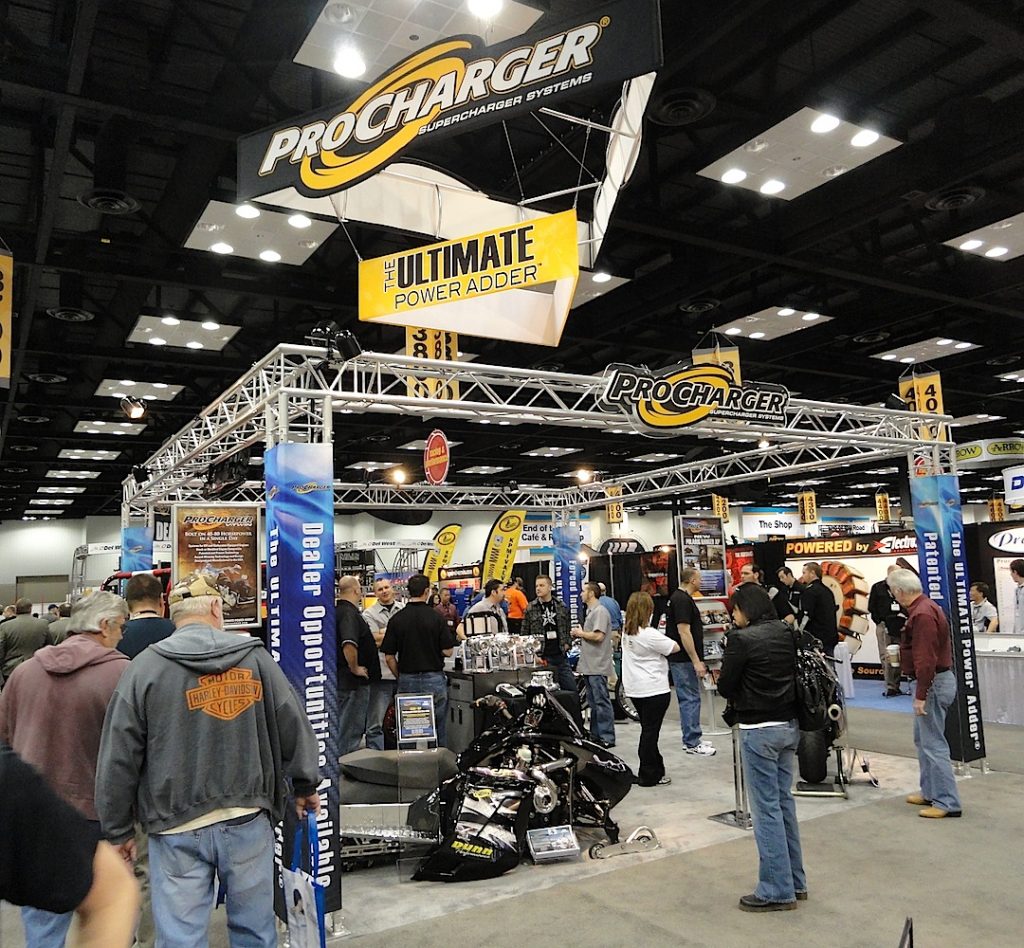 ProCharged Polaris Ranger XP 800
As mentioned in an earlier blog post, ProCharger used the 2011 Dealer Expo to officially introduce a complete intercooled supercharger system for the segment-leading Polaris Ranger XP 800 and Ranger Crew 800 side-by-side UTVs. A customized Ranger XP from Tuscon, AZ dealer, Ride Now Powersports, was equipped with a special "polished and chromed" ProCharger supercharger system. This powerful and eye-catching rig also featured a custom suspension system, upgraded wheel and tire package, roll bar, and of course, 40 to 50% more power from the intercooled ProCharger supercharger.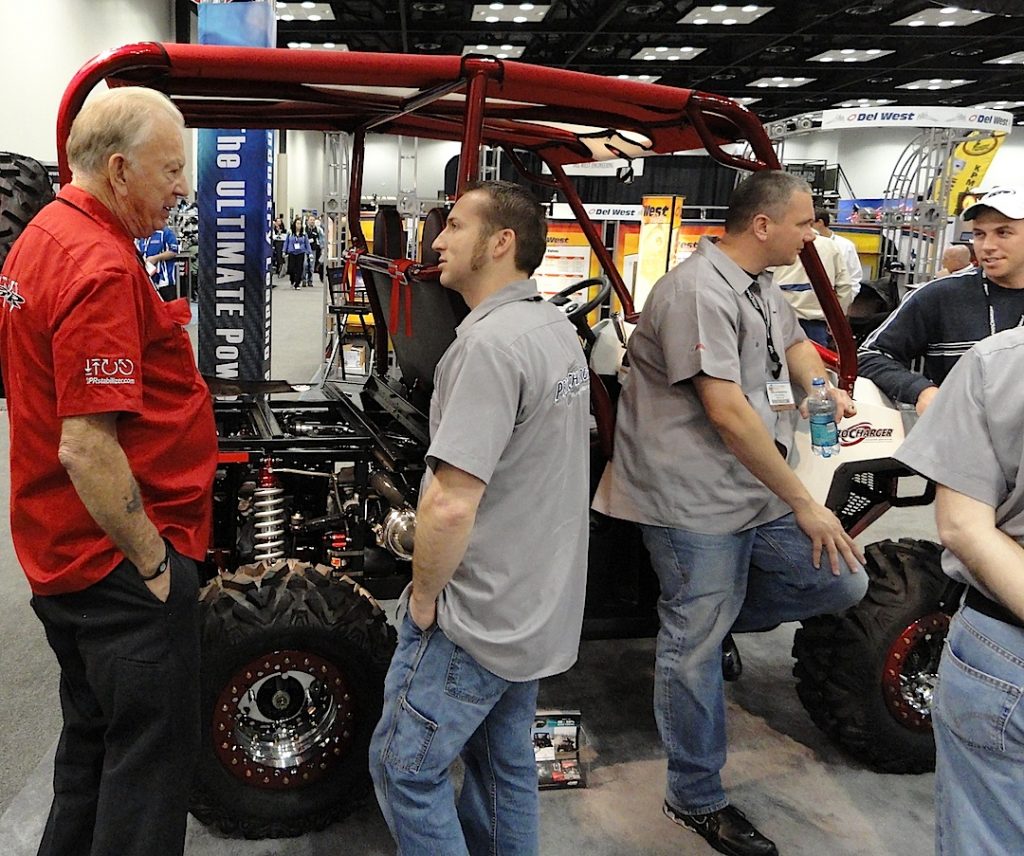 Judging by the response to this rig, you're gonna be seeing a lot of customized Polaris Ranger XPs taking to the desert and trails this next year.
Complete intercooled supercharger systems and tuner kits for the Ranger XP 800 and Ranger Crew 800 are available and shipping now. Contact the ProCharger sales team at (913) 338-2886, 8:30 AM to 5:30 PM central time, Monday-Friday for more information or if you're ready to make your purchase.
Coming Soon: RZR XP 900 ProCharger supercharger system
Dealer Expo attendees also got some "inside information" regarding the development of a supercharger system for the all-new Polaris RZR XP "extreme performance" UTV. This high-performance rig is currently in the new system R&D process at ProCharger and will be available late spring of 2011. With project horsepower gains of 45 to 50%, these rigs are sure to be a hit with the owners looking for the ultimate in off-road UTV performance.
Check out the new UTV products videos below.
ProCharged Hayabusa motorcycle
The Suzuki Hayabusa motorcycle has a world-wide reputation as being one of the fastest street bikes available to the public. Now, just imagine how fast one is with a ProCharger C-1 supercharger.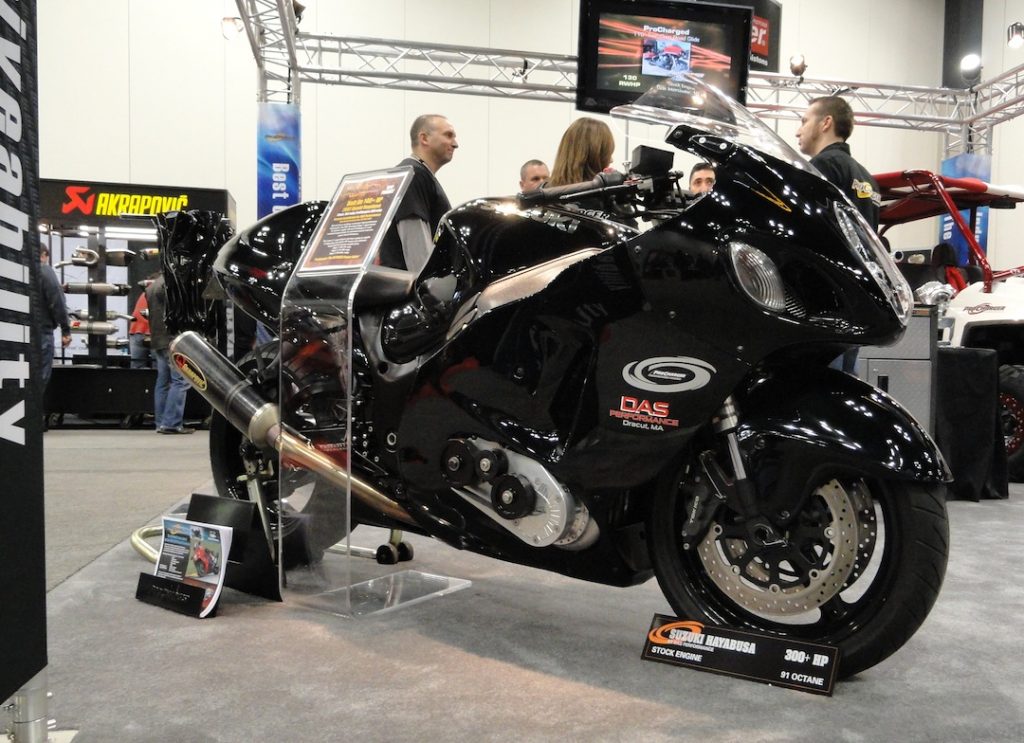 Developed by well-known Hayabusa shop, DAS Performance, the sinister all-black Hayabusa that was shown in the ProCharger display was fitted with a cog belt driven ProCharger C-1 supercharger. Making 308 rwhp from 11 psi of boost, this bike definitely got lots of attention from both dealers and the media. Don't be surprised if you see several magazine features on this bike later the year as well as a run at the Maxton Mile and other standing-mile events.
DAS has developed three different ProCharger-based kits for 1999 to 2011 model year Hayabusas: Stage 1 produces 240-275 rwhp; Stage 2 cranks out 275-350 hp and the wild Stage 3 kit is designed for fully-built engines and is capable of 350 – 550+ HP!
ProCharged Ski-Doo snowmobile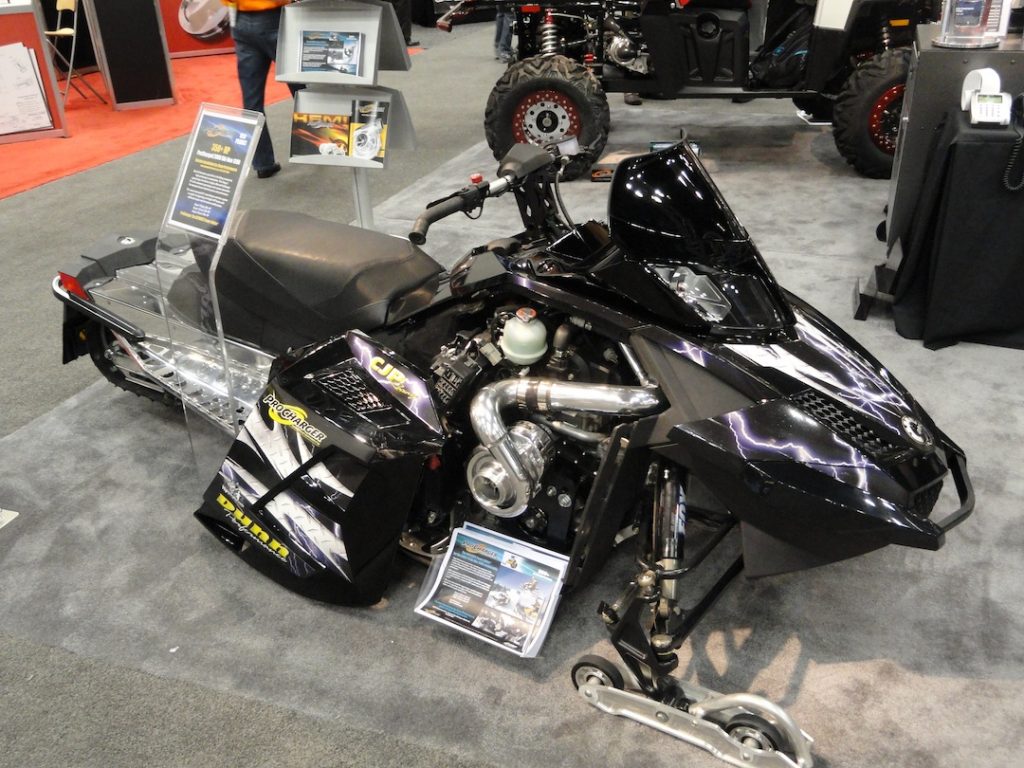 Dunn Performance specializes in building ultra-high performance snowmobiles for drag racing on the snow, grass and asphalt. Cranking out more than 350 HP, the customized Ski-Doo 1200 features a B-1 ProCharger and a custom air-to-water intercooler mounted in the front of the sled. Dunn Performance builds three different kits around the B-1 supercharger; Stage 1 produces 240+ hp with 10 psi; Stage 2 is rated at 350+ HP and the Stage 3 kit is designed for race-built 1200 cc based engines and can produce more than 400 HP.
ProCharged H-D Softail Rocker
Of course, the ProCharger display also featured one of the award-winning V-twin supercharger systems designed specifically for Harley-Davidson motorcycles equipped with the Twin Cam engine. The customized Softail Rocker produces 122 rwhp – a gain of 53 hp – on a completely stock engine. The installation and dyno session was covered by Hot Bike magazine.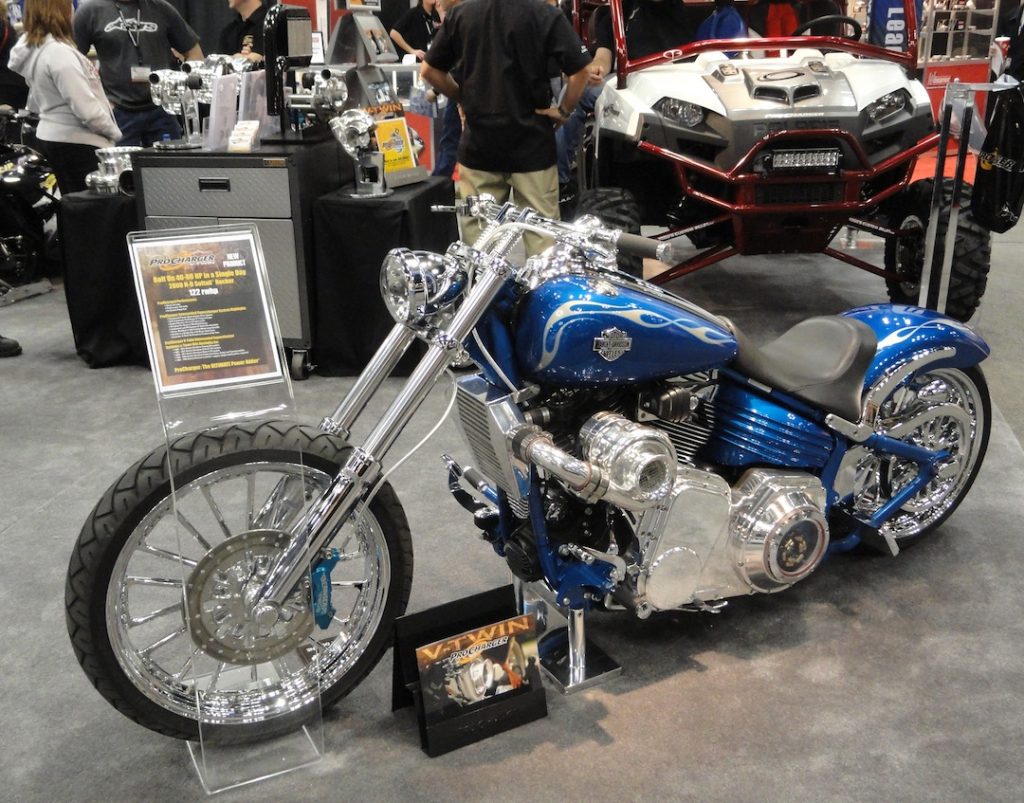 ProCharger also used the Dealer Expo to announce availability of intercooled supercharger systems for the 2011 model year H-D Touring, Dyna and Softail bikes.
More ProCharged V-Twins
ProCharger power was also featured on some H-D motorcycles located outside the display. The Arlen Ness display showed their recently-completed, fully-customized bagger. Featuring a black powder-coated ProCharger supercharger system, this big, beautiful bike should show a 50+ HP gain from the otherwise stock 96-cid engine once it's off the show circuit and put on the dyno.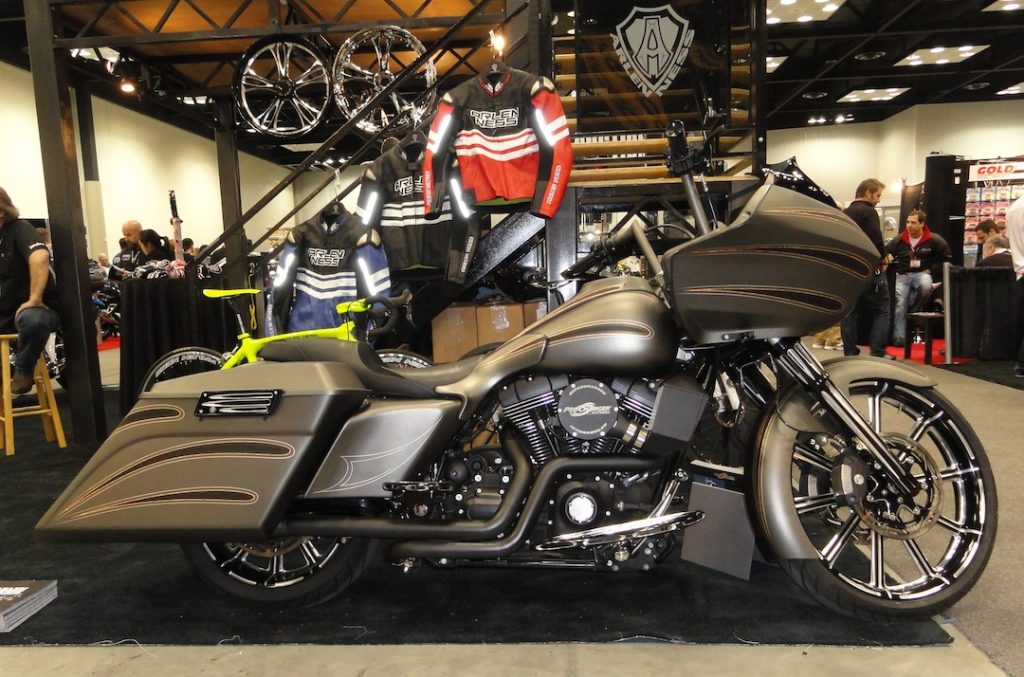 Between the V-Twin Expo, the Dealer Expo and being featured on the cover of their 2011 catalog, the Arlen Ness bike is a real head turner. Be on the lookout for it at other bike events this year.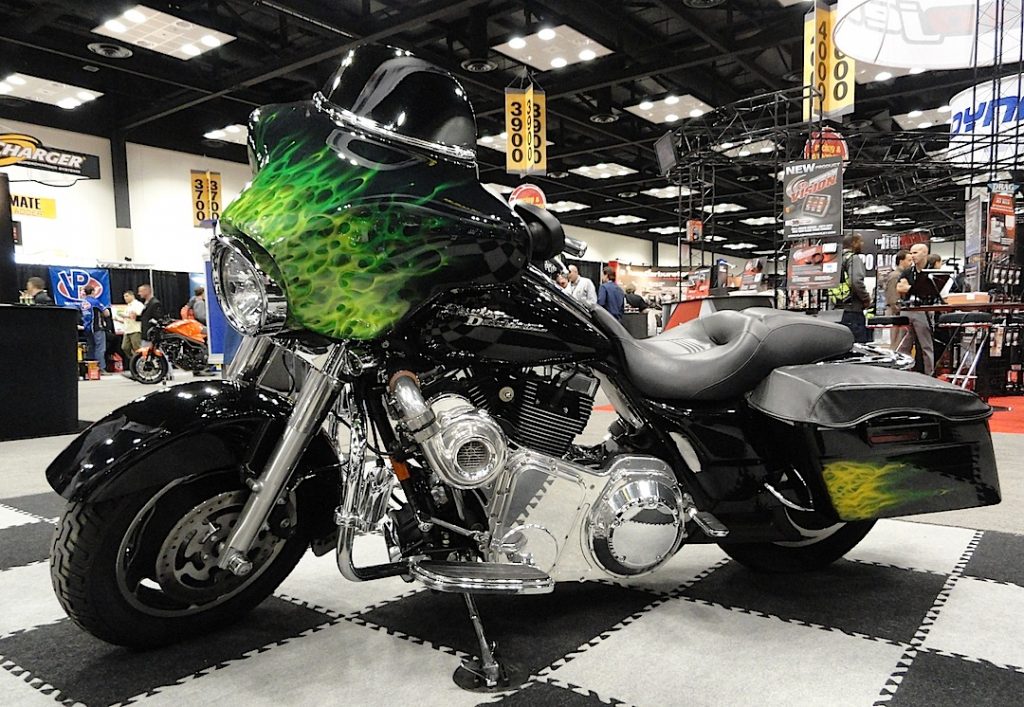 Rush Performance Exhaust also had a ProCharger-equipped bagger in their display (above). Built by Drago's Bike Works, this bike features a modified 96-cid engine and puts down 186 supercharged and intercooled rear-wheel horsepower.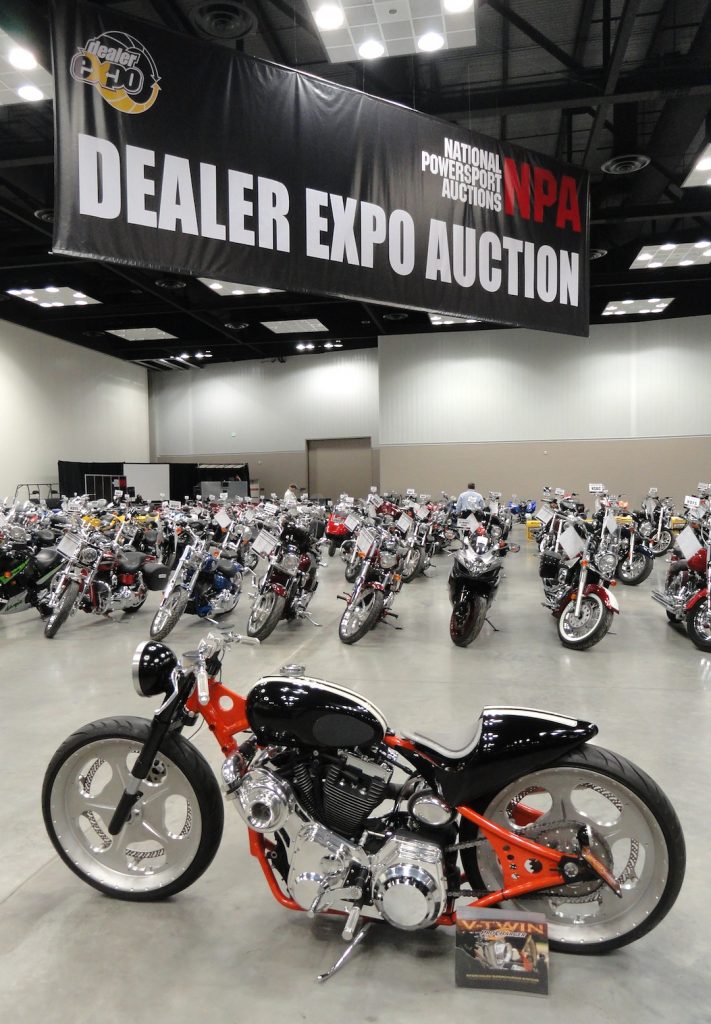 The Leroy-Thompson Choppers custom "Salt Flat" bike was on display at the National Powersports Auction area (above). Featuring fully polished ProCharger supercharger system, this otherwise stock, carburetor-equipped 88 cid V-twin cranks out 120 rwhp and was turning heads all weekend with it's cool custom design and significant power levels.
Two wheels, four wheels or no wheels, ProCharger power is taking the powersports world by storm. Check out the updated Powersports pages at ProCharger.com.