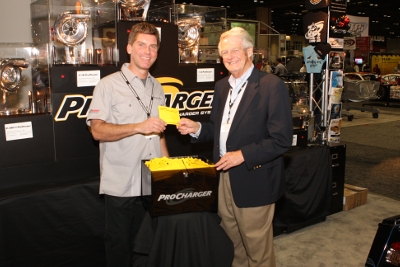 PROCHARGER SUPERCHARGER GIVEAWAY
ProCharger had a fantastic showing at the recent Performance Racing Industry Trade Show, with one of the largest displays in the show. The ProCharger events crew debuted several new products at the show, including our new GM LSx transplant system that is designed for EFI and carbureted LSx motors in classic muscle cars. The display also featured the NMCA Pro Street Championship winning Camaro of Mark Micke, powered by the legendary ProCharger F-3R-139 supercharger, as well as several other ProCharged vehicles and engines.
The show also served as the spot where Ken Jones of ProCharger and Roger Gustafson of the Super Chevy Show drew for the winner of the ProCharger Supercharger Giveaway. The ProCharger "big-rig" travels all over the country every year to attend several Super Chevy events. At each event, spectators can enter their name to win a free ProCharger supercharger system which is drawn at the PRI show at the end of the year. This year's winner was Jimmy M. from Batesville, MS.
ProCharger would like to congratulate Jimmy on his new ProCharger supercharger system.
For more information and photos click here to see ProCharger at PRI.
Want a chance to win something from ProCharger? Check out the ProCharger Video Challenge for a chance to win $5,000 cash! Click Here.