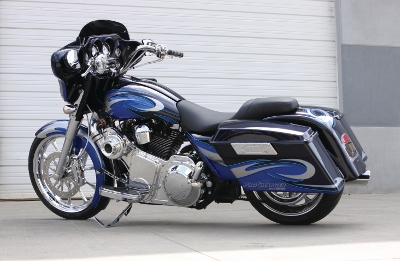 PROCHARGER SUPERCHARGED 200 WHP BAGGER
When the ProCharger V-Twin Crew got hold of this 2007 FLHX Street Glide we knew big things were to come. The bike now features a Fat Baggers Inc. (FBI) conversion, a Jim's 120-cubic inch EFI engine, and a D&D Boarzilla 2-into-1 exhuast. This bagger also features our H.O. Intercooled ProCharger supercharger system for 2007 Touring bikes.
This bike put down a solid 200.98 RWHP and 167.28 ft-lbs of torque on pump gas (on a conservative dyno)! Cruising down the highway in comfort with a navigation system and 200 ProCharged horsepower at the tire; it doesn't get much better than that.
Keep your eye open for this bike and the ProCharger rig at all of the big V-Twin events in 2009.