PROCHARGER STORMS PRI WITH NEW F-4 SUPERCHARGER AND MORE NEW RACE PRODUCTS
To say that ProCharger's new F-4 supercharger was the absolute buzz of the 2009 Performance Racing Industry (PRI) show is like saying a tornado is a gentle breeze.
Keeping the new supercharger model under wraps until the opening morning of the show, it didn't take long for word to spread like wildfire throughout the show. Text messages, cell phone calls and cell phone images of the new, ulta-high HP-capable F-4 kept the ProCharger display packed with power-hungry racers and engine builders.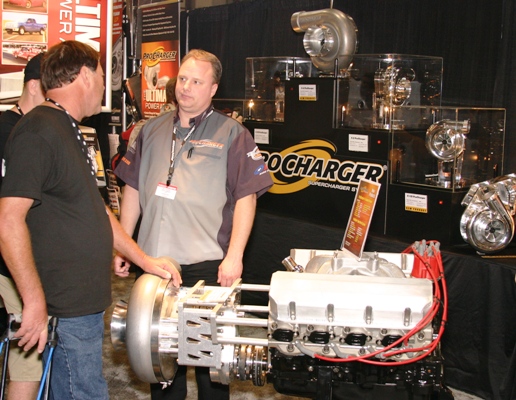 The new ProCharger F-4 supercharger features the performance and racing industry's first application of a 16-inch diameter volute, or compressor housing. Utilizing ProCharger's patented and proven self-contained transmission, as well as the patented high-speed compound bearing assembly the new F-4 model is rated at 3,200+ horsepower while providing 5,400 CFM maximum airflow and 45 PSI maximum boost.
"Obviously, the F-4 model represents the next level of centrifugal supercharger performance and horsepower potential," notes Jim Summers, ProCharger Motorsports Director. "We are looking forward to working with some of the top engine builders and racers in the industry to see the F-4's true performance potential realized on the track and in other motorsports applications."
ProDrive Supercharger Gear Drive
Designed specifically for the new F-4 supercharger, the ProDrive supercharger gear drive will allow racers to locate F-4 and F-3 supercharger models in front of and above the centerline of the engine's crank shaft.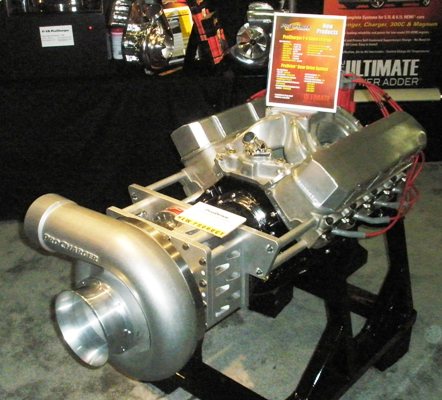 Both the new F-4 ProCharger and ProDrive Gear Drive are available for order now with delivery in Spring 2010.
More New Race Products
In addition to the 11 new products that were displayed at the SEMA show, ProCharger had three more to debut at PRI: the F-4, ProDrive Gear Drive and a 3V Reverse Cog Race Kit.
Mustang 3V Reverse Cog Race Kit
Realizing the performance potential of modified Ford 3V engines, ProCharger is once again leading the way with a Reverse Cog Race Kit designed specifically for 2005-2010 Mustang GTs or other race vehicles running the high-tech 3V engine.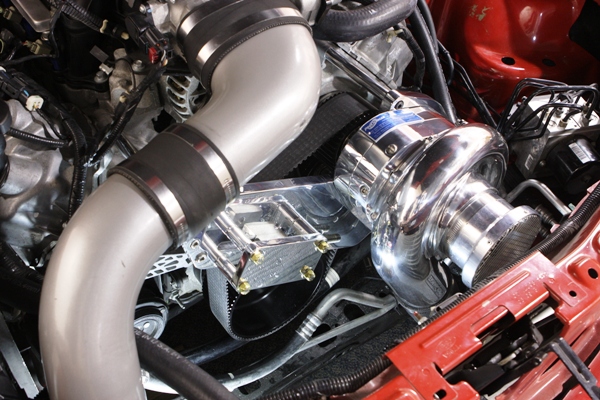 Utilizing a dedicated, 50mm-wide cog drive and tensioner system, the heavy-duty bracket provides a solid, stable, forward-facing mounting location for a wide range of ProCharger supercharger models, including the F-1 thru F-2 self-contained superchargers.
The new 3V Reverse Cog Race Kit, along with the previously-announced 3V Cog Race Kit will be available in the spring of 2010. Give ProCharger at call at (913) 338-2886 if you'd like to receive additional information.
New ProCharger F-1D supercharger
Show for the first time at SEMA, the new F-1D self-contained supercharger model was also on display for the power-hungry racers. Designed as more streetable F-Series supercharger, the F-1D provides better boost response in high horsepower street applications than the more competition oriented F-1C and F-1R models.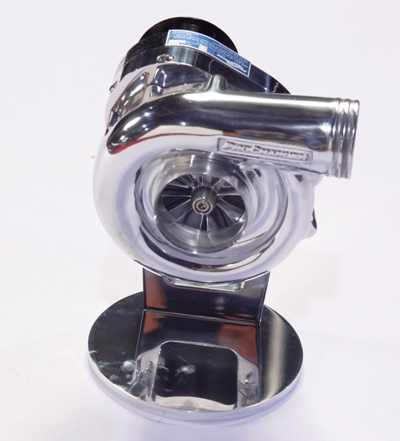 Rated at 1,000 hp, the F-1D utilizes a 9-inch volute, self-contained F-Series transmission, 5.40:1 step-up ratio and provides 1,500 CFM of airflow at 38 PSI max and a maximum impeller speed of 65,000 RPM.
Matherly Debuts 2010 NMRA Real Street Mustang
Having raced his way to his third NMRA Real Street Championship, Tim Matherly debuted his all-new, ProCharger-equipped 2010 Mustang GT at the PRI Show. Built in 18 weeks from a body-in-white, Matherly's Mustang is beautifully constructed and will once again be a force to be reckoned with in the NMRA's bumper-dragging Real Street racing.
Check out the complete listing of all our 2009 Champions.