PROCHARGER ROLLS OUT A BRAND NEW SITE!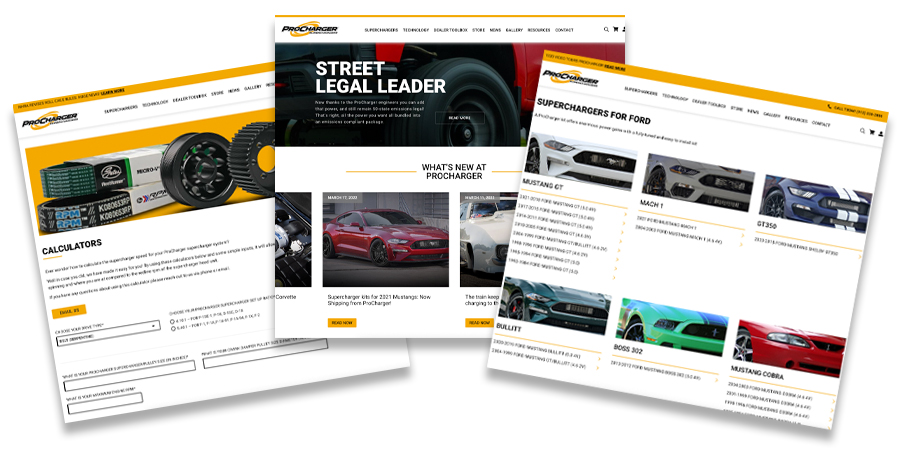 FULLY UPGRADED, JUST LIKE OUR CARS…
That's right, ladies and gentlemen, ProCharger has a new website! It's the same great content but in a much nicer package. If you can't already tell, the new website has simplified navigation, is mobile-friendly, faster, and has an updated, modern look and feel. Our goal is to make it easier for you to find what you are looking for, faster and easier. We would love to hear what you think of the new website.
PACKED WITH NEW FEATURES…
Besides the look and feel updates, we are also excited to introduce you to some awesome new features we added. As with anything that's "brand new", you might find some bugs. So we sincerely thank you for your patience, and if you are kind enough to report any issues you might have, we would sincerely appreciate it.
New features include:
Mobile friendly eCommerce
Configure your ProCharger kit
Dealer Locator by vehicle type
Gallery updates with ProGroup badging
Track your purchases and account summary.
For more information about these awesome new features, we will break them down in the section below.
---
Mobile-friendly e-commerce for parts and merch shopping
It's never been easier to shop and order ProCharger merch and parts. From t-shirts to replacement oil, our e-commerce store is fast, easy to use, and, most importantly, mobile-friendly! Time to stock up on the latest ProCharger merch, so you can flaunt your love of ProCharger wherever you go.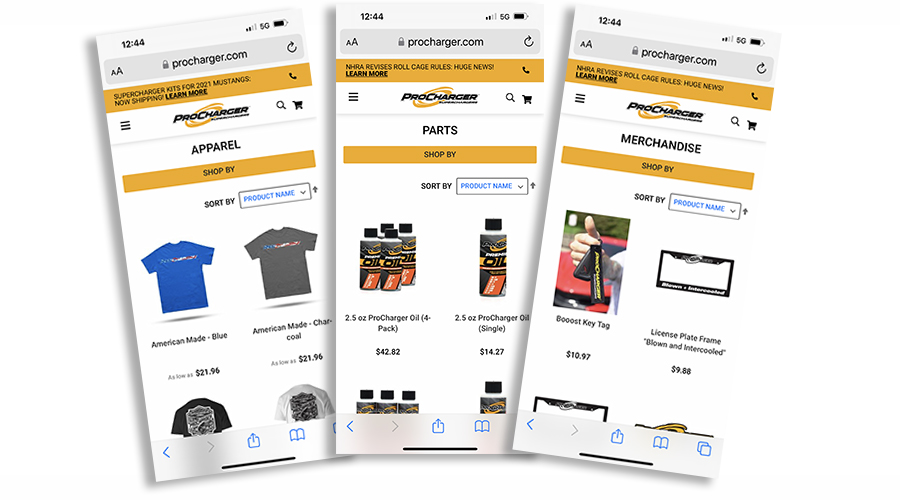 ---
Configure Your ProCharger
One of the best things about ordering a ProCharger is your ability to customize it. For most vehicles, and depending on where you live, we offer multiple options for every product. Navigating these complex pricing and options has been a challenge with the Applications Price Guide, but no more… Now you can simply identify your vehicle setup and configure your ideal ProCharger using our simple 4-step process. Pricing and options are now straightforward and available for you to email a copy to yourself or your dealer.
Click on build and price
Fill out some details on your ride
Select the systems available
Add or remove the options you wish
Yup, it really is that easy…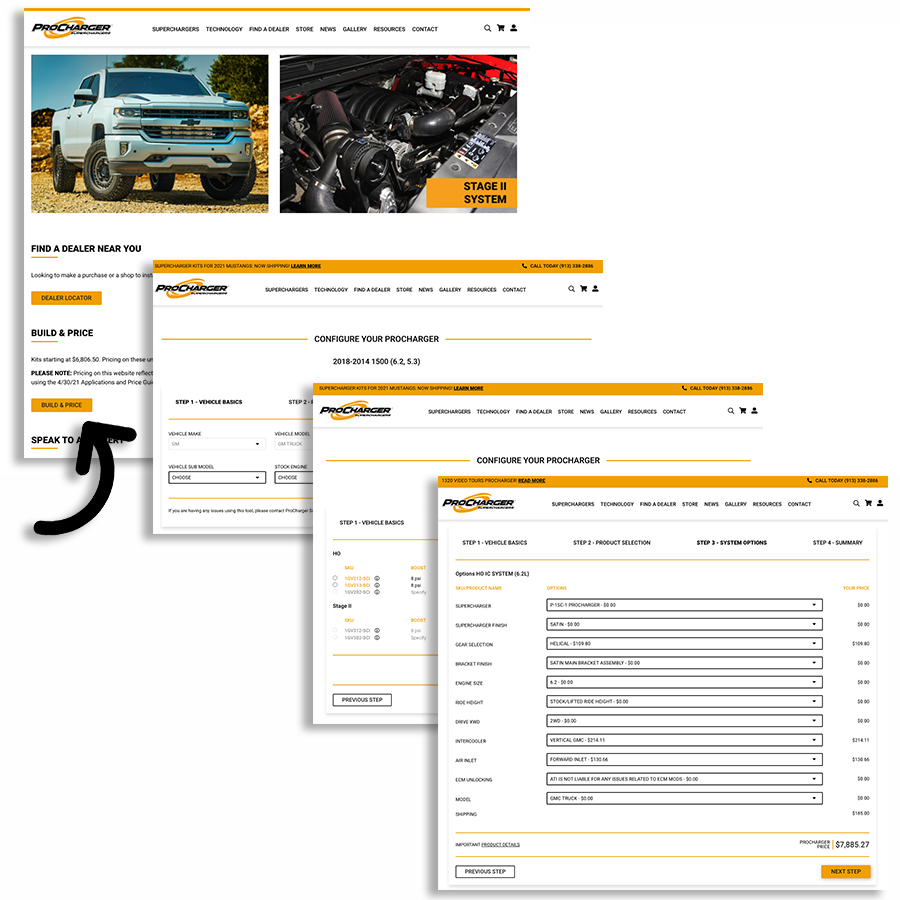 ---
Filter Dealer Locator results by vehicle type
Searching for motorcycle, marine, or other vehicle types was not available on the old website, which made it time-consuming or impossible to find a suitable dealer for your application. Our new website allows users to filter dealer results based on vehicle type. Happy searching!

---
PROgroup members are highlighted in the Gallery
PROgroup members are our biggest fans. And we are theirs. If you are a PROgroup member and you have submitted a vehicle to our Gallery, you should now see a PROgroup badge on your main image.

---
Want to know more about the site, or boost?
Feel free to give our sales staff a call or email us at the following contact methods below. Or you can click HERE to find a dealer nearby to help out with your vehicle. We will be happy to assist you with any technical questions about supercharger systems and the results you can expect.
Phone – (913) 338-2886
Mon – Frid 8am – 5:30pm CST
Sales Email – [email protected]
Tech Email – [email protected]