PROCHARGER RACERS WINNING BIG $$$: NPK, N/T, NHRA, STREET CAR EVENTS AND MORE!
WINS, WINS, AND MORE WINS!
Each and every year racers with ProCharger supercharged power plants set records, win races, and take home championships. However, this 2021 season seems to be absolutely on fire, because we can hardly keep up with all the racers taking home big $$$ purses.
The best part is that these aren't just from one small part of the racing scene, these wins come from street-driven weekend warriors to professional level ProMod racers, and even the TV stars we all know and love in the NoPrep scene. No matter what the class, we are all proud of every one of these cars, its driver, crew, and family.
So let's dive into the blog, and highlight some of the wins…
---
NOPREP KINGS — PROCHARGER RACERS WIN $185,000+ !
That massive amount of money won by ProCharger supercharged racers makes a big statement, and so does the fact that 5 of the top 10 cars are ProCharger powered. Here are some of the highlights from the NPK event series.
ERIC KVILHAUG TAKES HOME $40,000 AT NOPREP KINGS CORDOVA:
This C7 Corvette makes a statement not only with its looks but also with its performance. This time Eric and the team, drove this ProCharger F-3R-136 ProLine HEMI combo right into the NPK winners circle. Keep an eye on this team, cause the competitors have noticed this isn't the first time Eric has put this car in the winner's circle.
RYAN MARTIN CELEBRATES THREE MASSIVE NOPREP KINGS WINS!
Ryan started off the winning streak down in FL at Palm Beach International, with the Big tire class win, then followed it up with another win in Maple Grove in the same class. However, he didn't stop there and also took home the Outlaw Big Tire win at the very same event with the "OG" red Fireball Camaro (also ProCharger F-4X powered). We are sure Ryan and his team are ecstatic, and so is the bank account.
SCOTT TAYLOR BRINGS IN $15,000 FOR TEAM ATTACK WIN AT NPK:
Scott is no stranger to doing what it takes to win, and well that's exactly what he and his team did. They took their silver firebird right into the money round at the Cordova NPK event and came up with the win. Scott relies on a ProCharger F-4X / Hemi combo to make sure this bird gets the job done.
JUSTIN SWANSTROM WINS $40,000 AT NOPREP KINGS SGMP:
Anyone that follows the NoPrep series, likey also follows Justin and his crew. These guys have worked hard as heck all year to get this new combo lined out, to compete at the top of the class. And it's clearly paid off, as he not only took the win but is also 5th in points at this time.
---
NHRA — JOSE GONZALES GOES BACK TO BACK IN PRO MOD!
Let's be honest, Jose is on fire with his ProCharger ProMod Camaro. Early in the year, he set the NHRA Pro Mod record, then won that very same event. And now goes back to back wins, first in Norwalk VA, then in Bandimere CO to collect two Wally's in a row! Between driver skill, a talented crew, and deadly consistent ProCharged powerplant, these guys come to win, and we love watching!
---
SAMANTHA MOORE SWITCHES TO PROCHARGER, WINS FIRST EVENT!
Tipping the scales at 3,875lbs this full-blown street Mustang runs 8.30's with a P-1X, takes home the event win…all on its first outing after switching power adders to ProCharger! The class is known as Limited street which put simple = Streetcar, street blower, and almost in the 7's… which blows our minds! (pun intended). We are looking forward to seeing how fast Vector Motorsports can get this Coyote power plant to go, even in such a heavy class legal car.
CLICK HERE FOR DETAILED ENGINE WRITE UP
TONY HOBSON GOES BACK-TO-BACK WINS IN NMRA STREET OUTLAW!
Tony joined the ProCharger family of racers In 2019 when he added a ProCharger supercharger to his 2014 S197 Mustang race car, powered by an SBF, and did very well. Now, all racers want to go faster, and thus this Fox became the focus. Even after rather quickly getting the drivetrain swapped over, its already proven itself with back-to-back wins in the NMRA series. We are really looking forward to what this slick-looking coupe does next.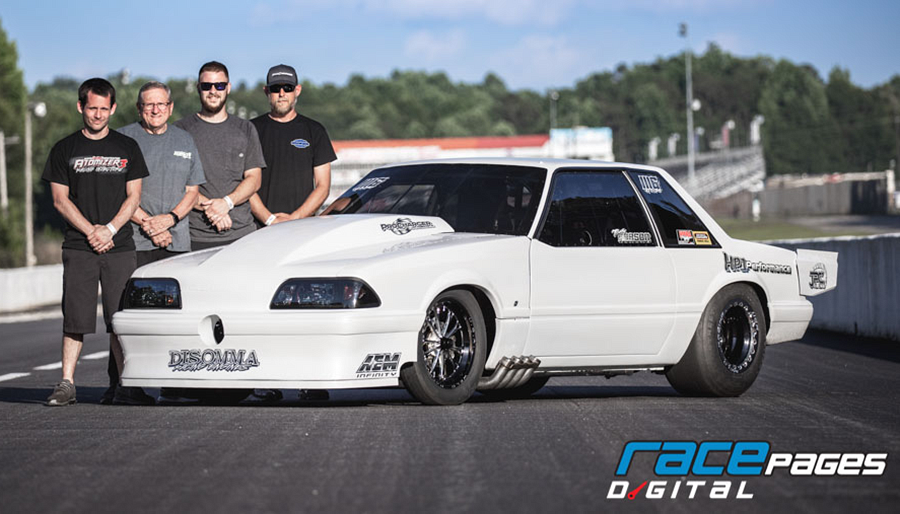 ---
PROCHARGER TEAMS GO BACK TO BACK IN PDRA PRO BOOST!
Daniel Pharris the superstar of small tire, is making a name for himself in PDRA Pro Boost class. Winning yet again another race in his ProLine Hemi / ProCharger F-4X powered Camaro. This team / driver / car made waves in the radial world as well, when they were the first to hit the 3.40's on a drag radial tire earlier in the year. We are all wishing Daniel and the team continued success in this years race events.
Kevin Rivenbark is a name we talk about often. Because for the past couple years Kevin and his team have been knocking down wins, records, and even a championship. This time we are talking about the recent win over in the Pro Boost class at PDRA. Kevins power train is virtually a twin to the car above, also featuring a ProLine Hemi ProCharger F-4X combo. When Kevin is behind the wheel, we know the next win is just around the corner, so keep your eyes on this Camaro.
---
ANDY SMITH / BRADLEY JUSTUS WIN STICK SHIFT CLASS AGAIN!
This little white coupe has done it again! Running down the entire stick shift class (which isn't easy) and rolling to another win at the Street Car Takeover event in Michigan (previously was their win in OKC). Currently, this LS-powered fox is running a T-56 and a ProCharger F-1A-94, however, rumors have it, the team is looking to turn up the wick a little more…keep your eyes peeled on this car in the future.
---
HERE ARE EVEN MORE AMAZING WINNING PROCHARGER TEAMS!
Brent Self JJ's Arm Drop Bonne Terre Raceway – 6/5/21 Small Tire F3R-136
Eric Dillard Summerslam – Middle Georgia Motorsports Park – 6/5/21 Pro275 F3X-140
Rusty Baxter NHRA Divisional – Tulsa -6/13/21 Top Dragster F2
John "Quick" Kramer Pour Your Own Puddle – Onadaga Dragway – 6/12/21 Big Tire F3R-136
Bradley Johnson NHRA Divisional – Bandimere – 6/20/21 Top Dragster F3R-112
Rodney Weisser CATC #1 – Grove Creek Dragway – 6/19/21 Big Tire F3R-136
Brent Self Battle of the Bears – Byhalia Raceway – 6/19/21 Small Tire F3R-136
Lamar Swindoll SCSN – Ennis – 6/19/21 Pro275 N/T F3X-140
Johnny Coleman SCSN – Ennis – 6/19/21 Small Tire N/T F3R-136
Brendon Mock MAD Heads Up – Mid America Dragway – 6/19/21
Small Tire F3R-121 Jim Tietge Hoosier No Prep – Marion County Dragway – 6/19/21
Big Tire F3R-136 Dave Comstock NPK – Palm Beach – 6/19/21 Outlaw Big Tire F3X-140
Michael White PDRA – MIR – 6/26/21 Top Dragster F3R-112
Manny Buginga New England N/T – New England Dragway – 6/26/21 N/T 275 F3X-140
Joey Mauro New England N/T – New England Dragway – 6/26/21 N/T 235 F1A-94
Nick Rowland Freedom for All – Ozark Raceway 7/3/21 Small Tire Truck F1X
Lamar Swindoll Redemption Rogue – Texas Motorplex 7/10/21 Extreme Small Tire F3X-140
Brian Carpenter Cash at the Creek – Grove Creek Raceway – 7/17/21 N/T F3R-112
Tim Essick PDRA – VMP 7/17/21 Pro Street F3R-136
Jimmy Lewis NHRA – Bandimere 7/18/21 Top Sportsman F3R-121RD
Blake Peavler NHRA – Jegs Sport Nationals – National Trails 7/18/21 Top Dragster F3R-112
---
PROCHARGER CAN HELP PUT THE WINS AND $$$ IN YOUR POCKET!
Give our racing staff a call or an email at the following contact methods below. We will be happy to assist you with any technical questions you may have about our systems, and the results you can expect. Thanks for reading!
Phone – (913) 338-2886 M-F 8:00am – 5:30pm CST
Racing Email – [email protected]