PROCHARGER RACERS SHOW US SINGLE DIGITS MATTER! (3-4-5-6-7-8-9)
THERE ARE LOTS OF NUMBERS WHEN IT COMES TO RACING…
But those that matter the most come in the form of single digits. After a long day of qualifying and eliminations, only 2 contenders will enter the final rounds, and only 1 will come out the winner.
Here at ProCharger we are determined to make sure your racing program has the power and consistency to put you on the top to bring home the checks. And it's not always about all-out race cars, as we know setting street car records is just as important. From ProMods to Daily drivers, let's take a look at some highlighted "single digit" accomplishments our amazing customers have had this year…
---
3 – SECOND PROMOD'S AND RADIAL MACHINES!
Eric Dillard debuted his new Camaro just weeks ago, and on its maiden voyage went right to the final round in the Elite 16 Pro Modified class! In just a matter of passes, this car clicked off 3.60's like it was easy as pie! Obviously, lots of work from talented people make that effort possible, along with the power coming from a AJPE hemi built by Pro Line Racing and stuffed full of air via a ProCharger F-3X-140 supercharger. There are too many details on this amazing new machine to write about here. But thankfully Race Pages magazine for their detailed write up that can be found by clicking HERE.
Over the years, James Lawrence has dominated various classes with many different cars. Though his most recent creation in the form of a Corvette C7 has really caught everyone's attention. Not only have him and his crew created a show worthy masterpiece, but also one that has dominated across the US all year. That domination has led to a National Championship this year in the NMCA! The power plant behind this C7 is much like the car above, a Pro Line Hemi backed by a ProCharger F-3R-136 supercharger feeding the beast! We look forward to seeing more of this amazing Corvette in the 2019 season!
---
4 – SECOND STOCK BODY TERRORS!
We have talked about a lot of HEMI's already in this blog. However, Rob Goss has gone a totally different route and is using a brand new modern HEMI. The guys at BES Racing Engines created the ultimate "Gen3" HEMI engine for Rob to handle all the boost the ProCharger F-1X-12 supercharger can create. This bulletproof engine and amazing talented crew have help place Rob and his Challenger at the top of the record books. Not only is this car the fastest Gen3 HEMI that has ever existed, but it also takes home the wins at the track when it counts. We wish Rob and his crew the best in the 2019 season!
The car known as Gold Dust pretty much defined the word "domination" this year in the class known as Street Outlaw. With Shawn Ayers behind the wheel of the Fletcher Cox owned machine, they came home with this year's National Championship in the NMCA. This Mustangs DiSomma 470 cube small block Ford is force-fed air from a ProCharger F-1X-12 supercharger and tuned by the Bruder brothers. Can they go back to back in 2019? We sure hope so!
---
5 – SECOND 1/4 MILE JUGGERNAUT CAMARO'S!
Debuted at PRI last year, Shane Novak's show quality 1969 Camaro had everyone's jaws on the floor. Almost straight off the trailer, this Camaro powered itself into the 5-second zone. That stunning effort was made possible thanks to boost from a ProCharger F-3X-143 and Hemi from Pro Line. This powerhouse will be back for more track action in 2019, and we look forward to seeing just how fast this slick looking machine can go!
Benjamin Board has been a ProCharger supercharged racer for almost as long as we can remember. For years he campaigned one of the fastest small block Chevys on the planet, powered by a ProCharger F-3R-121. However recently he has made the swap to a BAE HEMI and ProCharger F-3R-136 supercharger combo. This switch has resulted in an interesting issue to have…being DQ'ed at events for being too fast! Yes, Benjamin and his crew have been trying to keep this car dialed in right at the edge of a 6.0-6.10 elapse time, however, the car just wants to keep running in the 5's. One thing is for sure, we aren't mad about it, and we doubt Benjamin is either.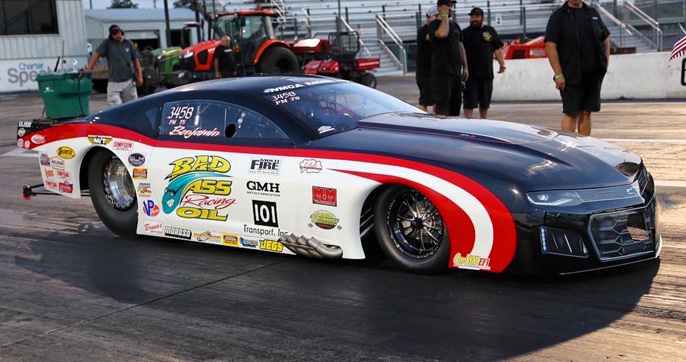 ---
6 – SECOND MUSTANG'S (OLD AND NEW)
Brian LaFlam has made waves in 2018 by placing his gorgeous vintage Mustang firmly in the final rounds of Top Sportsman NHRA. His ProCharger F-3R-136 supercharger feeds boost into a BAE Hemi, while Brian cuts those amazing lights at the tree. Due to the time restrictions on this class, we have no idea how fast this Mustang could go, but if you are lined up next to it, you better be on your game. Brian has got the driving down to an art, the crews got the car dialed in, and there is more than enough ProCharger power on tap to take the win.
Tim Essick just recently finished his build on this amazing Mustang IN HIS GARAGE! Yes, this home built hot rod just recently debuted and has already set a few amazing numbers. First to the 3.80's on 10.5 slicks in the 1/8, and just recently came off another huge win at the World Cup Finals! Tim relies on his ProCharger F-3R-136 supercharger to give him the reliable boost he needs to keep his 481X engine fed!
---
7 – SECOND FULL INTERIOR STREET CORVETTES!
On the other end of the spectrum from the cars listed above, we have a couple Corvettes. These cars still rock full interiors, air conditioning, power steering, and even stereos and sat navigation.
Wonder if the guys at Advanced Modern Performance put "record books" into the navigation unit before they set out on this 7.76 pass below? Either way, this Z06 Corvette equipped with the AMP 5x package just set the "Boost Only" record for the quickest/fastest Corvette C7. Power comes from an LME engine and ProCharger F-1X supercharger and loads of custom goodies from the guys at AMP. We all wish AMP the best in their quest for even faster times as the weather allows.
The overall Corvette C7 record holder is also a ProCharger powered machine with a time of 7.55! Built by the guys at Late Model Racecraft, this innocent looking Stingray C7 goes mid 7's at 184 mph! We don't blame them for the amount of excitement in this video, since this amazing car just keeps getting faster each time it goes out. This LT based Corvette is powered by a ProCharger F-1X and also assisted with N20 to achieve these stellar times. Will they turn it up next time out and shoot for the 6's? We sure hope so.
---
8 – SECOND STREET CAR SLEEPERS!
Bobby Akers owns Kentucky Speed (builder/owner of this Corvette) and now also owns the C6 record for fastest 6L80 Corvette! We love seeing this well-dialed street car setting the bar high, and doing it with our new street supercharger, the D-1X! This street C6 has a forged LS2, converter, and supporting mods and we suspect is going to set the bar even higher in 2019!
---
9 – SECOND BOLT-ON SYSTEMS!
Walter Stietzel has the perfect example of a pump gas, bolt on, car that dives into the single digit 1/4 mile zone. His 2016 Mustang features our standard P-1SC-1 head unit, 11psi of boost, and trips the beams at 140mph! Walter enlisted BA Motorsport and Palm Beach Dyno to make sure this car stays running in the 9's for years to come.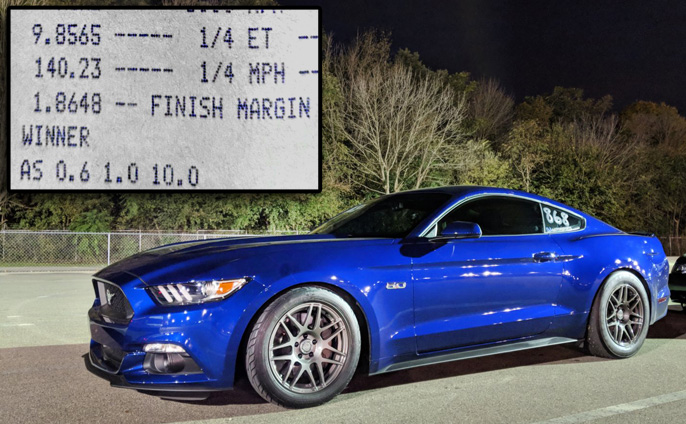 On the other side of the pony wars is Brett Stewart owner of Pray Performance. His ProCharger P-1X powered Camaro runs in the 9.70 zone also at 141mph! His accomplishments are in thanks to his well dialed tune and set up. How fast can this P-1X 6th Gen go? Time will tell!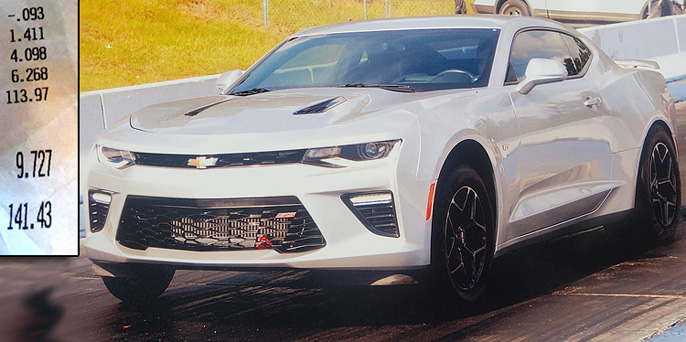 ---
WANT TO ADD YOUR RACE CAR OR DAILY DRIVER TO THIS LIST?
Give our sales staff a call or an email at the following contact methods below. We will be happy to assist you with any technical questions you may have about our systems, and the results you can expect. Thanks for reading!
Phone – (913) 338-2886 M-F 8:30am – 5:30pm CST
Sales Email – [email protected]
Tech Email – [email protected]