PROCHARGER RACERS DOMINATE FROM COAST TO COAST
This past weekend ProCharger powered racers dominated the competition across the country. With five number one qualifying positions and seven wins from these outstanding racers, it's clear why ProCharger is called the Ultimate Power Adder.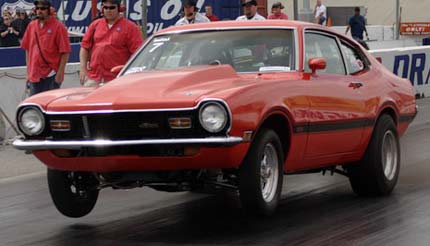 PSCA Las Vegas: Limited Street racer Eric Aldrich took his F1C ProCharger and qualified number one with an 8.40 @ 162 mph. Aldrich's Ford Maverick went all the way to the finals where he took home the victory. In Wild Street, 2010 champion Kevin Young qualified number one with his F2 small block Chevy ProCharged powered Camaro. Kevin also made it to the finals and won the event. Young's best time of the weekend was a 7.62 @ 188 mph. Extreme Drag Radial's Chris Groves was back in action after updating his engine program. The updates paid off as Groves was able to take his F3 ProCharger all the way to the finals and won the event by becoming the first ever centrifugal powered drag radial racer to break the 200mph barrier with a small block!
NMCA World Finals: Xtreme Street racer Enzo Pecchini collected his first win in this highly competitive class. With a brand new small block Ford under the hood and his F1R ProCharger, Enzo marched thru the competition and took home the win. X275 action was more of the same from Jason Lee. Lee qualified number one with and incredible 7.59 @ 183mph all coming from his 9 ¾ inch compressor housing F1R ProCharger. Jason wrapped up his NMCA championship year with a win.

Shakedown @ E-town: Outlaw Drag Radial standout Steve Jackson made the long haul from down south and qualified number one with an outstanding run of 4.44 @ 177mph in the eighth mile. Jackson took on all comers and went to the finals where he took home the win with his F3 ProCharger. X275 racer Rich Bruder took the number one qualifying spot along with a win by running in the 4.80's @ 148mph all from his small block Ford powered F1R ProCharger powered Mustang.
ProCharger along with great core group of racers continues to show the true power, consistency and reliability of a centrifugal supercharger. ProCharger would like to congratulate all this past weekend's top performers along with our current 2011 champions (with more to come):
1. Steve Jackson: Ultimate Outlaws Association Outlaw Drag Radial Champion
2. John Urist: NMRA Super Street Outlaw Champion
3. Jason Lee: NMRA & NMCA X275 Drag Radial Champion
4. Rich Bruder: Yellow Bullet Nationals X275 Champion
5. Scott Smith: Hot Rod Magazine Big Block Power-Adder Drag Week Champion