PROCHARGER RACERS ALREADY OFF TO WINNING WAYS IN 2011
ProCharger-equipped racers are wasting no time in establishing themselves as the force to be reckoned with in 2011 when it comes to heads-up, door-slammer racing.
ORTC Redemption II, Valdosta, GA, Feb 25-27
One of the earliest events of the young drag racing season is the highly anticipated ORTC Redemption II race at Valdosta, Georgia. More than 20 ProCharger-equipped racers made their way to this very popular, 1/8-mile format event, with many using this event to launch into their full seasons of racing.
X275 Racing
While the ProCharger F-1R supercharger may be "out-sized" by the large-frame 88 mm turbos that are allowed in the class, ProCharger racers know how to put the consistent and predictable performance of their superchargers to work in getting down the track.
Even with the rules stacked against them, ProCharger-equipped racers claimed four out of the top 10 qualifying spots in the 52 car field. Richard Bruder led the ProCharger contingent, qualifying in the number four spot with a very stout 4.96 @ 145 mph effort.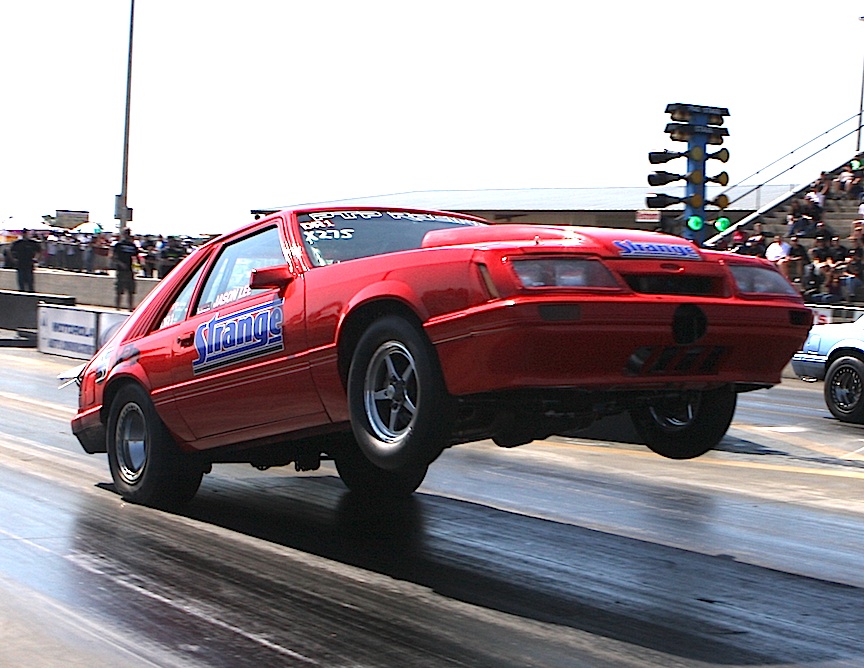 Defending NMRA Drag Radial Champion, Jason Lee
In the number five qualifying position was two-time NMRA drag radial champing Jason Lee with a 4.97 @ 142 mph. In the seventh spot was 2010 and three-time champion, Chris Evans with a 5.00 @ 145 mph, with Canadian Mustang racer Enzo Pecchini right there in the number eight spot with a 5.01 @ 144 mph.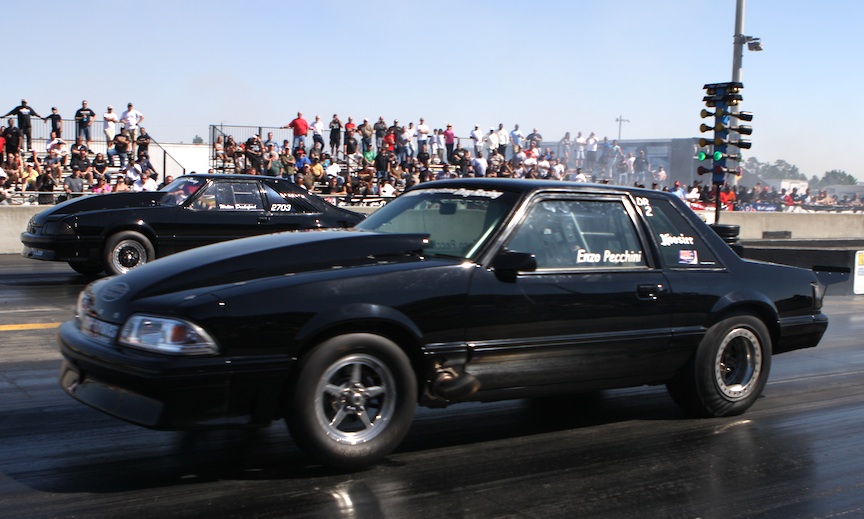 Enzo Pecchini's ProCharged Mustang
Troy Frederickson and Ultimate Street standout Mike Freeman were also qualified with their ProCharger F-1R supercharger combinations.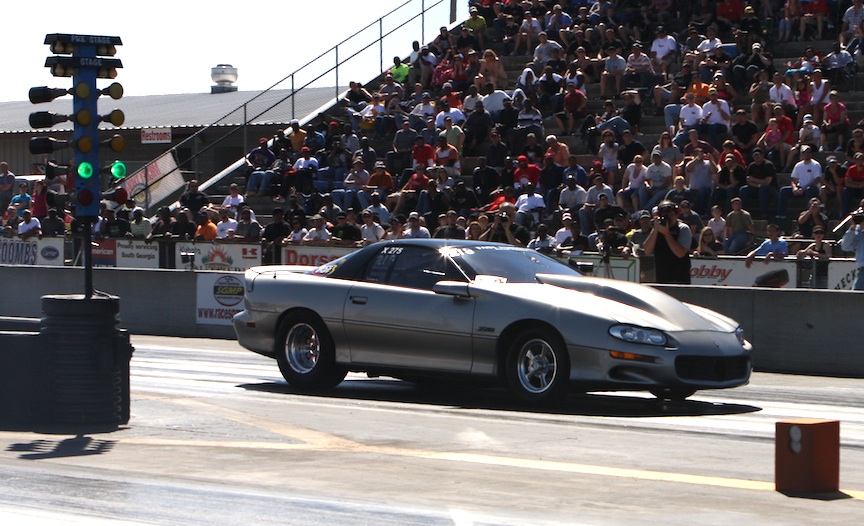 Troy Fredrickson's ProCharged Camaro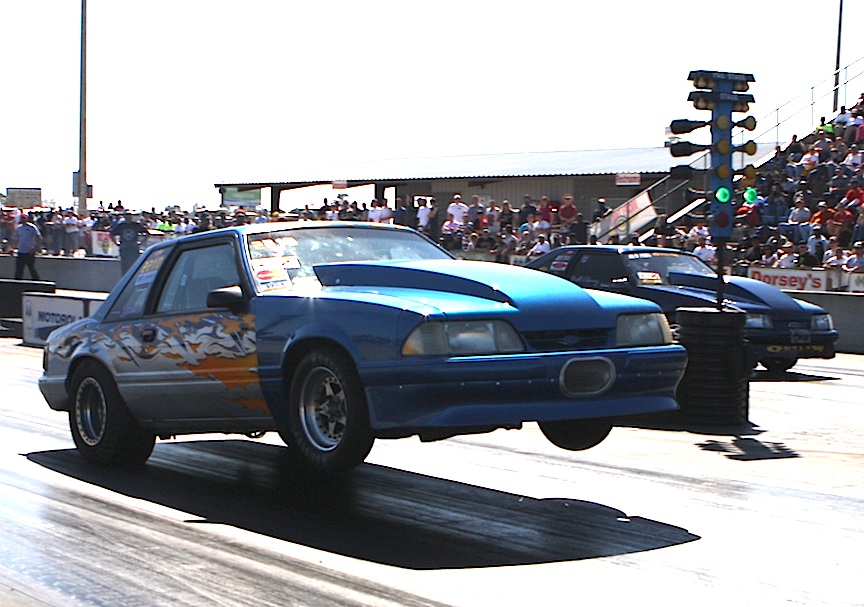 Mike Freedman's ProCharged Mustang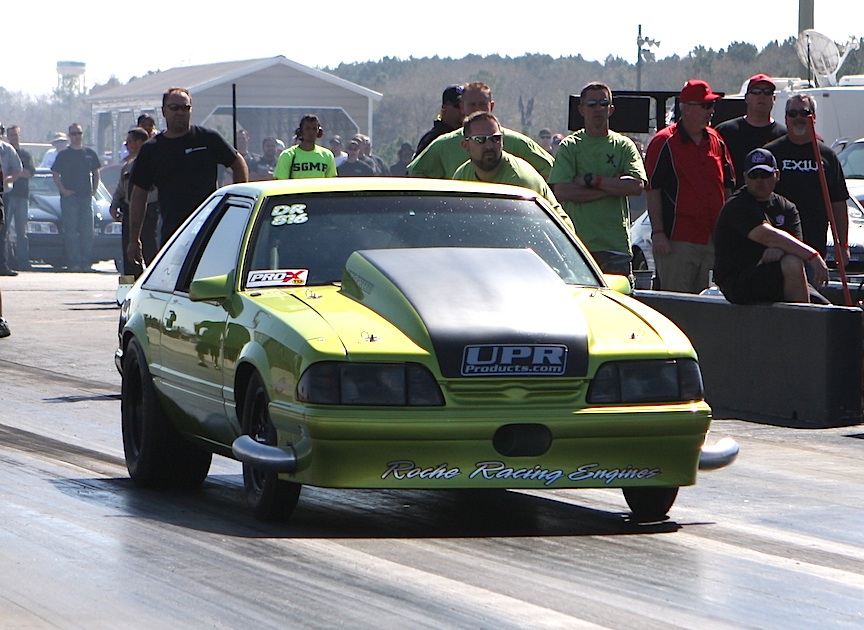 Chris Evans' ProCharged "Big Green" Mustang
Every one of the ProCharger racers won their first round match-ups, with Evans advancing all the way through four rounds of eliminations.
Extreme 275
Trace Meyer brought his small block Ford Mustang equipped with a ProCharger F-2 supercharger to do battle with the turbo and nitrous racers running on a 275 radial tire. With 26 cars on the qualifying ladder, Meyer powered his way to a fifth-place qualifying effort by posting an outstanding 4.90 at 147 mph run.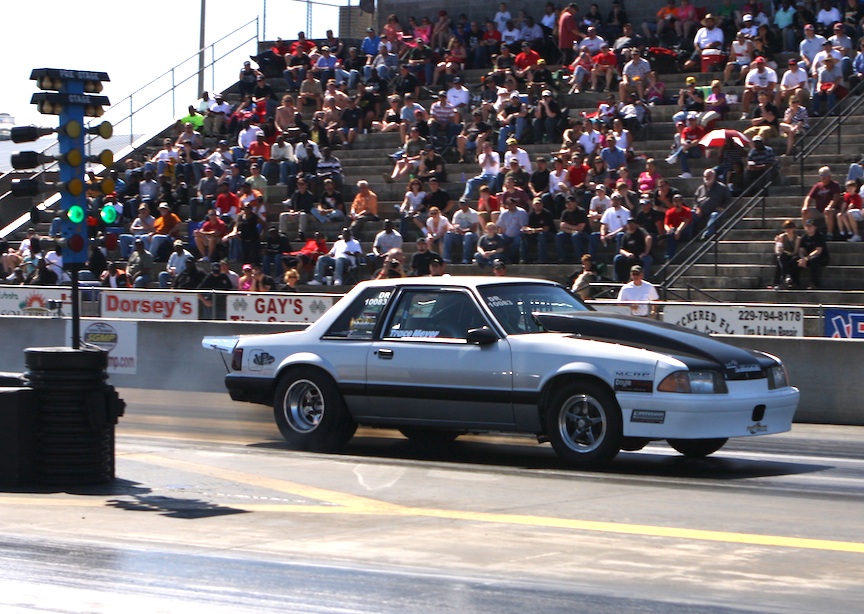 ProCharged Mustang of Trace Meyer
Unfortunately, the track conditions for the first round of eliminations were not the greatest and the F-2 supercharged Mustang simply over powered the small 275 radial tire in the first round.
Outlaw Radial
This highly contested class consists of the quickest and fastest stock suspension radial tire cars in the country. From massive, twin turbo and multiple stage nitrous setups, it seems like everyone is gunning for the legendary F-3 ProCharger-equipped racers. Letting their actions do the talking, ProCharger-equipped racers led the way in qualifying by taking three out of the top five qualifying spots. In the number one position was Steve Jackson, with his F-3R-139 supercharged big block Chevy-powered Mustang blasting to a 4.45 @ 169 mph. Right behind Jackson in the number two spot was Dave Hinzman, who powered his F-3R-135 supercharged Mustang to a 4.49 @ 166.
Qualifying in the number four spot with a 4.55 @ 167 mph pass was Tony Ridenour and his twin F-2 ProCharged big block Chevy Camaro. Securing the eighth spot on the qualifying ladder was Amanda Long. Her F-3R-135 ProCharged big block Ford Mustang clocked in with a 4.68 @ 166 mph pass.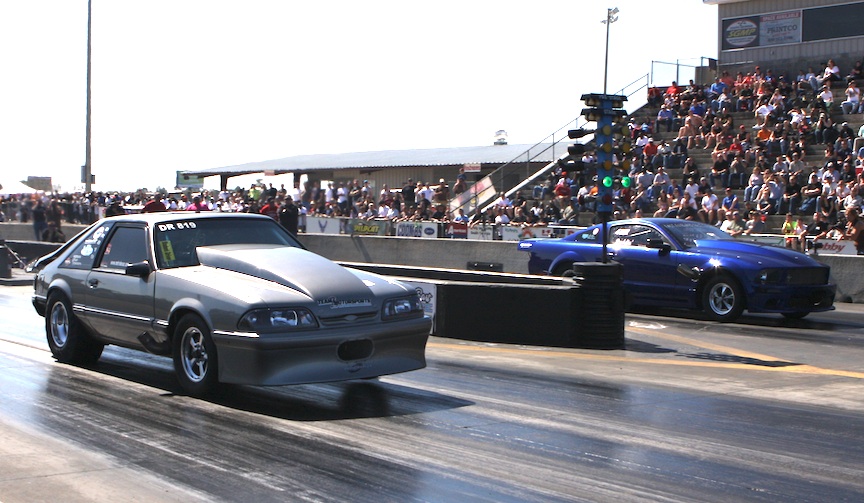 The ProCharged Mustangs of Hinzman and Long line up for a pass
Rounding out this "top dog" class were numerous other ProCharger-equipped racers, including Steve Morris, Tommy Brewer, former NSCA Champion "Mustang Mike" Modeste, DJ Liacono, Jerry Gunter, ex-nitrous racing standout Don Burton, and former ORSCA champion David Reese.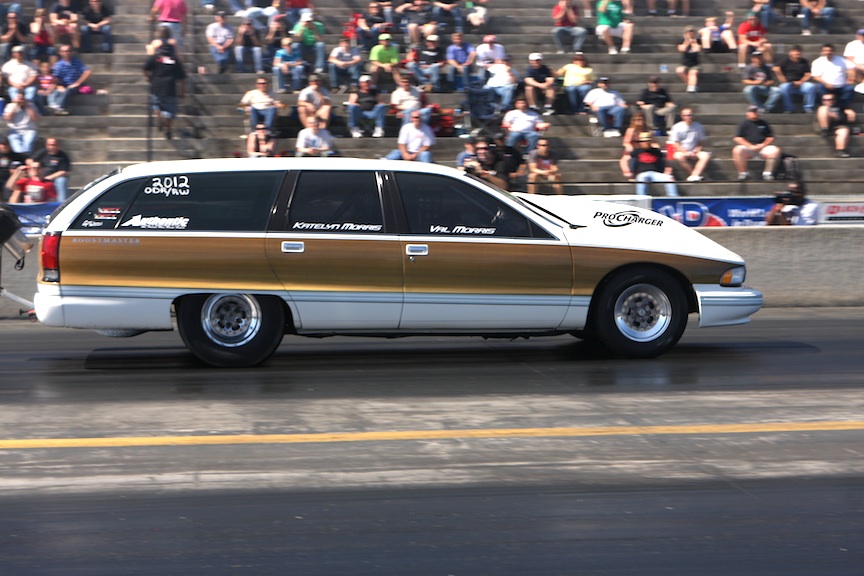 Steve Morris' ProCharged, big block Chevy wagon
Freight-training their way through five rounds of eliminations, Jackson and Hinzman dominated the competition on race day by running consistently quick ET's and eventually found themselves paired up against each other for an all-ProCharger powered final round. In this highly-anticipated match-up of the two quickest and fastest radial tire cars in the country, it was Jackson pulling out the win with an incredible 4.40 @ 179 mph to Hinzman's outstanding 4.51 @ 163 mph pass!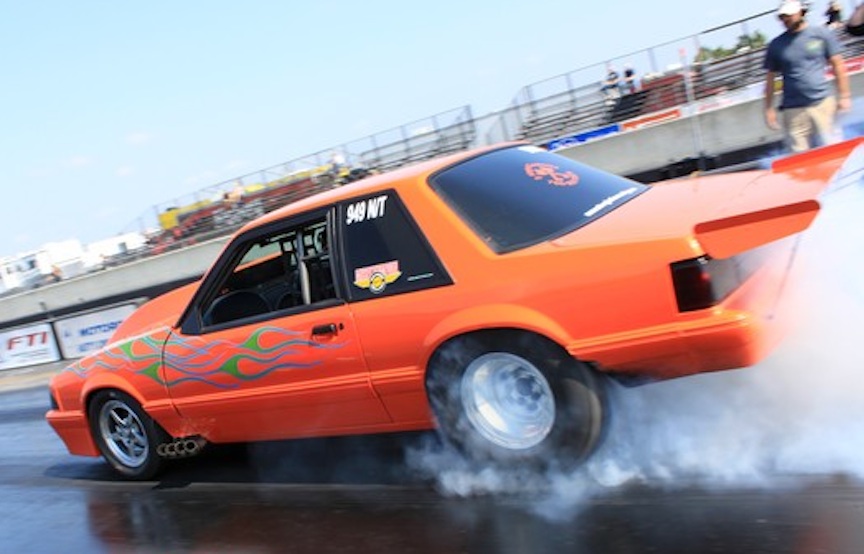 Steve Jackson's ProCharged, big block Chevy-powered Outlaw Mustang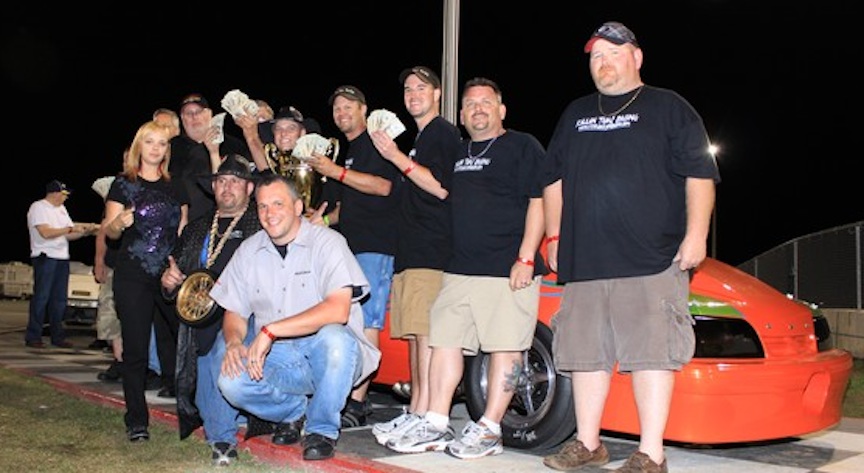 After this event, Jackson has now become the first ProCharger-equipped racer to run in the 4.60s, 4.50s and now the 4.40s. Congratulations to Steve and his Killin' Time race team for a great win and we look forward to seeing them in the 4.30s!
Check out this video from the event.
NMRA Season Opener – Bradenton, FL, March 4-6
As is their tradition, the NMRA start their season with the Spring Break Shootout in Bradenton, FL. And is their tradition, ProCharger-equipped racers look forward to another season of defending championships in three different classes; Real Street, Drag Radial and ProCharger Super Street Outlaw.
Real Street
The 2011 season in Real Street started off just as it ended last year: heated final-round battles between five-time and defending Champion, Tim Matherly and his P-1SC-2 supercharged Mustang versus everyone else. Matherly qualified in the number two spot with a 9.47 @ 143 mph. At the end of the weekend, it was Matherly against nitrous racer Bruce Hemminger in the finals. When the lights went down, Matherly stood his ProCharged Mustang on its rear bumper, costing him the win. But knowing Matherly and the MV Performance team, we know there are many more final round appearances and wins coming this season. Go get'em Champ!
X275 Drag Radial
In the new X275 drag radial class, 2-time and defending champion, Jason Lee and the Part Time Performance team are back and looking to add another championship-winning year to their log book. Lee continues to push the 9 3/4-inch compressor housing of the F-1R ProCharger against the larger 11-inch housing centrifugal superchargers and the 85/98 mm turbo combinations. Even with the rules weighted heavily against the champ's combination, Lee and the PTP guys qualified in the number three position with a best time of 7.67 @ 179 mph. After finishing 2nd in both 2009 and 2010, Canadian racer Enzo Pecchini and his Tim Lyons-tuned chassis rang a best time of 7.70 @ 174 mph which placed him solidly in the number four qualifying position.
New comer Ronnie Diaz, running a 2000 mod-motor Mustang with an F-1R ProCharger made his first ever passes on his new combination and ran very well. Diaz's MV Performance tuned ride qualified in the number seven spot with a respectable 8.23 @ 163 mph effort.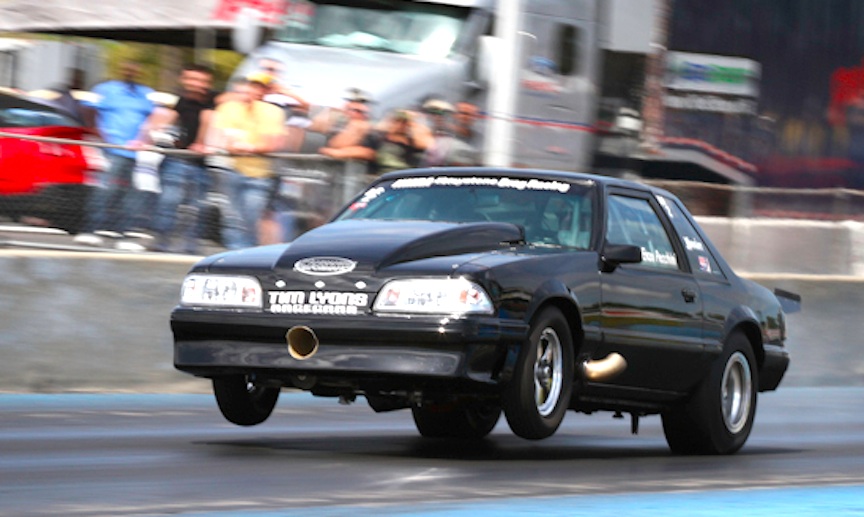 Pecchini hooks up his ProCharged Mustang at Bradenton.
First round eliminations found both Lee and Pecchini picking up their first round wins, while Diaz did a monster wheel stand which ended his day early. Lee and Pecchini powered their way through second round eliminations. Pecchini went out in the third round, in spite of making his best pass of the weekend with a 7.73 @ 179 mph run.
On the other side of the ladder, Lee had the bye into the final. In a classic "David vs Goliath" final round, Lee found himself up against the larger 85/98 mm turbo combination of Sean Lyon. But once again, thanks to the effort of Lee and the PTP team, the ProCharger F-1R managed to pull of the win and start the 2011 season on a winning performance.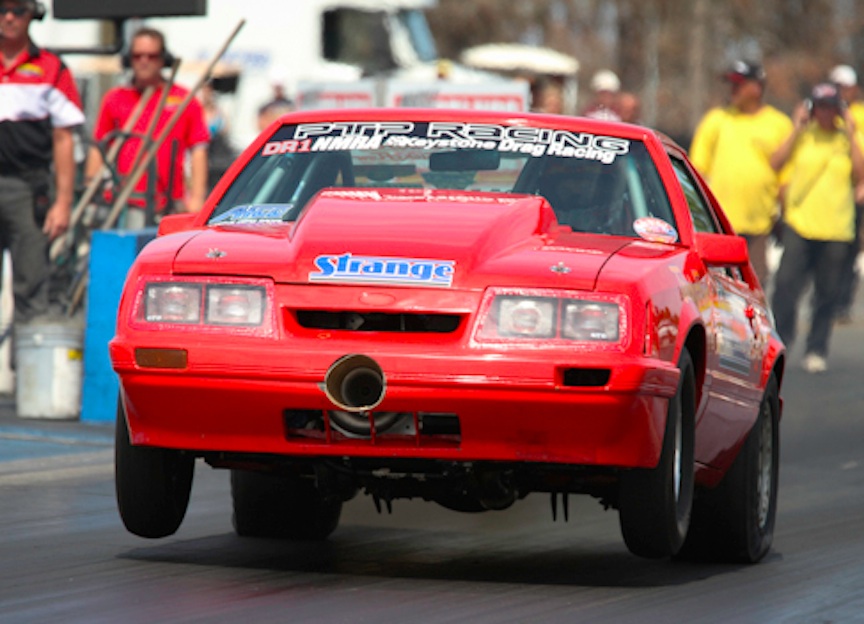 Defending Drag Radial Champion, Jason Lee takes the win at Bradenton
Congrats to the defending champion and all their hard work in spite of the current rule package.
ProCharger Super Street Outlaw
Reigning six-time NMRA champion, John Urist made the long haul from New Mexico to Florida in hope of starting the 2011 season off just like the 2010 season: in the winner's circle. Urist ran strong through qualifying, posting a best time of 7.36 @ 193 mph, which was good enough to place him second overall.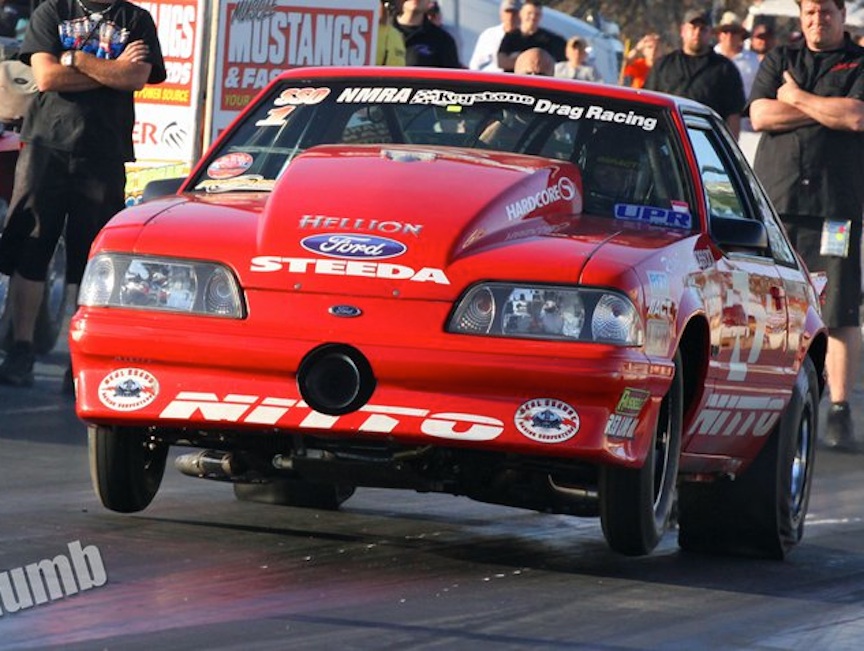 6-time and defending NMRA SSO Champion, John Urist
Michigan native and 2010 SSO runner-up, Johnny MacDonald was also on hand, his brand new engine and F-3A ProCharger combination making considerable more power than last year's. Johnny Mac qualified third with a 7.40 @ 192 mph.
Perennial ProCharger-powered front runner, Phil Hines qualified his Mustang in the number five position with a best time of 7.45 @ 184 mph. Urist, MacDonald and Hines all won their first round match-ups in convincing manner. In the second round, Urist had a bye run and posted a 7.47 @ 186 mph pass. Hines also pulled out the win and looked strong going into the third round. Unfortunately, MacDonald's day ended early, but you can bet that he will be ready for the next race at Commerce, GA in mid-April.
In the third round of eliminations, the 2010 champ Urist left the line and then went into severe tire spin which cost him the round win. Meanwhile, Hines and his F-3A ProCharged Mustang was making very consistent runs and looked Strong going into the final round match up with Texas racer Kenjo Kelly and his big framed 98 mm turbo combination.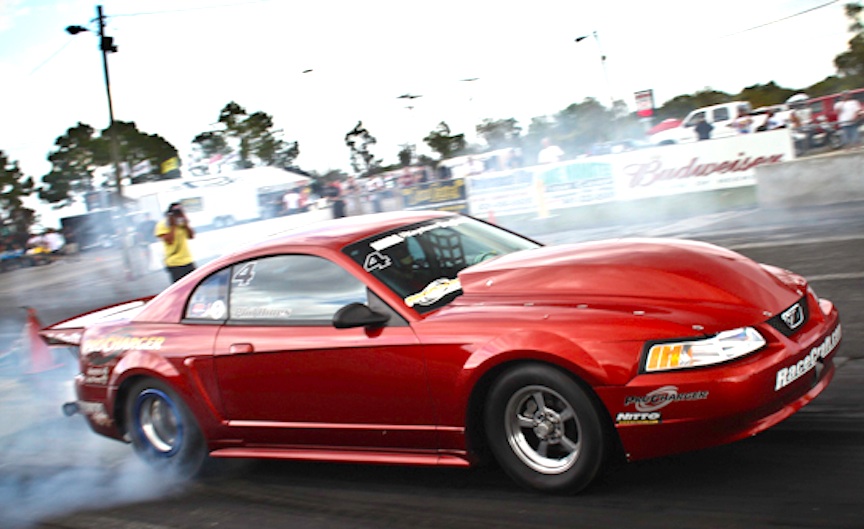 Long-time ProCharged Mustang racer, Phil Hines heats the hides
The final round was very close, with Hines running a 7.60 @ 186 to Kenjo's 7.57 @ 198 mph. Congratulations to Hines and his hard-working crew on their outstanding runner-up finish in a class where the rules appear to be stacked against them.
Shakedown at PBIR – Palm Beach, FL, March 4-6
Outlaw Drag Radial
For the second weekend in a row, the nation's quickest and fastest outlaw drag radial cars were competing to see who had the baddest car in the country. ProCharger-powered racers Steve Jackson, Tony Ridenour and Amanda Long were all on hand to do battle against the twin turbo and nitrous-powered competition.
Ridenour led the way for ProCharger, taking the number one qualifying spot with a personal best time of 4.46 @ 166 mph in the 1/8-mile. In the number three qualifying spot was "Redemption" race winner Steve Jackson and his '93, F-3R-139 big block Chevy-equipped Mustang, posting a 4.49 @ 170 mph qualifying pass. Qualifying in the number seven spot was Amanda Long and her F-3R-135 ProCharger-equipped '05 Mustang with a 4.66 @ 160 mph qualifying effort.
Round one saw both Jackson and Ridenour having competition bye runs, while Long's day ended early. In round two of eliminations, Jackson ran an outstanding time of 4.53 seconds @ 166 mph for the win. Meanwhile, on the opposite side of the ladder was Tony Ridenour and his twin F-2 ProCharger supercharged '00 Camaro. Ridenour also picked up a second round win with a 4.65 @ 164 mph pass.
Round by round, the competition was getting tougher and the ETs getting quicker. Ridenour would be paired up with the nitrous-gulping 763 cid-powered machine of Scotty Gudagno, who used a reaction time advantage out of the hole to hold off the hard-charging Ridenour. It was close at the stripe, with Ridenour posing a strong 4.51 @ 158 mph pass.
Meanwhile, Jackson used a 4.66 @ 166 mph run to advance through the third round of eliminations and for the second week in a row, advancing to the finals in another "baddest of the bad" outlaw race weekend. In the final race, Jackson ran an amazing 4.48 @ 173 mph pass, but was not able to overcome the starting line advantage of Gudagno's Camaro. Congratulations to Steve Jackson and his Killin' Time crew for another outstanding weekend of racing.
When you're ready to add your name to the ever-growing list of winning ProCharger racers, give our Sales and Motorsports Teams a call at (913) 338-2886, Monday through Friday, 8:30 AM to 5:30 PM central time.