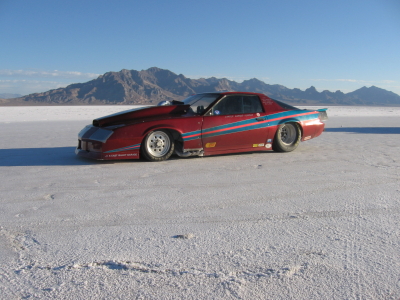 PROCHARGER POWERS THE WORLD'S FASTEST CAMARO AT SPEED WEEK
Last week we told you about the World's Fastest Production Mustang powered by a ProCharger F-1R at the 2008 Bonneville Speed Week. Now we are here to tell you about another record breaker at the same event but this time it comes in the form of a bow-tie. The blown gas altered Camaro of Troy Langlo and the crew at Precision Auto in Fresno went to the event at Bonneville with one goal in mind…leaving as the World's Fastest Camaro. The monster they built is all business, with a ProCharger F-3R-139 self-contained supercharger feeding a Keith Black 496″ Hemi to produce an astounding 2,300+ rear-wheel horsepower on 118 race gas.
The crew took the record on Sunday with an official speed of 246.55 MPH, smashing the old record by over 18 MPH! The crew stated that the car still had a lot left in it and their next goal is to be one of the first gas door slammers to hit 300 MPH at Bonneville. 246 MPH is good, but Langlo's top speed for the week was actually 269 MPH.
Congratulations to John Laglo and the guys at Precision Auto in Fresno on securing the record for World's Fastest Gas Camaro!
Click here to read about the ProCharger powered World's Fastest Mustang at the same event.